NEW YORK – Achieving a record-shattering $110.5 million, Jean-Michel Basquiat's Untitled, 1982, led the Contemporary Art Evening sale on 18 May. The price is the highest paid at auction for a work by an American artist and for any artwork created after 1980. It was Basquiat's night, with five of the artist's works realising a combined $129.3 million. Kicking off the sale was Jonas Wood's Black Still Life, which brought $1.2 million – wildly exceeding its $250,000 low estimate. Energetic bidding ensued, with with Roy Lichtenstein's Nude Sunbathing bringing in $24 million and Gerhard Richter's Abstraktes Bild reaching $15.4 million. Other star lots included Cy Twombly's Silex Scintillans ($8.3 million) and Agnes Martin's Untitled #13 ($8.1 million), both exceeding their high estimates.
"Tonight, Jean-Michel Basquiat entered the pantheon of artists whose works have commanded prices over $100 million, including Picasso, Giacometti, Bacon, and Warhol," commented Grégoire Billault, Head of Sotheby's Contemporary Art Department in New York. "This extraordinary canvas from 1982 has broken so many benchmarks – a record for any American artist at auction and for a work of art created post-1980, to name just two – but those of us lucky enough to have been in its presence will only remember it's awesome power. To think that it was created by a virtually-unknown 21-year old is humbling. We are thrilled that it was purchased by Yusaku Maezawa for his planned museum so others will have a chance to experience its magic firsthand."
Jean-Michel Basquiat, Untitled, 1982. Sold for $110.5 million. Purchased by Yusaku Maezawa. Auction Record for Any Work by an American Artist. Photo: Sotheby's.
Irrefutably the most significant work by the artist to ever appear at auction, Untitled ranks among the ultimate paragons of the Jean-Michel Basquiat's oeuvre, and is the commanding counterpart to Basquiat's Untitled (Head) in the collection of The Broad Museum. As an indisputable masterpiece from the singular formative year of Basquiat's meteoric career, the unveiling of Untitled marks an extraordinary moment within the legacy of Contemporary Art's most mythic and revered figure. Built up of innumerable layers of vibrant hues and coursing rivulets of pigment, Untitled is an unparalleled example of the virtuosic ability to apply, execute, shift, and render paint upon canvas that distinguished Basquiat as an undisputed master within the vanguard of young and ambitious image-makers.
Roy Lichtenstein, Nude Sunbathing, 1995. Sold for $24 million. Photo: Sotheby's.
A resounding testament to the visual dynamism of Roy Lichtenstein's bold signature style, Nude Sunbathing constitutes the ultimate crystallization of the artist's enduring engagement with the quintessential heroine of his inimitable oeuvre; freed from the narrative constraints of her previous embodiments, Lichtenstein's nude revels in the enjoyment of her own peerless form. Speaking in the year the present work was painted, Lichtenstein remarked, "I'm trying to make paintings like giant musical chords, with a polyphony of colors that is nuts but works…It's tough to make a painting succeed in terms of color and drawing within the constraints I insist on for myself."
Gerhard Richter, Abstraktes Bild, 1991. Sold for $15.4 million
.
Photo: Sotheby's.
As a spectacular torrent of brilliant white paint courses horizontally across the canvas, both covering and uncovering strata of bold crimsons, gold, and cerulean, Abstraktes Bild ranks among the most intense and pristinely resolved examples of Gerhard Richter's hallowed corpus of abstract paintings. Simultaneously concealing and revealing spectacular accents of red, yellow and blue primaries, a sublime ivory veil of lusciously viscous white oil paint flows laterally across the canvas like a storm of snow surging across the geological strata of a cliff face. The present work sits at the chronological apex of the period when the artist's creation of monumental essays in abstraction reached new heights and the long, hard-edged spatula became the central instrument of Richter's technical practice.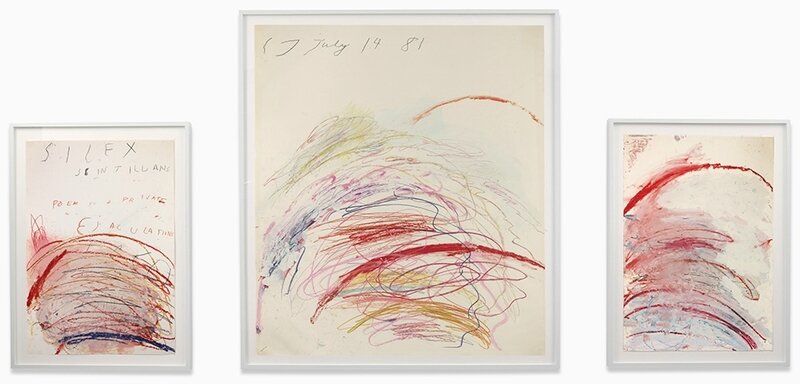 Cy Twombly, Silex Scintillans, 1981. Sold for $8.3 million. Photo: Sotheby's.
In its signature juxtaposition of haphazard handwriting, bold gestural ferocity, and expressive painterly language, Silex Scintillans epitomizes Cy Twombly's unique formal vocabulary, in which the boundaries between painting and writing have been obliterated in favor of a semantic unity of sign and form. In his unique fusion of frenetic painterly abstraction with the metaphysical implications inherent to his scrawled text, Silex Scintillans exemplifies Twombly's work of the early 1980s, in which the artist increasingly embraced an arresting, atmospheric lushness and romantic approach to the pastoral in his large-scale works. During this period, inspired by such canonical painters of nature as Claude Monet and J.M.W Turner, Twombly's art became increasingly rooted in the universal themes of love, fate, and the divine.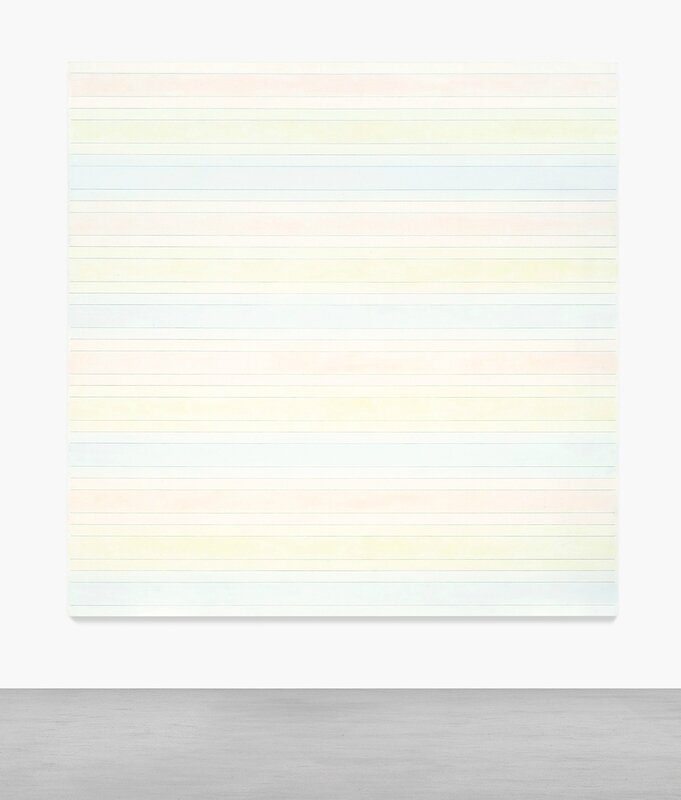 Agnes Martin, Untitled #13, 1980. Sold for $8.1 million. Photo: Sotheby's.
Separated into triune sections of color by Martin's precisely outlined graphite rows, soft hues of hazy powder blue, icy yellows, and pale pink bands trace horizontally across the work's surface, presenting a hypnotic optical experience that allures and seduces the eye. Using chalky-white gesso to tint her primary acrylic pigments, Martin imbues color in Untitled #13 with an incandescent luminosity and creamy, supple body. It is this quality of chromatic exuberance and lavish paint application captured in the full scale 72-by-72 inch format that renders the present work an especially unique example among the set of paintings, most of which are populated by greys, whites and black, that emanated from Martin's move to New Mexico in 1968. Here, in this radiant emulation of the infinite New Mexican desert, suspended in an atmosphere of delicacy and restraint, the present work exudes a soporific silence and muted humility.
Robert Rauschenberg, Rigger, 1961. Sold for $12.3 million. Photo: Sotheby's.
Within the oeuvre of an artist whose work is unconditionally shaped and influenced by his immediate surroundings, Rigger pronounces an abstract vernacular that is exceptionally particularized to—and intimately revealing of—Robert Rauschenberg's life in Lower Manhattan at the time of its creation. Emphatically architectural, the explicit elements which make up the present work speak to both the specifics of his downtown neighborhood and the rapid changes occurring there, the result of major urban re-development in New York in the early 1960s. In a thunderous cataclysm of gestural bravura, arresting multidimensionality, and staggeringly innovative experimentation, Rigger is a seminal example of Rauschenberg's singular engagement with the very nature of artistic form in his celebrated Combine paintings.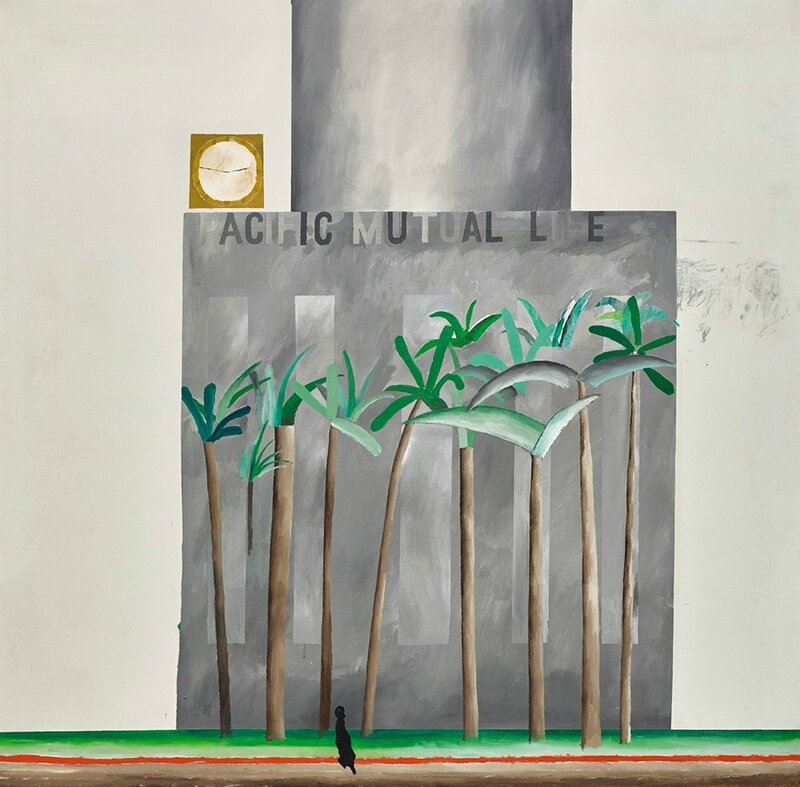 David Hockney, Building, Pershing Square, Los Angeles. Sold for $7.9 million. Photo: Sotheby's.
A critical early landmark of David Hockney's era-defining painted visions of Los Angeles, Building, Pershing Square, Los Angeles encapsulates the very genesis of his lifelong enchantment with the magnetic allure of Southern California. Furrthermore this work crucially displays the artist's formative radical experimentation with various technical and compositional concerns at the beginning of his storied career. Evincing his ongoing dialogue with abstraction, Hockney's painting is dominated by straight edges and simplified shapes—the primary image is isolated in the center of the composition, framed by a flat background and three strips of color approximating the city street that runs along the bottom of the picture.
Mark Grotjahn, Untitled (Face 41.05), 2010. Sold for $7 million. Photo: Sotheby's.
With a bravado that echoes the rich action paintings of Abstract Expressionist titans Jackson Pollock and Willem de Kooning, and a vectored composition that pays tribute to Futurists such as Umberto Boccioni and Gino Severini, Untitled successfully integrates ineffable dynamism into a syntax of gestural expression. The radial bands of scarlet vermillion, deep phthalo blue, cadmium yellow, and viridian green explode layer by layer through the composition, setting the picture plane into undulating motion. Grotjahn juxtaposes these strong primary colors against more muted hues that he has tinted with white, grey, and other light neutrals.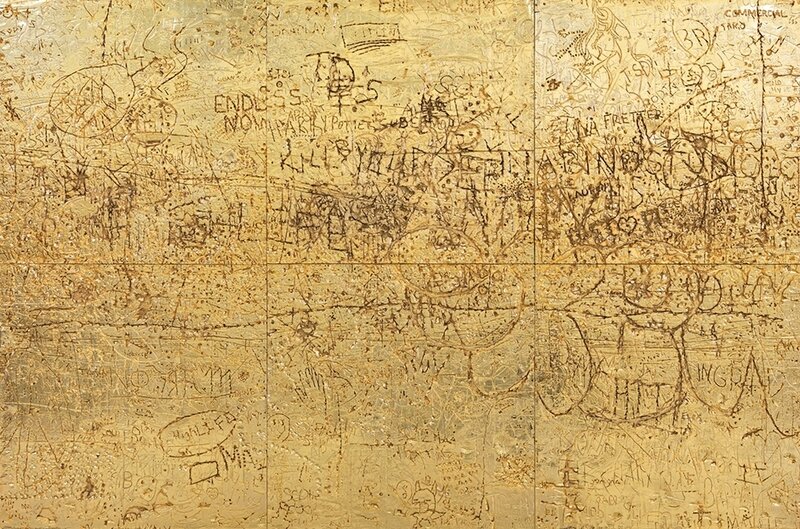 Rudolf Stingel, Untitled, 2012. Sold for $6.9 million.Photo: Sotheby's.
Upon exposure to Untitled, one is immersed in a spectacular vision of thousands of graffiti inscriptions that Rudolf Stingel has cast in eletroplated copper. Because of its reflective sheen, the gilded surface resists the gaze, like a mirror, so that one becomes aware of their presence in the face of the work. The installation comprised of expansive aluminum-coated Celotex boards that lined the gallery walls. Allowed to depart radically from traditional museum protocol, viewers were invited to imprint, scribble, and incise any kind of mark with any available material, imparting an aspect of performativity to Stingel's installation that aligns him within a greater tradition of relational aesthetics.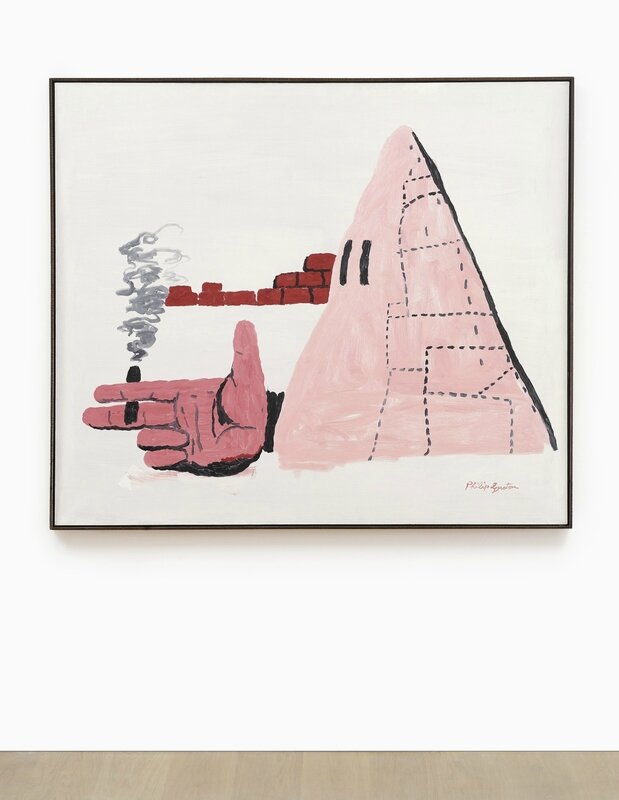 Philip Guston, Cigar, 1969. Sold for $6.5 million
.
Photo: Sotheby's.
Philip Guston's Cigar boldly encapsulates the audacious innovation of the artist's celebrated late corpus of figurative paintings. Painted in 1969, Cigar is amongst the earliest iterations of Guston's radical transformation when, after decades of acclaim as a key member of the New York School and the "high priest of the abstract expressionist painting cult," the artist abandoned the gestural flourishes of abstracted color and interpretive freedom that had become the hallmarks of his distinctive aesthetic, replacing them with bold, stylistic, and symbolically charged figurative paintings.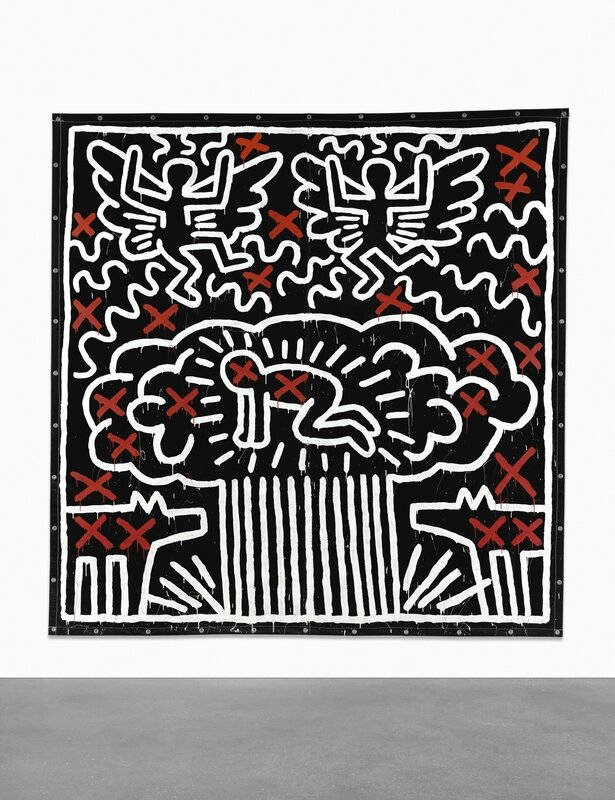 Keith Haring, Untitled, 1982. Sold for $6.5 million. Photo: Sotheby's.
Untitled epitomizes Haring's inimitable aptitude for conveying pulsating movement through forms distilled to their most basic, essential components. Haring's confident hand draws bold, self-assured strokes, eschewing a pre-meditated schematic plan for spontaneous genius; never erasing or reworking, Haring's virtuosic gestural ingenuity flows directly through his brush onto the canvas. Unmistakably charged by the explosion in the painting's epicenter, the present work harnesses the conceptual framework of a "blast" to comment on parallel outbreaks within the cultural and political lexicon of Haring's current day.