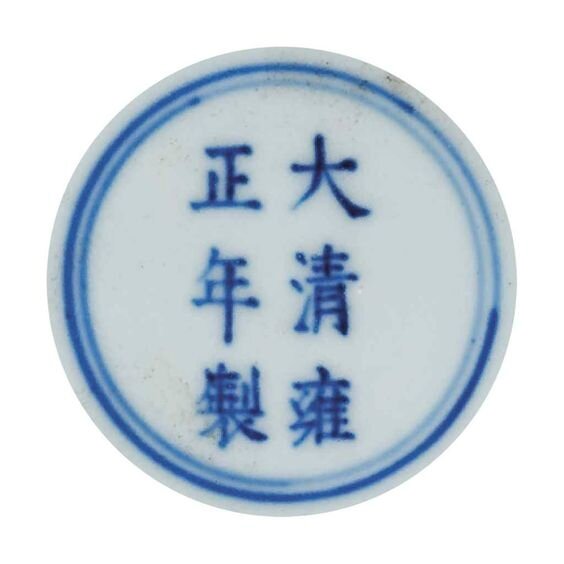 Lot 3025. An iron-red decorated blue and white 'four-dragon' vase, Yongzheng six-character mark in underglaze blue within a double circle and of the period (1723-1735), 11 5/8 in. (29.5 cm.) high, box. Estimate HKD 6,000,000 - HKD 8,000,000 (USD 774,310 - USD 1,032,413). © Christie's Images Ltd 2017
The high-shouldered, tapering body is standing on a short, spreading foot and finely decorated with two pairs of writhing five-clawed dragons contesting flaming pearls outlined in underglaze blue and highlighted in iron red amidst clouds in underglaze blue, all below a slender cylindrical neck.
Provenance: Sold at Sotheby's Hong Kong, 21-22 May 1979, lot 225
Note: No other example of the same shape and iron-red decorated motif as the present vase appears to have been published although the shape of this vase is closely related to a group of bottle vases which are most certainly developed from a metal prototype. Often referred to as ganluping or jingshuiping, 'nectar' bottle or 'pure water' bottle, this group is particularly associated with the Bodhisattva Avalokitesvara (Guanyin). A few iron-red decorated porcelain examples of this type were made during the Qianlong period as court gifts to Tibetan monks, such as the one in the collection of the Nanjing Museum, illustrated by Xu Huping in Treasures in the Royalty: The Official Kiln Porcelain of the Chinese Qing Dynasty, Shanghai, 2003, p. 225, and a pair in the collection of the National Palace Museum, Taipei, illustrated in Monarchy and Its Buddhist Way: Tibetan-Buddhist Ritual Implements in the National Palace Museum, Taipei, 1999, p. 184, no. 91.
The combination of underglaze-blue and overglaze iron-red decoration was first developed in Xuande period of Ming dynasty. Though it had a revival in later Ming period as well as in Qing dynasty, it remained a rare colour scheme probably due to the high cost and technical difficulties associated with producing such wares. The blue decoration, such as the scrolling clouds as well as the outline of dragons on this vase, was executed in underglaze cobalt blue first, then fired at high temperature. Following this procedure, the artist would apply other decorations, seen on this vase as two pairs of leaping dragons, in iron-red enamel over the glaze, and fired the vessel for the second time at a lower temperature. The laborious twice-firing process would certainly increase the cost and the rate of unsuccessful firing.
Most of the known examples decorated in underglaze blue and overglaze iron red from the Yongzheng period are chargers, or smaller objects such as dishes and bowls. While larger example can be found, the unusual shape as well as decorative techniques such as outlining the dragon in underglaze blue, and freely highlighting the cloud scrolls with blue wash, makes the present vase extremely rare.
Compare, a blue and white globular vase decorated with dragons decorated in iron red in the Palace Museum Collection, Beijing, and illustrated in Blue and White Porcelain with Underglazed Red(III), The Complete Collection of Treasures of the Palace Museum, Hong Kong, 2010, p. 244, no. 222.
Christie's. The Imperial Sale / Important Chinese Ceramics and Works of Art, 31 May 2017, Convention Hall