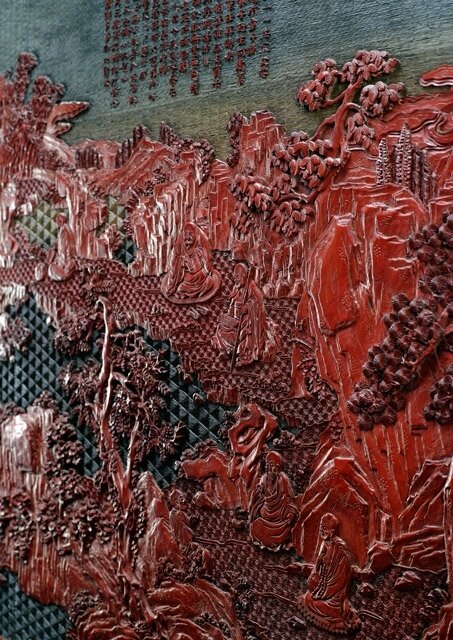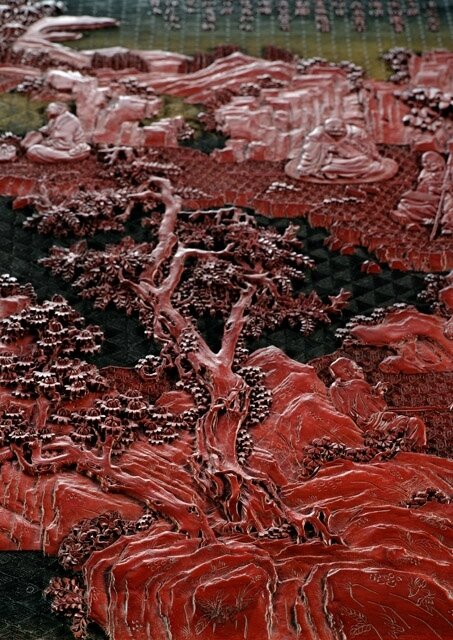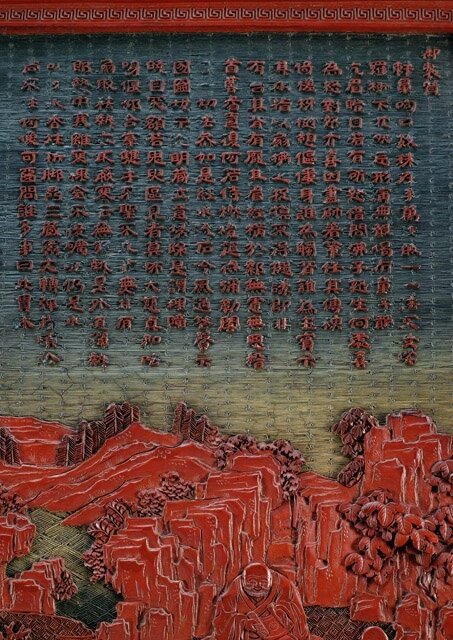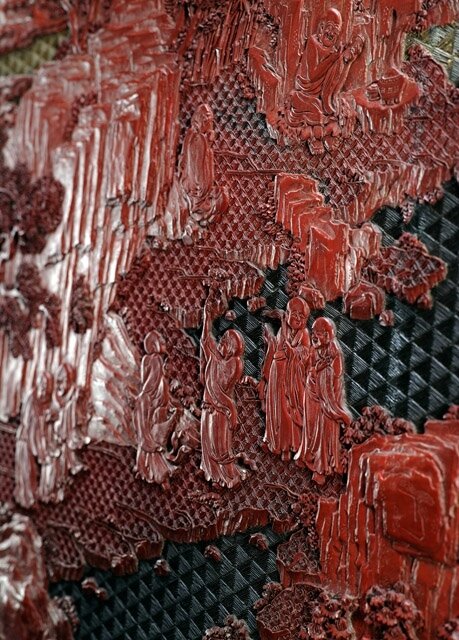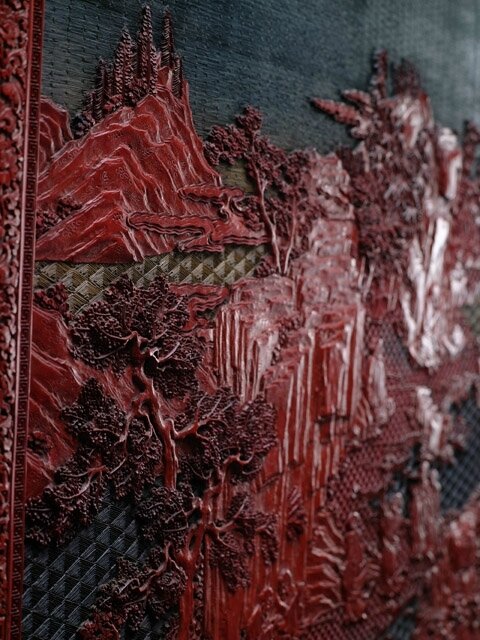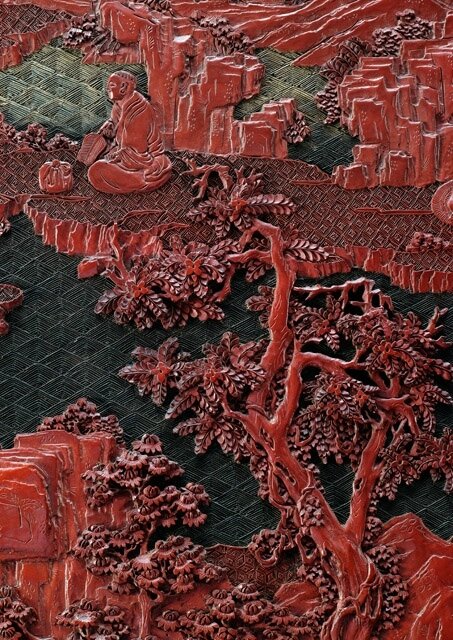 Lot 455. A superb and very rare imperial three-colour cinnabar lacquer panel with eight of the sixteen luohan with imperial inscription, China, Qianlong period (1736-1795), 80 x 114,5 cm. Estimate €80 000-120 000. Photo Nagel
Cinnabar above a layer of black lacquer. Few very small restored chips and a filled crack;
Property from an old Austrian private collection
Depiction of eight of the Sixteen Luohan (Arhats) along with six attending monks. The figures are embedded in a landscape, framed by peony and lotus scrolls. They are meticulously carved, showing each Luohan in detail and with their respective attribute or in their typical pose. Thus, we can see the Luohan nine to sixteen, according to the order by the Qianlong Emperor. They are arranged along the panel's main path: Entering the scenery on the right, we first encounter Bakula with his prayer chain, followed by Rahula and Cudapanthaka to his left. Above them, Pindola Bharadvaja is depicted holding his staff, next to Panthaka. Nagasena, Luohan fourteen, is leaning on a rock on the far left, whereas fifteen and sixteen, Gopaka, holding a fan, and Abheda, next to his censer, are positioned to his left, which is where the order is slightly adjusted for pictorial purposes. The inscription on the upper right mentions these Luohan in the new sequence and thus depiction and inscription are almost perfectly consistent when reading the panel from right to left.
Note: This lacquer panel is of special significance due to it having a partner piece which was sold by Sotheby's London, 4th November 2009, lot 123. That panel is an exact fit as it shows the first eight of the Sixteen Luohan along with the equivalent inscription. The depiction of the Sixteen Luohan, though in the new 18th-century sequence, serves as a Sinicised version of the original figures, first individualised by Guan Xiu (832-912), who painted the Luohan with rather bizarre faces. The attributes and poses, however, have been adopted very faithfully, today allowing a precise attribution of each character.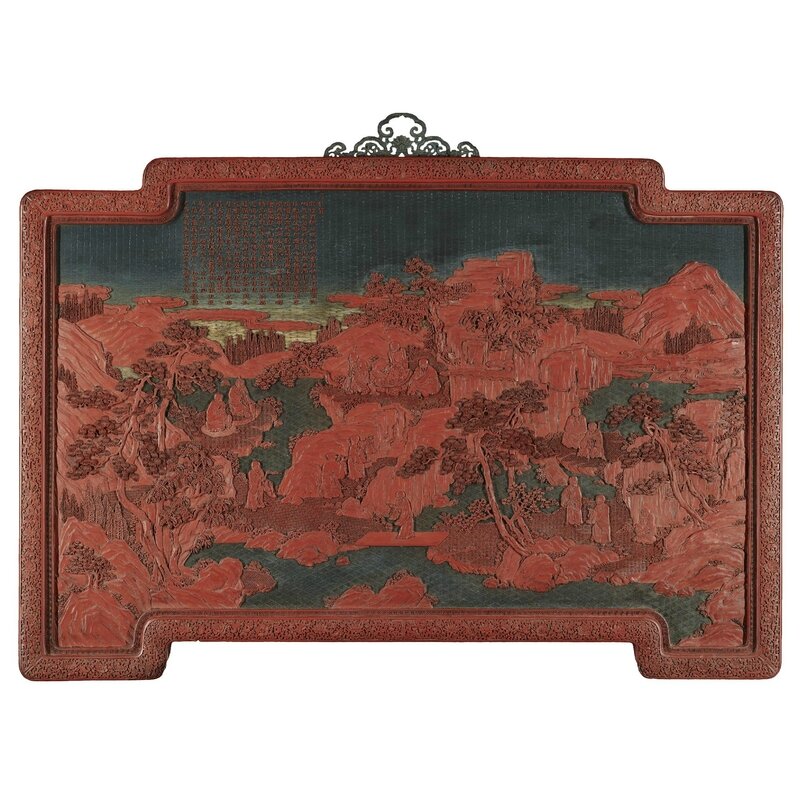 A large imperial inscribed carved lacquer panel, Qing dynasty, Qianlong period (1736-1795), 78,5 by 114.5cm. Sold for 313,250 GBP at Sotheby's London, 4th November 2009, lot 123. Photo: Sotheby's.
For wall panels of similar shape and dating, cf.: Christie's HK, 31st May 2010, lot 1927; Christie's New York, 16th Sep 2011, lot 1324 as well as Christie's New York, 21st Mar 2000, lot 67.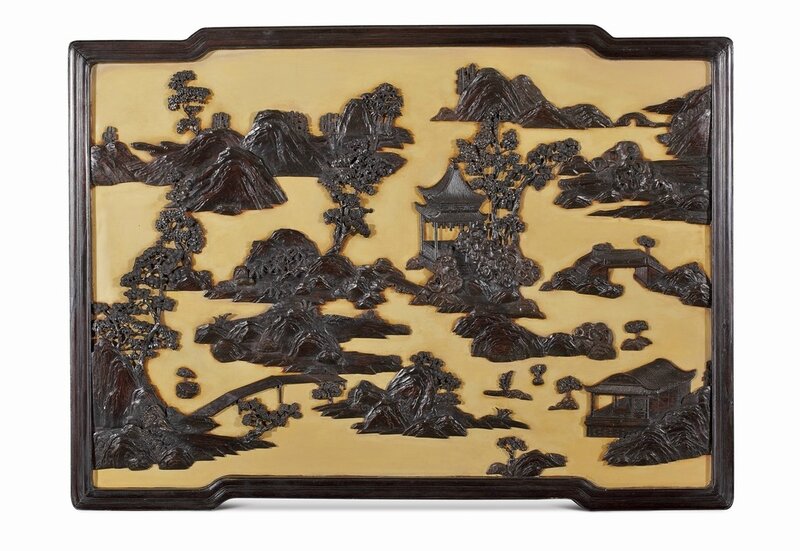 A very rare imperial aloeswood embellished lacquer and zitan veneer panel, Qianlong period (1736-1795), 115 x 84.5 cm. Sold for HKD 680,000 (USD 88,008) at Christie's Hong Kong, 31st May 2010, lot 1927. © Christie's Images Ltd 2010
A rare pair of mother-of-pearl-inlaid zitan-veneered wall panels, Qianlong period (1736-1795), 69.9 x 106.7 cm. Sold for USD 116,500 at Christie's New York, 16th September 2011, lot 1324. © Christie's Images Ltd 2011
Nagel. Asiatische Kunst. Sale 100, 16.06.2017