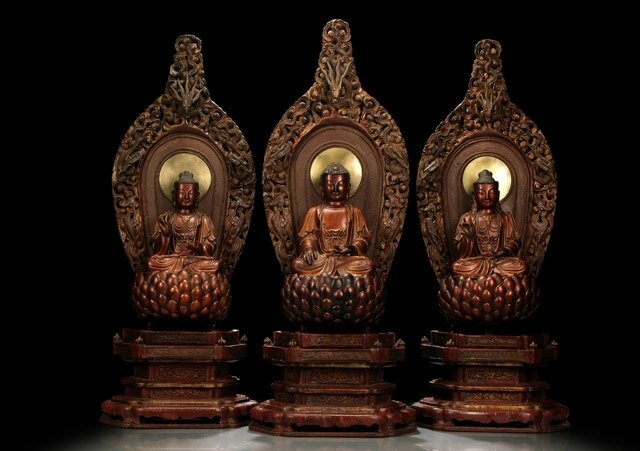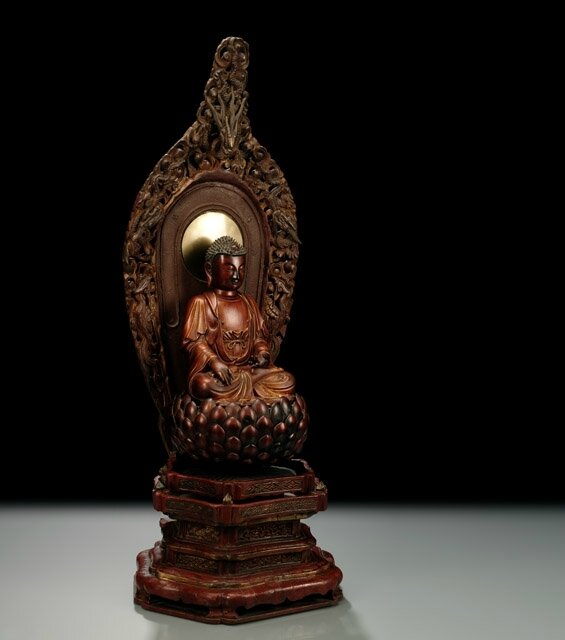 Lot 526. A rare group of three red dry-lacquered and wood figures of Buddha Shakyamuni and a pair of Bodhisattvas, China, 18th century, H. 97 cm. Estimate 20 000-30 000 €. Photo Nagel
the central dry-lacquer figure of Buddha Shakyamuni is seated in vajrasana on a separate carved wood lotus base rising from the waters encompassed by a tiered hexagonal throne, his right hand shows the bhumisparshamudra while the left rests on his lap, wearing monk's garment including an under-garment secured with a knotted rope and a wide-sleeved mantle, his face displaying a serene expression with downcast eyes below arched eyebrows that run into his nose-bridge, curled hair continuing into the low cranial protuberance set with a ratna to the front and a mandorla behind sculpted in ajour with dragons and phoenixes amidst cloud formations and flanked to each side by a dry-lacquer bodhisattva seated in vajrasana on a similarly separate sculpted wood base and mandorla behind, the hands showing a form of karanamudra, wearing under-garment tight up with a rope knotted to the front, wide-sleeved mantle, bejewelled and their faces displaying a meditative expression with downcast eyes below arched eyebrows and their hair combed in a chignon. Minor wear, very minor damages due to age, very minor restorations.
Property from an old German private collection, bought prior 1990.
Nagel. Asiatische Kunst. Sale 100, 16.06.2017