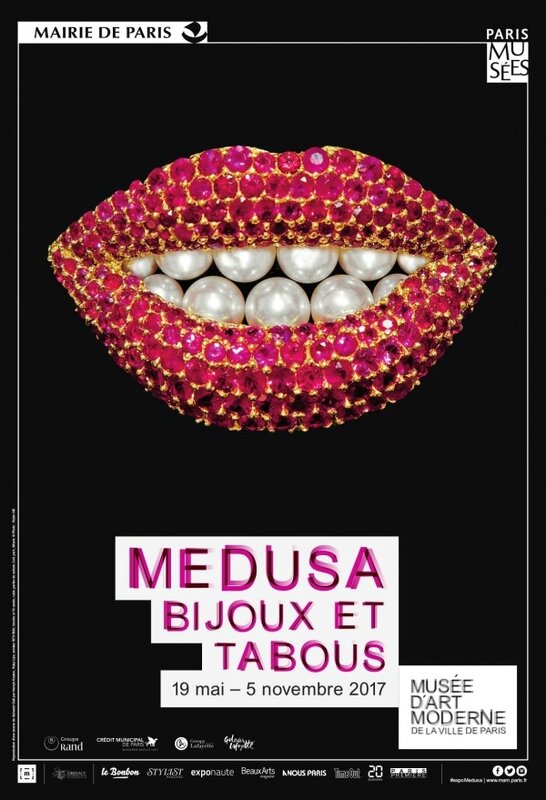 Medusa : Affiche.
PARIS - Medusa porte un regard contemporain, et inédit, sur le bijou. Un regard qui révèle certains tabous. Le parcours s'intéresse ainsi aux frontières traditionnelles de l'art en reconsidérant les questions de l'artisanat, du décoratif, de la mode et de la culture pop. L'exposition réunit plus de 400 bijoux réalisés par des artistes, des bijoutiers contemporains, des joailliers ; mais également des pièces anonymes, plus anciennes ou non-occidentales (de la Préhistoire, du Moyen-Age...).
Comme le visage de Méduse dans la mythologie grecque, le bijou attire et trouble celui qui le conçoit, le regarde ou le porte. C'est un objet au statut ambigu qui, à mi- chemin entre parure et sculpture, reste l'une des formes d'expression artistique les plus anciennes et universelles. Le parcours tente de révéler la force subversive et performative qui entourent les bijoux, en partant des a priori souvent négatifs dont ils souffrent.
Evelyn Hofer, Anjelica Huston portant The Jealous Husband (vers 1940) d'Alexander Calder, 1976, Photographie. © Estate of Evelyn Hofer © 2017 Calder Foundation New-York / ADAGP, Paris
Les bijoux créent une indéniable ≪attraction/répulsion≫ selon qui les conçoit, les porte ou les regarde, à l'image du mythique et terrifiant visage de Medusa. L'une des plus anciennes formes d'expression humaine, le bijou est pour autant rarement considéré comme une œuvre d'art, restant souvent perçu comme trop féminin, précieux, décoratif et corporel, ou primitif. Mais les artistes et les créateurs contemporains l'ont éloigné de ses propres traditions, et en le réinventant, ont transformé notre regard.
Suivant un parcours thématique, le musée présente près de 300 pièces : d'artistes (de Meret Oppenheim, à Man Ray, Calder, Dali, Picasso, à Fabrice Gygi, Thomas Hirschhorn, ou Danny McDonald), de designers (de Rene Lalique, Anni Albers, Line Vautrin, Tony Duquette, Bless), mais aussi de bijoutiers contemporains (de Gijs Bakker, Karl Fristch, Sophie Hanagarth…), de maisons de haute-joaillerie, ainsi que des pièces anonymes ou plus anciennes (des bijoux antiques, amérindiens, ou encore punk, rap, SM…). L'exposition MEDUSA rassemble ainsi des pièces uniques, ou multiples, faites-main, industriellement, voire par ordinateur, confrontant des esthétiques raffinées, artisanales, ou futuristes.
Musée d'Art Moderne. 19 mai -5 novembre 2017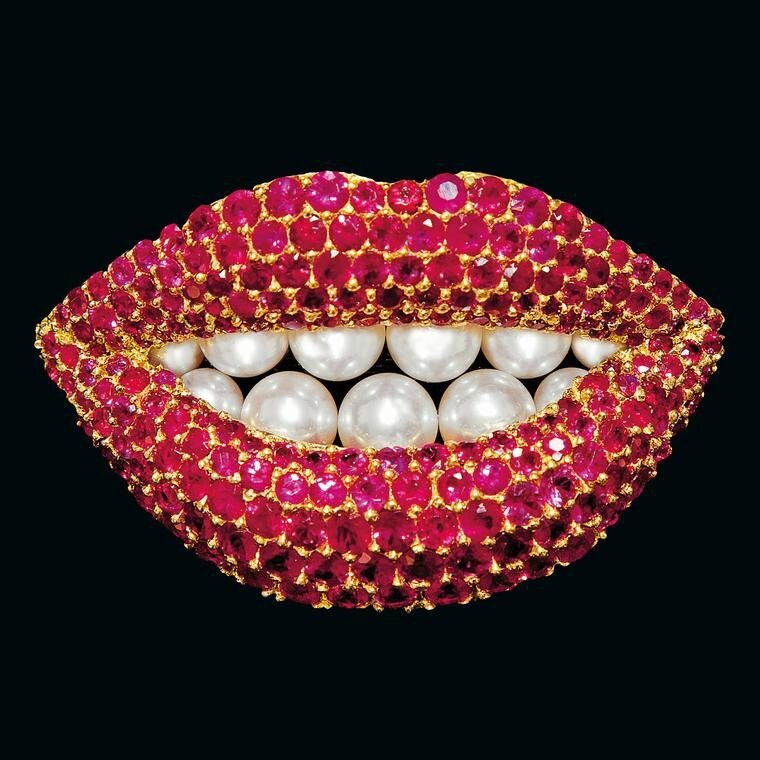 Reproduction d'une œuvre de Salvador Dalí par Henryk Kaston, Broche Ruby Lips, années 1970-80, Broche, Or 18 carats, rubis, perles de culture. Miami, Collection particulière © Photo : Robin Hill
PARIS - Attractive or repelling, beautiful or provocative? Like Medusa, the golden-haired maiden who was transformed into a hideous woman with snakes coiling in her hair after breaking her vows of celibacy with Poseidon, the Medusa exhibition in Paris explores the role of jewellery in a contemporary light and sets about unmasking a number of prevailing prejudices and taboos.
One of the most ancient and universal forms of human decoration, jewellery has an ambiguous status, hovering in limbo between fashion, sculpture and, occasionally art. Medusa sets out to question the traditional boundaries by reconsidering the issues of craftsmanship, decoration, fashion and pop culture.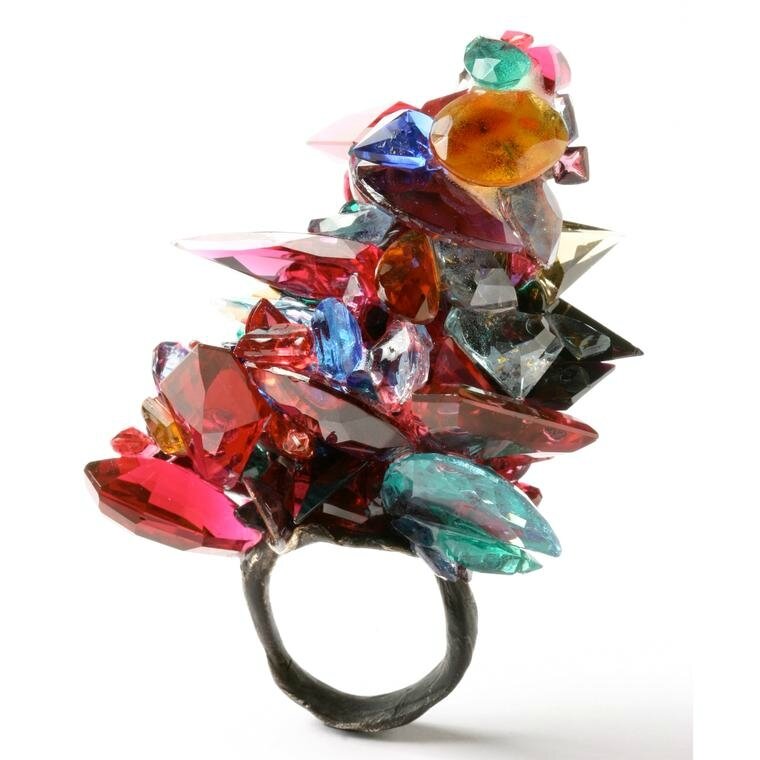 Ring by Karl Fritsch, 2006, made from oxidised silver and precious stones. @ADGP, Paris 2017
Organised around four themes – Identity, Value, Body and Instruments – each section opens with the often negative preconceptions surrounding jewellery to deconstruct them and reveal the underlying symbolism and theatrical potential of this art form. Thanks to surrealist and avant-garde artists of the stature of Salvador Dali and the provocative art of contemporary designers, jewellery has been reinvented, transformed and detached from its own constricting traditions.
Bringing together over 400 pieces of jewellery, the Medusa exhibition is ambitious in scope and showcases pre-historical works; punk and rapper's jewellery; creations by artists like Alexander Calder, Man Ray and Lucio Fontana; pieces by designers René Lalique and Suzanne Belperron; contemporary jewellery by Gijs Bakker, Otto Künzli, Dorothea Prühl, to name but a few; and high jewellery creations by Carter, Buccellati and Van Cleef & Arpels.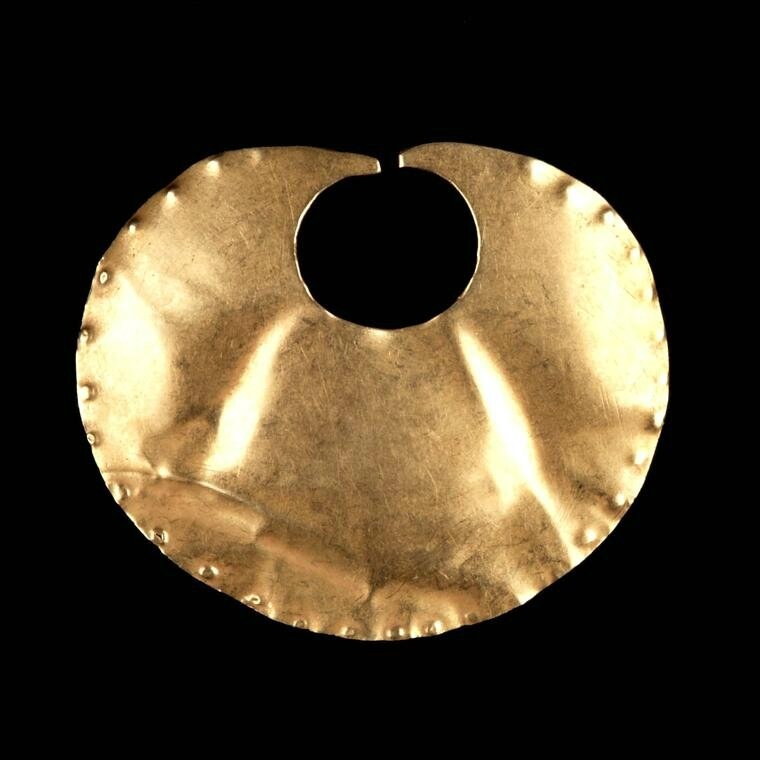 Gold nose ornament, circa 800-1200, Quimbaya culture, Colombia. @ADGP, Paris 2017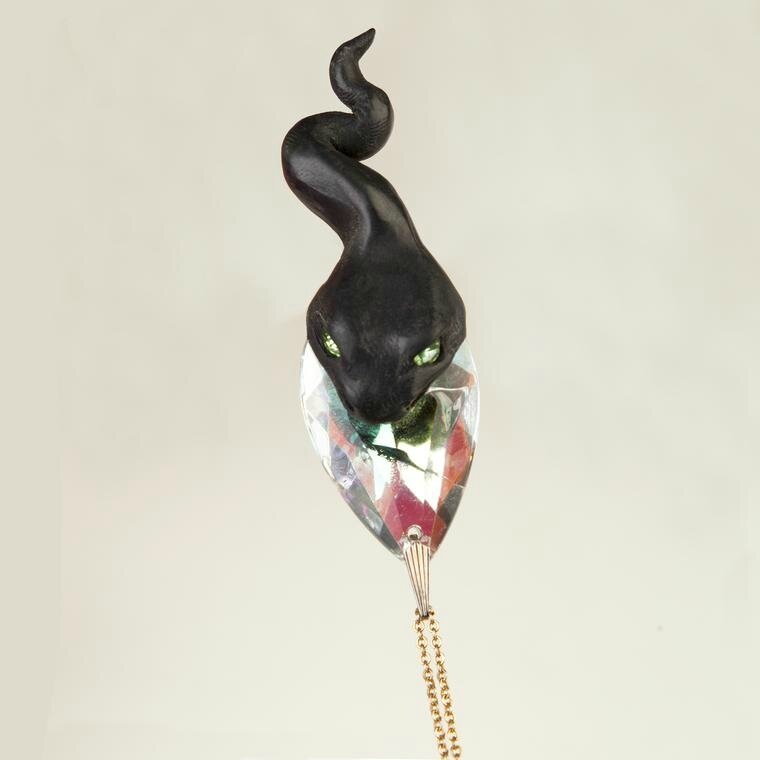 Danny McDonald, Bitten Crystal necklace, 2005. @ADGP, Paris 2017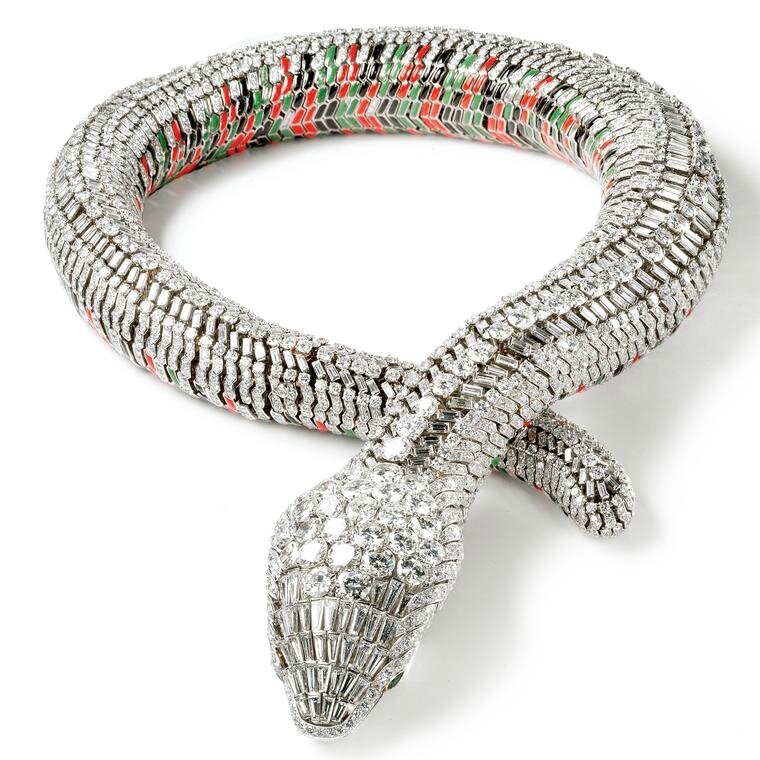 Cartier, Snake necklace from 1968 set with 2,473 brilliant and baguette-cut diamonds and pear-shaped emerald eyes. Photo: Nick Welch @ Cartier. @ADGP, Paris 2017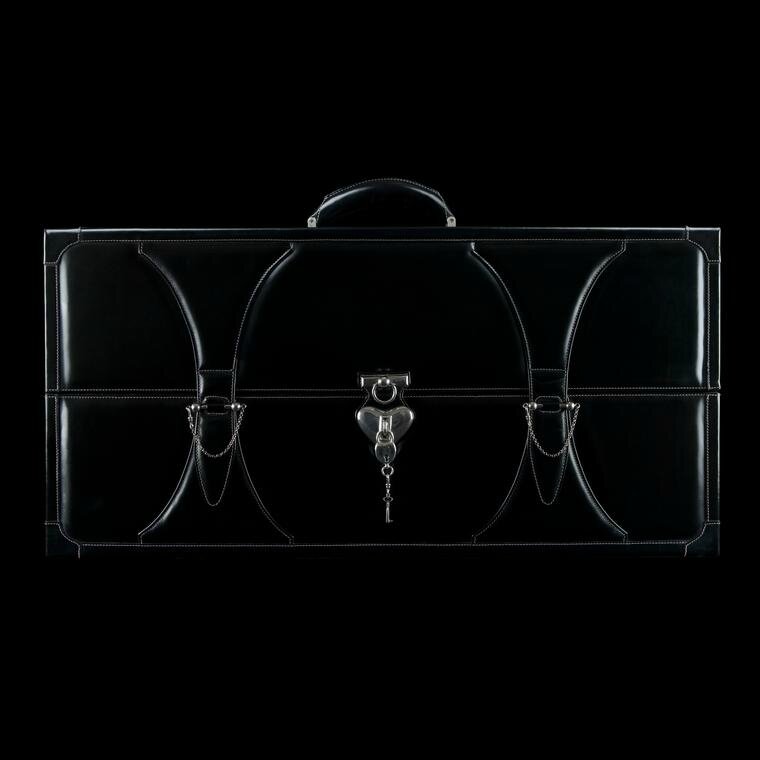 Bretony Vernon, The Boudoir Box, 2000, leather and silver. @ADGP, Paris 2017