Lot 185. A very important imperial bronze bell "Bozhong", China, Qianlong, dated 1761. With inscription by Emperor Qianlong. Estimate CHF 200,000 / 300,000 (€ 185 190/277 780). Sold for CHF 1 035 000 (hammer price). © Koller Zurich
ZURICH.- The 13-14 June Asian Art auctions at Koller Zurich were enormously successful, with a string of top prices for Chinese & Himalayan art, particularly for three rare Chinese Imperial artworks from a private collection - which alone realized 2.64 million Swiss Francs - as well as for lamaistic sculpture from the Himalaya region, which saw very competitive bidding and record prices. The two-day auction series realized in total 8.4 million Swiss Francs, against a pre-sale estimate of 2.9 million, making it the most successful Asian Art auction of any European auction house this season.
Regi Preiswerk, Head of Department for Asian Art at Koller: "We were thrilled to be able to offer these magnificent works in our auction. Because of an intensive marketing campaign in China, including our presence at the International Antiques Fair in Hong Kong, we attracted a significant number of new bidders and buyers to the auction, whom we are pleased to welcome to Koller's clientele."
Chinese imperial treasures create a sensation
Three important Chinese imperial artworks from a private collection were featured in Koller's 13 June auction, and their presence created a wave of excitement that was felt as far as Beijing and Hong Kong. The three items - a carved palace partition, a pair of Imperial bronze censers, and a bronze bell with an emperor's inscription, were in a German private collection for over 100 years and came to the market for the first time in Koller Auction's sale. The three lots will all very likely return to China.
Antique Chinese bell changes hands for 1.2 million Swiss Francs
Dating from the 18th century, the bronze bell bears an inscription from the Chinese emperor Qianlong (1711-1799). Shepherds found eleven antique "bozhong" bells from a set of twelve in 1761, and they were brought to the imperial court. In order to complete the set of twelve distinct tones, the Emperor had this twelfth bell cast and inscribed. After a prolonged, tense bidding war, the bell sold to a Chinese bidder for CHF 1.2 million.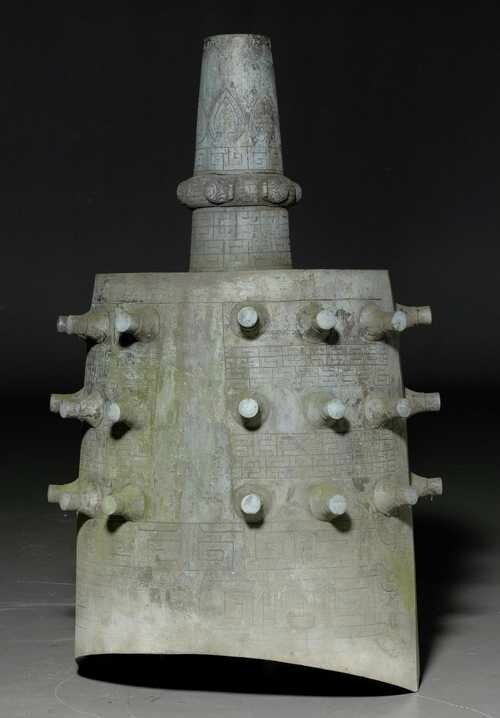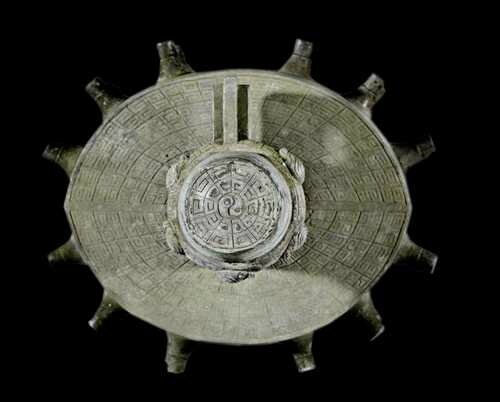 Lot 185. A very important imperial bronze bell "Bozhong", China, Qianlong, dated 1761. With inscription by Emperor Qianlong. Estimate CHF 200,000 / 300,000 (€ 185 190/277 780). Sold for CHF 1 035 000 (hammer price). © Koller Zurich
Masterfully carved room divider realizes nearly a million
According to Koller's research, the masterfully carved palace partition was very likely made for the living quarters of the Empress Dowager Cixi (1835-1908). This type of partition with pierced carving was a typical element of interior decoration for imperial palaces of the Qing period in China. In Beijing two other examples with octagonal doorways are known: a room divider in the Chuxiugong palace hall, a residential building in the western area of the Forbidden City, and another in the Yiluandian Palace, but which was completely destroyed by fire in 1901. The partition in Koller's auction is the only one of its type ever offered for public sale, and realised CHF 940 500.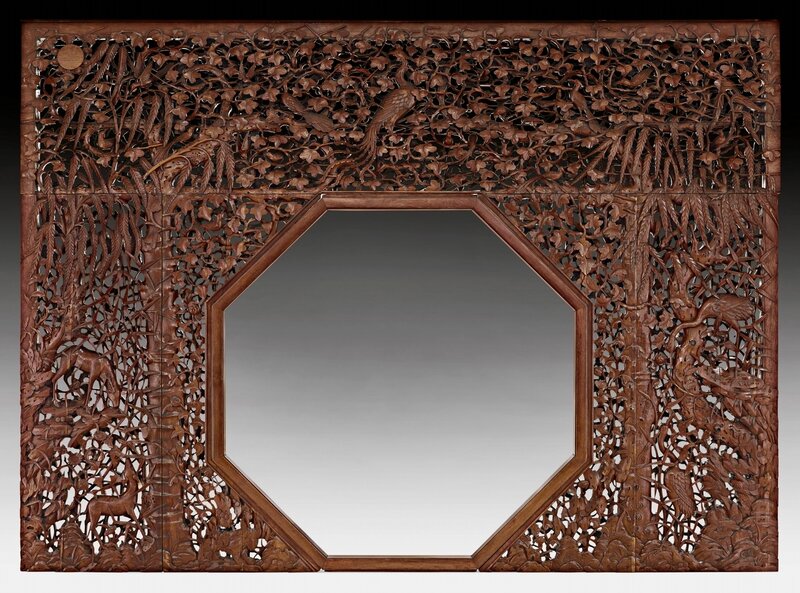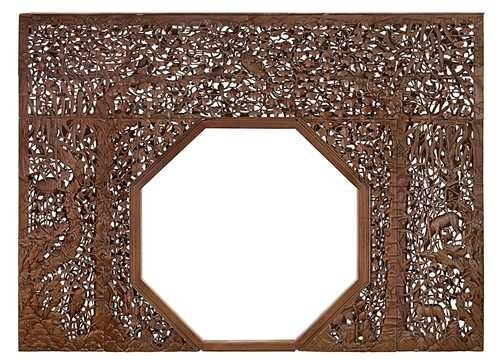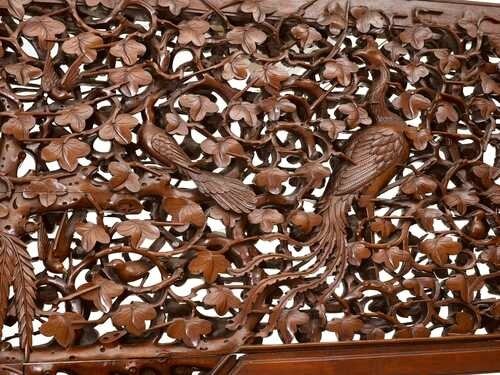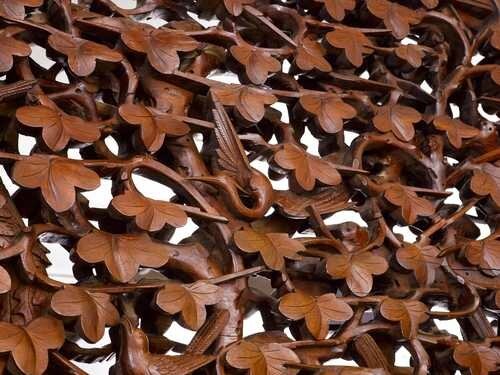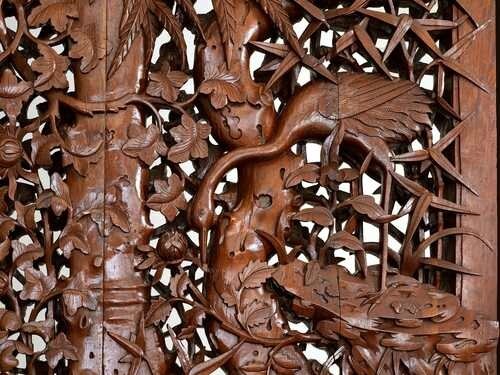 Lot 184. A magnificent caohuali imperial palace partition with octagonal doorway carved in open work, China, 19th centur. 287x396x11 cm. Estimate CHF 800 000 / 1 400 000 (€ 740 740 / 1 296 300). Sold for CHF 800 000 (hammer price). © Koller Zurich
Imperial bronze censers sell for more than eight times the pre-sale estimate
The Imperial provenance of this pair of unusual bronze censers was never in doubt, as comparable examples only exist in front of two palaces in the Forbidden City, as well as at the entrance of Beihei Park (which was formerly also part of the Imperial city). Representing mythical dragon-turtles, or Bixi, bidding for the pair quickly rose far above the pre-sale estimate and finally ended at CHF 486 000.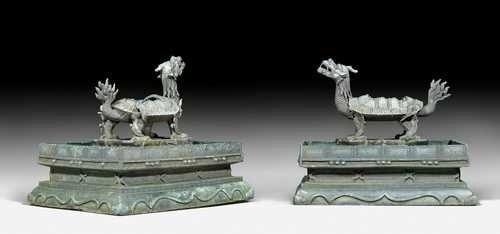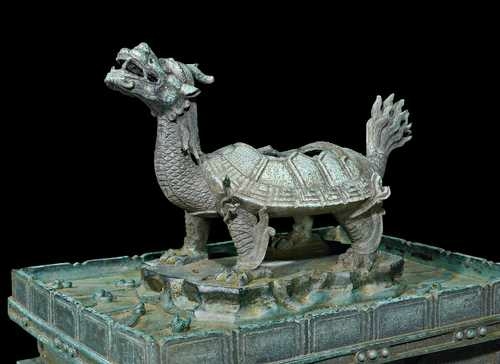 Lot 183. A fine pair of imperial bronze censors in the shape of dragon-turtles (bixi), China, 18th -19th century. Length 42 cm. Covers lost. Estimate CHF 60,000 / 90,000 (€ 55 560/83 330). Sold for CHF 405 000 (hammer price). © Koller Zurich
Bronze with rich green patina. The animals stand on a plate of tiles in a rectangular basin, on whose base fine-reliefed waves can be seen. While the above open tank is the one of a turtle, the rest of the animal with shed, mane, horn and tail resembles a kite. They stretch their heads up and tear open their mouths. The edge of the basin is modeled on a stone balustrade. Lid lost.
Himalayan bronzes sell for record prices
The demand for lamaistic art from the Himalayan region was very strong in Koller's 13 June auction, and several sculptures made top prices, such as a very early Buddha Shakyamuni from the Pala Empire that sold for CHF 1.17 million, a Nepalese figure from the Khasa-Malla Kingdom that fetched CHF 538 000, and a wonderfully serene Tibetan figure of a standing Bodhisattva that changed hands for CHF 756 000.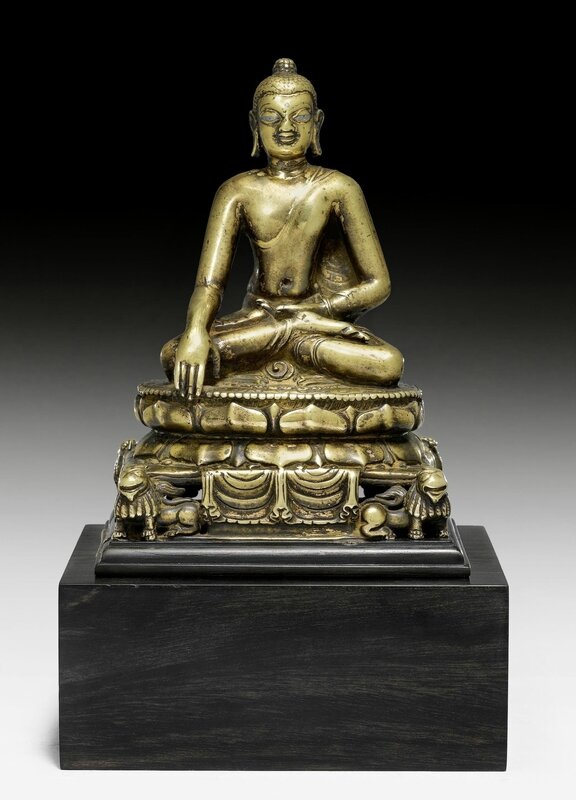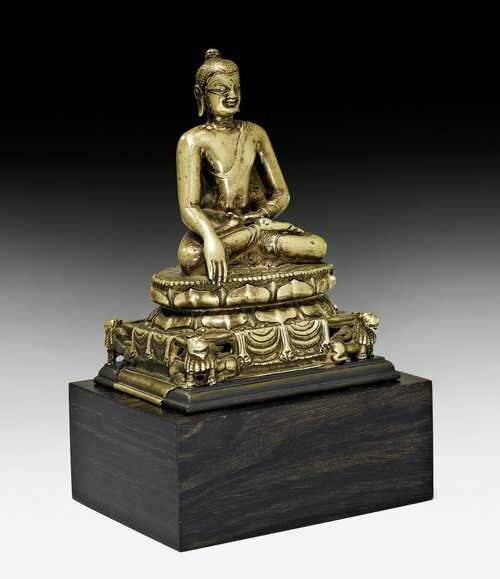 Lot 115. A bronze figure of Buddha Shakyamuni on a lion throne, Northeastern India, Pala, 8th-9th century. Height 16.5 cm. Silver and copper inlays. Estimate on request. Sold for CHF 1 000 000 (hammer price). © Koller Zurich
Bronze with silver and copper inserts. The historical Buddha sits in the diamond seat on a double lotus dome with displaced leaves. This rests on a parallelepiped throne supported in the corners of four lions (simhasana). A cloth falls in double fold on all four sides over the edge. The monk's gown is smoothly laid back and covers only the left shoulder. The right hand touches the earth in bhumisparsamudra, the left rests over the lap. This gesture is reminiscent of Shakyamuni's victory over the tempter, Mara, when he was sitting under the bosha-space just before enlightenment (maravijaya).
Back Sanskrit donor inscription in Siddhamatrika script: Hum Mahavira Svaha "Heil euch oh grossher!"
This Buddha could possibly originate from the Nalanda Monastery in Bihar in North India. Nalanda was a center for Buddhist studies between the 8th and 12th centuries. Scholars from many countries outside India studied for many years at Vajrayana Buddhism at the Nalanda University. On the way back to their home countries they are usually carried out in addition to manuscripts written on palm-leaf, so small statues cast in bronze or made of stone. This Buddha image must have been more than 1000 years in Tibet and what countless times touched and ritually washed, as indicated by the shiny surface.
Compare: By Schroeder, Ulrich. 1981. Indo-Tibetan Bronzes, pp. 252-261, plates 54-58. By Schroeder, Ulrich. 2001. Buddhist Sculptures in Tibet, Volume One: India & Nepal; pp. 228-229, pl. 67th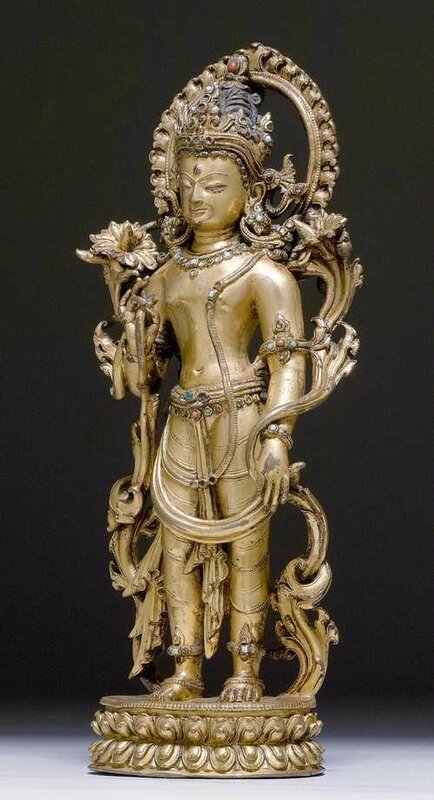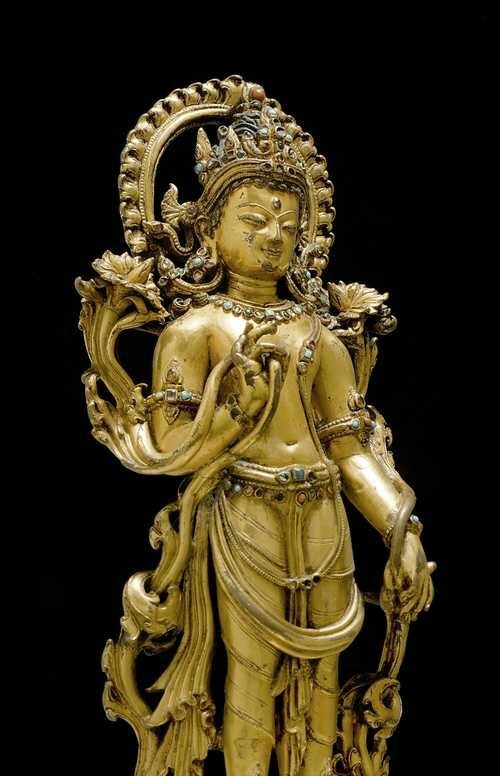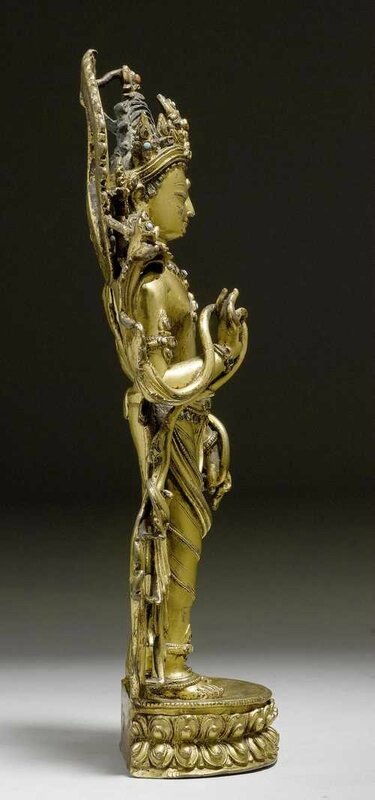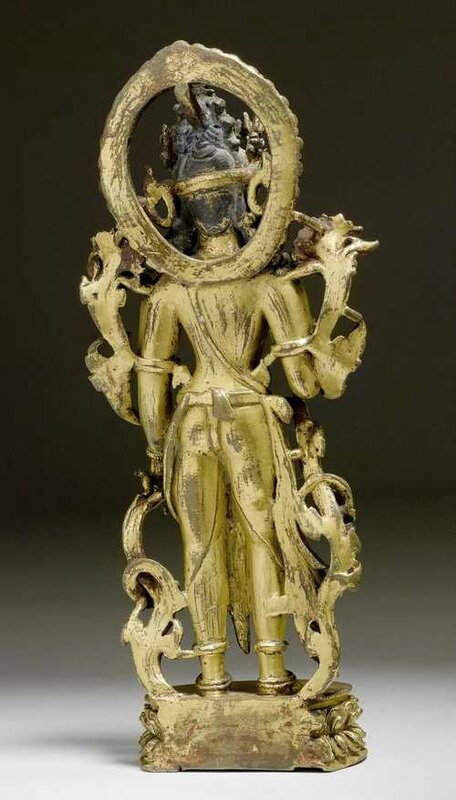 Lot 127. A magnificent gilt copper alloy figure of a standing bodhisattva, Tibet, 14th century. Height 27 cm. Stone inlays. Base plate lost. Estimate CHF 60,000 / 90,000 (€ 55 560/83 330). Sold for CHF 640 000 (hammer price). © Koller Zurich
Fire-gilt copper alloy. The young bodhisattva stands in a light tribhanga on a double lotospodest. Both hands hold lotus stalks, which grow out of the pedestal and unfold beside the shoulders in magnificent bloom. The right hand of the bodhisattva shows the vitarkamudra. A copfaureole encompasses the crowned head, which is additionally decorated with four-leaved earrings and fluttering hairs. Rich stems complete the magnificent appearance. Base plate lost.
Old private Belgian collection, purchased at Galerie Koller Zurich, Nov. 1979, lot 67.