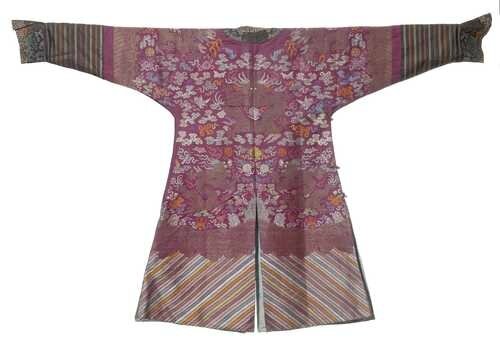 Lot 287. A purple brown silk brocade nine dragon robe, China, 19th century. Length 132 cm. Estimate CHF 3 000 / 5 000 (€ 2 780/4 630). Unsold © Koller Auctions
In the silk of strong purple, nine five-clawed dragons were interwoven in pastel tones and fine gold threads. Between the clouds are Shou medallions, flowers, attributes of learning, Buddhist and Daoist emblems. The moving Urozean rises above colorful Lishui stripes. The dark brown sleeves are provided with fine stripes and are closed by dark borders, which also border the side opening and the neck cutout. Brass buttons and brocade loops form the closure. With light blue silk.
Swiss private collection, acquired before 1997 in Hong Kong.
Koller Auctions. Asian Art: Himalaya, China - Tuesday 13 June 2017