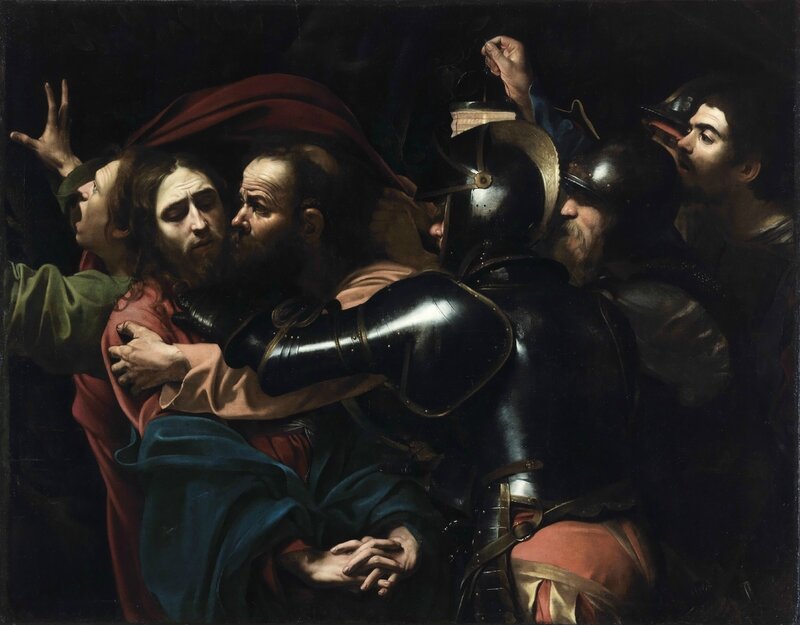 Michelangelo Merisi da Caravaggio (1571-1610), The Taking of Christ, 1602. On indefinite loan to the National Gallery of Ireland from the Jesuit Community, Leeson St., Dublin, who acknowledge the kind generosity of the late Dr Marie Lea-Wilson. Photo © National Gallery of Ireland.
EDINBURGH.- The revolution in painting sparked by one of the world's most celebrated (and notorious) artists is the subject of the major summer exhibition at the Scottish National Gallery in Edinburgh this year. Beyond Caravaggio brings a group of four important paintings by the bad boy of seventeenth-century Italian art to Scotland for the first time, and explores the extraordinary impact of his work across Europe, both during his lifetime and in the decades following his premature death.

Organised in partnership with the National Gallery in London and the National Gallery of Ireland in Dublin, this is the first exhibition devoted to this theme ever to be mounted in Britain.
Pietro Novelli (1603 - 1647), Cain Killing Abel, Second quarter of 17th century. Oil on canvas,190.00 x 143.00 cm. Presented to the RI by Sir Alexander Crichton 1833; transferred 1859, NG 21. Photo Antonia Reeve © National Galleries of Scotland.
Michelangelo Merisi da Caravaggio (1571-1610) is one of very few 'Old Master' painters to enjoy genuine, broad popular appeal today, remembered not only for his brilliance, but also his challenging, argumentative and violent nature. Our image of his work is inseparable from our knowledge of his tumultuous life; following his murder of a man in a quarrel over a game of tennis in 1606, he spent the last four years of his life as a fugitive and yet produced some of his most profound and moving works during this time.
The unveiling of Caravaggio's first public works in Rome in 1600 had an immediate and widespread effect. The artist's strikingly original, emotionally charged paintings, with their dramatic lighting and compositions, and his radical new approach to subject matter, exerted a huge influence on a host of contemporary artists from in Italy and beyond, many of them painters of the very highest calibre, such as Orazio Gentileschi, Jusepe de Ribera, Valentin de Boulogne and Hedrick ter Brugghen. Beyond Caravaggio will bring together some 40 works by these followers known collectively as 'Caravaggesque' or 'Caravaggisti' from collections across the UK and Ireland to illustrate the staggering extent of his reach.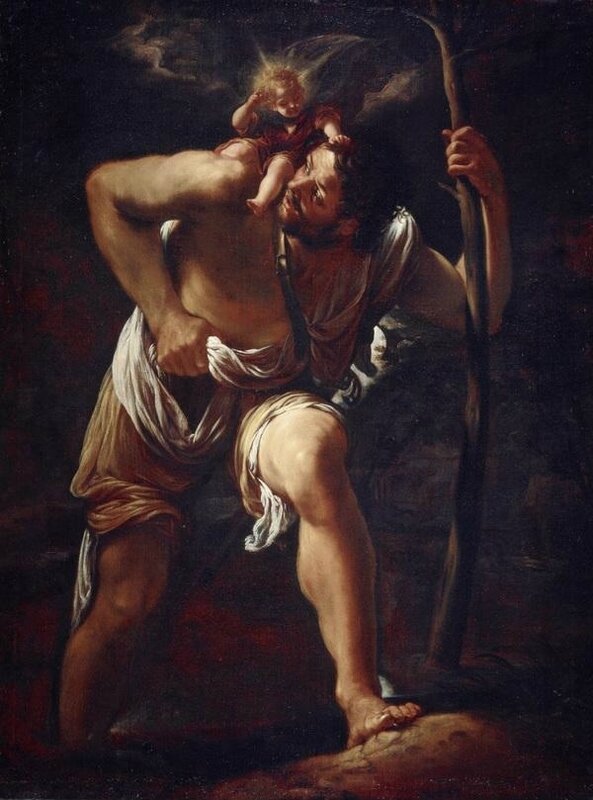 Orazio Borgianni ( about 1578 - 1616), Saint Christopher Carrying the Infant Christ, About 1615. Oil on canvas, 104.00 x 78.00 cm. Presented to the Royal Scottish Academy by Sir John Watson Gordon 1850; transferred to the National Gallery of Scotland 1910, NG 48. Photo Antonia Reeve © National Galleries of Scotland.
Much of Caravaggio's subject matter was drawn from everyday life, painted directly from posed models without the use of preparatory drawings: both the world-famous Boy bitten by a Lizard (c.1594-95) and Boy peeling Fruit (c.1592-3) feature in the exhibition.

Caravaggio was also remarkable for his highly intelligent transformation of traditional religious themes, often blurring the lines between sacred and profane subjects. The Supper at Emmaus (1601), with its beardless Risen Christ and convincingly tatty disciples, painted in brilliantly foreshortened poses which accentuate the viewer's sense of almost being part of the drama, is being shown alongside a number of works by followers such as Gerrit van Honthorst and Giovanni Serodine, who responded to Caravaggio's compelling way of telling stories.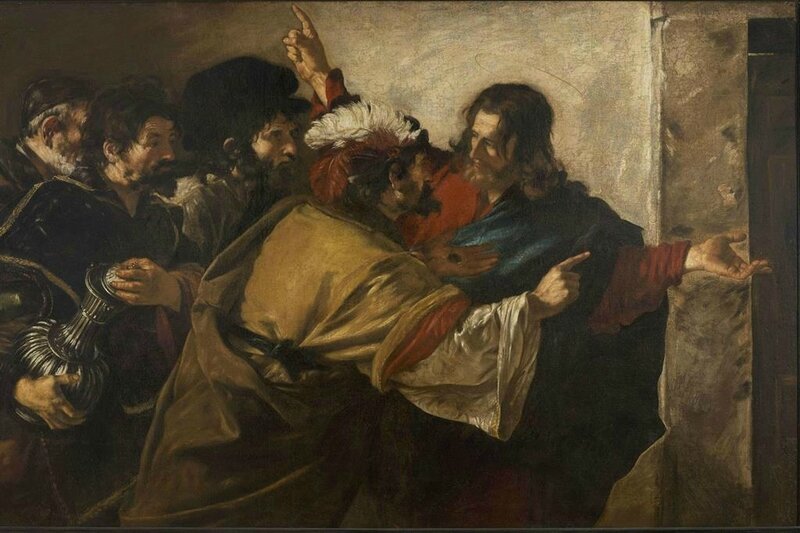 Giovanni Serodine (1600 - 1630), The Tribute Money, About 1620 - 1630. Oil on canvas, 146.00 x 227.00 cm. Bequest of Mrs Nisbet Hamilton Ogilvy of Biel 1921, NG 1513. Photo Antonia Reeve © National Galleries of Scotland.
This talent of Caravaggio's is also evident in his dramatic depiction of The Taking of Christ, which shows with shocking immediacy the moment Jesus is arrested before his crucifixion. Painted in 1602, when Caravaggio was at the height of his fame, this masterpiece compresses the action into a claustrophobically shallow space, showing the protagonists in extreme close up. The contemporary armour of the two soldiers who reach out to seize Christ, accentuates the naturalism of the scene, and for good measure Caravaggio inserted himself into the painting, appearing as the figure holding a lamp on the right hand of the composition.

The impact of paintings like this is being shown in masterpieces such as the startling Christ displaying his Wounds (c.1625-35) by Spadarino from Perth Museum and Art Gallery and Ribera's The Martyrdom of St Bartholomew (1634), which was in a was in the Cranstoun family collection at Corehouse in Lanarkshire for over 170 years, and has been borrowed for this exhibition from the National Gallery of Art in Washington. Another notable loan is the striking candlelit painting of A Youth with a Basket of Lemons (c.1630) by the French painter Trophime Bigot, which has never previously been exhibited or published, and which is exclusive to the Edinburgh venue of this exhibition.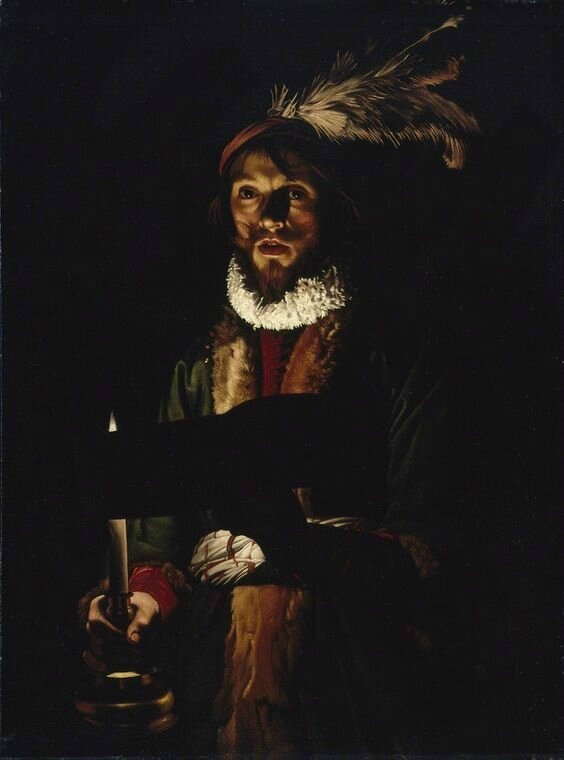 Adam de Coster, A Man Singing by Candlelight, 1625-1635 © The National Gallery of Ireland, Dublin.
Beyond Caravaggio curator Aidan Weston-Lewis says: "Paintings by Caravaggio and his followers were avidly sought after by collectors in the decades following his death, but by the middle of the seventeenth century the enthusiasm for this kind of naturalistic painting had largely fallen away. Although it would take almost 300 years for Caravaggio's reputation to be restored, this exhibition amply demonstrates how his astonishing legacy is one of the most enduring in the history of art."
On now until 24th September 2017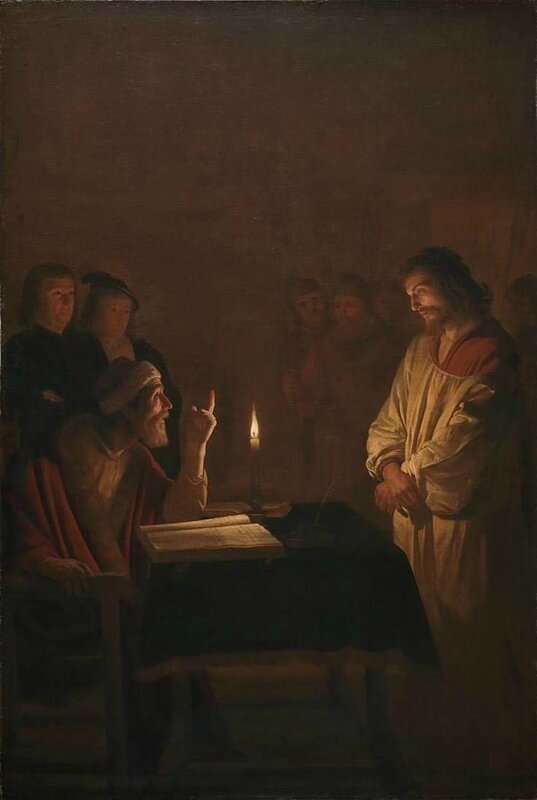 Gerrit Van Honthorst (1592–1656), Christ before the High Priest, about 1617. Oil on canvas, 272 x 183 cm. The National Gallery, London. Bought, 1922 © The National Gallery, London.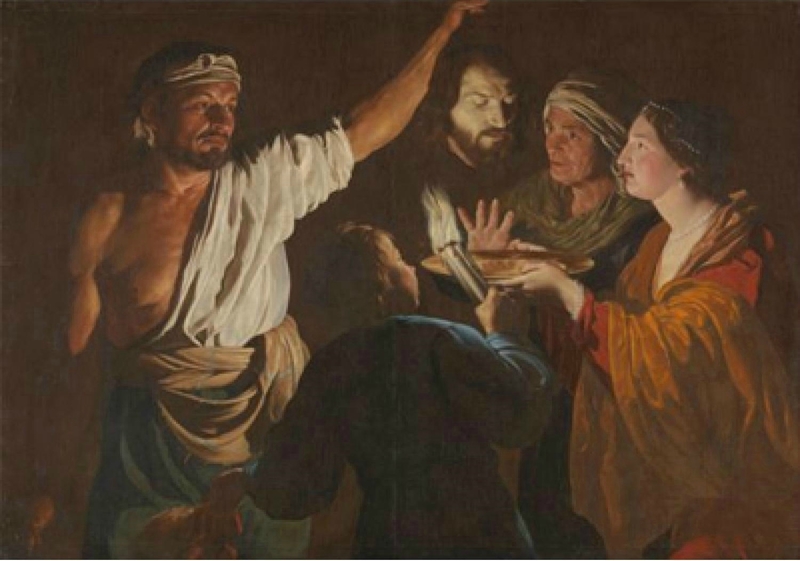 Matthias Stom (1600–1650), Salome receives the Head of John the Baptist, probably about 1630-2. Oil on canvas, 109.2 x 155.7 cm. The National Gallery, London. Presented by the Trustees of Sir Denis Mahon's Charitable Trust through the Art Fund, 2013 © The National Gallery, London.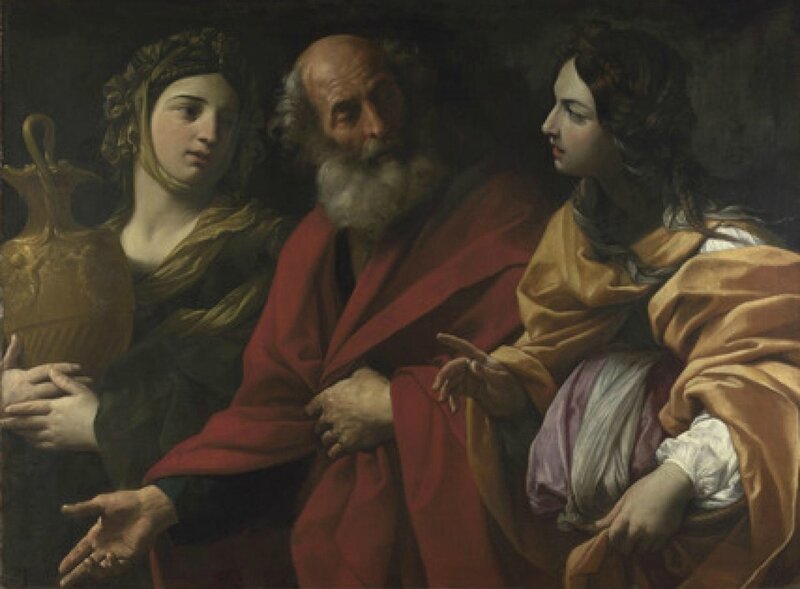 Guido Reni (1574-1642), Lot and his daughters leaving Sodom, about 1615-16, Oil on canvas © The National Gallery, London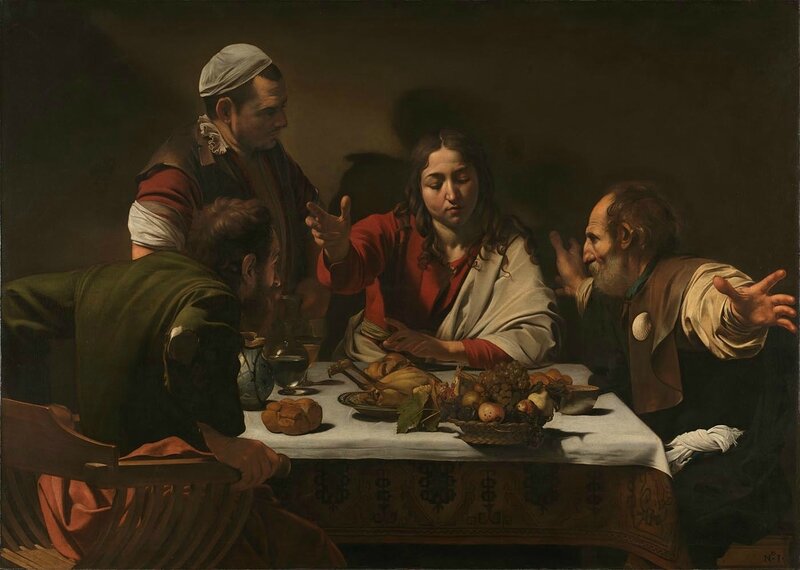 Michelangelo Merisi da Caravaggio (1571-1610), The Supper at Emmaus, 1601. Oil on canvas, 141 x 196.2 cm. Presented by the Hon. George Vernon, 1839, NG172 © The National Gallery, London