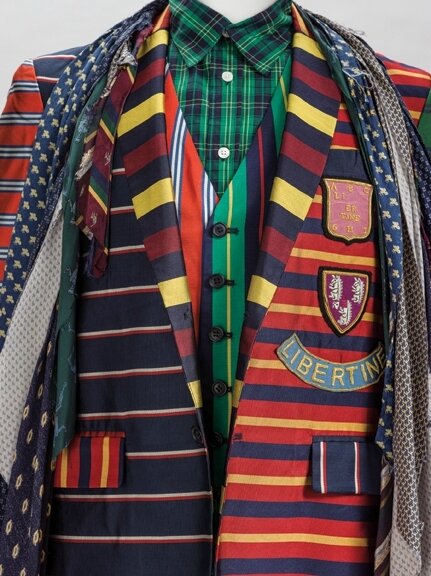 Johnson Hartig, American, born 1962; for Libertine, "Ensemble" (detail), Fall/Winter 2009-10; Los Angeles County Museum of Art, gift of Johnson Hartig. Photo © Museum Associates/LACMA.
SAINT LOUIS, MO.- The Saint Louis Art Museum is presenting Reigning Men: Fashion in Menswear, 1715–2015, an exhibition that celebrates a rich history of restraint and resplendence in menswear. The ticketed exhibition is on view from June 25 through Sept. 17.

Featuring more than 150 looks, Reigning Men traces cultural influences over the centuries, examines how elements of the uniform have profoundly shaped fashionable dress, and reveals how cinching and padding the body was—and is—not exclusive to women.

Reigning Men is drawn primarily from the renowned collection of the Los Angeles County Museum of Art, which organized the exhibition. When it premiered last year, The Los Angeles Times praised the exhibition as a "deep dive into the forces that have literally and figuratively shaped men's fashion in a different—and delightful—way."

"Fashion has not been a major collecting area for the Saint Louis Art Museum, so we felt a project based on scholarship and objects of exceptional quality would be an appropriate and exciting addition to our schedule," said Brent R. Benjamin, Barbara B. Taylor Director of the Saint Louis Art Museum. "Because of the extraordinary collection and curatorial expertise of the Los Angeles County Museum of Art, Reigning Men is an exhibition we were eager to bring to St. Louis."

The exhibition explores the history of men's fashionable dress while re-examining the equation of "fashion" with "femininity."

Beginning with the 18th century, the male aristocrat wore a three-piece suit conspicuous in make and style, and equally as lavish as the opulent dress of his female counterpart. The 19th-century "dandy" made famous a more refined brand of expensive elegance which became the hallmark of Savile Row. The mid-20th-century "mod" relished in the colorful and modern styles of Carnaby Street, and the 21st-century man—in an ultra-chic "skinny suit" by day and a flowered tuxedo by night—redefines today's concept of masculinity.

The presentation at the Saint Louis Art Museum is co-curated by Genevieve Cortinovis, assistant curator of decorative arts and design, and Zoe A. Perkins, textile conservator.

The Saint Louis Art Museum will offer an array of exhibition-related programming, including lectures, gallery talks and family programs that expand on the themes of Reigning Men.
Macaroni Ensemble: "Suit", Italy, probably Venice, c. 1770; Los Angeles County Museum of Art, Costume Council Fund; Waistcoat, France, c. 1770; Los Angeles County Museum of Art, purchased with funds provided by Suzanne A. Saperstein and Michael and Ellen Michelson, with additional funding from the Costume Council, the Edgerton Foundation, Gail and Gerald Oppenheimer, Maureen H. Shapiro, Grace Tsao, and Lenore and Richard Wayne; Sword with Sheath, France, late 18th century; Los Angeles County Museum of Art, gift of Mary H. and Martin B. Retting. Photo © Museum Associates/LACMA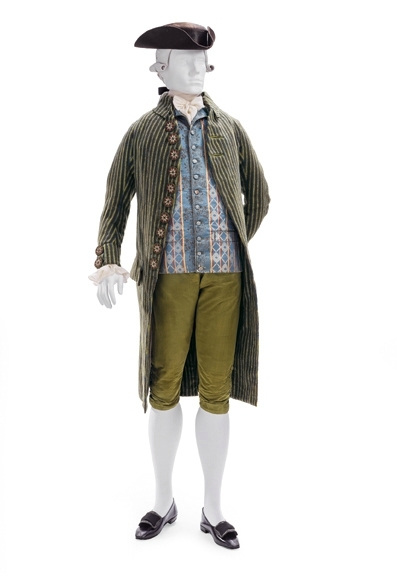 "Coat, Vest, and Breeches", France, c. 1790; Los Angeles County Museum of Art, purchased with funds provided by Suzanne A. Saperstein and Michael and Ellen Michelson, with additional funding from the Costume Council, the Edgerton Foundation, Gail and Gerald Oppenheimer, Maureen H. Shapiro, Grace Tsao, and Lenore and Richard Wayne; Hat (Tricorne), Netherlands, c. 1790; Los Angeles County Museum of Art, Costume and Textiles Acquisition Fund. Photo © Museum Associates/LACMA
"Coat, Vest, and Breeches" (detail), France, c. 1790; Los Angeles County Museum of Art, purchased with funds provided by Suzanne A. Saperstein and Michael and Ellen Michelson, with additional funding from the Costume Council, the Edgerton Foundation, Gail and Gerald Oppenheimer, Maureen H. Shapiro, Grace Tsao, and Lenore and Richard Wayne; Hat (Tricorne), Netherlands, c. 1790; Los Angeles County Museum of Art, Costume and Textiles Acquisition Fund. Photo © Museum Associates/LACMA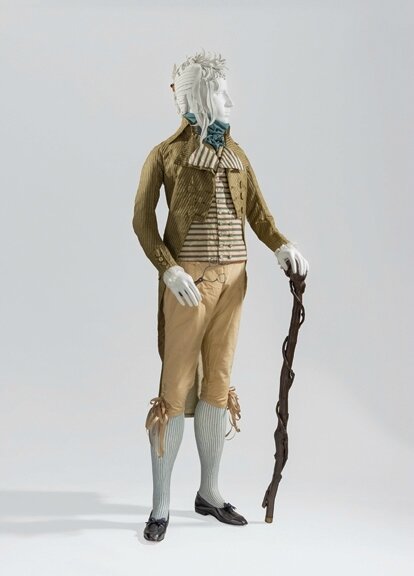 Incroyable Ensemble: "Coat, Breeches, Lorgnette, and Walking Stick (Hercules Club)", France, 1790's; Los Angeles County Museum of Art, purchased with funds provided by Suzanne A. Saperstein and Michael and Ellen Michelson, with additional funding from the Costume Council, the Edgerton Foundation, Gail and Gerald Oppenheimer, Maureen H. Shapiro, Grace Tsao, and Lenore and Richard Wayne; Vests, France, 1790's; Los Angeles County Museum of Art, Costume Council Fund. Photo © Museum Associates/LACMA
"Army Uniform Ensemble", England, 1799-1800; Los Angeles County Museum of Art, purchased with funds provided by Michael and Ellen Michelson. Photo © Museum Associates/LACMA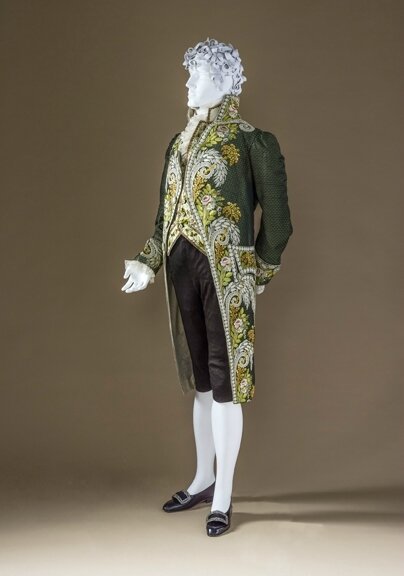 "Coat", France, c. 1800; Los Angeles County Museum of Art, gift of B. Rich; Vest (detail), France, c. 1800; Los Angeles County Museum of Art, purchased with funds provided by Suzanne A. Saperstein and Michael and Ellen Michelson, with additional funding from the Costume Council, the Edgerton Foundation, Gail and Gerald Oppenheimer, Maureen H. Shapiro, Grace Tsao, and Lenore and Richard Wayne. Photo © Museum Associates/LACMA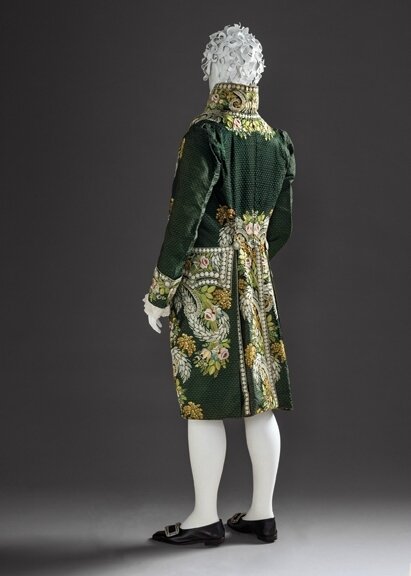 "Coat", France, c.1800; Los Angeles County Museum of Art, gift of B. Rich. Photo © Museum Associates/LACMA
"Coat" (detail), France, c. 1800; Los Angeles County Museum of Art, gift of B. Rich; Vest (detail), France, c. 1800; Los Angeles County Museum of Art, purchased with funds provided by Suzanne A. Saperstein and Michael and Ellen Michelson, with additional funding from the Costume Council, the Edgerton Foundation, Gail and Gerald Oppenheimer, Maureen H. Shapiro, Grace Tsao, and Lenore and Richard Wayne. Photo © Museum Associates/LACMA
"Naval Uniform Ensemble" (detail), England, c. 1820; Los Angeles County Museum of Art, purchased with funds provided by Michael and Ellen Michelson. Photo © Museum Associates/LACMA
At-home Robe (Banyan)" (detail), England, c. 1880; Los Angeles County Museum of Art, purchased with funds provided by Suzanne A. Saperstein and Michael and Ellen Michelson, with additional funding from the Costume Council, the Edgerton Foundation, Gail and Gerald Oppenheimer, Maureen H. Shapiro, Grace Tsao, and Lenore and Richard Wayne; Slipper, probably China for the European market, c. 1870; Los Angeles County Museum of Art, Costume and Textiles Acquisition Fund. Photo © Museum Associates/LACMA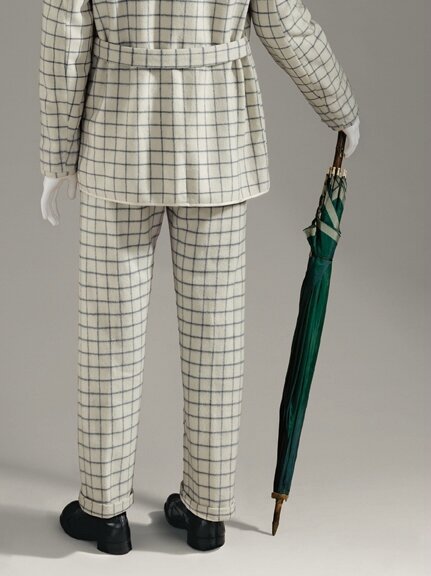 "Suit" (detail), Europe, c. 1915; Los Angeles County Museum of Art, purchased with funds provided by Michael and Ellen Michelson; Boots, United States, 1910-20; Los Angeles County Museum of Art, purchased with funds provided by James A. and Mary Jaene Edmonds; Hat (Boater), United States, 1915-25; Los Angeles County Museum of Art, Costume Council Fund. Photo © Museum Associates/LACMA
"Army Tank Suit", England, 1940-45; Los Angeles County Museum of Art, Costume and Textiles Deaccession Fund. Photo © Museum Associates/LACMA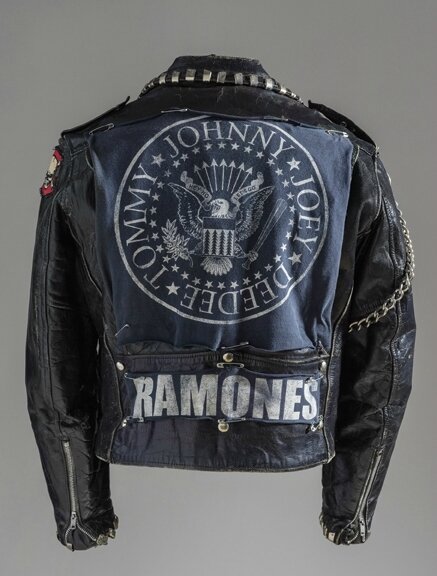 "Punk Jacket", United States, 1978-83; Los Angeles County Museum of Art, Costume Council Fund. Photo © Museum Associates/LACMA
Walter Van Beirendonck, Belgian, born 1957; "Ensemble", Fall/Winter 2000-1; Los Angeles County Museum of Art, gift of Walter Van Beirendonck. Photo © Museum Associates/LACMA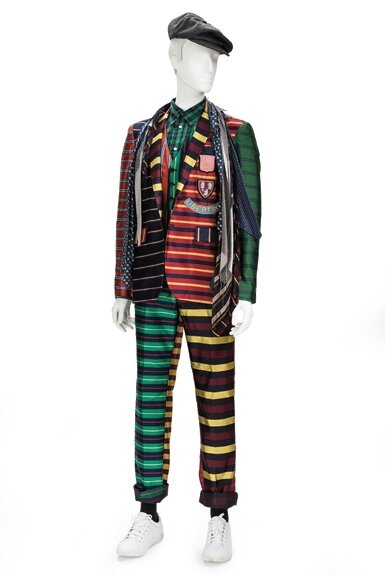 Johnson Hartig, American, born 1962; for Libertine, "Ensemble", Fall/Winter 2009-10; Los Angeles County Museum of Art, gift of Johnson Hartig. Photo © Museum Associates/LACMA
Johnson Hartig, American, born 1962; for Libertine, "Ensemble" (detail), Fall/Winter 2009-10; Los Angeles County Museum of Art, gift of Johnson Hartig. Photo © Museum Associates/LACMA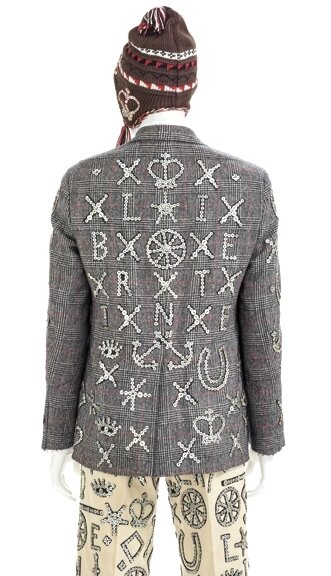 Johnson Hartig, American, born 1962; for Libertine, "Ensemble" (detail), Fall/Winter 2012-13; Los Angeles County Museum of Art, gift of Johnson Hartig. Photo © Museum Associates/LACMA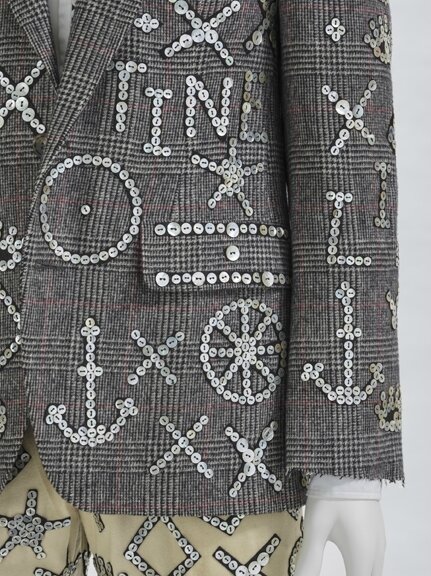 Johnson Hartig, American, born 1962; for Libertine, "Ensemble" (detail), Fall/Winter 2012-13; Los Angeles County Museum of Art, gift of Johnson Hartig. Photo © Museum Associates/LACMA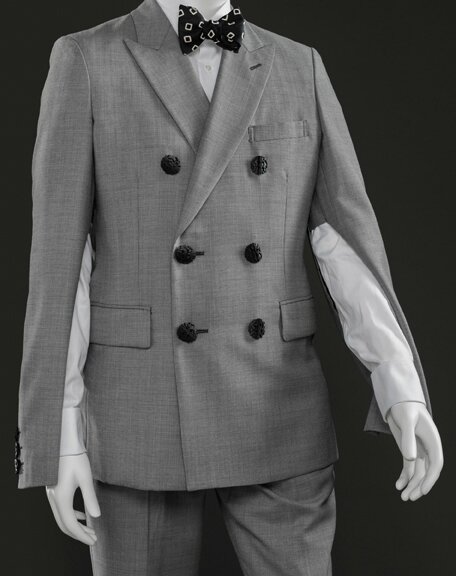 Rei Kawakubo, Japanese, born 1942; for Comme des Garçons, "Suit Jacket", Spring/Summer 2013; Los Angeles County Museum of Art, gift of Ricky Serbin. Photo © Museum Associates/LACMA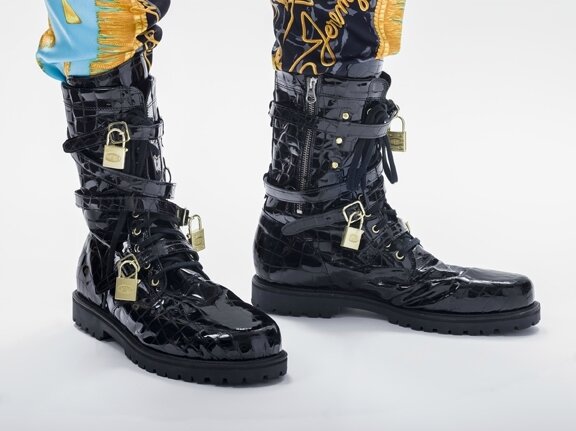 Jeremy Scott, American, born 1975; with Adidas, "Boots", Spring/Summer 2013; Los Angeles County Museum of Art, gift of Jeremy Scott. Photo © Museum Associates/LACMA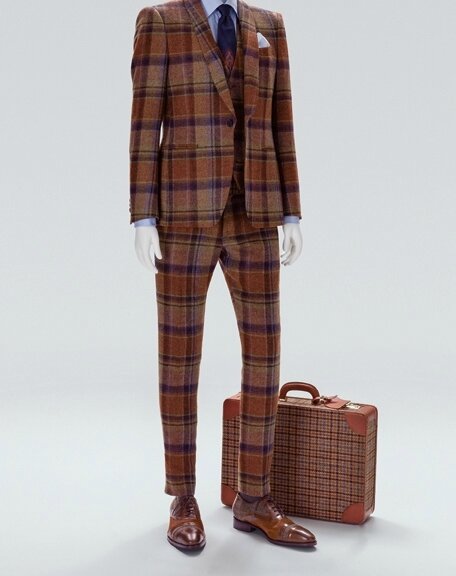 Kean Etro, Italian, born 1964; for Etro, "Ensemble", Fall/Winter 2014-15; Los Angeles County Museum of Art, gift of Etro. Photo © Museum Associates/LACMA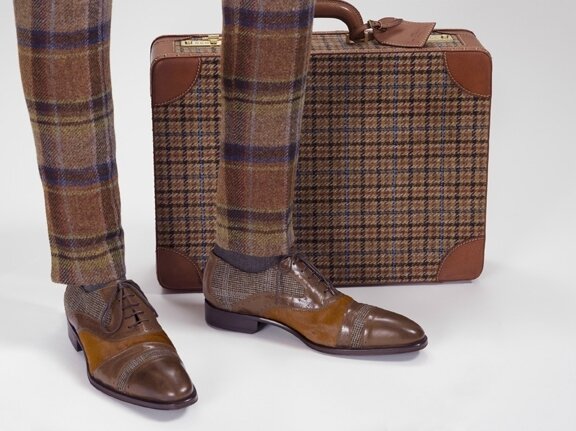 Kean Etro, Italian, born 1964; for Etro, "Ensemble" (detail), Fall/Winter 2014-15, Los Angeles County Museum of Art, gift of Etro. Photo © Museum Associates/LACMA
Jeremy Scott, American, born 1975; with Adidas, "Ensemble", Fall/Winter 2013-14; Los Angeles County Museum of Art, gift of Jeremy Scott. Photo © Museum Associates/LACMA
Jeremy Scott, American, born 1975; with Adidas, "Ensemble" (detail), Fall/Winter 2013-14; Los Angeles County Museum of Art, gift of Jeremy Scott. Photo © Museum Associates/LACMA