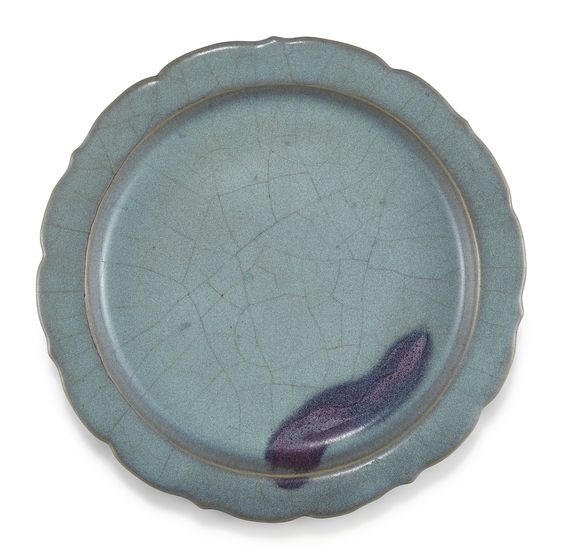 Lot 557. A 'Jun' purple-splashed dish, Northern Song – Jin dynasty, 22.3 cm, 8 3/4 in. Estimate 300,000 — 500,000 HKD. Lot sold 375,000 HKD. Photo: Sotheby's.
with an everted barbed rim, covered overall with a thick sky-blue glaze accentuated with a purple splash to the interior, the recessed base with five spur marks.
Provenance: A private Japanese collection, Kansai, by repute.
Note: It is extremely rare to find a 'Jun' dish of this barbed 'water caltrop' shape and the present piece is particularly remarkable for its large size, and highly unusual in being seven-pointed rather than hexa- or octafoil. No other purple-splashed 'Jun' dish of this shape and size appears to be recorded.
'Jun' dishes of this type are well known in smaller sizes, with flat circular rim, both with and without purple splashes, but manufactured in a similar way, with low unglazed foot ring and supported in the firing on spurs; see, for example, a more densely splashed circular dish with three spur marks in the Sir Percival David Collection in the British Museum, illustrated and described in Illustrated Catalogue of Ru, Guan, Jun, Guangdong and Yixing Wares in the Percival David Foundation of Chinese Art, rev. ed., London, 1999, no. 93, and a circular, monochrome green 'Jun' dish with five spur marks, no. A 66. This firing method, supported in the kiln on spurs that left distinctive raised marks on the glazed base, surrounded by pooling glaze, is characteristic of dishes of the Jin dynasty (1115-1234), with smaller dishes generally supported only on three spurs.
This barbed 'water caltrop' shape appeared simultaneously in different media in the Southern Song dynasty (1127-1279) of south China and in the Jin dynasty in the north, and became particularly popular in the Yuan period (1279-1368). It is similarly found among ceramics, silver and lacquer wares. While on the earlier examples the basic dish shape remained circular, in the Yuan, the sides of the dish were generally shaped in accordance with the bracket-lobed form of the rim; compare a hexafoil guan dish of the Southern Song in the British Museum, illustrated in Basil Gray, Sung Porcelain and Stoneware, London, 1984, pl. 109; and an octafoil 'Ding' dish of the Jin in the same collection, published in S.J. Vainker, Chinese Pottery and Porcelain, London, 1991, pl. 72.
Although this dish is thus in every way characteristic of the period, it is nevertheless difficult to find closely comparable examples. It is extremely rare to find any 'Jun' dish with this bracket-lobed rim, although one comparable monochrome blue piece, attributed to the Song dynasty, is in the Palace Museum, Beijing, of smaller size, with hexafoil rim, and fired on a more narrow foot ring, published in Selection of Jun Ware. The Palace Museum's Collection and Archaeological Excavation, Beijing, 2013, pl. 20; the dish is also illustrated in The Complete Collection of Treasures of the Palace Museum. Porcelain of the Song Dynasty, Hong Kong, 1996, vol. I, pl. 228, where the six-pointed 'water caltrop' shape is judged to have been particularly difficult to achieve. Another dish similar to the Palace Museum example, also with barbed hexafoil rim, of smaller size, and without purple, was sold at Christie's London, 10th June 1991, lot 78, and again in our London rooms, 6th June 1995, lot 182.
Smaller barbed purple-splashed dishes of different type and lesser quality, with the shallow sides also barbed and perhaps somewhat later in date, have been excavated in Yuzhou, see Yuzhou Juntai yao/The Juntai Kilns in Yuzhou, Zhengzhou, 2008, col. pl. 99: 1 and 3; another such dish severely misfired, with the glaze shrivelled, is illustrated in R.L. Hobson, The George Eumorfopoulos Collection of Chinese, Corean and Persian Pottery and Porcelain, London, 1925-8, vol. 3, pl. XIII, no. C 61; compare also a related much smaller, monochrome blue 'Jun' dish with barbed rim and sides from the Edward T. Chow collection, sold in our London rooms, 16th December 1980, lot 274 and 9th December 1986, lot 121, and in our New York rooms, 29th November 1988, lot 153; and one formerly with M. Komor and later in the Georges Debatz collection, sold at Christie's New York, 30th November 1983, lot 343.
'Jun' ware, the most spectacular of the major Song dynasty (960-1279) wares, with its type site represented by the Juntai kilns at Yuzhou, Henan province, was produced by many different manufactories in Henan, including the Ru kilns at Qingliangsi in Baofeng, as evidenced by archaeological excavations, see Baofeng Qingliangsi Ruyao/Ru Yao at Qingliangsi in Baofeng, Zhengzhou, 2008, col. pl. 183; and Gugong Bowuyuan cang Zhongguo gudai yaozhi biaoben [Specimens from ancient Chinese kiln sites in the collection of the Palace Museum], vol. 1: Henan juan [Henan volume], Beijing, 2005, passim.
The close connection between the three important Henan manufacturing centres, the Ru, Zhanggongxiang and Jun kilns, has been subject of an exhibition at the Poly Art Museum, Beijing, 2009, which included monochrome blue dishes of related type, with low foot ring, but fired on spurs that left thick spur marks on the base, excavated in Ye county, south of Yuzhou and Baofeng; for two smaller dishes with circular everted rim fired on three spurs and one saucer-shaped dish of larger size supported on five spurs see Henan xinchu Song Jin mingyao ciqi tezhan [Special exhibition of porcelains recently excavated from famous Song and Jin kilns in Henan], Poly Art Museum, Beijing, 2009, pp. 120-21 and 150-51.
Dishes of this type are in China sometimes called 'Ru Jun', see Liu Tao, Song Liao Jin jinian ciqi/Dated Ceramics of the Song, Liao and Jin Periods, Beijing, 2004, pp.149-50, where a blue-glazed (tianlan) saucer-shaped dish with similar foot and spurs excavated in Baofeng is illustrated, fig. 11-17.
Sotheby's. Chinese Art, Hong Kong, 01 Jun 2017