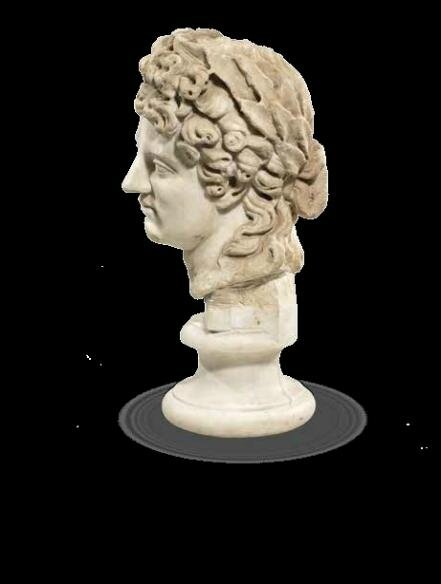 Lot 135. A Roman marble head of Apollo, Antonine Period, circa 100-150 A.D. Estimate £50,000 - 70,000 (€57,000 - 80,000). Photo: Bonhams
The youthful god with his head turned slightly to his right, wearing a laurel wreath in his thick, luxuriously wavy hair, curls escaping onto his forehead, his locks drawn up into a top-knot, and bound behind in a low chignon, with tendrils falling onto his neck, his oval face with large almond-shaped eyes with thick upper lids, deeply drilled at the inner canthi, the closed mouth slightly smiling,
32cm high
Provenance: Private collection, Germany, since 1964.
Note: The luscious curls of the present lot is typically early Antonine, with deeply-drilled, bountiful locks piled high upon the head. Sculpture during the Antonine periods is characterized by an increased emphasis in drill work focused on producing full, plastically-rendered curls, which were contrasted with the smoothly polished face of the subject.
For an Apollo with a similarly fleshy face, quiet countenance and high laurel wreath, see Ny Carlsberg Glyptothek, Copenhagen, inv. no. 1612. The present lot probably represents Apollo Kitharoidos, i.e. Apollo holding the kithara, a depiction which emphasises his role as god of music.
Bonhams. ANTIQUITIES, 6 Jul 2017, 10:30 BST, LONDON, NEW BOND STREET