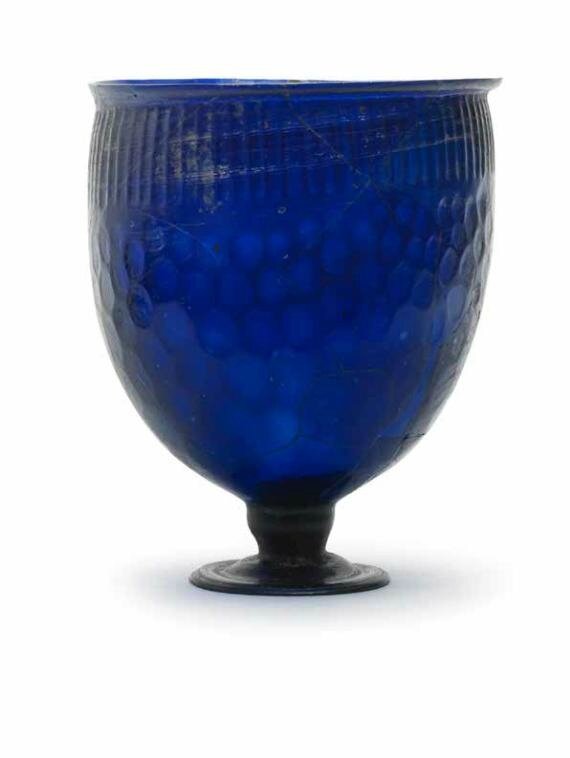 Lot 186. A Roman cobalt blue glass chalice, circa 4th Century A.D. Estimate £10,000 - 15,000 (€11,000 - 17,000). Photo: Bonhams.
The large, deep ovoid body mould-blown with an irregular honeycomb pattern, a band of vertical fluting beneath the everted cut-off rim, on a disc foot with knobbed stem,
18.3cm high
Provenance: with Sheppard and Cooper Ltd, London, 1995 (Glass of the Dark Ages, 1995, p.5, no.4).
Anonymous sale; Christie's, New York, 8 June 2001, lot 220.
Note: W. Haberey suggests that vessels such as the present lot were formed by first being placed in a shallow one-piece mould, before being further inflated once removed from the mould (Zur Herstellung der römischen Wabenbecher, Bonner Jahrbücher CLVI, 1966, pp. 208-12). This process often distorted the pattern towards the bottom of the vessel, as here, where the honeycomb pattern becomes less tight. For a similar honeycomb beaker, see S. Matheson, Ancient Glass in the Yale University Art Gallery, New Haven, 1980, p.109, no.284. There are three main varieties of this type of mould-blown bowl, discussed by J. W. Hayes, Roman and Pre-Roman Glass in the Royal Ontario Museum, Toronto, 1975, p.147, no. 643. This blue example belongs to the third variety.
Find-spots range from northern France and the Rhineland across South Russia, Syria and even Korea: a rim fragment in blue glass from the catacomb of San Sebastian is preserved in the Vatican Collection (F. Fremersdorf, Antikes, Islamisches- und Mittelalterliches Glas, Catalogo del Museo Sacro V, Vatican 1975, p.70, no.679, pl.30), and a complete blue bowl appears in the Winfield Smith Collection (T. S. Buechner, Glass from the Ancient World: The Ray Winfield Smith Collection, Corning, 1957, p.211, no.240). Another smaller blue version was found in the Tomb of Heavenly Horse in Kyongiu in Korea, provisionally dated to the early 6th century A.D.
Bonhams. ANTIQUITIES, 6 Jul 2017, 10:30 BST, LONDON, NEW BOND STREET