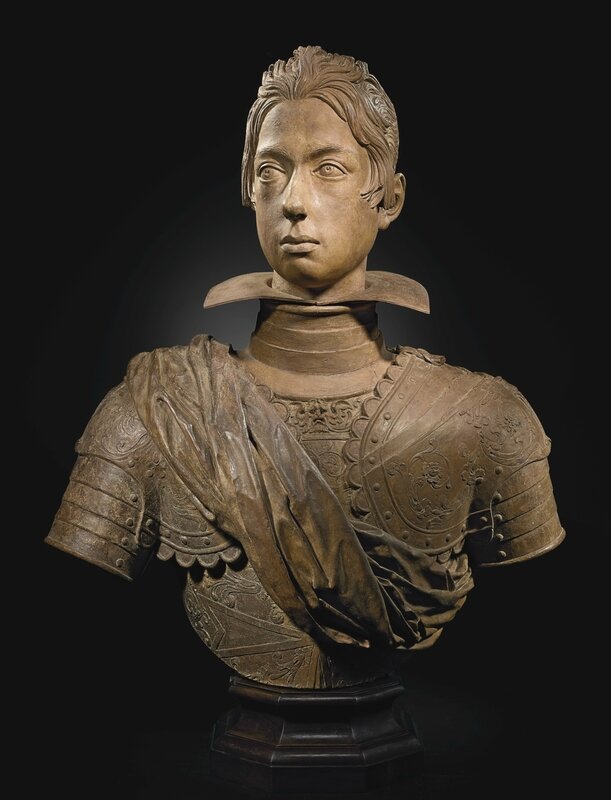 Lot 28. Pietro Tacca (1577-1640), Portrait Bust of Grand Duke Ferdinando II de' Medici (1610-1670), terracotta, on a wood base, bust: 75.5cm., base: 11cm. Estimate £1,000,000-2,000,000. Photo: Sotheby's.
LONDON.- This summer, Sotheby's will present at auction a wide range of sculptures from the Middle Ages to the early 19th century. The sales follow the company's recent announcement of the appointment of Alexander Kader and Margaret Schwartz as Co-Worldwide Heads of European Sculpture & Works of Art. The diversity of the field continues to prove to be its own strength: rare medieval works of art continue to fetch ever stronger prices; sculpture from the 15th and 16th centuries has witnessed a renaissance, with exceptional results achieved for masterpieces in various media; early jewels and precious works of art have become increasingly desirable, with record prices attained; Baroque sculpture, marked by its exuberance and virtuosity, is on the rise with notable marbles from the period proving popular with collectors worldwide who value both their scholarly and decorative appeal; large Neoclassical and Romantic marbles continue to dominate the 19th century sculpture market, with an international clientele seeking interior centrepieces for their homes; and recent years have also seen the rise of sculpture by early 20th century artists.
Old Masters Evening Sale, 5 July
For the first time ever, Sotheby's Old Masters Evening Sale in London will include a sculpture – an impressive terracotta bust by Pietro Tacca, Giambologna's pupil and his successor as court sculptor to the Medici Grand Dukes of Tuscany. A portrait of the young Ferdinando II de' Medici, Grand Duke of Tuscany (1610-1670, r.1621), it is likely to have been made around 1628, when the prince came of age and assumed power. During the Florentine Grand Duke's reign, Tacca reached the peak of his career. The terracotta bust might have been commissioned as an independent work, to be kept for its own sake; alternatively, it could also have served as a model for the marble bust of Ferdinando II that Tacca is known to have left unfinished. The sculptor's unmatched powers of observation are epitomised by a striking detail: the naturalistic texture of the lips. To model was one of Tacca's boyhood passions. It was only when his parents found him modelling after he had been locked in a sculptor's workshop accidentally in his hometown of Carrara that they decided to send him to Florence to study with Giambologna. As he entered Giambologna's workshop at a moment when the great Flemish sculptor had abandoned marble carving almost exclusively to dedicate himself to modelling for bronze casting, Tacca must have been greatly influenced by his master to become a modeller. In its vitality and the precise rendering of detail, the terracotta is a testimony to Tacca's interest in the study and realistic representation of nature.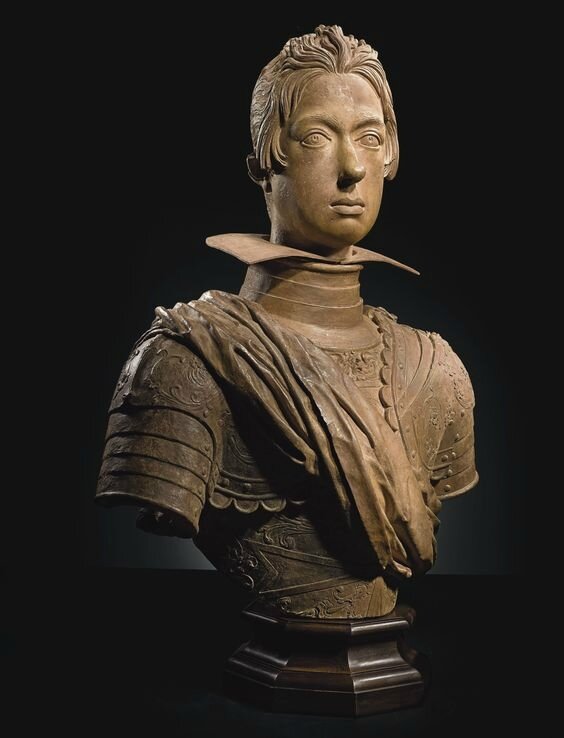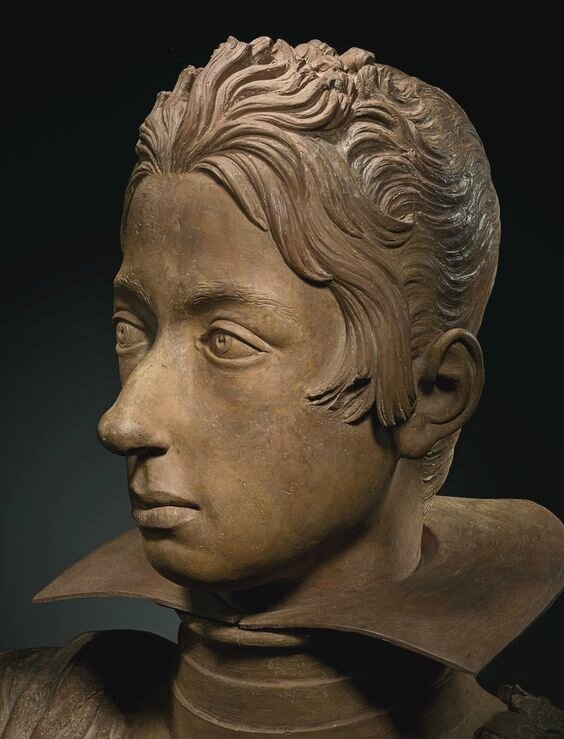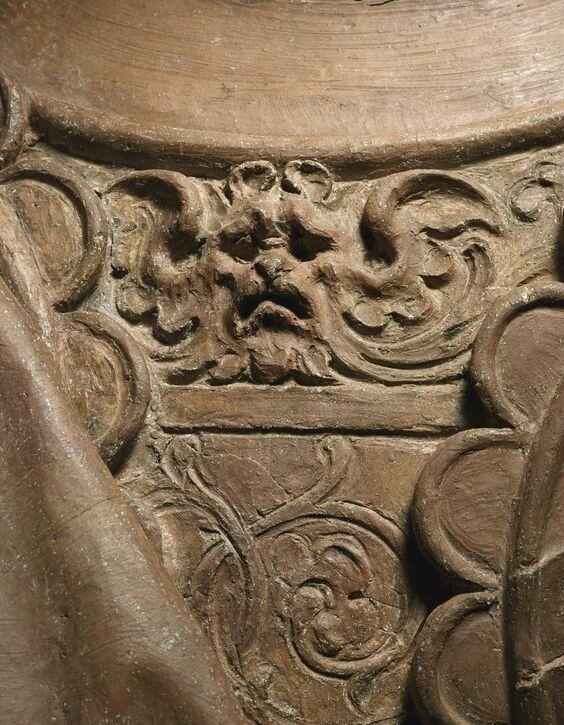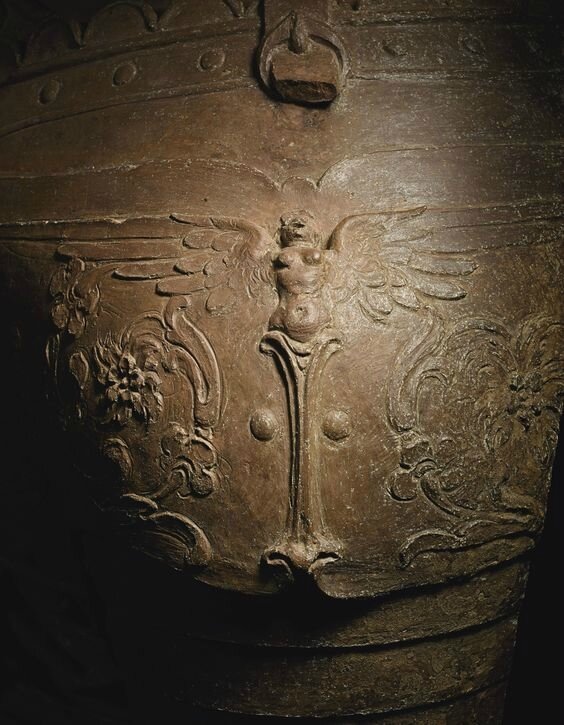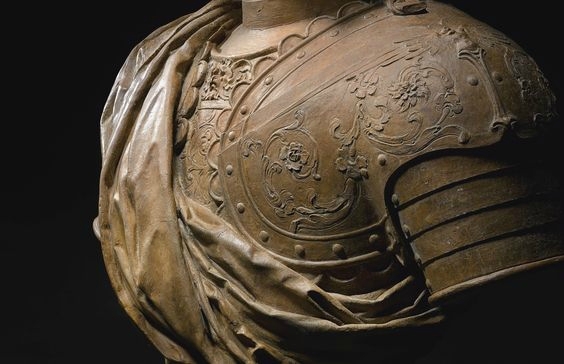 Lot 28. Pietro Tacca (1577-1640), Portrait Bust of Grand Duke Ferdinando II de' Medici (1610-1670), terracotta, on a wood base, bust: 75.5cm., base: 11cm. Estimate £1,000,000-2,000,000. Photo: Sotheby's.
Treasures, 5 July
Appearing at auction for the first time, Eleanor and David represents a rare opportunity to acquire a seminal marble by John Deare. One of the sculptor's most significant works, this beautifully carved piece comes from the collection of the art historians and Italophiles, the late Hugh Honour and John Fleming, whose ownership is ultimately a testament both to its quality and to its historical importance. In his short life, Deare established a reputation as one of the most talented neoclassical sculptors active in Rome in the late 18th century. Having trained at the Royal Academy from 1777, he was awarded the honour of a special dispensation to Rome with a pension in 1785, where his obsession with antiquity reached new heights. The esteem with which he was held by his contemporaries was such that, had his life not been tragically cut short at the age of 38 – reputedly from having caught a chill after sleeping on a block of marble in the pursuit of sculptural inspiration – his career 'might have classed him with the best sculptors of Ancient Greece'. Reliefs form a large portion of Deare's limited body of work (only 48 models are listed), and the majority of them represent classical subjects. Combining a keen appreciation for pose and the purity of the human form with virtuosity in the carving of decorative detail, Eleanor and Edward transports the subject of English medieval legend to ancient Greece. Edward is presented as a classical prince, with idealised muscular body, whilst Eleanor is presented as the archetypal demure Grecian maiden, her body concealed by drapes. In focusing on the loving couple seated on a daybed in a classical setting, the hero half naked, the heroine draped, Deare's relief fits into the late Rococo zeitgeist. The rarity of the Deare's works is underscored by the fact that he was not represented in the collections of the Victoria and Albert Museum until 2011.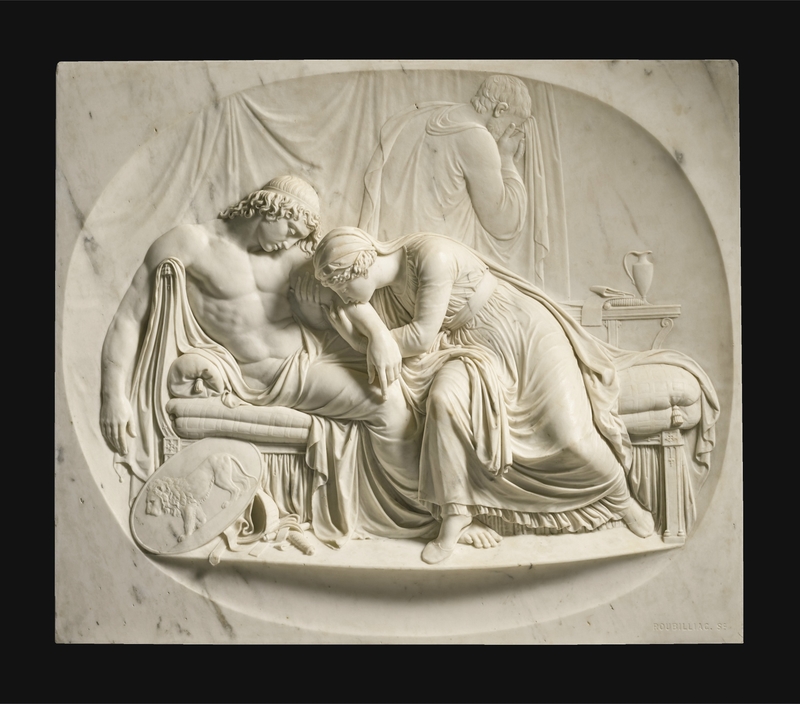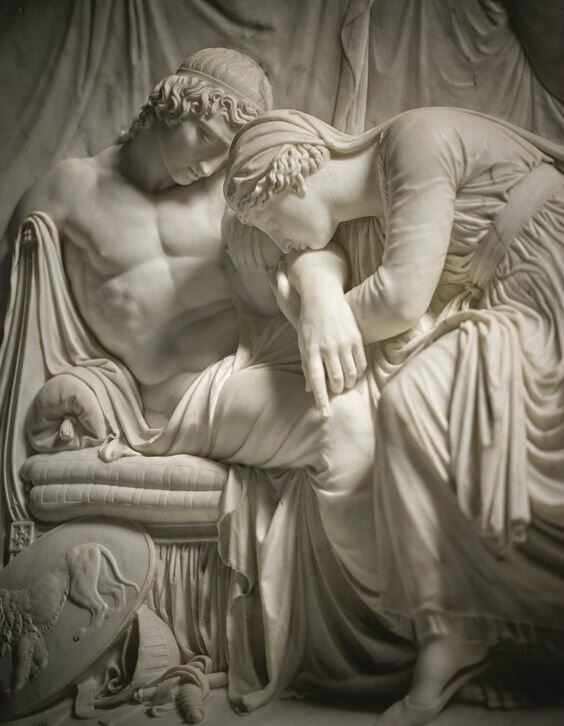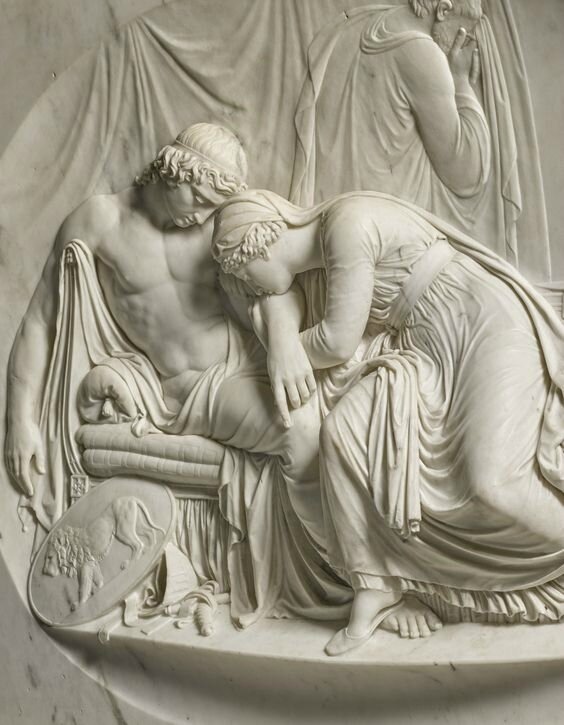 John Deare (1759-1898), Eleanor and Edward, Rome, circa 1789, bearing the signature: ROUBILLIAC. SC., white marble, 84 by 98cm., 33 by 38 5/8 in. Estimate £200,000-300,000. Photo: Sotheby's.
Old Master Sculpture & Works of Art, 6 July
Unique dated masterpieces of Netherlandish late Gothic wood sculpture rarely appear at auction. This wonderfully detailed representation of the Adoration of the Shepherds is an extraordinary survival of an object intended for private devotion, sculpted as a free-standing structure and dated 1527 on each side. Central to the group are the Virgin and Joseph, sitting in Adoration of their new-born child, in a stable in a deliberately conceived state of disrepair – the thatched roof is patchy, and the brick wall that forms the background of the scene contains numerous gaps and holes. They are joined by the Shepherds, two angels, and the ox and the ass, combining motifs seen in depictions of both the Nativity and the Adoration of the Shepherds. There are numerous light-hearted and humorous aspects, such as the ass straining his neck to greedily help himself to more straw, the birds hiding in the thatch of the roof, and the shepherds, with their expressive faces, two deep in conversation, one playing the bagpipes in the background, and a fourth curiously peeking his head through the window, trying, with great effort, to insert himself into the scene.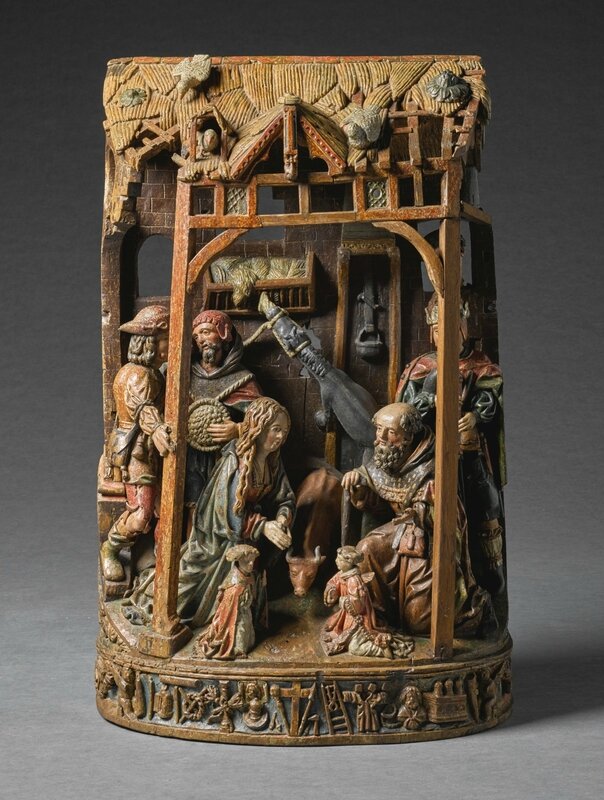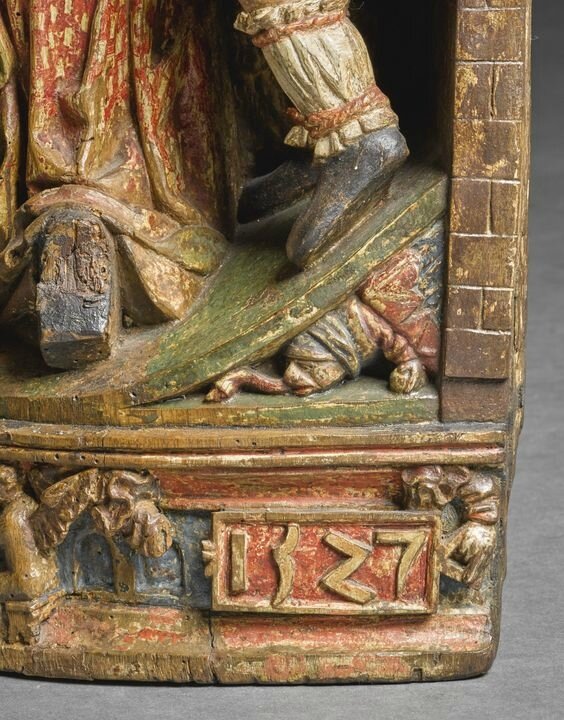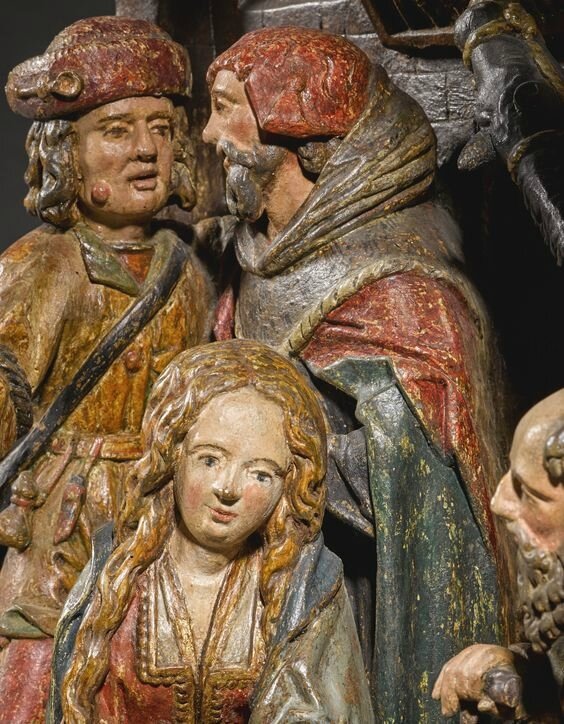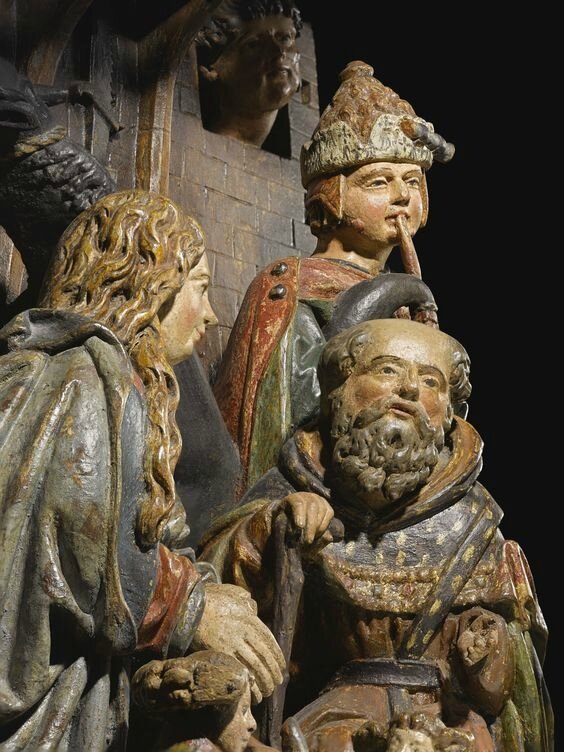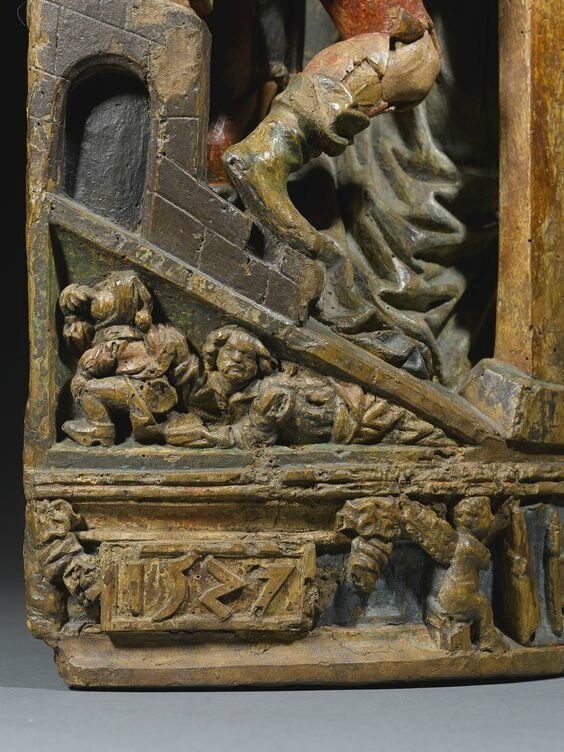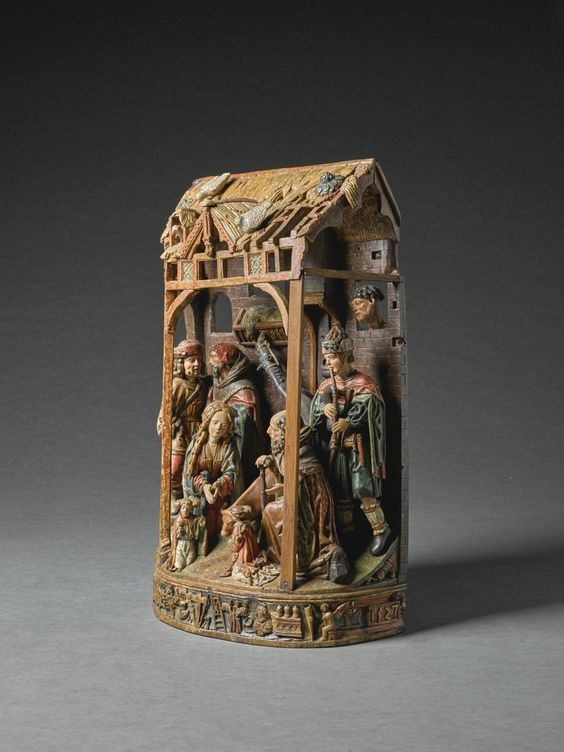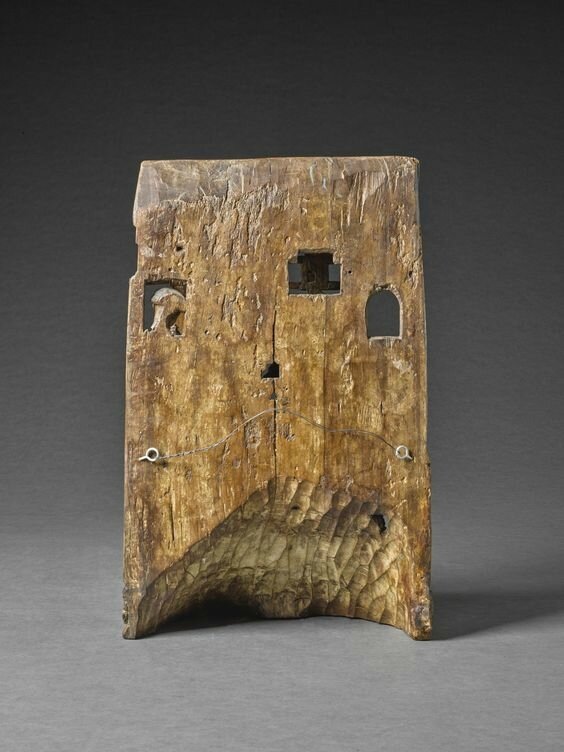 Southern Netherlandish, dated 1527, The Adoration of the Shepherds, polychromed walnut. Estimate £150,000-200,000. Photo: Sotheby's.
Representations of memento mori motifs – reminders of the fleetingness of life – gained currency in the Renaissance, particularly in Reformation-led Germany. Acting as moral guardians with connotations of sin, decay, and the afterlife, such objects were valued equally as curiosities, satisfying the Renaissance obsession with human anatomy and the grotesque. The early 16th century saw the rise of skeletons personifying death – so-called Tödlein ('little deaths') – as an independent genre in Southern German small-scale sculpture. Personification of Death with a Scythe dates from the 17th century, when the popularity of this type of carving was renewed by sculptors within the Dürer Revival movement. The skeleton is one of a group of remarkable memento mori sculptures and other curiosities: 'Objects of Wonder: A Private European Kunstkammer'.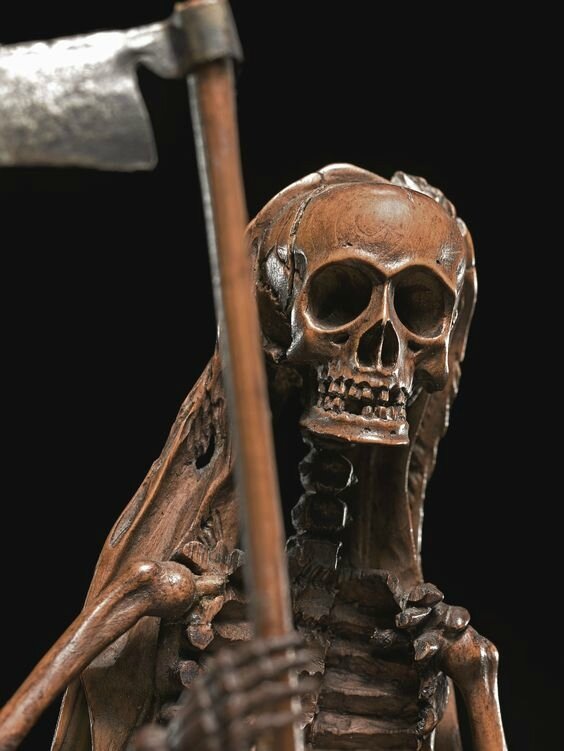 South German, late 17th-early 18th century, Personification of Death with a Scythe, fruitwood and metal, 36.2cm., 14¼in. Estimate: £25,000-35,000. Photo: Sotheby's.
19th & 20th Century Sculpture, 12 July
Auguste Clésinger's Cléopâtre is an important rediscovery for French 19th-century sculpture. Clésigner executed the marble in Rome and exhibited the model at the Paris Salon of 1861. In order to give this unambiguous nude enough of a veneer of respectability for it to be passed by the Salon jury, the sculptor's friends urged him to include a snake, twisted around the ankle, in a possible reference to a classical subject, such as Cleopatra. The sculpture was so life-like that the sculptor was accused, with some justification, of using plaster casts of the live model in its creation. With this work Clésinger became famous as a sculptor of the female form. The subject of Cleopatra was frequently depicted in nineteenth century sculpture and Clésinger himself returned to it twice. Her dramatic story offered numerous opportunities to artists and Clésinger captured its most theatrical moments in his three iterations of the subject. In view of the sculpture's extraordinary quality it is highly possible that this marble is the version presented at the Salon of 1861. Clésinger's dexterity with a chisel is exemplified in the delicate description of the female form under the diaphanous drapery, and he revels in the details of jewellery and pattern to create a vivid impression of sumptuous luxury. Cléopâtre mourante comes to auction for the first time since 1892.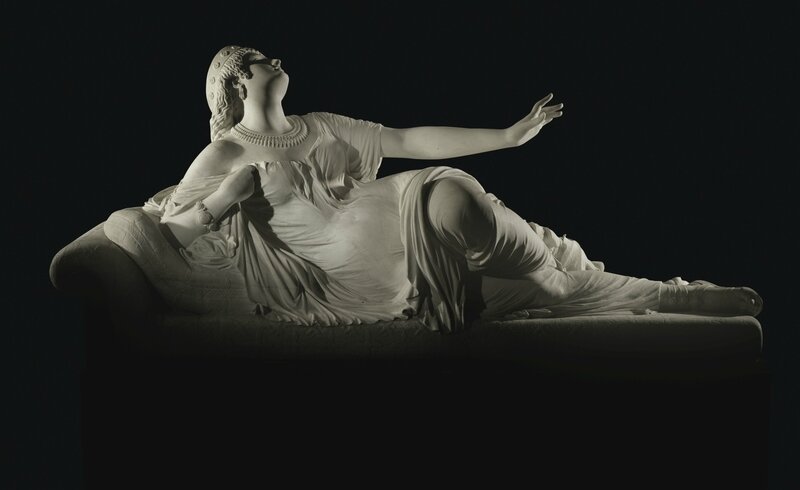 Jean Baptiste Clésinger (1814-1883), Cléopâtre mourante (The Dying Cleopatra), 1861, signed and dated: J.CLESINGER. / ROME 1861, white marble, on a red Campan marble base; figure: 87 by 203 by 78.5cm., 34¼ by 79 7/8 by 31in.; overall: 127 by 201 by 81 cm., 50 by 79 1/8 by 31 7/8 in.. Estimate £100,000-150,000. Photo: Sotheby's.
The sale includes a group of 44 works from American sculptor Cecil Howard's studio. All the pieces in the collection come from Howard's descendants and together they represent a fascinating insight into the artist's life, his sculptural styles, his techniques and his materials. His biography encompasses some of the defining movements in 20th-century European and American history and culture. On his return to Paris from the United States in 1916, Howard made some of the most innovative and idiosyncratic sculptures of his career, combining cubist forms with polychromy. In sculpture they find few precedents at the time and recall paintings from the concurrent Futurist movement in Italy, such as Giacomo Balla's Abstract Speed + Sound (1913-1914) and the colourful paintings produced by Robert and Sonia Delauney. The defining icon of the group is the multifaceted Accordéoniste, which, with its noisy sense of colour and motion, conjures up the evocative image of Paris dance halls.
Cecil de Blaquiere Howard (American, 1888-1956), Accordéoniste et danseurs (Accordionist and Dancers), polychromed plaster, 1915-17. Estimate £15,000-25,000. Photo: Sotheby's.