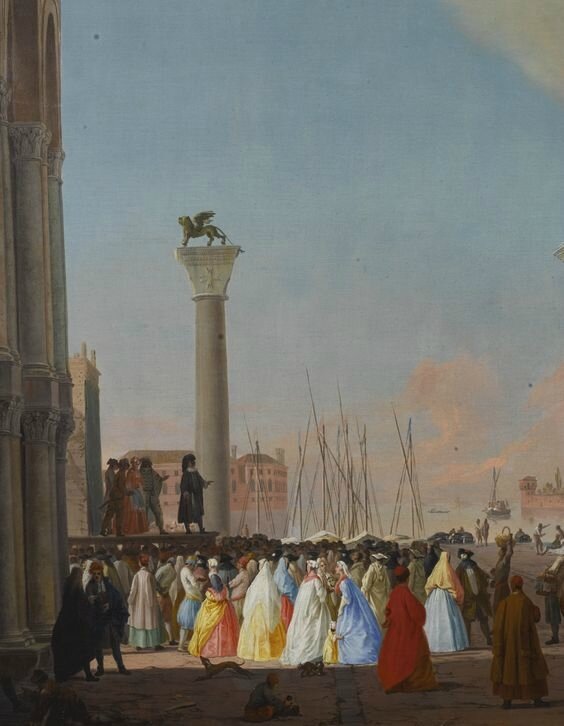 Lot 23. Johann Richter (Stockholm 1665-1745 Venice), Venice, the Piazzetta looking south from the Basilica di San Marco with the Biblioteca and a crowd gathered to watch a comedia dell' arte performance, the columns of San Marco and San tTeodoro, the Isola di San Giorgio Maggiore and the Giudecca beyond, oil on canvas, 122.4 x 161.4 cm.; 48 1/8 x 63 1/2 in. Estimate 400,000 — 600,000 GBP. Lot sold 344,750 GBP. Photo: Sotheby's
Provenance: Mrs. John Innes Kane;
By whom bequeathed to The Cooper Union Museum, New York, 1926;
By whom anonymously sold ('The Property of an American Institution'), London, Sotheby's, 26 March 1969, lot 23 (as Luca Carlevarijs), for £15,000, to Marshall;
With Colnaghi, London, 1974;
Private collection, Switzerland, by summer 1978;
Anonymous sale, London, Sotheby's, 16 July 1980, lot 129 (as Luca Carlevarijs);
Anonymous sale ('The Property of a Gentleman'), London, Christie's, 24 May 1991, lot 74 (as Luca Carlevarijs), for £451,000;
Where acquired by the present collector, J.E. Safra.
Exhibited: Sarasota, John and Mable Ringling Museum of Art, An Exhibition of Reflections of The Italian Comedy, 21 January – 23 February 1951, no. 17 (as Luca Carlevarijs);
Toronto, Art Gallery, 17 October – 15 November 1964; Ottawa, National Gallery of Canada, 4 December 1964 – 10 January 1965; and Montreal, Museum of Fine Arts, 29 January – February 1965, Canaletto, no. 131 (as Luca Carlevarijs);
London, Colnaghi, Exhibition of Old Master Paintings, 21 May – 22 June 1974, no. 1;
Pfäffikon, Seedamm-Kulturzentrum, 18 June – 27 August 1978; and Geneva, Musée d'Art et d'Histoire, 13 September – 5 November, Art vénitien en Suisse et au Liechtenstein, cat. no. 158 (as Luca Carlevarijs)..
Literature: A. Everett Austin Jr., Reflections of The Italian Comedy, exh. cat., Sarasota 1951, cat. no. 17, reproduced p. 2;
W.G. Constable, Canaletto, exh. cat., Toronto 1964, p. 156, cat. no. 131, reproduced (listed in the catalogue, but not exhibited) (as Luca Carlevarijs);
R. Pallucchini, 'Due Vedute del Carlevarijs', in Studi di Storia dell'Arte in onore di Vittorio Viale, Turin 1967, pp. 52–56, reproduced fig. 1 (as Luca Carlevarijs);
A. Rizzi, Luca Carlevarijs, Venice 1967, pp. 63, 92, fig. 153 (as a collaborative work, unspecified collaborator);
R. Pallucchini, 'Schede Venete Settecentesche', in Arte Veneta, vol. XXV, Venice 1971, pp. 163–64, note 20 (as Luca Carlevarijs);
Colnaghi's Exhibition of Old Master Paintings, exh. cat., London 1974, cat. no. 1, plate 1;
M. Natale, Art vénitien en Suisse et au Liechtenstein, exh. cat., Milan 1978, pp. 178–179, no. 158, reproduced p. 178 (as Luca Carlevaris);
E. Martini, La Pittura del Settecento Veneto, Udine 1982, p. 489, note 116 (as Carlevarijs);
I. Reale, 'Gio. Richter, svezzese, scolare di Luca Carlevariis', in Lucas Carlevarijs e la veduta veneziana del Settecento, exh. cat., Milan 1994, pp. 118, 126, notes 15, 17, 24, reproduced p. 120, fig. 9 (as Johann Richter).
Note: Like the previous lot, this painting is closely related to an engraving after Richter by Bernhard Vogel. It too is extended from the mise-en-scène presented in the engraving, with a further four bays of the Biblioteca on the right, and an additional two arches of the basilica on the left. Again, the positioning of the staffage largely corresponds, with a temporary stage set up on the left in front of the Palazzo Ducale before which a throng of figures is gathered, thinning out towards the Biblioteca, but the specific detail of the figures does not.
Also like the previous lot, there is a similar painting that was also given to Carlevarijs with the help of a collaborator by Rizzi.1 Though not reproduced by Reale, this too seems very likely by Richter and we can therefore say again that this particular compositional arrangement is exclusive to the Swedish painter. Unlike the previous lot, however, Carlevarijs did paint the Piazzetta from this precise viewpoint, though with totally different staffage. A painting which must date to a very similar moment in Richter's career recently surfaced from a Scottish private collection and was sold in these rooms, 9 December 2009, lot 46. It shares remarkably similar coloration, tonality and brushwork and must surely have been executed only a short time before or after. Various figures recur, though in some cases with the colour of particular items of clothing changed: the lady seen from behind wearing yellow on top and blue beneath, almost directly between the two columns and talking to a masked gentleman who leans in towards her, can be seen at the left of the principal figure group in the ex-Scottish work, though there she wears a red, rather than a blue skirt.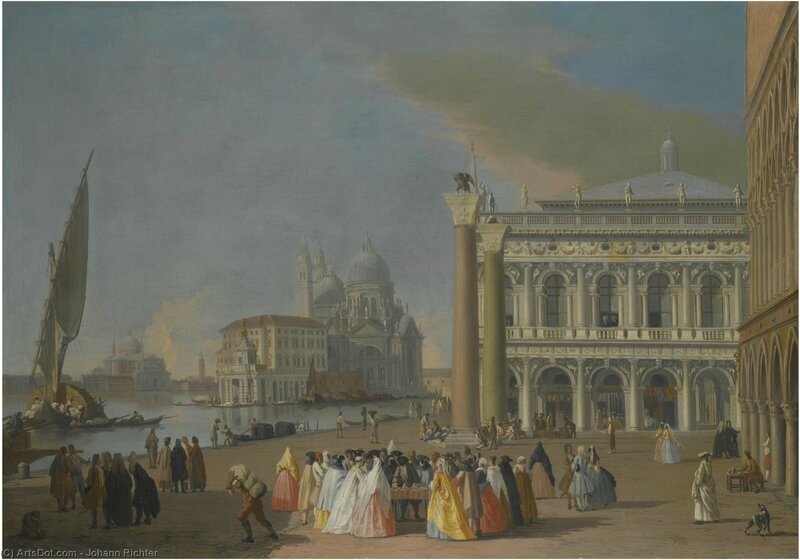 Johann Richter (Stockholm 1665-1745 Venice), Venice, A view of the Molo looking west towards Santa Maria della Salute and the Palazzo Ducale to the right, oil on canvas, 81.6 by 116 cm.; 32 1/4 by 45 5/8 in. Sold for 109,250 GBP at Sotheby's London, ç december 2009, lot 46 © Sotheby's
The engravings by Vogel are labelled, described and identified in four different languages (Latin, Italian, French and German) which is indicative of the wide circulation they were intended to have.

Rizzi (1967) mentioned that both this and the previous lot bore the apocryphal signature: Antonio Canaletto...
For further information on the artist and the context of the painting please see the previous lot.
1. Rizzi 1967, reproduced fig. 157.
Sotheby's. Old Masters Evening Sale, London, 05 Jul 2017