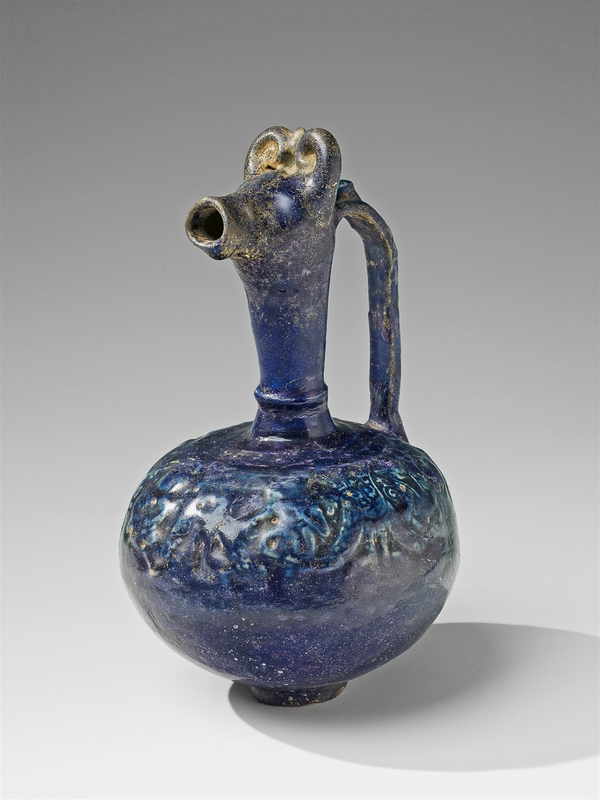 Lot 5023. An animal-headed fritware ewer, Iranian world, 12th - 13th century. H 25 cm. Estimated price €400 - €600. Result: €397. Courtesy Lempertz.
Cobalt blue glaze with fine craquelure. Modelled and subsequently constructed vessel comprising a long neck with a (possibly not original) horned animal-head spout of bovine appearance and a handle with thumb-rest. The shoulders decorated with two striding felines and courtly scenes in medallions. The handle and neck presumably a subsequent addition. Restored.
Literature: Cf. Grube, Islamic Pottery of the Eighth to the Fifteenth Century in the Keir Collection, London 1976, p. 171, no. 120. A similar long-necked flask in the Museum für Islamische Kunst Berlin, inv. no. I. 59/62.
Pot, Iran, 12th - 13th century. Quartz frit, transparent blue glaze. Height: 13.5 cm. Museum of Islamic Art, inv. no. I. 59/62. © Photo: Museum of Islamic Art of the Berlin State Museums - Prussian Cultural Heritage Photographer: Johannes Kramer
Eine aus Metallarbeiten und unglasierten Modelwaren des Iranisch-Ostiranischen Raums aus dem 9./10. Jh.
Lempertz. Asian Art II China, Tibetan/Nepalese Art, 18.06.2017, 10:30, Brussels