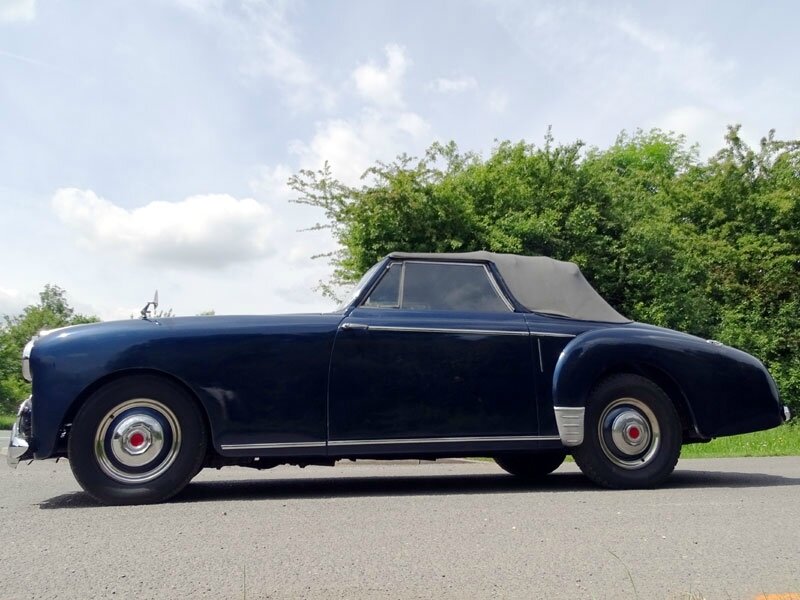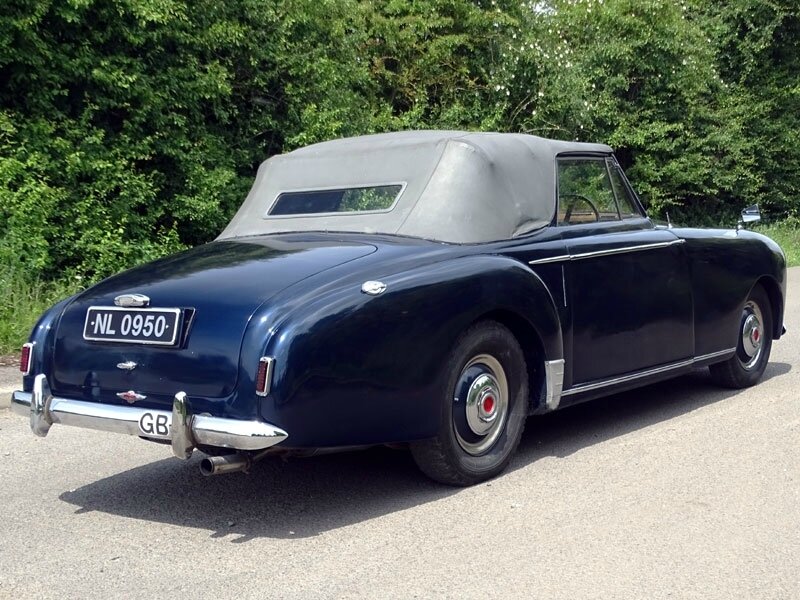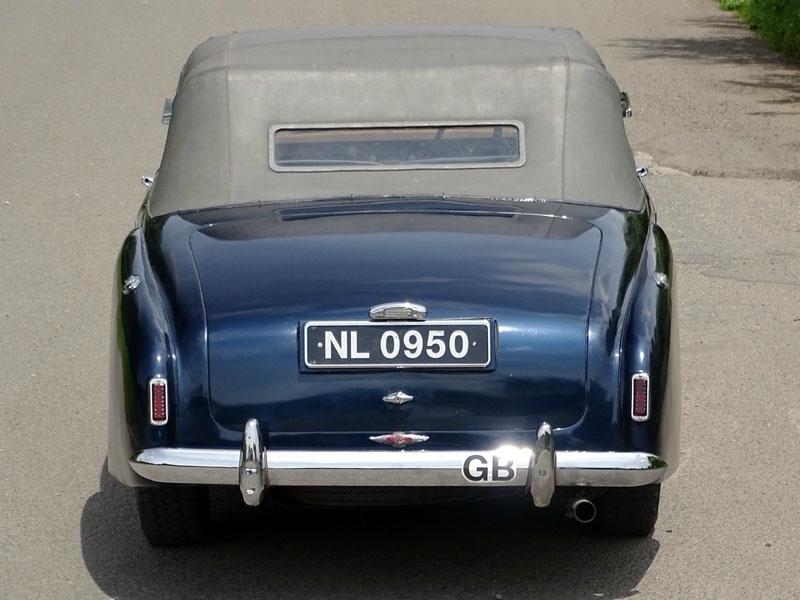 Lot 28. Peter Ustinov's Lagonda DB 2.6/3.0 Litre Drophead Coupé, 1953. Vehicle Registration NLO 950. Chassis Number LAG/50/536. Engine Number VB6J/343. Estimate £70000 - 90000. © H&H Auctioneers
- Supplied via Brooklands of London to Sir Peter Ustinov CBE FRSA and notable as the renowned actor / writer's first new car purchase

- Built as a 2.6 litre model but uprated with a 3 litre engine by the factory in November 1954 (and a four star diff three years later)

- Retained by Ustinov for twelve years and current ownership since 1968

- Engine overhauled in 1997 and veteran of numerous Continental trips

- 'NLO 950' quite possibly inspired HRH The Duke of Edinburgh to order his own Lagonda 3 Litre Drophead Coupe given that both he and Ustinov were members of The Thursday Club.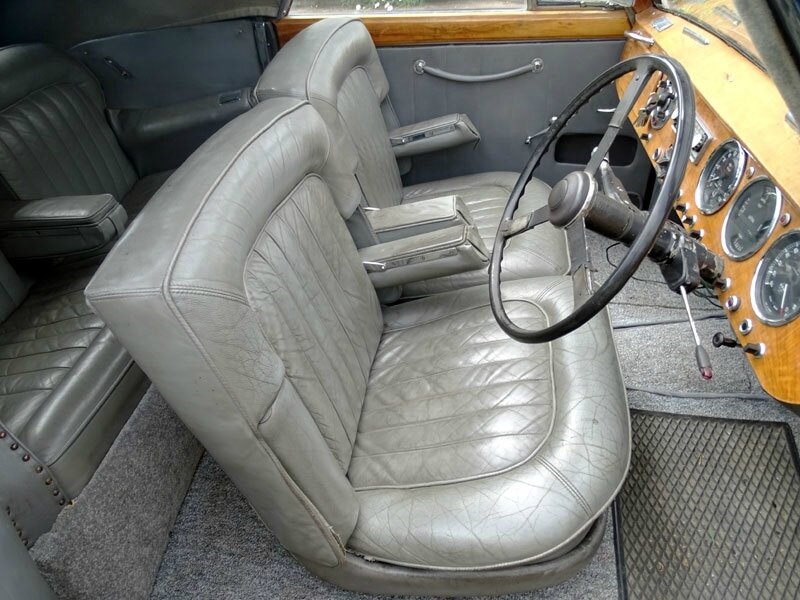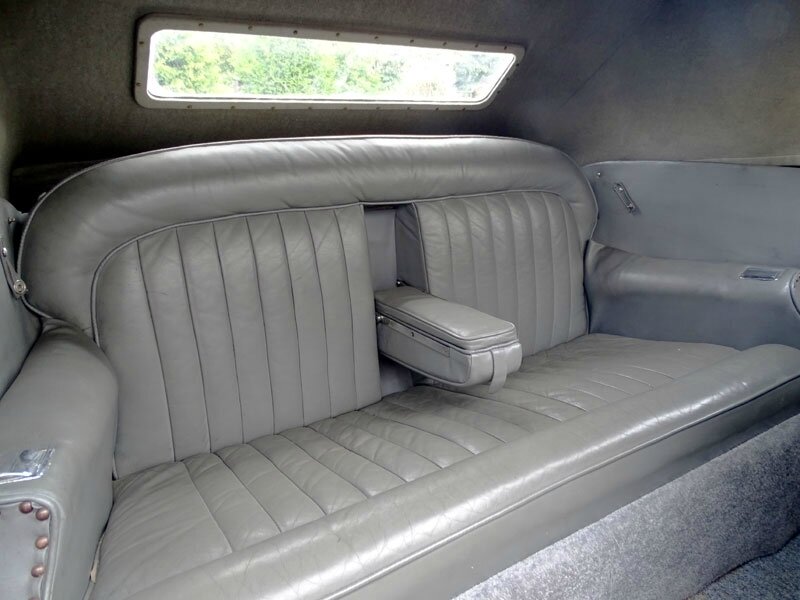 Notwithstanding Lagonda's commitment to the war effort, their chief engineer W.O. Bentley - ably assisted by W.G. Watson and Donald Bastow - began work on a new car in early 1944. Conceived as a sports saloon, the resultant design boasted an innovative chassis equipped with all-round independent suspension and hydraulic drum brakes (inboard at the back). Powered by a DOHC straight-six engine featuring hemispherical combustion chambers, its flowing lines were partially attributable to Frank Feeley. Unveiled to an enthusiastic press in September 1945, production plans for the exclusive `2.5 Litre' were stymied by Lagonda's inability to negotiate sufficient steel supplies given the prevailing `export-or-die' atmosphere. Unable to recover financially, the marque was bought by industrialist David Brown in 1947. Merged with Brown's other recent purchase Aston Martin, the two companies operated out of the latter's Feltham premises. In addition to donating its powerplant to the nascent Aston Martin DB2 programme, the `2.5 Litre' was developed in its own right. Fitted with a David Brown S430 four-speed synchromesh gearbox, rack-and-pinion steering and hypoid back axle, it reappeared at the October 1949 Earls Court Motor Show as the DB Lagonda 2.6. Highly regarded but expensive, the model evolved through a MKII version and reputedly accounted for just 511 sales (386 saloons and 125 drophead coupes) before giving way to the DB 3 Litre in 1954.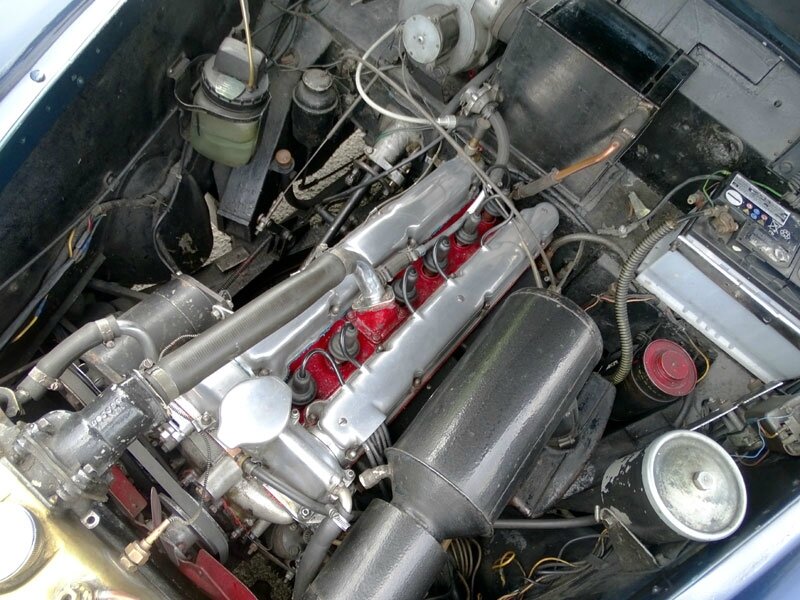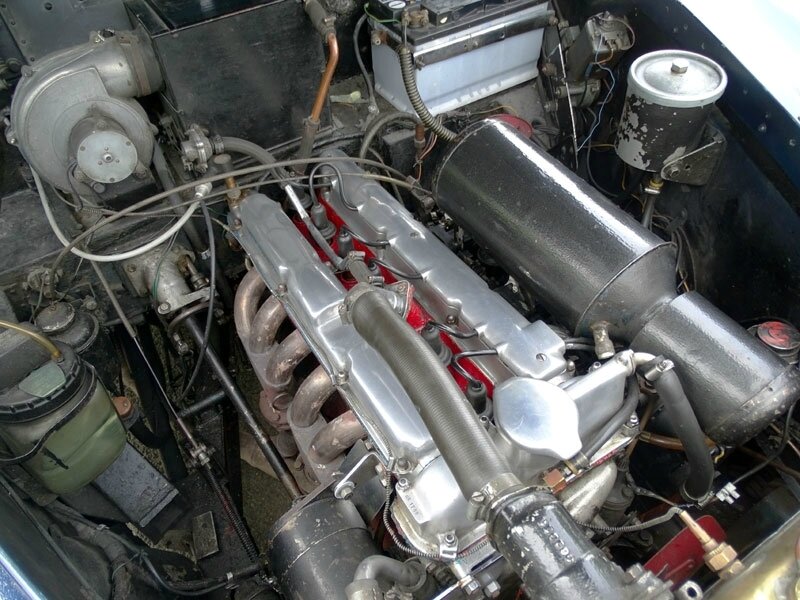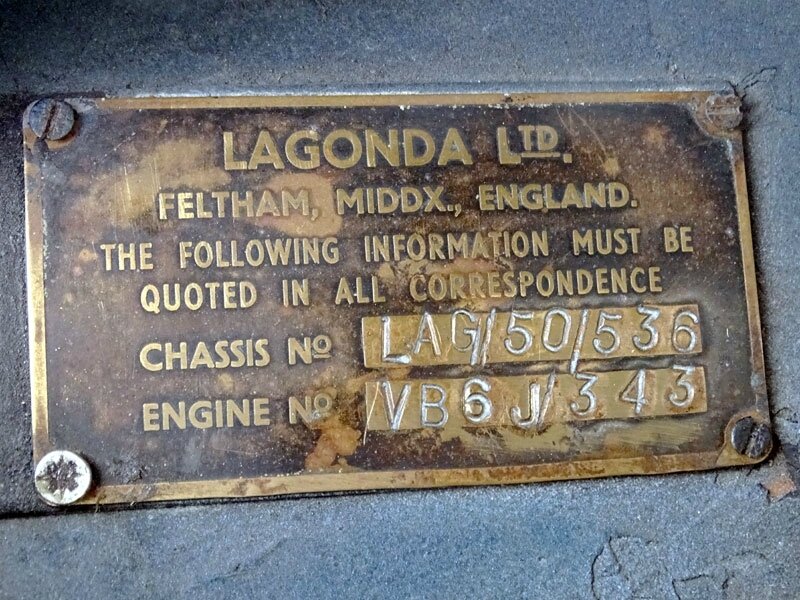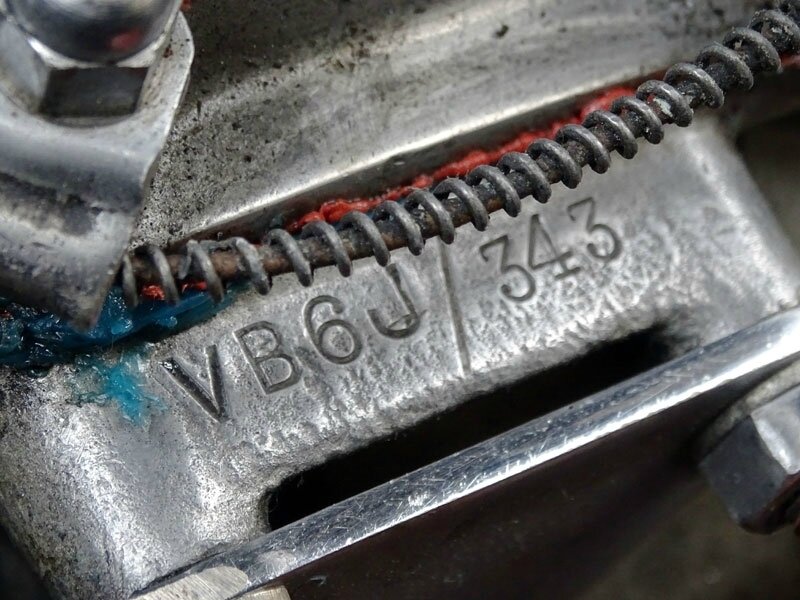 Marque concessionaire Brooklands of Bond Street are understood to have purchased the last sixteen DB 2.6 MKII chassis and had them bodied as a mixture of fixed-head and drophead coupes by Tickford Ltd of Newport Pagnell. The resultant six 'tin tops' and ten 'soft-tops' presaged the styling of their equivalent DB 3 Litre successors exactly. The last 'Brooklands of Bond Street' Drophead Coupe made, chassis LAG50/536 has the further distinction of being the first new car bought by Sir Peter Ustinov, CBE FRSA, the acclaimed raconteur, writer and star of stage and screen. Born Peter Alexander Freiherr von Ustinov on April 16th 1921 in Swiss Cottage, London, his ancestral connections ranged from Russian nobility to the Ethiopian Royal Family! Fluent in Russian, French, Italian, German, and English, Ustinov befriended David Niven whilst serving in the Royal Sussex Regiment during World War Two and HRH The Duke of Edinburgh when all three were members of The Thursday Club. Indeed, it is quite probable that Sir Peter's purchase of 'NLO 950' inspired Prince Phillip to commission his own Lagonda DB 3 Litre Drophead Coupe (which we sold last year for a world record price of £346,800). A true car enthusiast, Ustinov returned chassis LAG50/536 to its maker to be fitted with a larger 3 Litre engine in late November 1954 and a four-star differential some three years later. Part of his stable when he won Best Supporting Oscars for Spartacus (1960) and Topkapi (1964), the Lagonda is known to have belonged to Coleman & Sons of Coalville, Smith Capell & Company of Northampton and Breedon General Services Ltd of Derby before entering the current family ownership during 1968.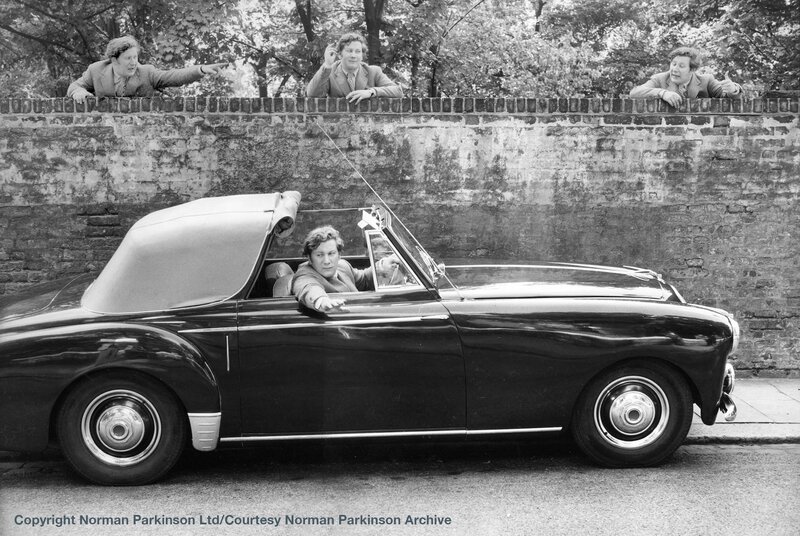 Re-trimmed in Grey leather the following decade, the Drophead Coupe received a new hood during 1986 courtesy of Northampton-based coach trimmer R.A. Waite. Invited to take part in the Display of British Coachwork Commemorating the Centenary of the British Motor Industry at Hagley Hall in the West Midlands on May 11th 1996 by The Worshipful Company of Coachmakers and Coach Harness Makers of London, the four-seater was treated to an engine overhaul some twelve months later. The cylinder liners showed remarkably little wear (.002thou) but the crankshaft was re-ground and new main / big-end bearings installed etc. The clutch friction plate and a propshaft universal joint (ahead of the gearbox) were renewed at the same time too. A stainless steel exhaust was commissioned for the car during 2000 and remains in situ. Damage to a rear wing prompted a full respray in 2001 which was carried out by Aston Martin specialist Four Ashes Garage Ltd of Stratford-upon-Avon. The colour chosen was a close match to the Lagonda's original Metalichrome Gulf Blue livery but some sixteen years on the finish has deteriorated. The same year also saw the radiator refurbished, while more recent fettling has seen attention paid to the dynamo (2005), water pump / gearbox oil seal (2006) and cylinder head (2011). The vendor proudly tells us that 'NLO 950' has never failed a MOT test during his forty-nine year stewardship and attributes its longevity to the basic excellence of W.O. Bentley's design and the extensive use of wear resistant phosphor bronze fittings for the steering and suspension etc.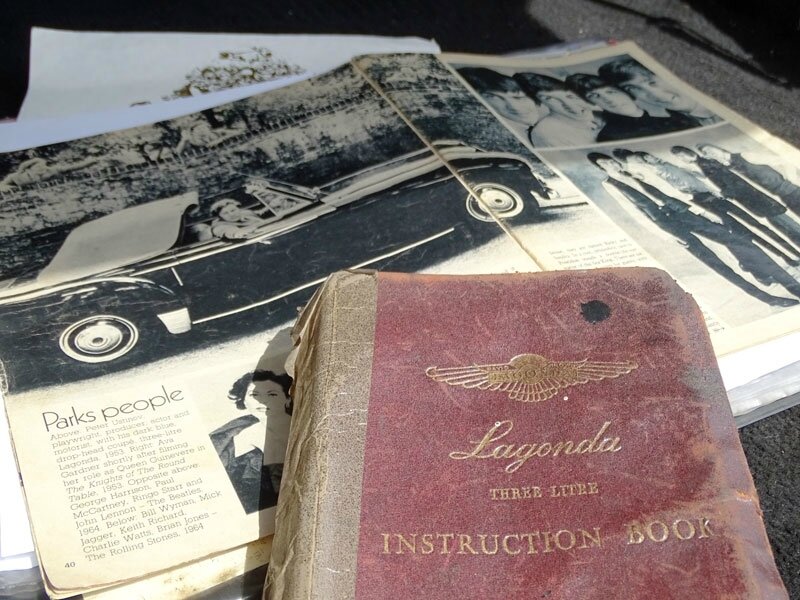 Driven to the Continent on an annual basis up until a few years ago, chassis LAG50/536 started readily upon inspection and behaved well during our photography session. The seller is understandably reluctant to say goodbye after nearly fifty years but feels a new custodian should be given the opportunity to either enjoy the 'Brooklands of Bond Street' car 'as is' or restore it to its former glory. A decidedly rare and elegant motorcar with a great provenance. Offered for sale with copy factory build / maintenance records, numerous bills and current MOT certificate valid until April 2018.
H&H Classics Ltd, July 26th at the Imperial War Museum, Duxford