Lot 502. A rare yellow-ground 'famille-rose' figure vase, seal mark and period of Jiaqing (1796-1820), 31 cm., 12 1/4 in. Estimate 3,000,000 — 4,000,000 HKD. Lot sold 4,560,000 HKD. Photo Sotheby's.
the finely potted ovoid body supported on a slightly splayed foot, tapering gracefully to a tall waisted neck flanked by a pair of archaistic dragon handles below the flared mouth, delicately enamelled in meticulous detail with a continuous landscape scene depicting a gathering of the 'Eight Immortals' carrying their respective auspicious emblems, and including Liuhai with his three-legged toad clambering on his shoulder, Shoulao with a large ripe peach in one hand and a staff in the other, with other Immortals and attendants carrying various auspicious objects or vessels, set within a lake-side courtyard, with lush vegetation growing from gnarled rocks by the peaceful rippling water, and cloud swirls drifting above, all set between two bands of ruyi heads and lotus blooms borne on dense leafy scrolling stems, with a bat to each side above a xi character wreathed by peach sprigs, the mouth with a pendant foliate band, and a keyfret band at the foot, the interior and base turquoise, with a central square reserved in white for the six-character seal-mark in iron-red.
Provenance: From the collection of a Parisian gallery that ceased trading in the 1950s.
Note: In its shape and decoration the present vase belongs to a group of wares produced at the imperial kilns at Jingdezhen during the early years of Jiaqing's reign. Wares of this period continued to be influenced by Qianlong designs and were made by the same potters who made wares for the Qianlong emperor and his household. The very fine and meticulous painting of the scene of the 'Eight Immortals' gathered in an idyllic landscape setting is reminiscent of scroll paintings, with the yellow-ground design on the neck and on the foot forming borders for the painting.
See a Jiaqing vase of different shape but painted with the design of the 'Eight Immortals', from the collections of Dr. Pierre Bernard and Leon and Mme Blum, sold in our London rooms, 12th July 2006, lot 156; and a Qianlong vase decorated with this theme illustrated in Kangxi. Yongzheng. Qianlong. Qing Porcelain from the Palace Museum Collection, Hong Kong, 1989, pl. 31. In its form the present vase is possibly inspired by Qianlong ovoid vases with handles; see a Qianlong vase painted with the design of 'Hundred Boys' sold in these rooms, 1st November 1999, lot 399.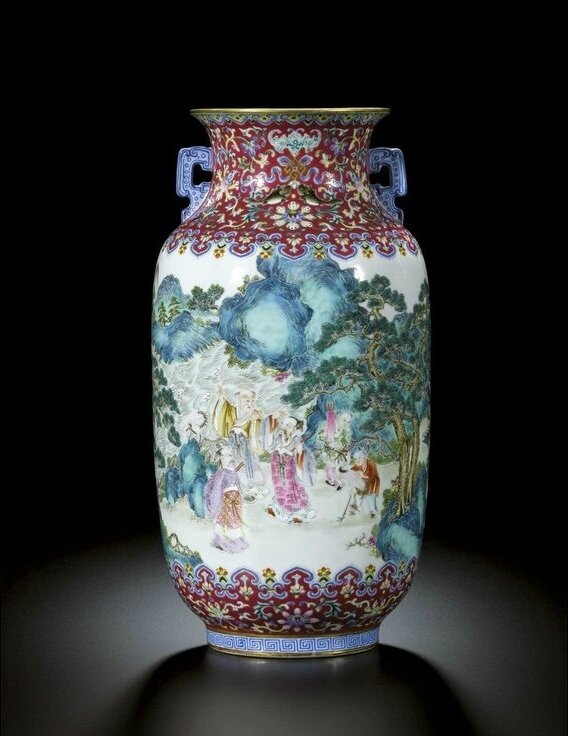 A fine and rare two-handled ruby-ground 'famille-rose' vase, Seal mark and period of Jiaqing (1796-1820), 31.7cm., 12 1/2 in. Sold for 388,800 GBP at Sotheby's London, 12th July 2006, lot 156. Photo Sotheby's.
(Cf. my post: http://www.alaintruong.com/archives/2017/07/16/35480716.html)
The Eight Immortals (ba xian) refer to eight legendary figures popularly worshipped by Daoist sects as well as ordinary people. They represent male, female, old, young, rich, poor, noble and humble Chinese. They are worshipped as gods of longevity as well as gods who punish evil, encourage good, help the distressed and aid those in peril.
Sotheby's. Important Chinese Art: The Collection of a Parisian Connoisseur, Hong Kong, 08 Apr 2007