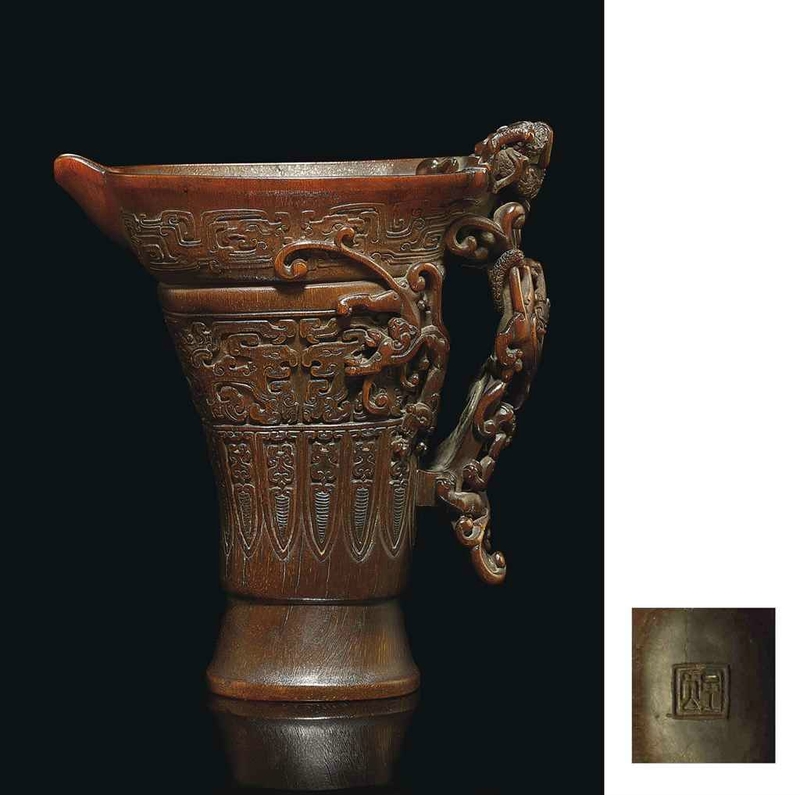 Lot 7. A finely carved archaistic rhinoceros horn libation cup, 17th century, 6¼ in. (15.8 cm.) high. Estimate GBP 250,000 - GBP 350,000. Price realised GBP 657,250. © Christie's Images Ltd 2011
Of rectangular flared form supported on a slightly splayed foot, skillfully carved to the mid-section with a wide band of confronting stylised phoenix, above a smaller similarly decorated band and below a band of hanging blades enclosing cicadas, with a pair of crawling chilong with elegantly curled bifurcated tails to each side of the handle, the handle with further sinuous chilongs and a scaly three-clawed dragon clambering over the rim chasing a flaming pearl, the horn of an attractive dark toffee tone, the base carved with a two-character seal mark reading 'Xing Gua'.
Provenance: Brought from China in circa 1860 by The Hon. Francis Charles Drummond (1815-1904) as a birthday gift either for his cousin, The 6th Duke of Atholl, or for Duchess Anne, and thence by descent to the Settlor of the Blair Charitable Trust.
Note: James Drummond, Viscount Strathallan (1767-1851) spent many years in China as Chief of thhe British Settlement in Canton, and judging from a note written by Duchess Annne (which accompanies this cup), his fourth son, Francis Charles, appears to have also spent time in China.
The current vessel is not only important due to its unusually large size and incredibly fine decoration, it also bears an unrecorded two-character seal mark to the base reading 'Xing Gua'
The two-character seal mark, carved in low relief to the centre of the base in zhuanshu script, most likely refers to a specific carver. Jan Chapman in her book The Art of Rhinoceros Horn Carvings in China, London, 1999, p. 120, mentions that one in ten rhinoceros horn cups carry some sort of inscription and that archaistic cups, such as the current lot, invariably have the inscription or mark, incised to the base.
Compare a large vessel of similar elongated shape in the Palace Museum, Beijing, illustrated in Bamboo, Wood, Ivory and Rhinoceros Horn Carvings, The Complete Collection og Treasures of the Palace Museum, Hong Kong, 2002, p. 252, pl. 202.
Christie's. Fine Chinese Ceramics and Works of Art, 10 May 2011, London, King Street