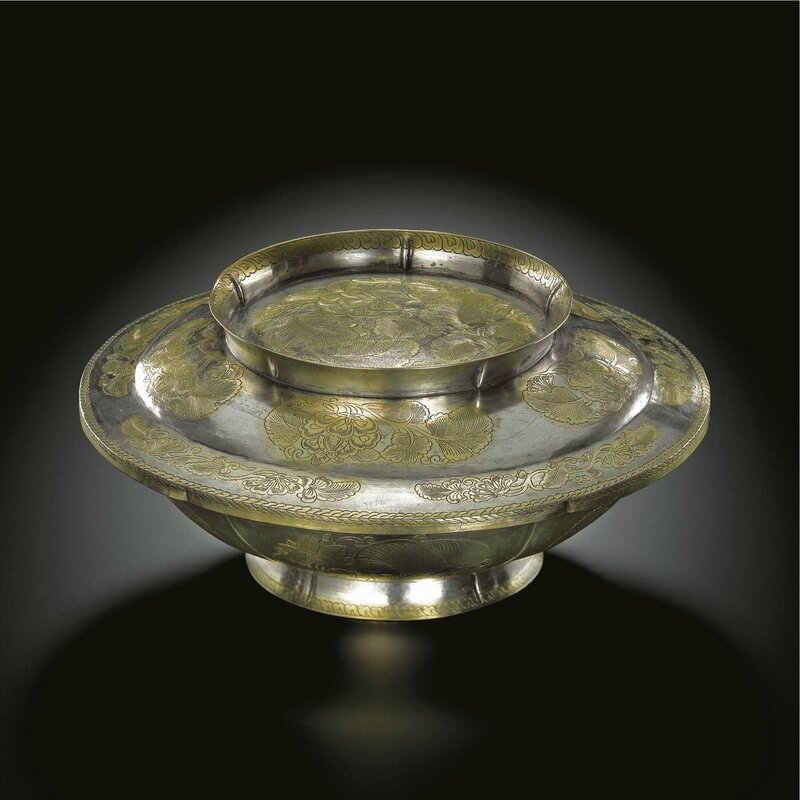 Lot 64. A superb and very rare parcel-gilt bowl and cover, Tang dynasty, 8th-9th century; 24.2cm., 9 1/2 in. Estimate 300,000 — 400,000 GBP. Lot sold 1,588,500 GBP. Photo: Sotheby's.
the bowl with widely flared sides divided on the interior into five lobes by raised lines radiating from the centre to the everted rim with corresponding notches, the interior finely engraved and gilt with a central medallion enclosing open luscious blooms and exotic fruit among large feathery leaves, each lobe similarly decorated with a different flowering motif, the exact mirror images of the interior motifs repeated as the mirror-image on the exterior and base of the bowl, a finely engraved and gilt band of delicate overlapping lotus petals at the rim on the interior, the whole raised on a gently splayed foot decorated with a similar band of overlapping petals, the domed cover with overlapping edge similarly decorated with an engraved and gilt central roundel of exotic flowers and fruit amidst feathery foliage and enclosed by a flared ring encircled by two bands of different floral sprigs composed of large, finely veined leaves and fully opened blossoms including lotus and pomegranate. Quantity: 2. WEIGHT 1200g.
Exhibited

:

Catalogue of the Exhibition of Chinese Art 1935-6, Royal Academy of Arts, London, 1935-36, cat. no. 777.
Chinese Gold and Silver in the Carl Kempe Collection, Smithsonian Institution, Washington, D.C., 1954-55, cat. no. 115.
Chinese Gold, Silver and Porcelain. The Kempe Collection, Asia House Gallery, New York, 1971, cat. no. 56,an exhibition touring the United States and shown also at nine other museums.
Literature: Bo Gyllensvärd, Chinese Gold and Silver in the Carl Kempe Collection, Stockholm, 1953, pl. 115.
Bo Gyllensvärd, 'T'ang Gold and Silver', Bulletin of the Museum of Far Eastern Antiquities, 1957,

no.29, 1957, figs. 85c, 96a-c, 96i.
Chinese Gold and Silver in the Carl Kempe Collection, The Museum of Art and Far Eastern Antiquities in Ulricehamn, Ulricehamn, 1999, pl. 117.
Note: This magnificent bowl and cover, as well as the accompanying bowl without cover, lot 74, are among the finest Tang parcel-gilt silver objects recorded. The exquisite feathery incising is worked as a double-sided design around the sides of the bowl, to appear as a positive image equally when seen from the inside and from the outside. Designs such as these vary from piece to piece and differ in how densely they cover the surface. The lush gilded floral cartouches include a naturalistically rendered lotus spray, with a bloom with pod-like centre and a large curled leaf, but otherwise show fanciful blooms and large serrated leaves which are difficult to identify. This unusual, finely worked and imaginative style of decoration appears on only a very small group of silver vessels, most of which are preserved in Western museum collections.
A group of eight bowls of this type, four with and four without covers, originally in the collection of Orvar Karlbeck, is reputed to have been found at Balin in Eastern Mongolia in 1930, but roughly a dozen related bowls are preserved in Europe and the United States, eight of them with covers. A pair of similar covered bowls in the University Museum, Philadelphia, is illustrated in Bo Gyllensvard, 'T'ang Gold and Silver', Bulletin of the Museum of Far Eastern Antiquities, no. 29, Stockholm, 1957, pl. 21; another pair of covered bowls from the Eugene Fuller Memorial collection in the Seattle Art Museum is published in Mary Tregear, Chinese Art, London, 1980, pl. 80. A single bowl and cover of this type from the Hellstrom collection was included in the International Exhibition of Chinese Art, Royal Academy of Arts, London, 1935-6, cat. no. 785; another from the collection of Lord Lee of Fareham, on loan to the Royal Ontario Museum, Toronto, was included in the Museum's exhibition Silk Roads - China Ships, Toronto, 1983, p. 73; and one from the collection of Dr. Pierre Uldry was included in the exhibition Chinesisches Gold und Silber, Rietberg Museum, Zurich, 1994, cat. no. 147, the bowl sold in these rooms, 13th June 1989, lot 59, the cover, 13th December 1988, lot 16; and one was included in the exhibition of Gold and Silver in Early Chinese Art, W. Burchard, London, 1938, pl. 8, no. 53.
Sotheby's. London, Masterpieces of Chinese Precious Metalwork: Early Chinese Gold and Silver, 14 May 2008