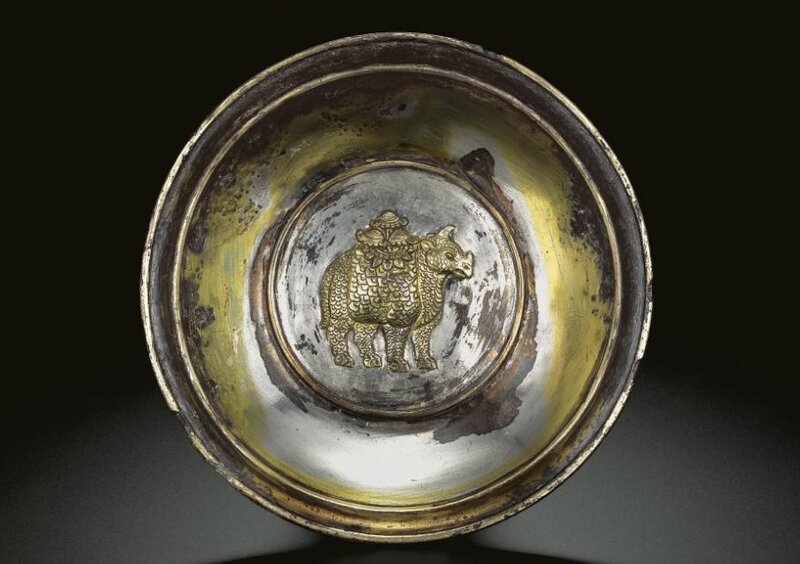 Lot 60. A fine and very rare parcel-gilt 'rhinoceros' silver dish, Tang dynasty, 8th-9th century, 15.2cm., 6in. Estimate 10,000 — 15,000 GBP. Lot sold 168,500 GBP. Photo: Sotheby's.
possibly a pair to lot 59, this dish is of similar shallow circular shape with everted sides rising from a splayed footring, the interior similarly decorated in repoussé and parcel-gilt depicting a rhinoceros standing four-square and facing right, his stout body with scaly hides and supporting a lotus howdah carrying three large flowers, all enclosed by a raised gilt ridge and set on a plain silver ground. WEIGHT 317g.
Exhibited: Chinese Gold and Silver in the Carl Kempe Collection, Smithsonian Institution, Washington, D.C., 1954-55, cat. no. 120.
Chinese Gold, Silver and Porcelain. The Kempe Collection
, Asia House Gallery, New York, 1971, cat. no. 59, an exhibition touring the United States and shown also at nine other museums.
Literature: Bo Gyllensvärd, Chinese Gold and Silver in the Carl Kempe Collection, Stockholm, 1953, pl. 120.
Bo Gyllensvärd,
'T'ang Gold and Silver',
Bulletin of the Museum of Far Eastern Antiquities, no. 29, 1957, fig. 63b
Chinese Gold and Silver in the Carl Kempe Collection
, The Museum of Art and Far Eastern Antiquities in Ulricehamn, Ulricehamn, 1999, pl. 122.
Note: Depictions of a rhinoceros are extremely rare in the Tang dynasty, and in Chinese art in general, although the two-horned rhinoceros species depicted on this dish is recorded to have survived into the Tang dynasty in the Lingnan region of Guangdong and Guangxi, one of the main centres for Tang silver production. Compare a small parcel-gilt silver box from the Hejiacun hoard and now preserved in the Shaanxi History Museum, Xi'an, also decorated with a small rhinoceros, published in Zhongguo jin yin boli falangqi quanji, vol. 2, Shijiazhuang, 2000, pl. 32.
A silver bowl decorated in repoussé with a rhinoceros was included in the exhibition Imperial Gold from Ancient China, Part II, Oriental Bronzes Ltd, London, 1991, cat. no. 6. In the exhibition catalogue it is mentioned, ibid., p. 22, that the ' anatomical portrayal of the animal is incorrect but it is characteristic of its Chinese interpretation. According to the official text recording the history of the Tang dynasty, rhinoceroses were sent to the Tang court by the South East Asians as tribute and gifts'.
A fragmentary quatrefoil oval silver gilt bowl with a reclining rhinoceros in the centre was also recovered from the Belitung wreck that sank off Indonesia in the early 9th century, probably on its way to Iran (as yet unpublished).
Another silver box with the motif of a single seated rhinoceros, in the Hakutsuru Fine Art Museum, Kobe,was included in Sekai bijutsu taizenshu: Toyo hen, vol. 4, Tokyo, 1997, pl. 166.
For related examples of vessels decorated with animals in gilt repoussé on a plain silver ground, see a dish with a single mythical beast fashioned in heightened gilding, from the Palace Museum, Beijing, illustrated in Tangdai jinyin qi, Beijing, 1985, pl. 1; another dish decorated with a two-horned beast, in the Museum of Inner Mongolia, published in Zhang Jingming, Zhongguo beifang caoyuan gidai jinyin qi, Beijing, 2005, pls. 70-72; a Tang silver box of quatrefoil shape decorated with a scene depicting a lion attacking a deer, offered at Christie's London, 19th June 1991, lot 45; and a lobed box with a crouching animal motif, sold in these rooms, 10th June 1986, lot 38. Further examples of dishes of various forms with animal motifs in raised gilt are published in Zhongguo jin yin boli falangqi quanji, op.cit., pls. 46-48.
Sotheby's. London, Masterpieces of Chinese Precious Metalwork: Early Chinese Gold and Silver, 14 May 2008