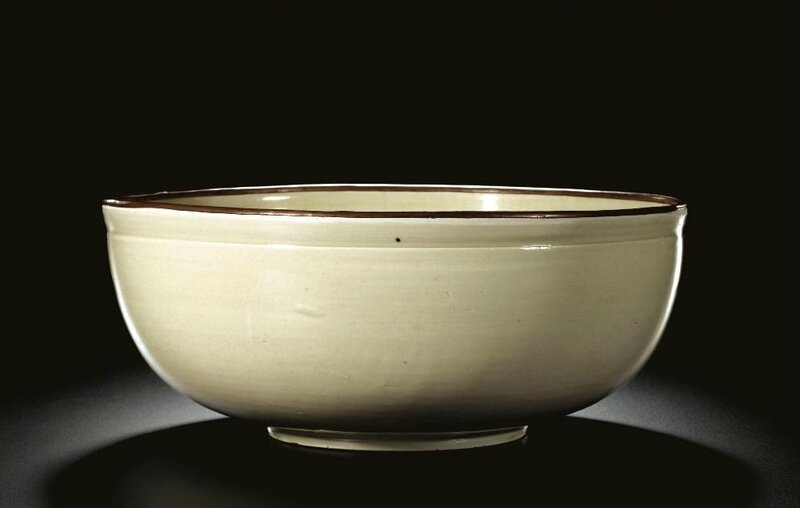 Lot 297. A large and rare 'Ding' deep 'Fish' bowl, Song-Jin dynasty (960-1234), 28cm., 11in. Estimate 20,000 — 30,000 GBP. Lot sold 84,500 GBP. Photo: Sotheby's.
the deep rounded sides rising from a short tapering foot, freely carved and combed to the interior with a large carp swimming amidst water weeds, covered overall in a clear ivory glaze pooling in characteristic tear-drops down the exterior.
Literature: 'Hsing-Yao and Ting-Yao', The Bulletin of Far Eastern Antiquities, no. 25, 1953, Stockholm, 1953, pls. 70, 71, fig. 63.
Bo Gyllensvärd, Chinese Ceramics in the Carl Kempe Collection, Stockholm, 1964, pl. 416.
Jan Wirgin, Sung Ceramic Designs, Stockholm, 1970, pls.67a, 67b, fig. 8g.
The World's Great Collections. Oriental Ceramics, vol. 8, Tokyo, 1982, pl. 115.
Note: The present bowl is a rare example of a freely carved fish design, although an identical bowl from the National Palace Museum, Taipei, was included in The Special Exhibition of Ting Ware White Porcelain, National Palace Museum, Taibei, 1987, cat. no. 31. Compare a similar bowl, but with carved overlapping petals on the exterior, in the David Percival Foundation illustrated in The World's Great Collections. Oriental Ceramics, vol. 6, Tokyo, 1982, pl. 13; and a much larger basin in the British Museum published in Oriental Ceramics. The World's Great Ceramics, vol. 5, Tokyo, 1982, pl. 56. Similar carvings of fish among waves appear in the centre of lobed dishes and bowls excavated at the Dingyao site in Jianci cun, and are illustrated by Jan Wirgin, Sung Ceramic Design, Stockholm, 1970, figs. 34 (3) and (6); and a related dish decorated with a fish and lotus from the collection of Rudolph Schaeffer was sold in our New York rooms, 28th May 1981, lot 193.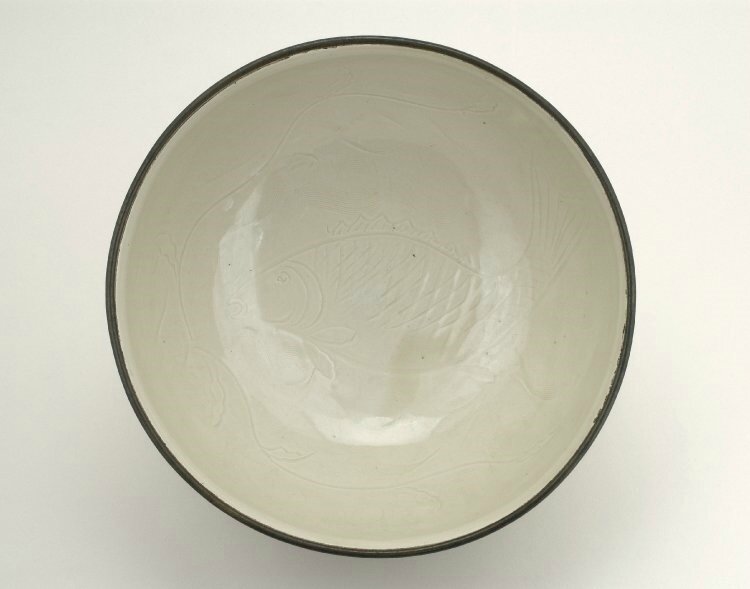 Basin with carved fish, Northern Song or Jin dynasty, about AD 1050–1234, Ding ware, Quyang county, Hebei province. Stoneware with carved decoration, transparent glaze and copper rim mount. Height: 145 millimetres, Diameter: 295 millimetres; Sir Percival David Foundation of Chinese Art, PDF 154 © 2017 Trustees of the British Museum
Fish feature more commonly in pairs, for example see a bowl sold in our Hong Kong rooms, 14th November 1983, lot 32; and another from the Edward T. Chow collection, sold in these rooms, 16th December 1980, lot 254.
Highly reproductive and often found swimming in pairs, fish symbolise marriage, many children and abundance, as well as being an emblem of harmony and conjugal bliss. Thus a fish depicted swimming in water refers to a wish for a couple to be as harmonious as fish and water (yushui hexie).
Sotheby's. London, Masterpieces of Chinese Precious Metalwork: Early Chinese Gold and Silver, 14 May 2008