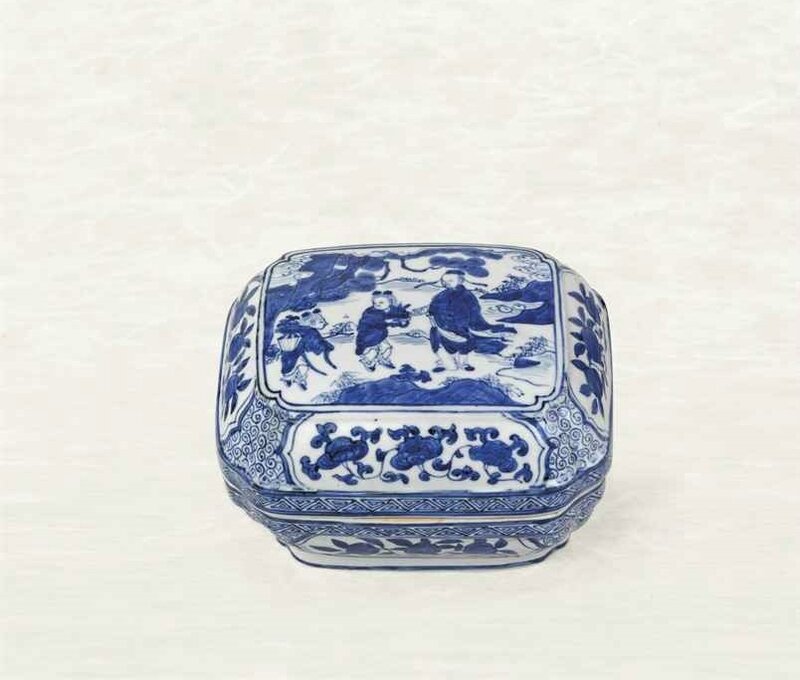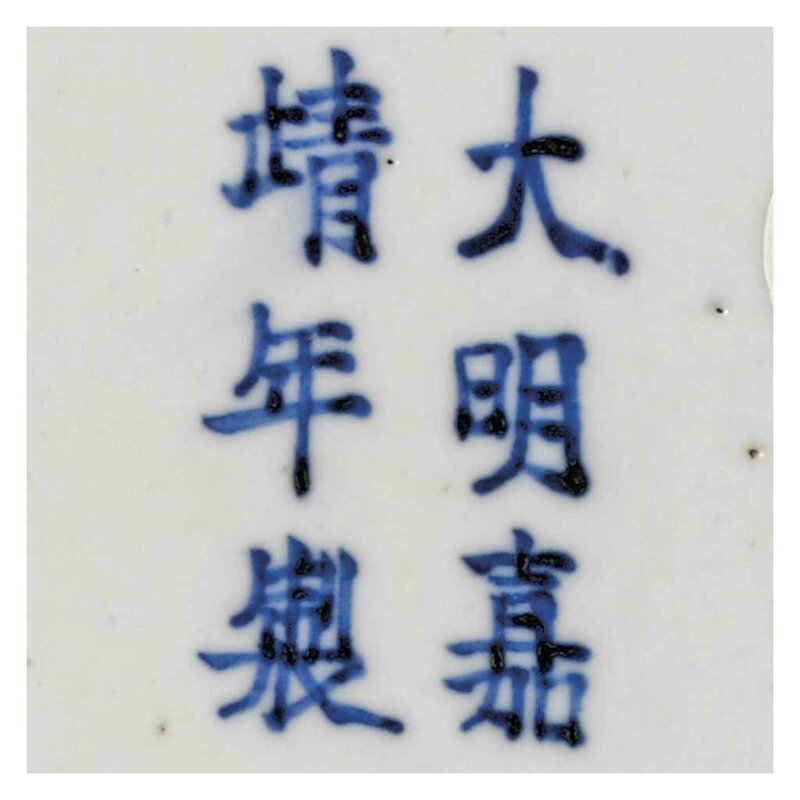 Lot 3119. A blue and white 'Figures' rectangular box and cover, Jiajing six-character mark and of the period (1522-1566), 6 in. (15 cm.) wide. Estimate HKD 1,200,000 - HKD 2,000,000. Price realised HKD 1,000,000 © Christie's Images Ltd 2013
The box and cover are of rectangular shape with canted corners. The top of the cover is freely painted in cobalt of sapphire blue tones with a scene depicting a hermit accompanied by two young attendants gathering herbs underneath a pine tree partially shrouded by misty clouds. The slanted sides of the cover are decorated with four ogival cartouches enclosing scrolling lingzhi or peaches on a ground of classic scrolls above a chevron band, the pattern repeated on the sides of the box.
Provenance: W.J. Holt
Sold at Sotheby's London, 15-16 May 1946, lot 300 (part)
Sydney L. Moss, London, June 1946, purchased for 65 pounds
Raymond F.A. Riesco Collection, no. 208a
Literature: R.L. Hobson, Rackham and King, Chinese Ceramics in Private Collections, London, 1931, fig. 232
E.E. Bluett, The Riesco Collection of Old Chinese Pottery and Porcelain
London Borough of Croydon, Riesco Collection of Chinese Ceramics Handlist, Croydon, 1987, p. 11, no. 100
Note: During the Jiajing period the depiction of figural scenes proliferated not only on imperial porcelain like the current example, but also on works of art of other media such as lacquer. These depictions convey a sense of liveliness and spontaneity which differ greatly from the early Ming wares which are predominantly decorated with stylised floral motifs or dragons and phoenixes. This shift in taste might owe to the increased circulation of woodblock prints demonstrating narrative scenes and figural images from various dramas, novels or historical events.
The design of the current box and cover is almost certainly based on a woodblock print as there is another published blue and white box bearing almost identical decorations, but produced later with a Wanli mark and of the period, illustrated in Mayuyama, Seventy Years, vol. 1, Tokyo, 1976, pl. 969.
Compare also to a Jiajing-marked blue and white covered box with canted corners decorated with boys at play, sold at Christie's Hong Kong, 29 May 2013, lot 2249.
A blue and white 'Boys' square box and cover, Jiajing six-character mark and of the period (1522-1566), 6 1/4 in. (15.7 cm.) wide. Sold for HKD 1,110,000 at Christie's Hong Kong, 29 May 2013, lot 2249. © Christie's Images Ltd 2013
Christie's. The R.F.A Riesco Collection of Important Chinese Ceramics, 27 November 2013, Hong Kong