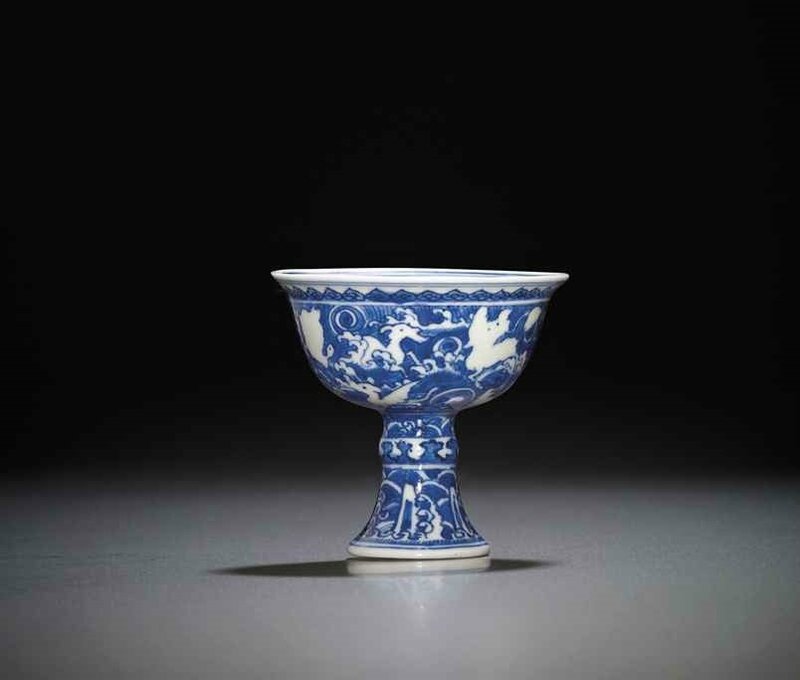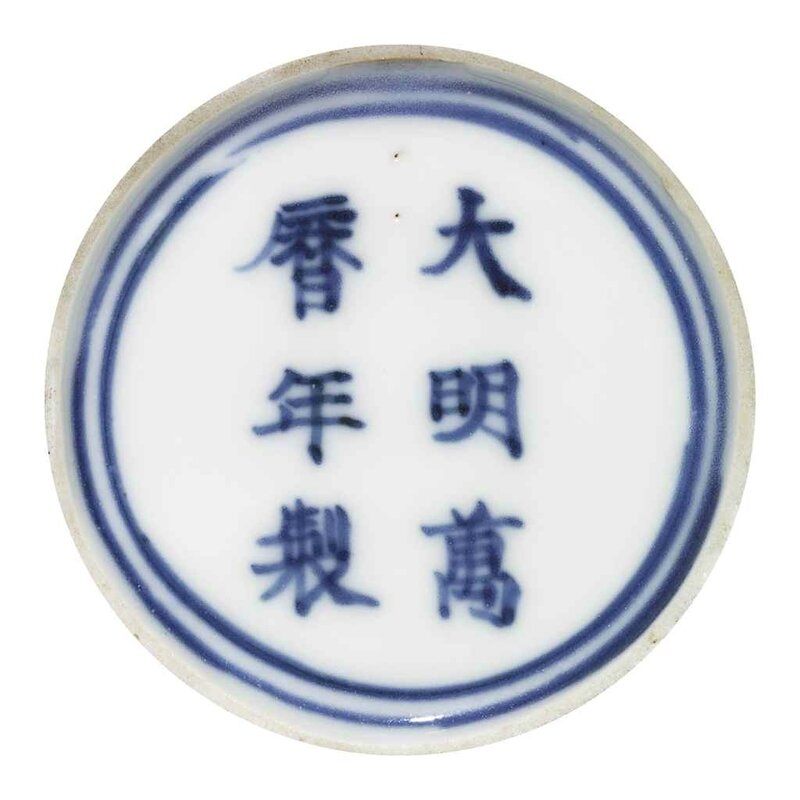 Lot 2247. A fine and very rare blue and white stem cup, Wanli six-character mark within double circles and of the period (1573-1619), 3 1/4 in. (8.2 cm.) diam. Estimate HKD 400,000 - HKD 600,000. Price realised HKD 1,950,000. © Christie's Images Ltd 2013
The everted sides of the stem cup are finely decorated with nine mythical 'sea creatures', haishou including winged dragons, turtles, lions, qilin and horses with long manes and tufted tails reserved in white against a ground of crested waves painted in deep tones of cobalt blue. The sea creatures are finely detailed with incised decoration outlining their features. The pedestal foot is encircled by a raised ruyi band above further waves crashing against rocks. The interior is inscribed with Sanskrit characters.
Note: The present stem cup belongs to a very rare group of stem bowls produced in the Wanli period very closely based on earlier Xuande prototypes. Extant Wanli examples appear to be exceedingly rare, and no other Wanli-marked stem cups of this design have been published.
A very closely related example of a Xuande stem cup of the same design in the National Palace Museum, Taiwan is illustrated in the Catalogue of the Special Exhibition of Selected Hsüan-te Imperial Porcelains of the Ming Dynasty, National Palace Museum, Taipei, 1998, cat. no. 73. The design relates very closely including the incised details and the placement of the 'sea creatures' and Sanskrit characters. The National Palace Museum stem cup illustrated alongside another version of the stem cup with the creatures decorated with the same design in underglaze blue against a lightly penciled ground of waves, ibid, no. 74. Another example of the latter type was excavated at Zhu Shan, Jingdezhen and illustrated in Yuan's and Ming's Imperial Porcelains Unearthed from Jingdezhen, Beijing, 1999, p. 188, no. 146. The same decoration can also be found on larger stem bowls of the Xuande period such as the example sold at Christie's Hong Kong, 29 September 1992, lot 473.
A slightly larger (8.7 cm. high) Wanli period stem cup of related but more stylised design inscribed with an archaistic Xuande mark to the interior in the Percival David Foundation Collection, now housed at the British Museum, is included in the Illustrated Catalogue of Underglaze Blue and Copper Red Decorated Porcelains in the Percival David Foundation of Chinese Art, London, 2004 (Revised Edition), no. C601. A number of Wanli stem bowls of similar shape and size, but different decorative motifs also inspired by Xuande prototypes are known. A Xuande-marked stem cup with two fantastic animals from the Meiyintang Collection was sold at Sotheby's Hong Kong, 7 April 2011, lot 71.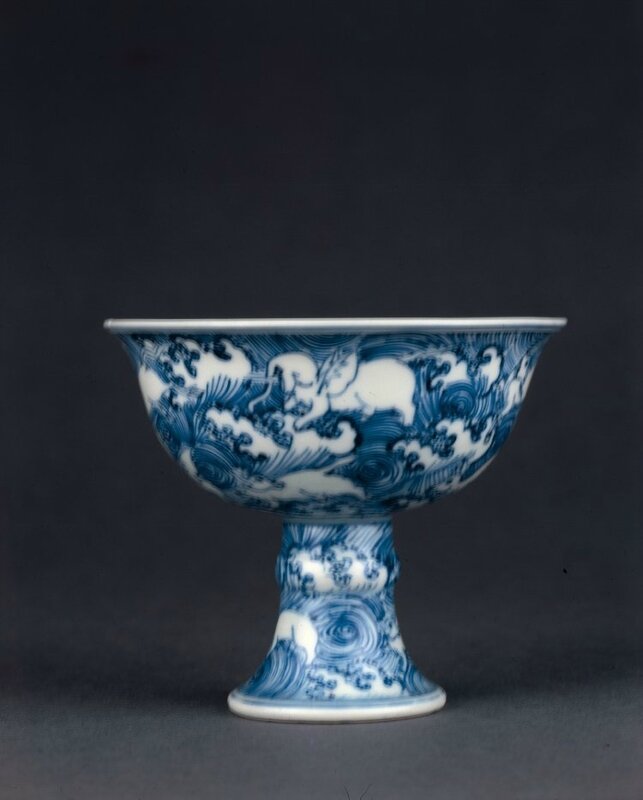 Blue-and-white stem cup with mythical sea creatures, Ming dynasty, Wanli period, AD 1573–1620, Jingdezhen, Jiangxi province. Porcelain with underglaze cobalt-blue decoration. Height: 8,7 cm, Diameter: 10 cm. Sir Percival David Foundation of Chinese Art, PDF C601 © 2017 Trustees of the British Museum
The theme of the mythical sea creatures and their origins in the Han dynasty book by Liu Xiang, Shan Hai Jing, is discussed by J. Harrison-Hall, Ming Ceramics in the British Museum, London, 2001, p. 128, no. 4:13 where a Xuande stem bowl of the same design as the present stem cup is illustrated.
Christie's. Imperial Sale; Important Chinese Ceramics and Works of Art, 29 May 2013, Hong Kong, HKCEC Grand Hall