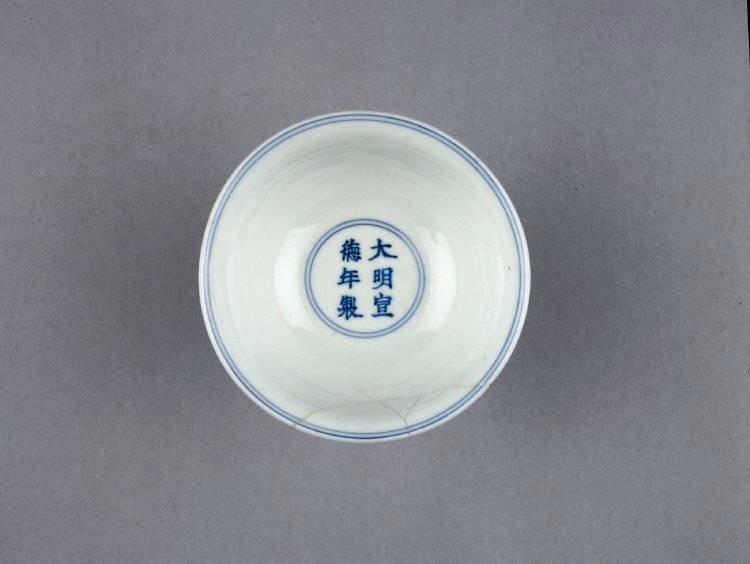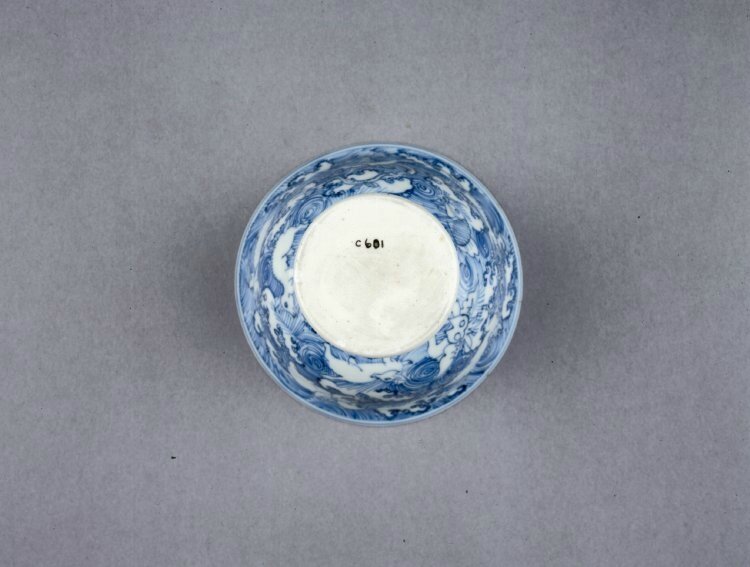 Blue-and-white stem cup with mythical sea creatures, Ming dynasty, Wanli period, AD 1573–1620, Jingdezhen, Jiangxi province. Porcelain with underglaze cobalt-blue decoration. Height: 8,7 cm, Diameter: 10 cm. Sir Percival David Foundation of Chinese Art, PDF C601 © 2017 Trustees of the British Museum
Porcelain stem cup. Underglaze blue with various animals and flying beasts on dense pencilled wave background covering both porcelain cup and stem. Inscription in central roundel inside. Base unglazed.
This blue-and-white stem cup has an apocryphal six-character underglaze blue Xuande reign mark inside in the centre. The style of decoration outside is also in fifteenth century style. Descriptions of mythical sea creatures may be found in Shan Hai Jing [Classic of the Seas and Mountains], a book completed in the Han dynasty by Liu Xiang and his son, and revised and illustrated by Guo Pu in the Eastern Jin dynasty. This book records investigations by state officials on topics from astronomy to medicine, science to flora and fauna, medicine to archaeology. It regained popularity in the fifteenth century. A relationship between the sea-animal motifs and Tibetan Buddhism seems to have existed. It is probable that this stem cup was used at a Buddhist ceremony. Xuande period porcelains of this type are usually decorated with all nine sea creatures together, although the order of the animals varies and the spaces in between can be filled with crested waves, rocky cliffs and clouds. Later copies such as this have a selection of the creatures.