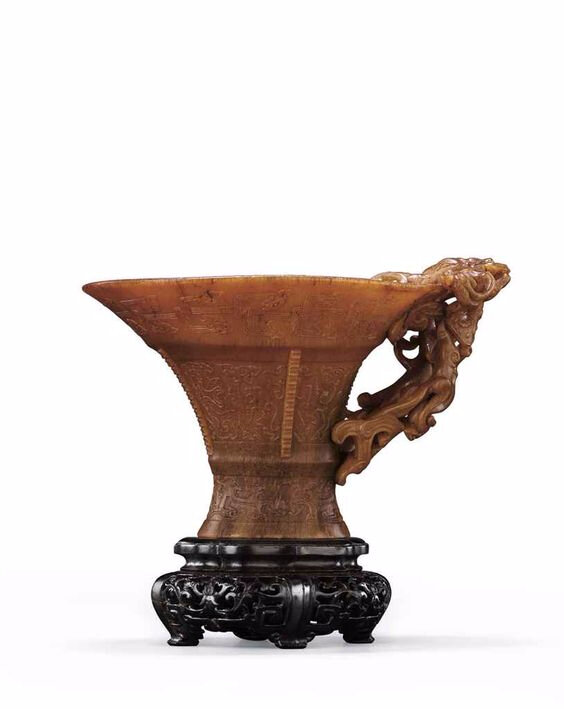 Lot 4164. A finely carved 'Mythical Beasts' rhinoceros horn libation cup, Ming dynasty, early 17th century, 4 in. (10 cm.) high Estimate HKD 1,500,000 - HKD 2,500,000. Price realised HKD 3,140,000 © Christie's Images Ltd 2012
The elegantly proportioned tapering body is carved in shallow relief around the mid-section with a band depicting two pairs of confronted archaistic kui dragons separated by serrated flanges, below a band of interlinked stylised phoenix, and above a band of further phoenix around the splayed foot. The flattened rim is carved with a key-pattern band, one end with an openwork handle comprising five elaborately entwined mythical beasts, each rendered with a beak and a single horn. The recessed base is inscribed with the maker's mark Hu Xingyue zuo in seal script. The material is of a warm honey tone, wood stand, box.
Provenance: Sold at Christie's London, 11 July 1966, lot 15; Christie's London, 16 November 1988, lot 112
Literature: T. Fok, Connoisseurship of Rhinoceros Horn Carving in China, Hong Kong, 1999, p. 74, no. 27
Exhibited: Hong Kong Museum of Art, Metal, Wood, Water, Fire and Earth: Gems of Antiquities Collections in Hong Kong, 2002-2005
Note: The carver Hu Xingyue is discussed by J. Chapman, The Art of Rhinoceros Horn Carving in China, 1999, p. 129; where the author attributes an 18th century dating to the artist. Among Hu's signed work, the marks are rendered into a square four-character seal below the foot of his cups, as with the present lot, and all of Hu's carvings are decorated in the archaistic style. It has been recorded that only eight cups with his seal appear to exist: two are in the Aberdeen Art Gallery; one in the Minneapolis Institute of Arts; one in the Victoria and Albert Museum, London; one in the Museum voor Volkerkunde, Rotterdam, no. 29344; the others are in private collections, is illustrated ibid., p. 129.
Hu Xingyue, Cup, carved rhinoceros horn, China, Qing dynasty, ca. 1650-1700. H. 3 5/8 in. (9 cm), D. 5 1/2 in. (13.7 cm). Bequeathed by W.H. Cope, Esq., 782-1903. © Victoria and Albert Museum, London 2017.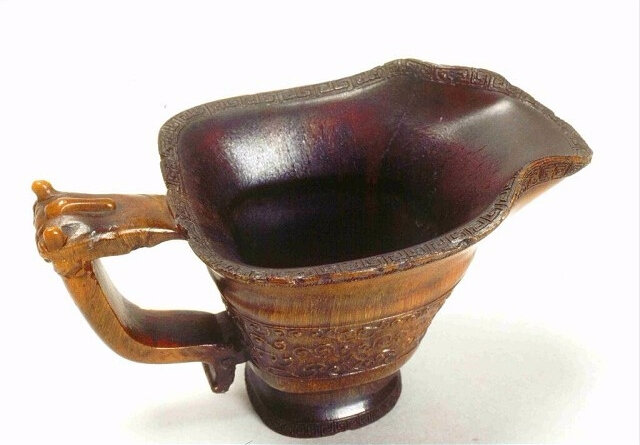 Hu Xingyue, Rhinoceros horn libation cup, Museum voor Volkerkunde, Rotterdam, no. 29344
It is interesting to note that a similar archaistic cup carved with a more pronounced lip forming a pouring vessel and inscribed with the same four-character mark of Hu Xingyue is in the Qing Court collection. The Palace example is illustrated in Bamboo, Wood, Ivory and Rhinoceros Horn Carvings, The Complete Collection of Treasures of the Palace Museum, vol. 44, Hong Kong, 2002, p. 152, no. 134, where it is dated to the late Ming dynasty. As Palace archives were well-kept and highly regulated during the Qing period, it is possible to deduce that the artist, Hu Xingyue, must already have been active before the Qing dynasty.
The unusual mythical animal in this instance was an adaptation of mythical birds with hooked beaks and animal bodies that first appeared on early bronzes of the Zhou dynasty (1100-256 BC). By the late Ming period, this type of bird motif was revived specifically on rhinoceros horn carvings. The later Ming rendition, however, re-ermerged with an exaggerated crest and attached to a sinuous chidragon body. A related vessel with a similar striding mythical beast carved on the exterior, in the Edward and Franklin Chow Collections, is illustrated ibid., p. 154, no. 189.
Christie's. Important Chinese Ceramics and Works of Art, 30 May 2012, Hong Kong, HKCEC Grand Hall