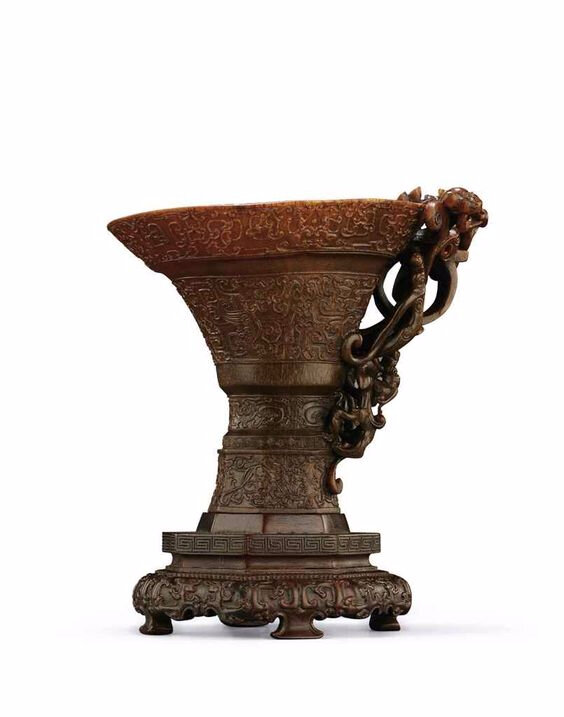 Lot 4161. A finely carved archaistic rhinoceros horn libation cup, Ming dynasty, early 17th century, 5 in. (12.7 cm.) high. Estimate HKD 1,200,000 - HKD 1,800,000. Price realised HKD 2,780,000 © Christie's Images Ltd 2012
The elegantly proportioned tapering body is carved in shallow relief around the mid-section with a band depicting two pairs of confronted archaistic kui dragons separated by serrated flanges, below a band of interlinked stylised phoenix, and above a band of further phoenix around the splayed foot. The flattened rim is carved with a key-pattern band, one end with an openwork handle comprising five elaborately entwined mythical beasts, each rendered with a beak and a single horn. The recessed base is inscribed with the maker's mark Hu Xingyue zuo in seal script. The material is of a warm honey tone, wood stand, box.
Provenance: Acquired in Hong Kong, 1978
Literature: T. Fok, Connoisseurship of Rhinoceros Horn Carving in China, Hong Kong, 1999, p. 56, no. 9
Exhibited: Hong Kong Museum of Art, Metal, Wood, Water, Fire and Earth: Gems of Antiquities Collections in Hong Kong, 2002-2005
Note: The combination of archaistic decoration and numerous high relief chilong appears to have been popular with carvers of rhinoceros horn cups. It is the contrast of the sinuous bodies and muscular movement of the dragons to the underlying formalised design of the archaistic bands that provides an attractive overall design most suited to complement the elegant shape of the cup.
Several cups of this type of decoration are illustrated by T. Fok, Connoisseurship of Rhinoceros Horn Carving in China, 1999, nos. 4, 9, 15, 19, 20, 22, 26 and 41. A similar archaistic cup, also with a raised base, from the Songzhutang Collection, was sold at Christie's Hong Kong, Important Chinese Rhinoceros Horn Carvings from the Songzhutang Collection, 27 May 2008, lot 1723.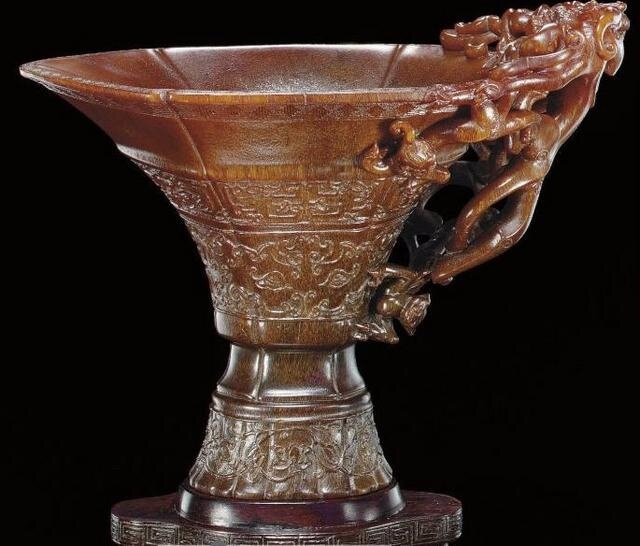 A finely carved archaistic rhinoceros horn libation cup, Ming dynasty, 17th century. Sold 1,567,500 HKD at Christie's Hong Kong, Important Chinese Rhinoceros Horn Carvings from the Songzhutang Collection, 27 May 2008, lot 1723. © Christie's Images Ltd 2008
Christie's. Important Chinese Ceramics and Works of Art, 30 May 2012, Hong Kong, HKCEC Grand Hall