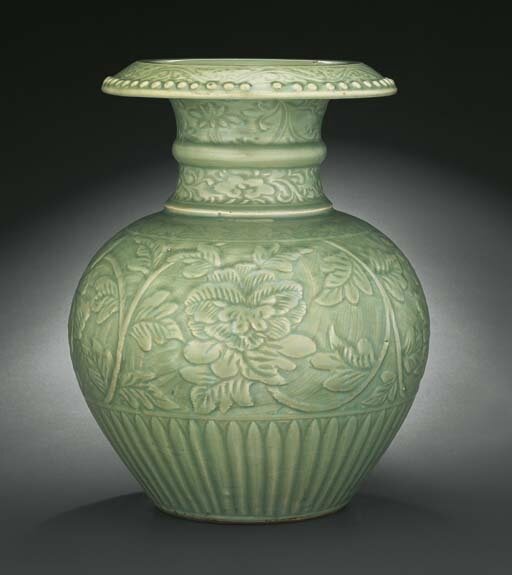 Lot 1472. An important and extremely rare Longquan celadon pomegranate-form vase, shiliu zun, Yuan dynasty, 14th century, 14 1/4 in. (32 cm.) high. Estimate HKD 2,000,000 - HKD 3,000,000. Price realised HKD 2,400,000 © Christie's Images Ltd 2007
The sturdily potted vessel with a globular body well carved and incised with a broad band of peony meander bearing large graceful blossoms and arched leaves reserved on a combed ground between a border of upright stiff petals rising from the foot and another of 'cash' coins at the shoulder, the waisted neck interrupted by a thick horizontal rib carved with a lingzhi scroll band below another of stylised flowers, the flat horizontal rim incised with a further band of 'cash', the wide splayed rim with a classic border and with a band of applied bosses, covered overall in a rich glaze of sea-green tone, the base countersunk and the broad foot burnt orange in the firing, old Japanese wood box and wrapper.
Provenance: A Japanese private collection
Note: Longquan celadon vases of this shape, undoubtedly inspired by contemporaneous metal ware, are extremely rare and only three appear to have been published. The closest comparison is the vase in the Palace Museum collection, Beijing, illustrated in Yuan dai ciqi, Beijing, 1998, p. 259, pl. 447 (fig. 1). The Beijing example is carved with a classic chrysanthemum scroll, instead of a peony scroll. The two other examples are carved with alternating fruiting and flowering sprigs within rectangular cartouches around the globular body, the first is illustrated in op. cit., p. 259, no. 446 and again in Sekai Toji Zenshu, Shogakukan Series, vol. 13, Japan, 1981, p. 181, pl. 150 (fig. 2). The other is in the Palace Museum, Taipei, and was included in the special exhibition, Age of the Great Khan, Pluralism in Chinese Art and Culture Under the Mongols, National Palace Museum, Taipei, 1991, p. 143, pl. IV-39 (fig. 3).
The decorative technique on the primary band, carved by removing the ground reserving the floral scroll in low relief is considerably more difficult and time-consuming than either incising a design onto the surface of the vessel, or applying the sides with sprig-moulded elements. An example of this same carved technique is seen on the massive Longquan vase in the Percival David Foundation, which appears to be a special commission and bears a dedicatory inscription dated to AD 1327, illustrated by R. Scott, Imperial Taste: Chinese Ceramics from the Percival David Foundation, San Francisco, 1989, pp. 50-1, no. 24.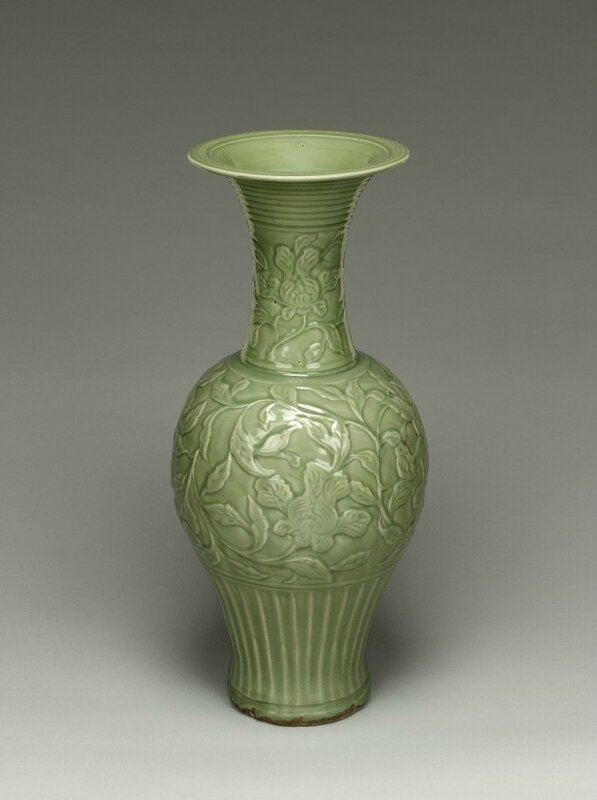 Large dated temple vase, Yuan dynasty, dated around AD1327, Longquan ware, Longquan region, Zhejiang province. Stoneware, porcelain-type, incised, carved and with celadon glaze, Height: 72 cm. Sir Percival David Founcation of Chinese Art, PDF 237 © The Trustees of the British Museum
Christie's

. Important Chinese Ceramics and Works of Art,

29 May 2007,

Hong Kong