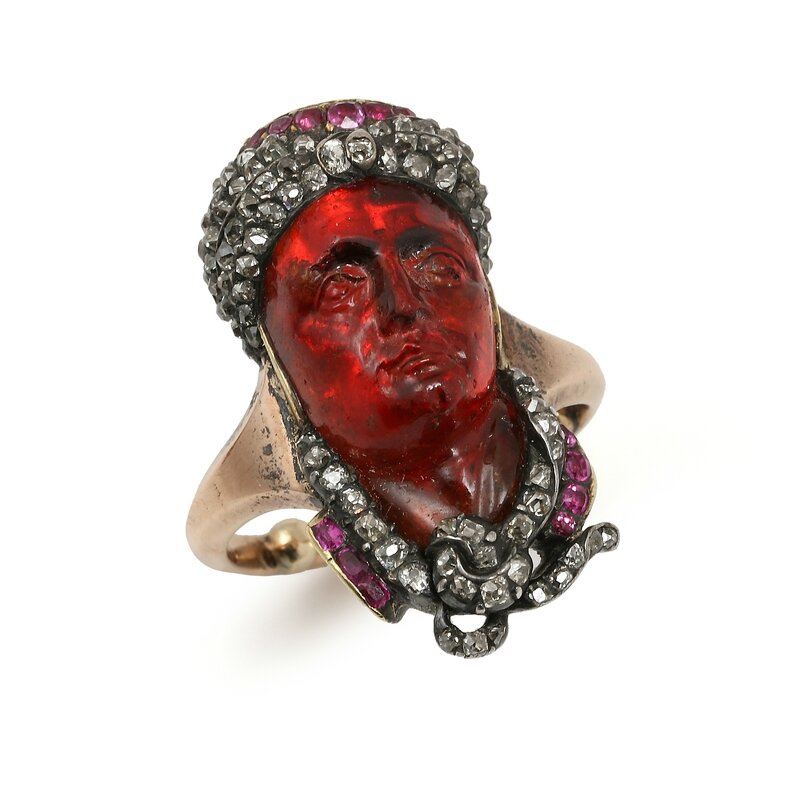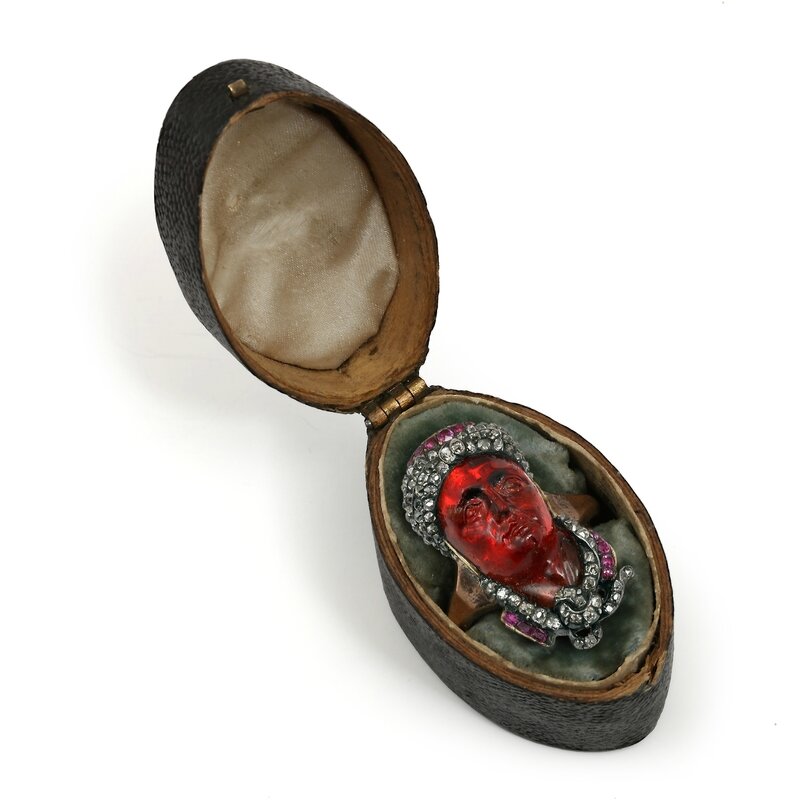 A hessonite garnet, ruby and diamond cameo ring, cameo mid 16th century, Venice, habillé with rubies and diamonds 18th century © Symbolic & Chase
£95,000. Please enquire here.
Description and Commentary by Diana Scarisbrick.
The gold ring, designed as a plain hoop expanding to shoulders supporting the bezel mounted with a hessonite garnet cameo head of a man wearing a diamond and ruby turban-like cap and a ruby and diamond collar. Cameo mid 16th century, Venice, habillé with rubies and diamonds 18th century.
Commentary: The oriental style ruby and diamond headdress gives an exotic character to this magnificent cameo carved in Renaissance Italy which may represent a European in Turkish costume, evoking the legendary palaces of Constantinople. It belongs to a rare group of sixteenth century "cameos executed in single coloured monochrome stones of extreme hardness - orange jacinth, violet almandine and blood red garnet which form a distinct branch of the art of relief carving " identified as a speciality of the gem engravers of Venice by J.Kagan, curator at the Hermitage Museum.(1) Other scholars agree on this North Italian origin, and E. Kris, for instance, ascribes a pair of hessonite garnet busts, in the Kunsthistorisches Museum, Vienna, one representing Cleopatra, the other a man, to Venice/Padua. (2) Other outstanding examples representing Cleopatra are in the Schatzkammer der Residenz, Munich,(3) at Waddesdon Manor, (4) and in the collection of the Duke of Northumberland. (5) In addition, there is a Lucretia in the Museo degli Argenti, Florence,(6) a classical laureate bust in Rosenborg Castle, Copenhagen, (7) and the bust of a woman in the Bibliothèque Nationale de France (8) Exceptionally rare and expensive, royalty and the richest connoisseurs competed to possess them during the great age of gem collecting. Of the three such "jacinthes" listed in the French Crown Jewellery Inventory of 1580 ( 9) a hessonite head of Julius Caesar in a 16th century pendant setting, c.1550, is perhaps that shown by Kugel in a Paris exhibition of 2000.(10). As for the present example, the embellishment with diamonds and rubies in the habillé technique was probably added in the 18th century when "turquerie" was a popular theme in painting, architecture decorative arts, notably Meissen porcelain. It could have belonged to the 2nd Earl of Bessborough (1704-93) who was portrayed in Turkish costume by J.F. Liotard,(11) As a young man he travelled to Italy, Greece and Constantinople buying antiquities, and, assisted by his wife Caroline, acquired from various sources a collection of cameos and intaglios which he sold to the 4th. Duke of Marlborough soon after 1768. (12) A leading figure in the heyday of Grand Tour collecting, respected for his knowledge of classical art, he was a founder member of the Society of Dilettanti and a Trustee of the British Museum. Besides being addicted to "vertu", Lord Bessborough was a notable man of fashion, known in polite society for his "gaieté de coeur."(13) He may not have kept all his gems hidden in his collector's cabinet and as a well dressed connoisseur he would also have enjoyed displaying them on his fingers, so as to make a talking point in company. Indeed, of all the noble and rich English bon vivants of the eighteenth century, he is the most likely to have possessed a jewelled ring mounted with a hessonite garnet cameo of this size, quality and extraordinary lustre which unites a penchant for Turkish costume with an enthusiasm for cameos.
1. J. Kagan, Western European Cameos (1973) p.16,
2. E. Kris Steinschneidekunst in der Italienischen Renaissance( Vienna 1929) nos 133, 134
3. Official Guide no. 642
5. D. Scarisbrick, J. Boardman and C.Wagner, The Beverley Gems, (2017) No.1, p.5, attributed to Matteo dal Nassaro, ( North Italian)
7. J. Hein The Treasure Collection at Rosenborg Castle 92009) II, p.27, no 24.
8. E. Babelon Catalogue des Camées Anciens et Modernes de la Bibliothèque Nationale (Paris 1897 ) no.991
9. Y. Hackenbroch, Renaissance Jewellery (1979) pp.391-2, nos , 330 362,,377
10. A.Kugel,with R. Distelberger and M. Bimbenet -Privat Joyaux Renaissance (2000) no.19, stating that this rare type of garnet was imported from the Sierra San Piedro in Mexico
11. Haydn Williams, Turquerie (2014) Chapter 2, Connections in the 18th century, pp41-59 p.56, plates 65 and 66, and Chapter 4 Reflections of the Ottoman World in European Painting pp.89-113
12. J. Boardman et al,The Marlborough Gems (2009) pp.391-204
13. Town and Country Magazine (1776) Vol.VIII, p.765