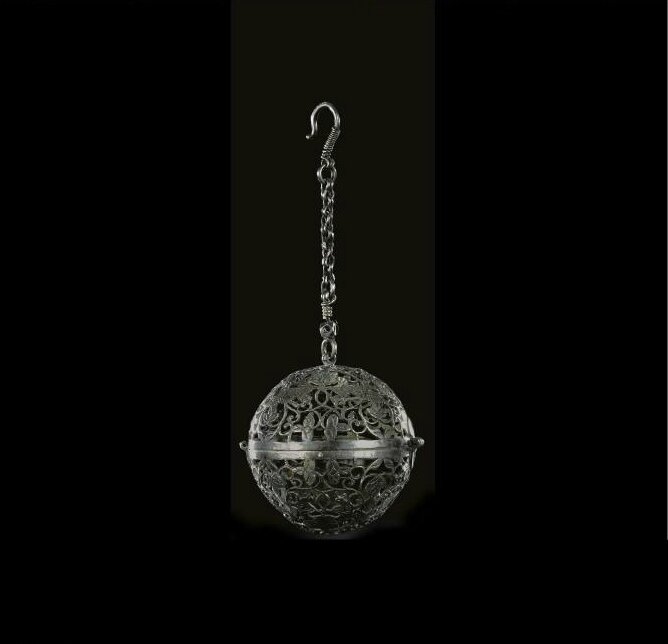 Lot 57. A rare silver spherical incense burner, Tang dynasty, 7th-8th century, 4.3 cm., 1 5/8 in. Estimate 10,000 — 15,000 GBP. Lot sold 46,100 GBP. Photo: Sotheby's.
comprised of two reticulated hemispheres joined on one side by a hook and a hinge on the other side, the overall reticulated decoration of birds among scrolling vine on one half and flowering scrolls on the other half arranged into four symmetrical sections around a four-petalled flowerhead at the axis, the interior fitted with a yellow-metal hemispherical incense receptacle suspended in a nest of two silver bands to keep it upright when the piece is carried around, all suspended from a linked chain and hook. Quantity: 2. Weight: 37.5g.
Exhibited: Chinese Gold and Silver in the Carl Kempe Collection, Smithsonian Institution, Washington, D.C., 1954-55, cat. no. 96.
Chinese Gold, Silver and Porcelain. The Kempe Collection, Asia House Gallery, New York, 1971, cat. no. 44, an exhibition touring the United States and shown also at nine other museums.
Literature: Bo Gyllensvärd, Chinese Gold and Silver in the Carl Kempe Collection, Stockholm, 1953, pl. 96.
Bo Gyllensvärd, 'T'ang Gold and Silver', Bulletin of the Museum of Far Eastern Antiquities, no. 29, 1957, pl. 5d, fig. 11b.
Han Wei, Hai nei wai Tangdai jin yin qi cuibian [Tang Gold and Silver in Chinese and overseas collections], Xi'an, 1989, pl. 293.
Chinese Gold and Silver in the Carl Kempe Collection, The Museum of Art and Far Eastern Antiquities in Ulricehamn, Ulricehamn, 1999, pl. 98.
Note: Incense burners of this type, consisting of two openwork hemispheres with a freely moving incense bowl inside were greatly valued by the imperial household and the aristocracy of the Tang dynasty. Han Wei in 'Gold and Silver Vessels of the Tang Period', Orientations, July 1994, p. 31, notes that 'when a crown prince took an imperial concubine, he would usually present her with an incense burner, and protocol demanded that the pairs of attendants leading an imperial procession held incense burners in their hands'.
A related incense burner, in the Metropolitan Museum, New York, was included in the China Institute in America exhibition Early Chinese Gold and Silver, China House Gallery, New York, 1971, cat. no. 41, decorated with chased work of four birds surrounded by floral scrolls. It is mentioned, ibid., p. 38, that a pair of these incense burners were excavated near Xi'an. Compare also another incense burner, formerly in the Hakutsuru Art Museum, Kobe, illustrated in Nagao Ko, Hakutsuru cho, vol.1, Kyoto, 1931, pl. 49, and included in the exhibition Tang, Eskenazi, London, 1987, cat.no. 1, later sold at Christie's London, 9th June 1997, lot 17; and one in the collection of Dr. Pierre Uldry included in the exhibition Chinesisches Gold und Silber, Rietberg Museum, Zurich, 1994, cat. no. 201.
See further a related vessel included in Zhongguo zhuantong. Jinqi, Beijing, 2006, p. 16, top, together with another example, p. 66, bottom; and another example included in the exhibition Imperial Gold from Ancient China, Oriental Bronzes, London, 1990, p. 32, cat. no. 8.
Sotheby's. Masterpieces of Chinese Precious Metalwork, Early Gold and Silver; Early Chinese White, Green and Black Wares, London, 14 May 2008