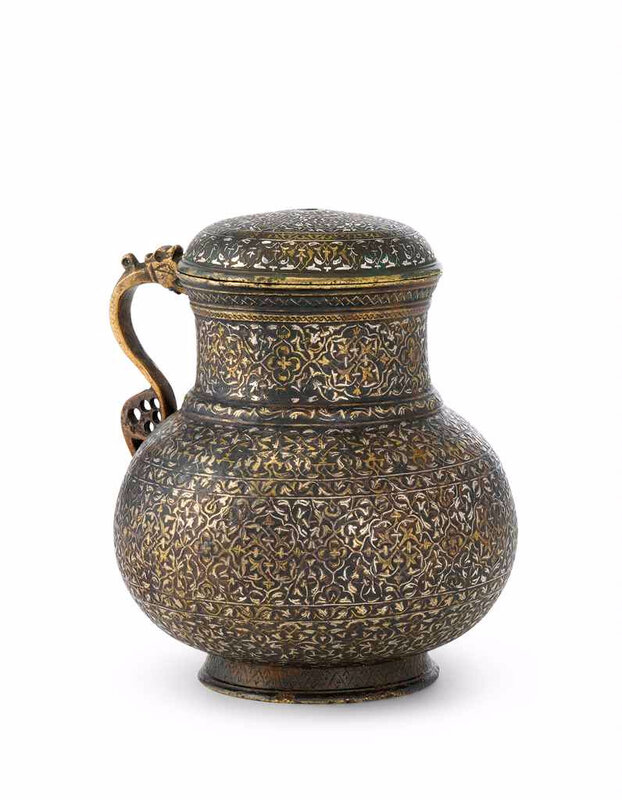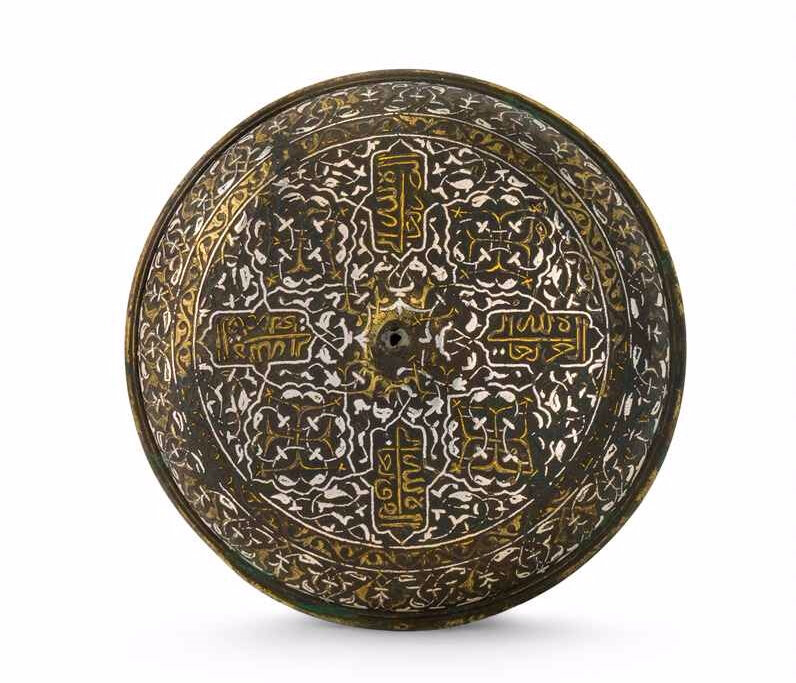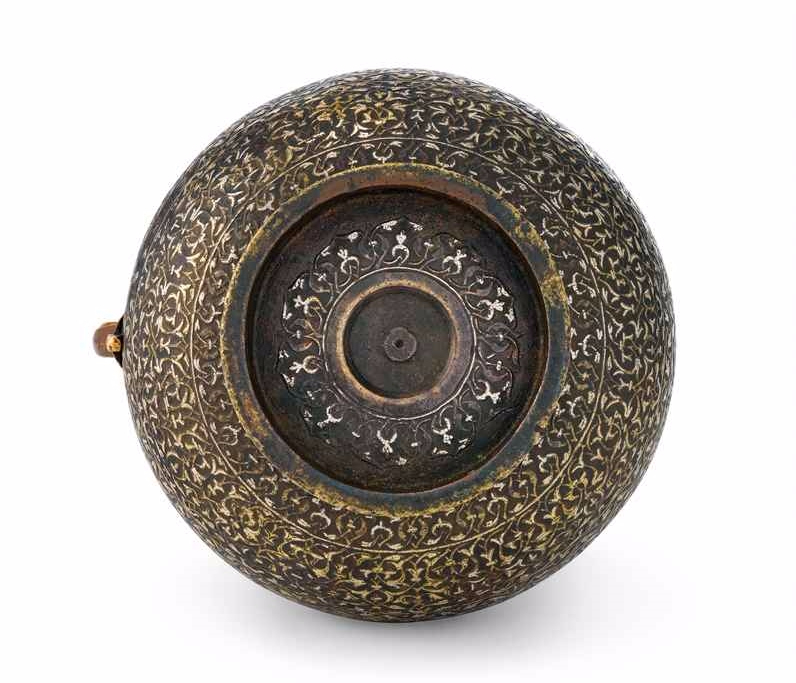 Lot 17. A silver and gold-inlaid bronze jug (mashrabe), Timurid Khorassan, North East Iran or Afghanistan, Late 15th or early 16th century, 6 1/8in. (15.5cm.) high. Estimate £120,000 - GBP 180,000. Price realised GBP 110,500. © Christie's Image Ltd 2015
Rising from a short trumpet foot through wide bulbous body tapering to a high neck with a stepped shoulder, slightly flaring at the mouth with a slightly everted rim, the matched gently domed lid with hole to the centre, associated curved handle with dragon head-shaped finial, the body inlaid with gold and silver on hatched ground, the central register on the body with cusped palmettes on a ground of scrolling vine flanked above and below by bands of further scrolling vine, the shoulder and the base with registers of half-palmettes, the neck with a similar decorative register, the lid decorated with palmettes and scrolling vine as well as cusped cartouches containing naskhinscriptions at right angles, the underside of the base with a circular band of scrolling arabesques, the foot with engraved band of strapwork.
Note: This finely inlaid jug is an intricate example of the decorative skill employed in late Timurid metalwork. In form it is very close to a jug in the Victoria and Albert Museum which Souren Melikian attributes to Khorassan at the close of the 15th or early 16th century, (Assadullah Souren Melikian-Chirvani, Islamic Metalwork from the Iranian World, 8-18th centuries, London, 1982, cat.116, pp.257-58). Both of the jugs have long necks decorated with geometric and vegetal motifs without calligraphic inscriptions. These are features which Melikian associates with the transition of Timurid decoration to early Safavid decorative motifs.
The decoration on our jug with its tight scrolling vine is much more sophisticated than the previously mentioned example in the Victorian and Albert Museum. With the three decorative registers around its body, it is more closely related to a jug in the British Museum which Linda Komaroff attributes to Khorassan in the late 1480s or 1490s, (Linda Komaroff, The Golden Disc of Heaven, Costa Mesa, 1992, no.11, pp.176-79). Each of the jugs has a central decorative register of cusped cartouches on a ground of dense scrolling vine issuing split palmettes. This similarly suggests that our jug, like the British Museum example, pre-dates the end of the Timurid dynasty.
Another interesting feature of our jug is the lack of calligraphic decoration on the body. The lid, which is associated although almost certainly from the same workshop, does have calligraphic decoration. A jug in the David collection which is dated on the underside of the foot to AH 918/1512 AD also lacks calligraphic decoration on the body, (Kjeld von Folsach, Torben Lundbaek and Peder Mortensen, Sultan, Shah and Great Mughal, exhibition catalogue, Copenhagen, 1996, no.258, p.279).
A very similar inlaid jug dated 1495-96 AD was sold at Sotheby's London, 11 October 1989, lot 99.
Christie's. Art of the Islamic and Indian Worlds, 23 April 2015, London