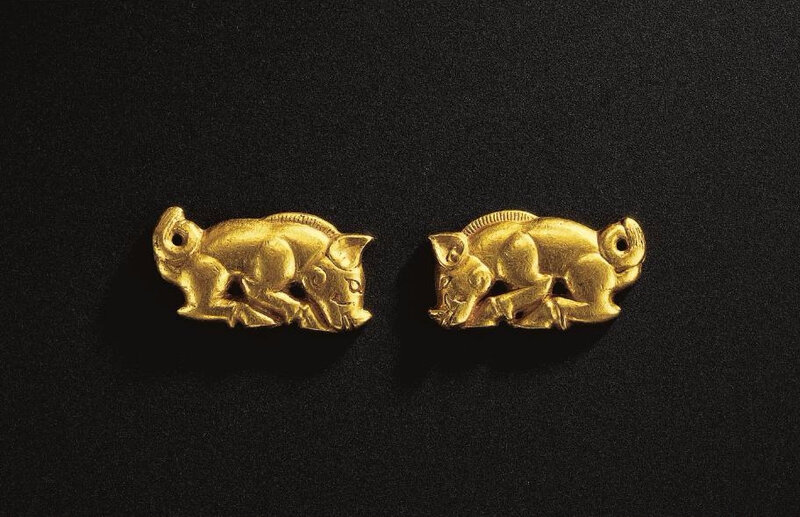 Lot 1. A rare pair of small gold boar plaques, 6th-th century BC, 3.2cm., 1 1/4 in. Estimate 6,000 — 8,000 GBP. Lot sold 66,500 GBP. Photo: Sotheby's.
each rendered as a crouching boar, cast in mirror image, realistically portrayed kneeling with the front legs bent beneath the head while the hind legs are curled beneath the body, the mane and curled tail marked by striations, the facial features finely engraved, two square attachment loops to the reverse. Quantity: 2. Weight 18g.
Exhibited: Chinese Gold and Silver in the Carl Kempe Collection, Smithsonian Institution, Washington, D.C., 1954-55, cat. no. 24.
Chinese Gold, Silver and Porcelain. The Kempe Collection, Asia House Gallery, New York, 1971, cat. no. 12, an exhibition touring the United States and shown also at nine other museums.
Literature: Bo Gyllensvärd, Chinese Gold and Silver in the Carl Kempe Collection, Stockholm, 1953, pl. 24.
Chinese Gold and Silver in the Carl Kempe Collection, The Museum of Art and Far Eastern Antiquities in Ulricehamn, Ulricehamn, 1999, pl. 23.
Note: Animal-shaped ornaments cast in gold, silver and bronze in the form of small plaques and fittings to be worn on necklaces, belts and tunics, played an important role in the nomadic and pastoral cultures of present-day northern and northwestern China during the Eastern Zhou dynasty, expressing the rank and clan of individuals. They commonly appear in the shape of crouching or recumbent stags, tigers and boars. A group of seven bronze plaques cast as kneeling boars and discovered in a Warring States tomb at Xinhui Village, Aohan Banner in Liaoning province, is stylistically and iconographically closely related to the present pair of gold plaques, illustrated in Treasures on Grassland: Archaeological Finds from the Inner Mongolia Autonomous Region, Shanghai, 2000, p. 112.
Among Ordos finds, animal-shaped ornaments cast of gold are far rarer than those cast in bronze or silver. See, for example, a set of four small gold plaques, each cast in the shape of a crouching tiger, and a set of six bird-shaped plaques, illustrated in Eerduosi shi qingtong qi, Beijing, 1986, pl. 114:1 and 114:2.
Sotheby's. Masterpieces of Chinese Precious Metalwork, Early Gold and Silver; Early Chinese White, Green and Black Wares, London, 14 May 2008