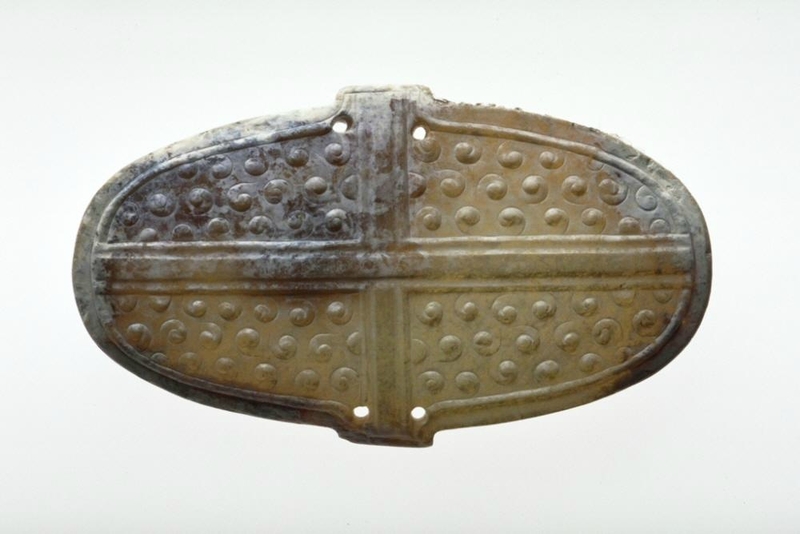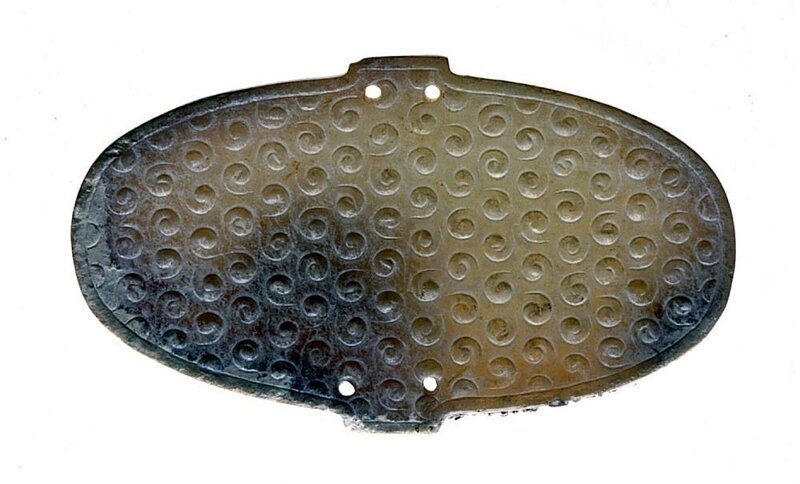 Oval plaque ornament, China, Warring States Period (approx. 480-221 BCE). Nephrite. W. 1 1/2 in x L. 2 5/8 in, W. 3.8 cm x L. 6.7 cm. The Avery Brundage Collection, B60J755 © 2017 Asian Art Museum Chong-Moon Lee Center for Asian Art and Culture.
This elegant oval plaque is very similar in both shape and decoration to an example found at a late Spring and Autumn period tomb at Taiyuan, Shanxi province. Pieces of similar shape have also been found in Anhui province and in the tomb of the Marquis Yi of Zeng. The major differences are found in the profile and the method of attachment. The example discussed here has a thin profile and two points of attachment on either side. The piece from Taiyuan has a rounder profile and a single point of attachment on each side. The front of this piece is decorated with the "sprouting grain" pattern typical of the late Spring and Autumn and Warring States periods; it is divided into quadrants by raised bands. The reverse is also decorated with "sprouting grain" patterns but does not have the divisions. The front of the piece is slightly convex, while the back is slightly concave, suggesting that it was meant to fit a curved surface. Some experts have concluded that such pieces were attached to the cloth belts worn at that time.
This piece was cut from a light, yellowish Khotan jade. A considerable amount of material would have been sacrificed to give it its uniform curved profile. Much of the surface has been altered during burial and is white or mottled white and yellow. There are some areas of a brown which is either a deeper stain or inherent in the stone. The level of finish is quite high and while the polish is somewhat dimmed by alteration, the piece still has the gleam typical of high quality Warring States and Han jades.
1. Zhongguo Yuqi Chuanji, vol 3, p. 25, plate 41
2. Zhong Yuan Wen Wu, 1991, no. 4, p. 28, no. 7
Exhibition History: "Chinese Jade: Stone of Immortality", Cernuschi Museum, France, 9/26/1997 - 1/4/1998
"Eternal Stone and Immortal Brush: Chinese Jades and Paintings from the Asian Art Museum of San Francisco", Fresno Metropolitan Museum, 2/24/2002 - 6/9/2002