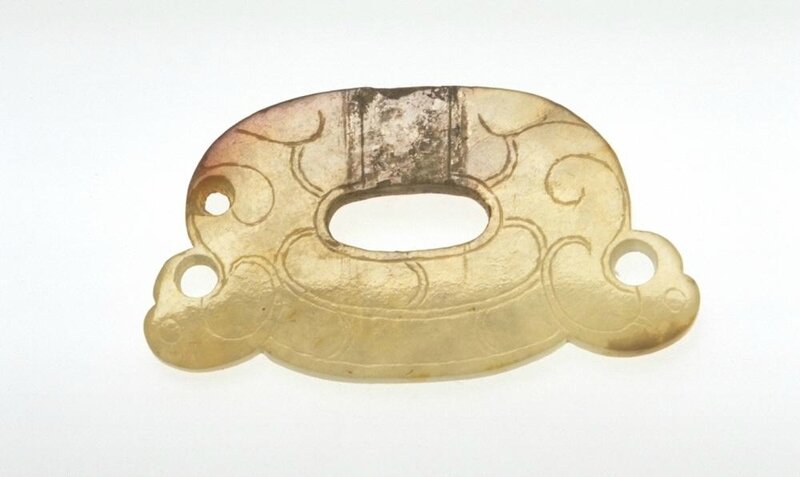 Pendant of stylized birds (xian), China, Warring States Period (approx. 480-221 BCE). Nephrite. H. 15/16 in x W. 1 11/16 in. The Avery Brundage Collection, B60J639 © 2017 Asian Art Museum Chong-Moon Lee Center for Asian Art and Culture.
Similar to the piece described above (#40), this piece features bird decoration; in this case a pair of bird heads attached to a flattened oval ring. The holes cut under the beaks of the bird and one on the side indicate that this piece functioned as part of a pendant. The central hole is outlined by a slightly raised area except for an area directly at the bottom. From there a small, undecorated section continues to the lowest area on the piece. This suggests a wider piece of material, perhaps a ribbon, was suspended from this central hole.
The surface decoration on the piece is rather cursory, consisting of little more than shallowly incised parallel lines making up a series of curves and volutes. The lines themselves are rough and unfinished, perhaps suggesting a piece of secondary importance or of provincial manufacture.
The piece is thinly cut from a piece of very light yellow Khotan jade. The stone is of decent quality with some darker inclusions, and some cloudy areas. Despite the unfinished appearance of the decoration, the surface is highly polished. There are brown stains and some alteration of the surface on the lower part of the piece.
1. Yang, no. 195 (ladle handle)
2. Loehr, plate 580
3. Loo, plate XLVIII, no. 7
Exhibition History: "Chinese Jade: Stone of Immortality", Cernuschi Museum, France, 9/26/1997 - 1/4/1998