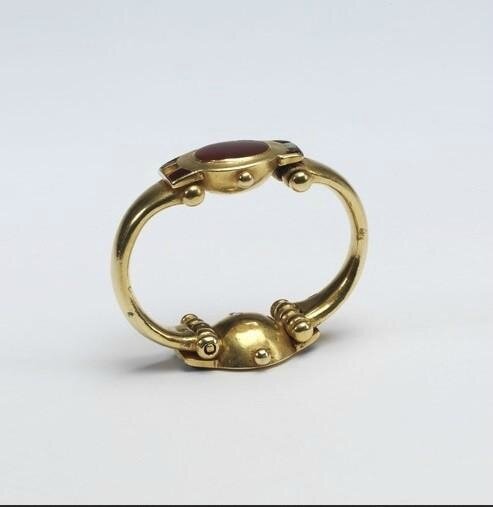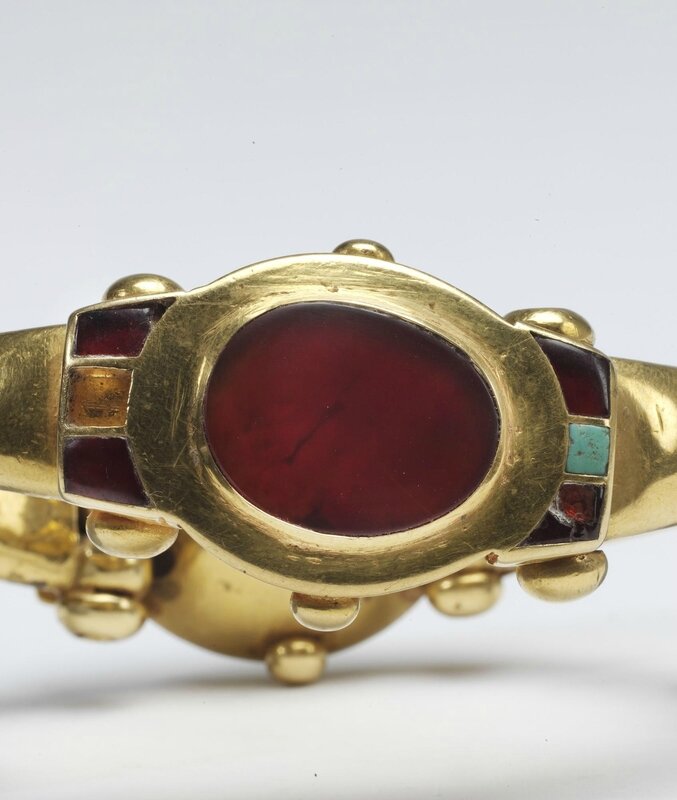 Achaemenid Bracelet, Iran, 5th century B.C., Gold with Turquoise and Carnelian, H: 6 cm, D: 7.5 cm © David Aaron
The Mesopotamian Achaemenid Empire was famed for its gold. Stretching from Turkey to Afghanistan and lasting from circa 550 to 330 B.C., this period saw the production of some of the finest jewellery pieces of the Ancient world. Grandiose and sophisticated, the jewellery of this era is generally associated with the opulent court culture of the Achaemenid kings. They and the members of their court cultivated an impressive aura of power, building monumental palaces, decorating walls with huge stone reliefs of lions and royal processions, and adorning themselves with gold jewellery.[1] Indeed one relief from the city of Susa depicts figures proffering bracelets as tribute, indicating their cultural significance.[2] It was amid this milieu that the present bracelet was designed and fashioned, and as an example of royal Achaemenid luxury, it is an excellent piece.
The thick main band is made from highly-polished solid gold, with two complex sets of hinges decorated with globular bulbs of gold. Between each set is an oval bezel containing a polished garnet stone, framed in gold. The setting is embellished with small rectangles of carnelian and lapis lazuli inlay, each geometric shape has been carefully cut with one curved edge, accentuating the curve of the larger oval carnelian centrepiece. The edges of the bracelet are smooth, narrowing in the centre. The inlaid stones are larger on one side, likely the front of the piece.
Polychrome decoration of the kind found here is typical of Achaemenid jewellery.[3] Pieces from this period are often embellished with inlaid stone, glass, faience or enamel. The pieces were cut to size then fixed in to place in a gold setting using bitumen. A fine gold Achaemenid pair of earrings in the Louvre show comparable inlay technique.[4] They are inlaid with concentric rectangles of lapis lazuli and turquoise, illustrating both the mathematical and creative sophistication required to create such complex arrangements. A bracelet, also in the Louvre collection, shows not only characteristic inlaid terminals but also an innovative attitude to the shape of the solid gold band.[5] In the Louvre piece it is indented, in the present piece it undulates. Both pieces are testament to a confident and aesthetically fascinating culture.
[1] E. Porada, Art of the World: Ancient Iran, New York, 1962. p.151
[2] J. Curtis and N. Tallis; Forgotten Empire: The World of Ancient Persia, 2005, p.132
[3] J. Curtis and N. Tallis; Forgotten Empire: The World of Ancient Persia, 2005, p.132
[4] Achaemenid Earrings with cloisonné and inlaid lapis lazuli and turquoise, Susa Acropolis, 350 BC. Louvre Museum, Paris. Sb 2764, 2765.
[5] Pair of bracelets decorated with lion's head inlays, Achaemenid period, c.350 BC. Acropolis, Susa. Gold, lapis lazuli, turquoise and mother-of-pearl. Louvre Museum, Paris. Sb 2761
Provenance: Private collection 1970's
David Aaron, 22 Berkeley Square, London UK-W1J 6EH , United Kingdom