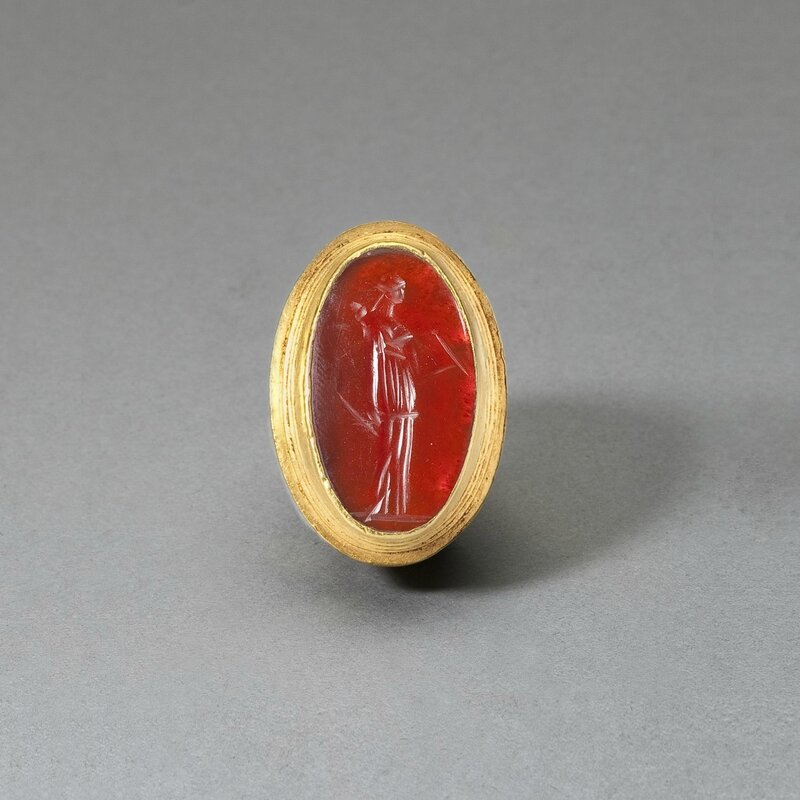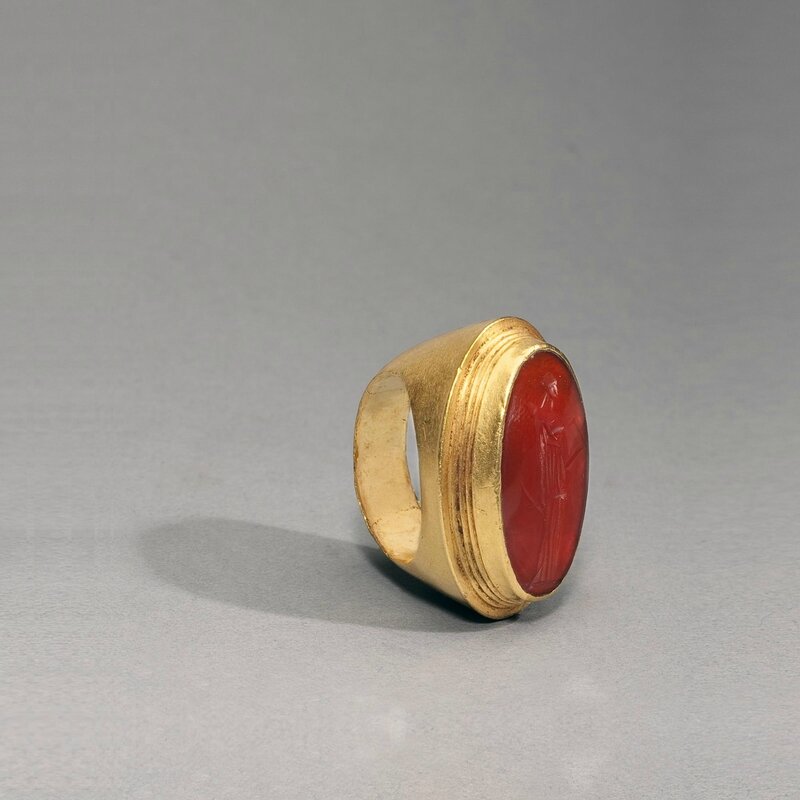 Gold and Carnelian Ring, Hellenistic, Greece, 3rd to 2nd Century B.C., Gold, carnelian © David Aaron
The intaglio ring is an archetype of Hellenistic jewellery. Engraved ringstones such as this were carved with an image in relief, so that when pressed into hot wax they functioned as a seal. The motif was therefore a very personal emblem of identity. One's correspondence, business contracts and finger would each bear the wearer's chosen insignia. The Hellenistic period was an aesthetically fertile one, characterised by the refinement of earlier jewellery designs and elegant employment of Classical Greek motifs, such as the female deity we find here.[1]
This large ring has an ovoid bezel and oval gold hoop. Its shoulders broaden to a truncated bezel, rising in tiers to encase a flat carnelian intaglio. Engraved on the oval stone is a delicately carved female figure. Deft, elegant incisions delineate the folds of her drapery, her long neck, and her pointed chin. The figure holds two thin instruments in either hand – perhaps the bow and spear of the divine huntress Artemis (Diana, in the Roman world). Carnelian was a popular choice for intaglio rings, prized for its hardness, rarity and colour.[2] The particular stone used here possesses both rich pigment and light translucency, complementing the combination of strength and delicacy manifest in this piece.
Intaglio rings of this kind are amongst the most beautiful survivals of the Ancient world, and have been collected with fervour from the Renaissance onwards. Amongst such collectors was J. Paul Getty, and his collection contains two rings analogous to this piece in date, style and stone. One, engraved with an image of Fortuna, has a comparable tiered gold bezel. A second shows Artemis, similarly draped. Female figures of strength and beauty were popular choices for such stones, and both Artemis and Fortuna occur frequently. In a society that was as superstitious as it was religious, the image of a goddess was likely regarded as an auspicious motif.
[1] J. Boardman; Greek Gems & Finger Rings, New York, 1970, p.359
[2] J. Ogden, Ancient Jewellery, 1992, p. 38
Provenance: Private collection.
David Aaron, 22 Berkeley Square, London UK-W1J 6EH , United Kingdom