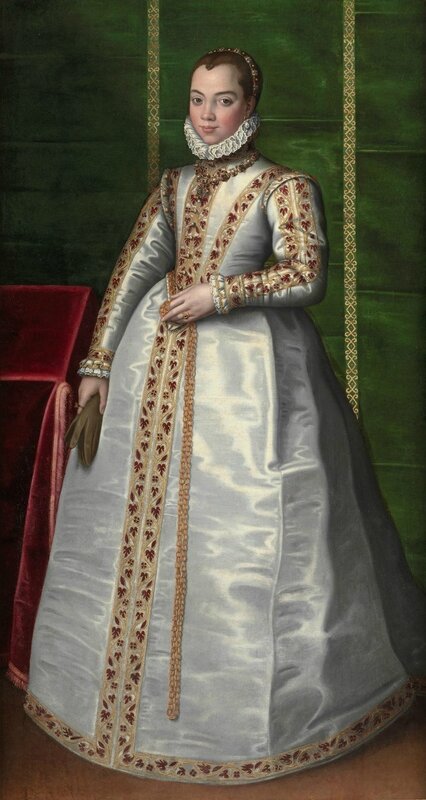 Sofonisba Anguissola (c. 1532 – 1625), An Unknown Noblewoman. Oil on canvas: 71 ½ x 38 ¾ in. (181.5 x 98.5 cm). Painted circa 1560 - 1565 © The Weiss Gallery.
This ravishing portrait of an unknown noblewoman can be dated on the basis of costume and hairstyle to circa 1560 – 1565, when the Cremonese artist Anguissola was based as a lady-in-waiting to Elisabeth of Valois (1545 – 1568) at the Spanish court in Madrid from 1559, where she stayed until 1578. The portrait was traditionally and incorrectly identified as 'Mary' of Austria, meaning Anna, fourth wife of Philip II of Spain (1549 – 1580) – but the costume of our sitter dates to before the death of Elisabeth of Valois, third Queen Consort, and nor does she bear a resemblance to known portraits of Anna of Austria, Philip's fourth Queen Consort.
The richness of our noblewoman's costume and the wealth of her jewellery nonetheless identify her as a lady from the highest echelons of the nobility, possibly a fellow lady-in-waiting with Anguissola. On her left hand she wears an engagement 'fede' ring, or 'faith' ring, of two clasped hands, representing the unity of love, as well as an elaborately mounted diamond ring. As early as the fifteenth century, the diamond ring was a feature of royal and noble weddings. It is undoubtedly an engagement portrait, for in her right hand she holds a man's glove, presumably her betrothed's, and in her left she clasps a long golden chain at her waist. Such chains were traditional marriage gifts, chatelaines on which as the lady of the house she would hang a bejewelled pomander or indeed her keys.
We are grateful to Mina Gregori and Amparo Serrano de Haro for confirming the attribution to Sofonisba Anguissola. Little is known of the few works attributed to Sofonisba, since historical sources and documents do not help to reconstruct the artist's body of work with any certainty. Many paintings have been lost or cannot be traced, creating problems in reconstructing the Sofonisba catalogue. Nevertheless, this portrait reveals convincing analogies of style, execution and construction with the work of Anguissola. The sitter's eyes, carefully delineated, and her gentle smile are typical of the artist, as is the extraordinary attention to the detailing in the costume and jewels. The heavy folds in her white satin dress, the three-dimensional impasto of the gold and red embroidery, and the finesse of the jewels, are comparable in treatment to the artist's portrait of Elisabeth of Valois of 1565, now in the Prado.

The great early art historian Giorgio Vasari wrote of Anguissola that she 'has shown greater application and better grace than any other woman of our age in her endeavors at drawing; she has thus succeeded not only in drawing, colouring and painting from nature, and copying excellently from others, but by herself has created rare and very beautiful paintings.' Born in Cremona, Lombardy, around 1532, the oldest of seven children, six of whom were girls, her father, Amilcare Anguissola, was a member of the Genoese minor nobility and her mother, Bianca Ponzone, was also of a noble background. Her apprenticeship with local painters set a precedent for women at the time to be accepted as students of art. Anguissola traveled to Milan in 1558, where she painted the Duke of Alba, who in turn recommended her to the Spanish king, Philip II. The following year, Anguissola was invited to join the Spanish court, which was a turning point in her career. Elisabeth of Valois was a keen amateur painter, and Anguissola was informally recruited as her tutor, with the rank of lady-in-waiting. During this period she adapted her style to the more formal requirements of official portraits for the Spanish court but it is notable that as a lady-in-waiting, she did not paint in an official capacity, nor indeed did she sign her work during her time at court. After the queen's death, Philip helped arrange an aristocratic marriage for Anguissola and she eventually moved to Palermo, then Genoa, where she continued to practise as a leading portrait painter.

Our painting has an illustrious early provenance, forming part of the extraordinary collection of Cardinal Joseph Fesch, half-brother of Letizia Ramolino Bonaparte (1750 – 1836), mother of the future Emperor Napoleon I, to whom Fesch was close in age. From the mid-1790s to his death in 1839 he collected one of the largest private collections of paintings of the 19th century. His love of art seems to have developed during Napoleon's campaigns in Italy (1796 - 1798), when Fesch became, through his nephew's offices, a supplier to the French army: indeed, his first acquisitions were given to him by a terrified Grand Duke Ferdinand III of Tuscany. It was after his return to Paris in 1800, however, that he began to acquire paintings at an extraordinary rate. In 1802 he was made Archbishop of Lyons and then Cardinal of San Lorenzo-in- Lucina; from 1803 to 1806 he was French Ambassador in Rome, and on his return to Paris in 1806 was appointed Grand Almoner of France. He used his considerable income to augment his collection, taking advantage of the dispersal of a number of other collections to acquire French, Dutch and Flemish paintings, as well as Italian works from some of the great Roman patrician families. In 1812, however, he quarrelled with the Emperor about his loyalty to Pius VII and lost his position, retiring to his diocese in Lyons before settling in August 1815 in Rome, where he led the life of an exile of limited resources, dividing his time between pious activities and the search for new paintings.

According to the inventory drawn up at his death, Fesch's collection comprised nearly 16,000 works. His residence in Rome was the Palazzo Falconieri in the Via Giulia, where he displayed his finest pieces.
These included such masterpieces as Giorgione's Allendale Nativity (Washington, D.C., National Gallery of Art), Giotto's Dormition of the Virgin, Fra Angelico's Last Judgement, Rembrandt's Predication of the Baptist (all Berlin, Gemäldegalerie), Poussin's Dance to the Music of Time, Metsu's Sleeping Hunter, Hobbema's Stormy Landscape, Adriaen van de Velde's Departure of Jacob, Watteau's Fête in a Park and Halt during the Chase (all London, Wallace Collection), Mantegna's Agony in the Garden, a Raphael Crucifixion, Foppa's Adoration of the Magi and Ercole de' Roberti's Israelites Gathering Manna (all London, National Gallery), Carpaccio's Hunting on the Lagoon and Pontormo's Portrait of a Halberdier (both Los Angeles, J. Paul Getty Museum). The Cardinal's own portrait was sculpted by Antonio Canova in 1807 – 1808 (Ajaccio, Musée Fesch).

Provenance: Joseph, Cardinal Fesch (1763 – 1839), Palazzo Falconieri, Rome;
Possibly his sale, Galerie de Feu, S.E. Le Cardinal Fesch, Ancien Archevêque de Lyon, Primat des Gaules, George, Rome, 17-18 & 24 March 1844;
Sir William Bromley-Davenport, K.C.B.;
his sale; Christie's, London, 28 July 1926, lot 146 (as 'Sir Antonio Moro', 'Portrait of Mary of Austria, fourth wife of Philip II, in white satin dress embroidered with gold braid and red flowers', as 'from the collection of Cardinal Fesch'),
bought for £25.2s by
Tyndale;
Francis Howard; his deceased sale; Christie's, 25 November 1955, lot 75 (as 'Fontana', 'Portrait of Mary of Austria, fourth wife of Philip II, in white satin dress, gloves in her right hand'), bought for £115.10s by
Leggatt Bros., London;
Private European collection;
Private collection, France, until 2012.
The Weiss Gallery. 59 Jermyn Street, London SW1Y 6LX, United Kingdom