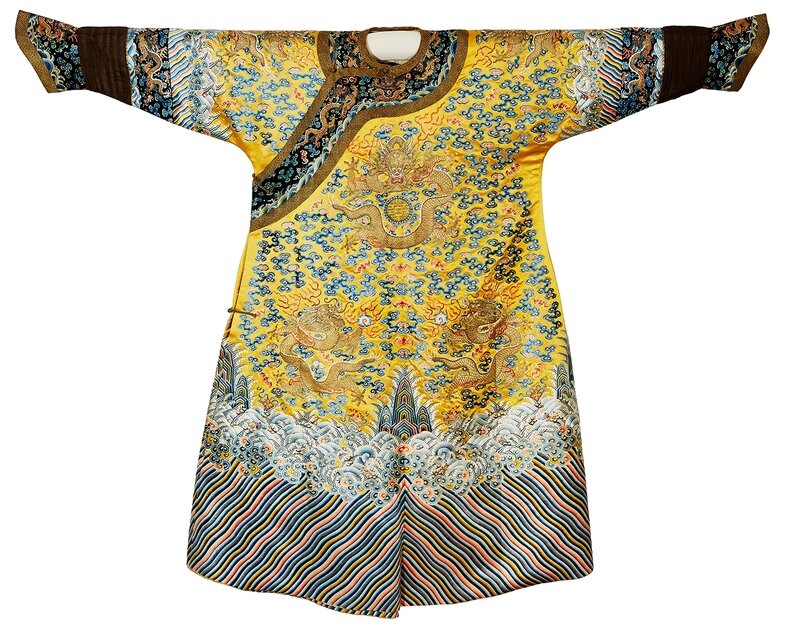 Lot 202. An impressive Chinese imperial yellow dragon robe, (longpao jifu), Qing dynasty (1644-1911), Daoguang period (c. 1820). Estimate $ 40,000-60,000. Photo Leonard Joel.
This excellent and rare Manchu nine-dragon robe, has been embroidered with the finest silk and couched gold-wrapped thread on a rich satin ground of imperial yellow. The very auspicious design, symbolising the wearer's wish for a long life. There are eight dragons on the outer garment, with an unseen ninth dragon concealed in the inner panel of the robe, representing the Confucian ideal of eight fields protected by a ninth encircling it.
The front and back designed with endless scrolling clouds threaded with the five imperial colours swirling around the coral coloured bats of good fortune and happiness. The five-clawed dragons couched in gold thread, clasping the flaming pearl of wisdom and shou symbol for longevity, provide the wearer of the robe with eternal power.
Resting above the four mountains of the immortals, with a deep hem of cresting waves and the lishui stripe, within similarly decorated black silk borders and gold braid and woven gold wan-fret edgings repeated on the horse-shoe cuffs of the black silk sleeves woven in damask with a single roundel of dragons contesting a flaming pearl. In a perspex case measuring 207.5cm width x 16.5cm depth x 173.5cm height.
Provenance: Ex Private Collector, Taiwan, whose family had descended from the Manchu's; illustrated in Sotheby's, New York, May 1981, Lot 174; Purchased: Linda Wrigglesworth, London, Irving Galleries, 1991, 4005/2699 Catalogue no. 136.
Exhibition: Art Gallery of New South Wales, Celestial Silks, Chinese Religious Court Textiles, 31 August - 24 October, 2004, illus. catalogue no. 28.
Literature: This robe has appeared in several journal articles.
Note: This imperial yellow jifu would have been worn by the Empress for official duties, important sacred ceremonies, or when giving an audience in her chambers. This style of dress, was depicted in the 1759 Court regulations revised by the Emperor Qianlong.
For women, dragon robes in yellow were reserved exclusively for the empress dowager, the empress and the emperor's first ranking consort, and was considered the most auspicious colour.
Literature: G. Dickinson and L. Wrigglesworth, Imperial Wardrobe, Berkeley, rev. ed., 2000; Rutherford, J., and Menzies, J., Celestial Silks: Chinese Religious and Court Textiles, Art Gallery of New South Wales, 31 July - 24 October, 2004; Steele, V. and Major, J.S., China Chic - East Meets West, Yale University Press, London, 1999; Vollmer, J. E., Ruling from the Dragon Throne: Costume of the Qing Dynasty (1644-1911), Ten Speed Press, Berkeley, 2002; Cammann, S., China's Dragon Robes, The Ronald Press Company, New York, 1952
Leonard Joel. The Decorative Arts Collection of James Fairfax AC, 18:30 AEST, Thursday 31 Aug 2017