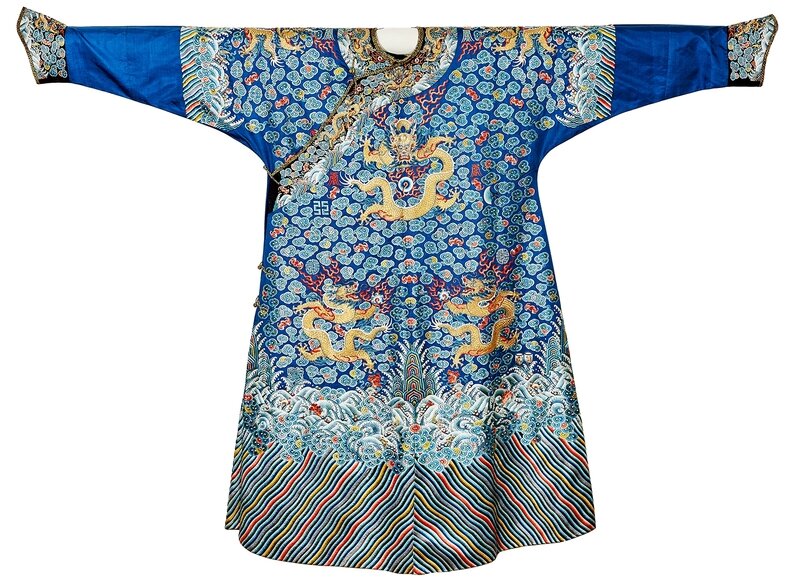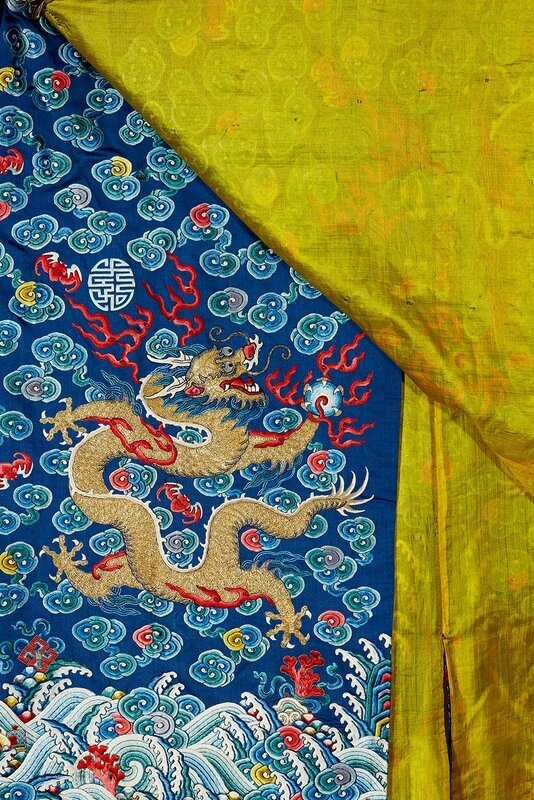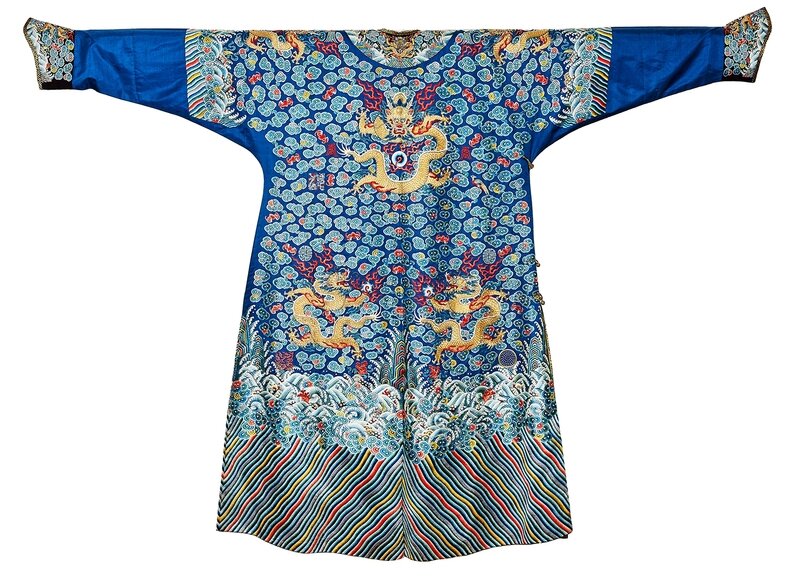 Lot 204. A Chinese Twelve Symbol Emperor's semi-formal court robe, jifu, Qing dynasty (1644-1911), circa 1850. Estimate $ 35,000-55,000. Photo Leonard Joel.
This robe made for the Emperor, is beautifully decorated with the twelve symbols of imperial authority, arranged discreetly among a number of other symbolic and auspicious motifs. On the shoulders of the robe are the sun and the moon, on the front panel above the dragon is a constellation, below that is the fu symbol and the axe head, representing the power to judge and punish respectively, further down is the seaweed, to represent purity, and a pair of sacrificial cups, for filial piety. On the back above the dragon is a motif of mountains, and also the entwined dragons and golden pheasant for adaptability and literary refinement, above a flame motif for wisdom, and the millet symbol to represent the wearer of the garment's ability to feed his people. The use of white thread lifts the embroidered billowing waves and creates an illusion of life and movement. The robe shines with the lustre of the finest silken threads. This robe is lined with imperial yellow silk, mounted in a perspex case measuring 230 width x 16 depth x 183cm height
Provenance: Purchased: Linda Wrigglesworth, London, Irving Galleries, 1991, 4045 Catalogue No. 137.
Exhibition: Art Gallery of New South Wales, Celestial Silks, Chinese Religious Court Textiles, 31 August - 24
October, 2004, illus. catalogue no. 27
Literature: This robe has appeared in several journal articles.
Note: Blue robes were worn by the emperor at events associated with Heaven. The emperor, possibly Huangdi would have worn this robe during the day of the ceremony taking place at the Temple of heaven. Here, the emperor would pray for rains and an excellent harvest. For centuries, the 'twelve symbols' were associated with the principal annual sacrifices offered by the emperor on behalf of the people at the great imperial alters.
References: Rutherford, J., and Menzies, J., Celestial Silks: Chinese Religious and Court Textiles, Art Gallery of New South Wales, 31 July - 24 October, 2004; Steele, V. and Major, J.S., China Chic - East Meets West, Yale University Press, London, 1999; Vollmer, J. E., Ruling from the Dragon Throne: Costume of the Qing Dynasty (1644-1911), Ten Speed Press, Berkeley, 2002; Cammann, S., China's Dragon Robes, The Ronald Press Company, New York, 1952; G. Dickinson and L. Wrigglesworth, Imperial Wardrobe, Berkeley, rev. ed., 2000 Qi.
Leonard Joel. The Decorative Arts Collection of James Fairfax AC, 18:30 AEST, Thursday 31 Aug 2017