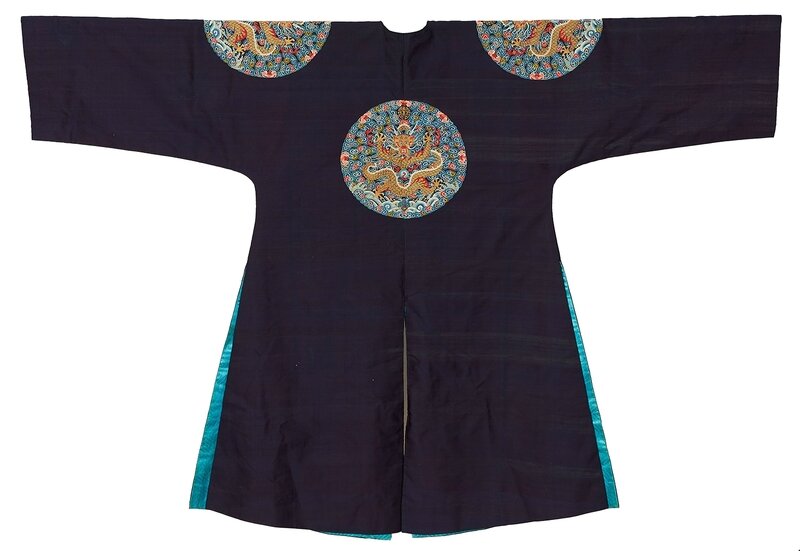 Lot 199. A Chinese Emperor's surcoat (gunfu), Qing dynasty (1644-1911). Estimate $ 6,000-9,000. Photo Leonard Joel.
The navy satin with four woven kesi imperial dragon medallions, fastened at waist level with spherical metal buttons and silk loops, the lining a pale blue silk with a subtle monochrome key fret pattern, the arm span measuring 166cm
Note: The gunfu was a surcoat traditionally worn by the emperor over his court robe. It is usually midnight blue and knee length so that the court robe could be seen below the hemline. The Qing dynasty regulations stipulated its use for ceremonial occasions, though imperial portraits frequently depict the ruler with this overgarment.
Reference: For very similar, please refer to the Gunfu in the Imperial Robes Collection, from the Forbidden City, in the Palace Museum, Beijing, as illustrated in Ming Wilson's, Imperial Chinese Robes From the Forbidden City, No. 5, p28; an Imperial Consort's version of the same, originally from a Private Australian Collection, Christie's from the Linda Wrigglesworth Collection, New York, 19 March, 2008, Lot 12
Leonard Joel. The Decorative Arts Collection of James Fairfax AC, 18:30 AEST, Thursday 31 Aug 2017