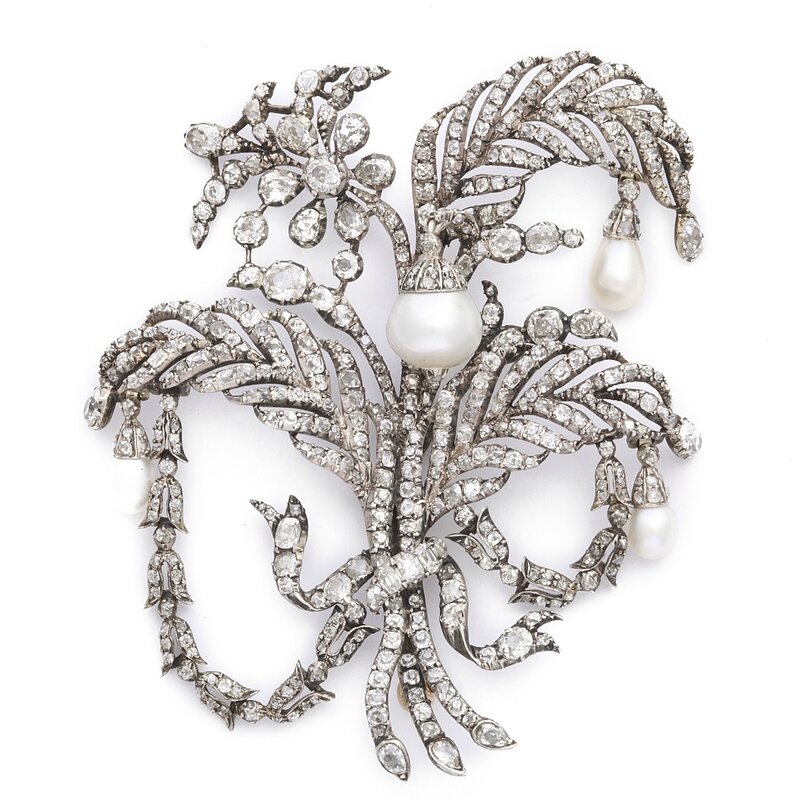 Late 18th century natural pearl and diamond spray brooch, with four drop pearls and diamond swags, mounted in silver. Probably from the Russian Crown Jewels. © A La Vieille Russie, New York
NEW YORK, NY.- A La Vieille Russie, the renowned art and antiques gallery, founded in Kiev in 1851, will be moving this Fall to a new Manhattan location designed specifically to showcase its unparalleled collection of antique jewelry, Fabergé, and Russian works of art. After 56 years at the storied corner of Fifth Avenue and 59th Street, the new and equally iconic ALVR gallery, at 745 Fifth Avenue (at 58th Street), will officially open in Fall 2017. ALVR first opened in New York in 1933, as one of Rockefeller Center's first tenants.
The new location will enable A La Vieille Russie to continue its 166-year-old tradition of acquiring the world's most exquisite treasures for its loyal network of worldwide clientele – all while remaining a block away from its longtime headquarters.
"We have enjoyed our iconic 781 Fifth Avenue location for over 56 years, where we have greeted generations of clients and held groundbreaking exhibitions," said Mark Schaffer, who along with his father, Paul, and uncle, Peter, own and operate A La Vieille Russie. "We look forward to this opportunity to present inventory in a new setting, while remaining faithful to ALVR's tradition of unusual and important works of art – to continue to delight our loyal clientele."
Art Deco Tutti Frutti Bracelet. © A La Vieille Russie, New York
Mark Schaffer is the grandson of Alexander and Ray Schaffer, who originally brought ALVR to New York from Paris and Kiev, on the heels of war and revolution. A La Vieille Russie is one of a handful of art and antiques businesses that have remained in the same family for generations, and has earned a reputation for scholarship, leadership, and integrity. The Schaffer family was instrumental in introducing the work of Russian court jeweler Carl Fabergé to American audiences, in forming major museum collections, and in contributing to the continued strong popularity of the jeweler's work. Today, that mission continues through its flagship Manhattan store, strong exhibition schedule, and online presence at www.alvr.com.
The gallery's inventory over the decades has included numerous personal possessions of the last Tsars, such as the intricate jeweled Imperial Easter eggs that the Romanovs presented to one another. Famous American clients have ranged from Marjorie Merriweather Post to Malcolm Forbes. Ongoing interest in the Russian Imperial family continues to foster a special fascination with the art of that era.
To celebrate its new space, A La Vieille Russie will host a special Fabergé exhibition in New York in Spring 2018, and will continue to maintain its strong exhibition schedule in the U.S. and Europe. The gallery will showcase its antique jewelry and Fabergé in TEFAF New York Fall at the Park Avenue Armory from October 28 – November 1,, and will be a significant lender to Royal Fabergé, a major exhibition at the Sainsbury Centre for Visual Arts in Norwich, UK. The event will be held from October 14 – February 11, 2018, alongside works from the Royal Collection, loaned through the gracious permission of Her Majesty Queen Elizabeth II.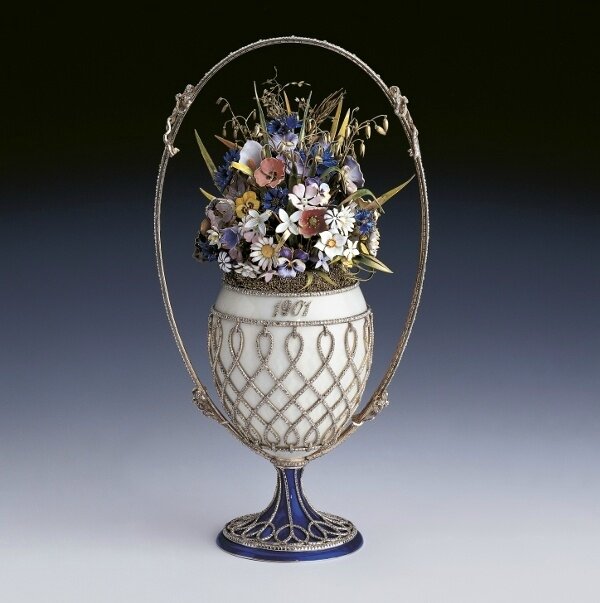 Fabergé, Basket of flowers egg, 1901. Royal Collection Trust/ © Her Majesty Queen Elizabeth II 2017
Fabergé, Cigarette case, c. 1910. Gold gingko leaf, blue enamel and diamond. © A La Vieille Russie, New York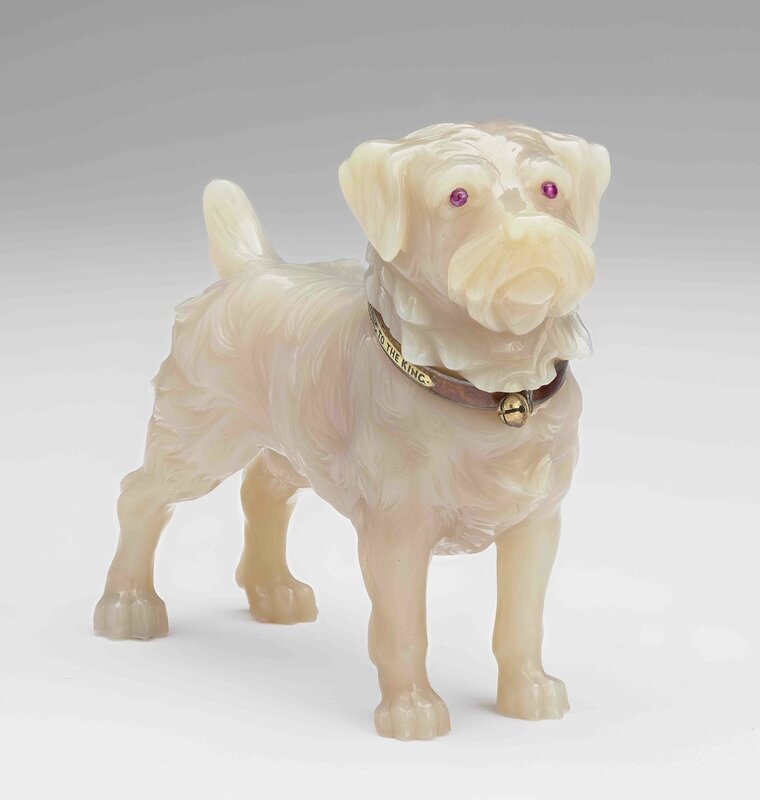 Fabergé, Caesar, c. 1908. © A La Vieille Russie, New York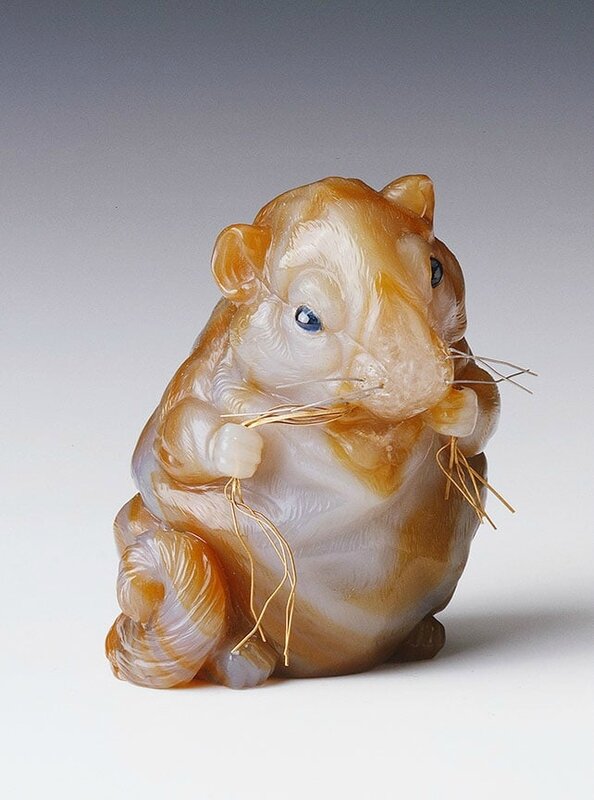 Carl Fabergé, Queen Alexandra's Dormouse, c. 1910 - Royal Collection Trust / © Her Majesty Queen Elizabeth II 2017