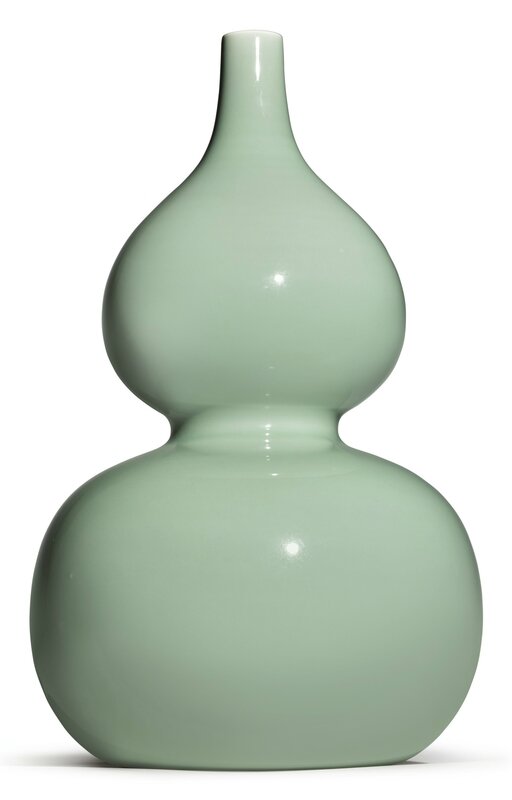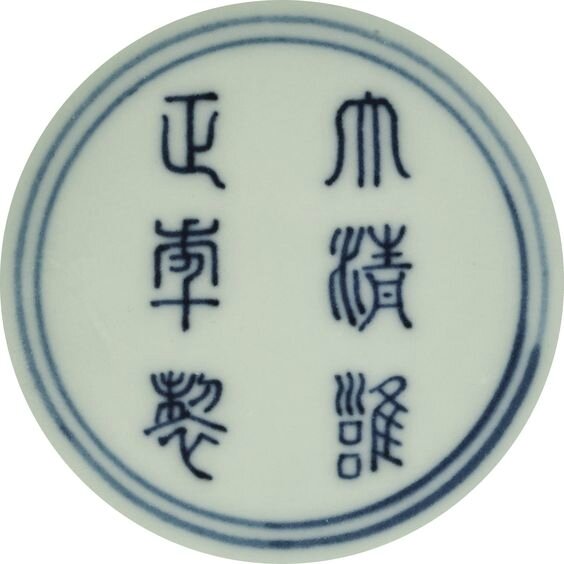 Lot 10. A fine and rare celadon-glazed double-gourd vase, Yongzheng seal mark and period (1723-1735). Height 12 3/4 in., 32.4 cm. Estimate 320,000 — 500,000 USD. Unsold. Photo: Sotheby's.
elegantly potted with a globular lower bulb supporting a slightly smaller upper bulb with a narrow mouth, covered overall in a lustrous glaze thinning at the rim to reveal the white body, the recessed base encircled by an unglazed footring, the base with a six-character archaistic seal mark in underglaze blue.
Provenance: apanese Private Collection (by repute).
Note: This rare vase is remarkable for its exquisite luminous bluish glaze, the purity of which accentuates the graceful curves of its profile. Created in imitation of Longquan celadon vases of the Song period, it reflects the Yongzheng emperor's penchant for these early wares and the remarkable technical developments achieved at the imperial kiln and made to meet the specific taste of the emperor. While a delicate, almost watery, celadon glaze had already been created in the Kangxi reign, achieved by reducing the amount of iron typically found on Song dynasty Longquan celadons, it was during the Yongzheng period that production of celadon wares greatly expanded. According to the Taocheng shiyi jishi beiji [Commemorative stele on ceramic production], compiled in 1735 by the brilliant supervisor of the imperial factory, Tang Ying (1682-1756), several varieties of celadon glazes were experimented with at the time (see S.W. Bushell, Oriental Ceramic Art, London, 1981, p. 197).
The seal mark on the base of this vase is also notable. A similar mark is discussed by Peter Y.K. Lam in 'Four Studies on Yongzheng and Qianlong Imperial Ware', in the catalogue to the exhibition Ethereal Elegance. Porcelain Vases of the Imperial Qing. The Huaihaitang Collection, Art Museum, The Chinese University of Hong Kong, Hong Kong, 2007, p. 54, where several zhuanshu marks are illustrated, p. 38. Lam notes the rarity of the present mark and suggests that this style was probably used only for part of the reign before being superseded by another type towards the end of the reign. A variation of the mark, inscribed in two horizontal rows is found on a Ru-type glazed cup from the J.M. Hu Collection, sold at Christie's Hong Kong, 30th November 2011, lot 2929.
A closely related vase from the Qing Court collection, and still in Beijing, is illustrated in Qingdai yuyao ciqi [Qing porcelains from the imperial kilns preserved in the Palace Museum], Beijing, 2005, vol. 2, pl. 200; further vases of this type were sold in our Hong Kong rooms, 24th May 1978, lot 227; at Christie's New York, 19th September 2007, lot 370; and in these rooms, 16th March 2016, lot 315 (fig. 1). Compare also a lobed double-gourd vase with a cinched waist and a seal mark written in three vertical lines, in the National Palace Museum, Taipei, included in the museum's Special Exhibition of K'ang-hsi, Yung-cheng and Ch'ien-lung Porcelain Ware from the Ch'ing Dynasty in the National Palace Museum, Taipei, 1986, cat. no. 66; and another from the Elisabeth Severance Prentiss collection, the Cleveland Museum of Art and the Meiyintang collections, sold at Christie's New York, 21st September 2000, lot 374, and again in our Hong Kong rooms, 5th October 2011, lot 3.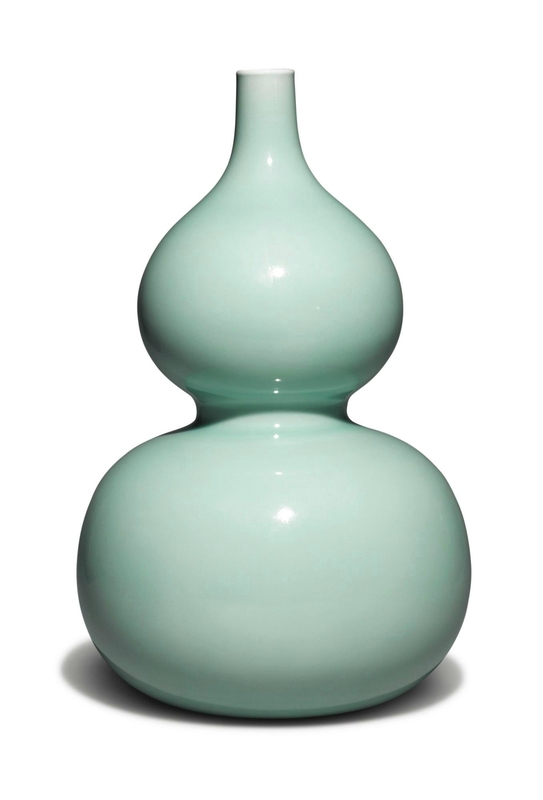 A rare celadon-glazed double-gourd vase, Yongzheng seal mark and period. Height 12 5/8 in., 32.2 cm. Sold 610,000 USD at Sotheby's New York, 16th March 2016, lot 315. Photo: Sotheby's.
Vases of this form grew in popularity in the succeeding Qianlong reign, when greater quantities were produced; see one with a cover in the Nanjing Museum, Nanjing, included in the exhibition Qing Imperial Porcelain of the Kangxi, Yongzheng and Qianlong Reigns, Art Gallery, The Chinese University of Hong Kong, Hong Kong, 1995, cat. no. 69; another published in Chinese Porcelain. The S.C. Ko Tianminlou Collection, Hong Kong, 1987, vol. 1, pl. 160; and a third vase from the Jingguantang collection, included in the Min Chiu Society exhibition Splendour of the Qing Dynasty, Hong Kong, Museum of Art, Hong Kong, 1995, cat. no. 212, and illustrated in The Tsui Museum of Art, vol. VI, Hong Kong, 1995, pl. 37, together with its pair, sold at Christie's Hong Kong, 3rd November 1996, lot 571.
The double gourd, hulu, was widely viewed in the Ming and Qing dynasties as auspicious, its large number of seeds representing fertility and the wish for numerous sons. It was also an important symbol of Daoism, particularly associated with Li Tieguai, one of the Eight Immortals, who is often depicted with a double gourd at his waist containing the elixir of immortality. In addition, the Chinese word for double gourd forms a rebus with the phrase fulu, meaning happiness and prosperity through government positions.
Sotheby's. Important Chinese Art, New York, 13 Sep 2017, 10:00 AM