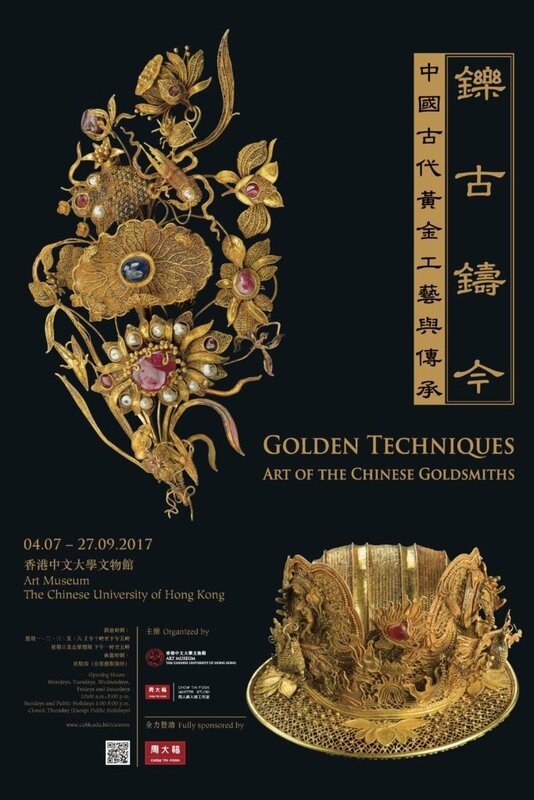 HONG KONG - The research project "Ancient Chinese Gold Techniques" is a collaborative effort of Art Museum of the Chinese University of Hong Kong, Shaanxi Provincial Institute of Cultural Relics Protection, the Master Studio of Chow Tai Fook, and the Conservation Office of the Leisure and Cultural Services Department of Hong Kong, for the first time to use interdisciplinary research methods to reconstruct several major ancient goldsmithing techniques and the history of the development. Golden Techniques: Art of the Chinese Goldsmiths is co-presented by Art Museum and Master Studio of Chow Tai Fook. The exhibition features over 40 pieces (sets) of carefully-selected ancient Chinese gold and silver wares from private collections as well as the collection of Art Museum, and samples from reconstruction experiments as well as traditional goldsmith's tools, both from the Master Studio of Chow Tai Fook.
The exhibition will bring the cutting-edge findings of ancient Chinese techniques used to make gold and silver objects, emphasizing on granulation (making gold granules and welding them onto the object), gold wire techniques, as well as techniques used to make gold inlays. During the exhibition, guided tours and a series of public lectures will be organized that aim to provide the audience with different museum experiences and deeper understanding of the exhibition subject.
Both the exhibition and the entire research project are fully sponsored by Chow Tai Fook Jewellery Co. Ltd.
Exhibition highlights:
Gilt Iron Belt Hook, Late Warring States period, 5th century BC. Total length 18.5 cm, width 3.5 mm, Art Museum collection, gift of Dr. Simon Kwan © Art Museum of the Chinese University of Hong Kong, Hong Kong.
With an animal head and a lute-shaped body, this piece is decorated with gold in geometrical pattern. It was believed that the gold layer was inlaid on the hook. However, scientific testing proves that it is prepared by mercury fire gilding. Similar hooks are found in mid-to-late warring states tombs of Qiao village, Houma city, Shaanxi province.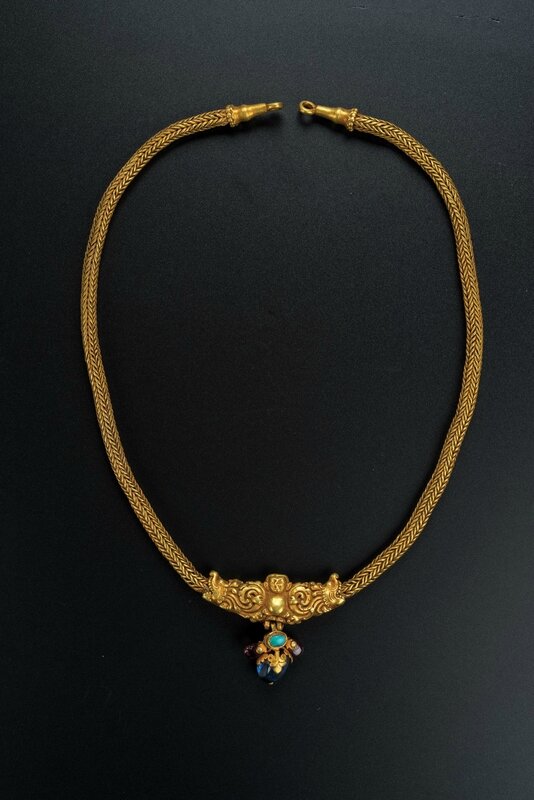 Gold Necklace with Makara Design, Northern dynasties or earlier, 2nd to 6th century. Length 47 cm, pendant length 4.4 cm, weight 119.9 g (complete), Mengdiexuan collection © Art Museum of the Chinese University of Hong Kong, Hong Kong.
This exquisite necklace comprises a chain with conical ends capped by a circular loop, and a pendant. The loop-in-loop chain is made of eight interwoven gold wires and connected to the pendant with gold nails. The pendant is intricately worked to form a human figure with a depression in the middle of the forehead that resembles a 'third eye'. The figure has a big belly and holds two makaras by their tails as they bite the ends of the chain. Suspended from below his belly is a second pendant in the form of a lower inlaid with red, blue and green gemstones, adding colour to an already luxurious gold ornament.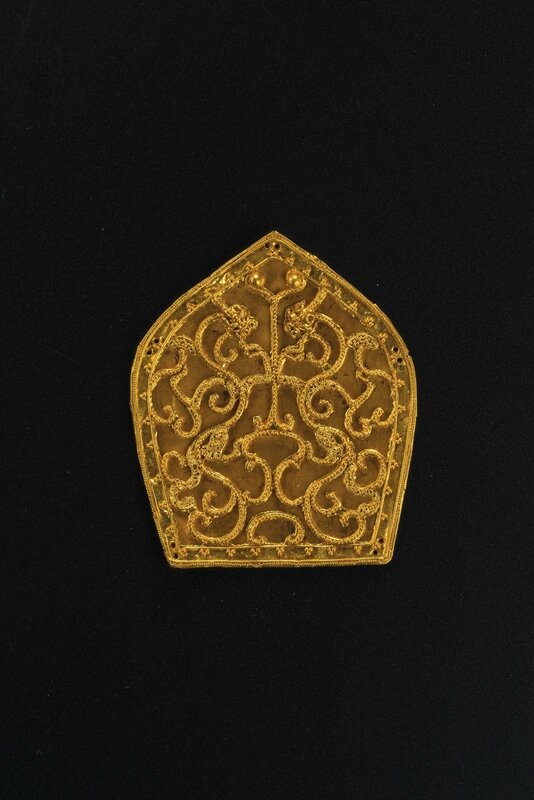 Gold Plaque with Double-Dragon Design, Han to Six Dynasties, 2nd century BC–6th century AD. Length 4.6 cm, Width 3.9 cm, Weight 8.5 g, Mengdiexuan collection © Art Museum of the Chinese University of Hong Kong, Hong Kong.
This piece is an ornament on government official's headdress during the Qin–Han period. It is related to both Buddhism and Daoism. On the piece are two confronted dragons, whose bodies are covered by gold granules. The gold wires are scientifically proved to be twisting strips.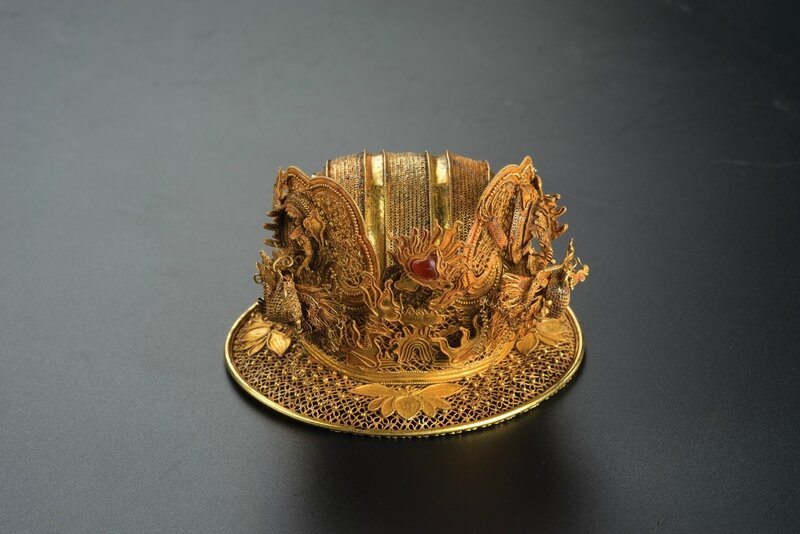 Leisi Filigree Bun-Net with Two Dragons, Ming dynasty (1368–1644). Diameter 9.6 cm, Height 6.4 cm, Weight 138.5 g (inlays included), Mengdiexuan collection © Art Museum of the Chinese University of Hong Kong, Hong Kong