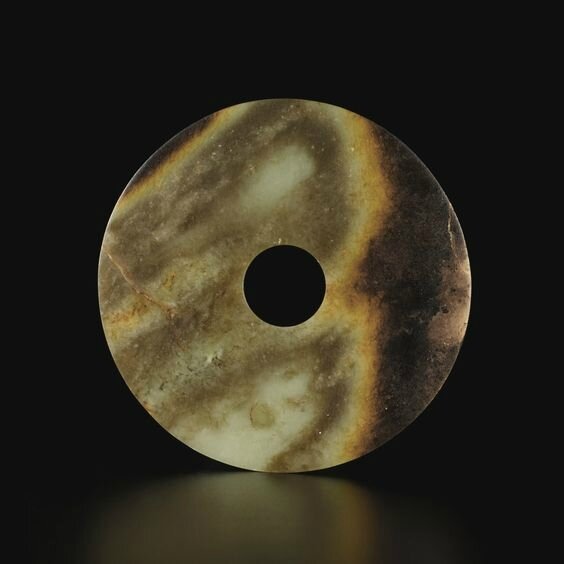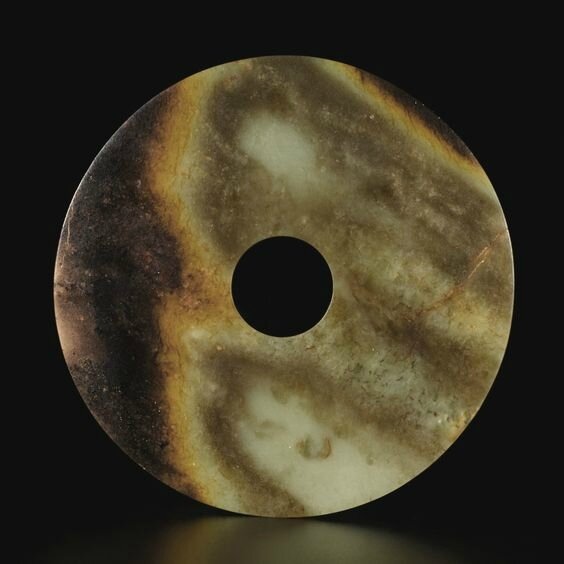 Lot 66. A yellow and russet jade disc (bi), Neolithic period, 3rd-2nd millennium B.C. Diameter 4 3/4 in., 12 cm. Estimate 6,000 — 8,000 USD. Lot Sold 6,875 USD. Photo: Sotheby's.
the circular disc with flat sides, pierced with a central aperture, of a softly polished stone slightly irregular in thickness and mottled with olive-green, ochre, yellow, and russet tones with feathery veining, with a patch of opaque dark brown to the edge.
Provenance: Collection of Roman Vishniac (1897-1990).
Note: Bi make up one of the major forms of archaic jades and were made in a range of sizes. They appear to have originated in China during the Neolithic period among the peoples of eastern China for whom beautifully finished discs were a major component of the jade repertoire. Various neolithic cultures produced bi, in particular the Liangzhu culture, which flourished in southeastern China in the 3rd millennium B.C. Jade discs similar to the present example were recovered from sites of the Liangzhu culture in present-day southeastern China. See Jessica Rawson, Chinese Jade. From the Neolithic to the Qing, London, 1995, pp. 130-136 and pp. 156-157.
The present disc is made of a dark, translucent jade, and appears similar in stone quality, size, and thickness to a bi illustrated in Shu-P'ing Teng, Neolithic Jades in the Collection of the National Palace Museum, Taipei, 1992, pl. 47. Consider as well another disc of similar size, slightly thicker, and of a similar stone in the National Museum of History, Taiwan, attributed to the Late Neolithic period, c. 2000, illustrated in John Johnston and Chan Lai Pik, 5000 Years of Chinese Jade : Featuring Selections from the National Museum of History, Taiwan and the Arthur M. Sackler Gallery, Smithsonian Institution, Exhibition, San Antonio Museum of Art, San Antonio, 2011; and a larger disc of similar stone quality sold in these rooms 17 September, 2003, lot 24, attributed to the Neolithic period, 3rd/2nd millennium B.C.
Sotheby's. Important Chinese Art, New York, 13 Sep 2017, 10:00 AM