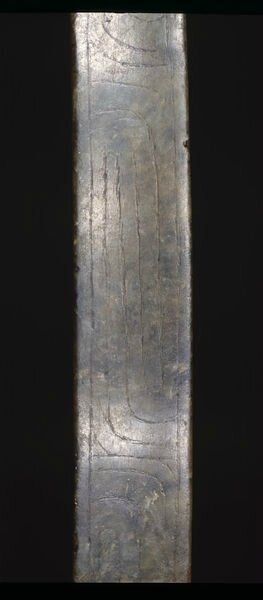 Liangzhu disc (bi) with bird pattern, Nephrite jade, circa 2500 BC. Diameter: 32.5 cm whole piece, Diameter: 3.8 cm hole, Thickness: 1.5 cm. Purchased with the assistance of The Art Fund, the Vallentin Bequest, Sir Percival David and the Universities China Committee, A.42-1936 © Victoria and Albert Museum, London 2017.
Variegated dark green and brown. Pattern consists of four groups of spirals, four in each group. Between every alternate group of spirals is a small bird with spread wings and short bifurcated tail flying in clockwise direction. One of the birds is clearly discernible but the other one is obscured by encrustations on the stone. Each spiral measures a regular 5cm, and the space between each group is evenly laid out - an indication that the pattern was very carefully executed. No ridge in the hole.
An important piece for its size and pattern. It is slightly larger than the bi in the Freer Gallery with similar pattern (nr.17.79) which measures 31.8cm. The pattern is found along the slightly concave outer rims, made up of short, repeated incised lines.
A 'bi' is a flat circular slab of jade with a central hole. An ancient Chinese text entitled the 'Zhouli' ('Rituals of Zhou') describes the 'bi' as a ceremonial object to sacrifice to Heaven. However the 'bi' was made at least a thousand years before the 'Zhouli' was written. Its function in prehistoric times remains unknown.