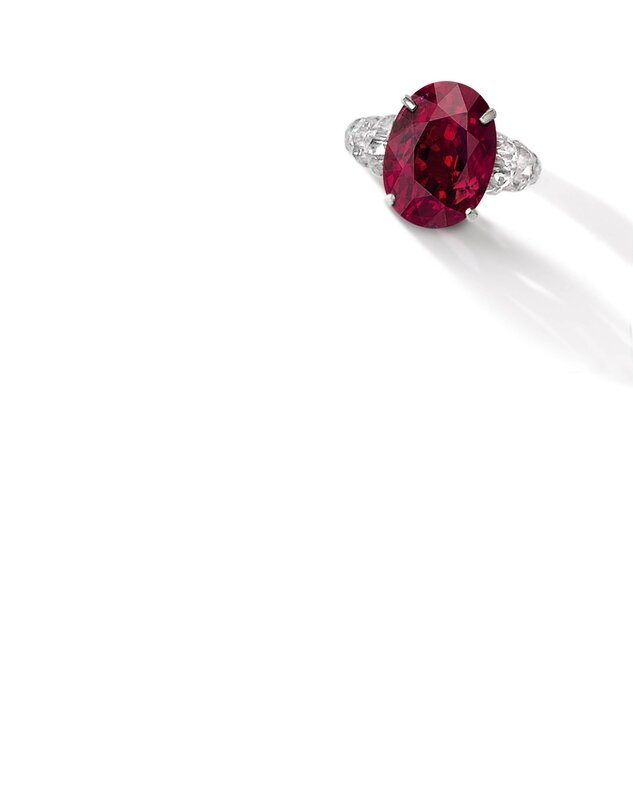 Very Rare and Important 13.26 carat Ruby and Diamond Ring, Designed and Mounted by BHAGAT. Est. HK$68,000,000 – 88,000,000/US$8,700,000 – 11,260,000. Lot sold 81,662,500 HKD. Courtesy Sotheby's.
HONG KONG.- On 3 October, Sotheby's Hong Kong Magnificent Jewels and Jadeite Autumn Sale 2017 will bring to the market a series of iconic masterpieces hailing from legendary jewellers, highlighted by a rare art deco 'Tutti Frutti' Cartier bracelet, an exquisite 8.49-carat ruby ring by JAR and an impressive emerald and diamond parure by Van Cleef & Arpels. The sale will also feature a fine selection of rare coloured diamonds, exceptional gemstones and bejewelled garden themed selection inspired by the flora and fauna of nature. Over 250 lots estimated in excess of HK$650,000,000/US$83,000,000 will be offered this season.

QUEK Chin Yeow, Deputy Chairman of Sotheby's Asia and Chairman of International Jewellery, Asia, said, "We are extremely pleased to present a great selection of the marvellous jewels to captivate our Asian jewellery connoisseurs: From an iconic Cartier 'Tutti Frutti' masterpiece to an amazingly rare 'pigeon's blood' ruby in a revolutionary mounting by India supremo, BHAGAT, not to mention blue and pink diamonds and an array of precious gemstones. We are also delighted to offer a great rarity - The Woolworth Yard Jadeite Necklace which dates from 1957."

SALE HIGHLIGHTS
TIMELESS TALES OF LEGENDARY JEWELLERS
A Rare and Important Art Deco Gem Set and Diamond 'Tutti-Frutti' Bracelet, Cartier Est. HK$10,500,000 – 14,000,000/US$1,300,000 – 1,800,000. Lot sold 13,900,000 HKD. Courtesy Sotheby's.
A witness to the fin-de-siècle when Art Deco was at its peak, this classic 'Tutti-Frutti' bracelet by Cartier weds the bold and vibrant designs of the East to the elegant and classic aesthetics of the West. Rich with Indian influences, the Tutti Frutti jewels blossomed with ripe Mughal fruits and foliage, each individual piece an intricately carved sapphire, ruby or emerald, intertwined with a ribbon of diamonds. Following its inception, Cartier's ateliers became an obligatory stopover for visiting Maharajas. Christened the name 'Tutti Frutti' in 1970, the exuberant colours and sumptuous textures bear testament to one of Cartier's most iconic collections of the Art Deco era.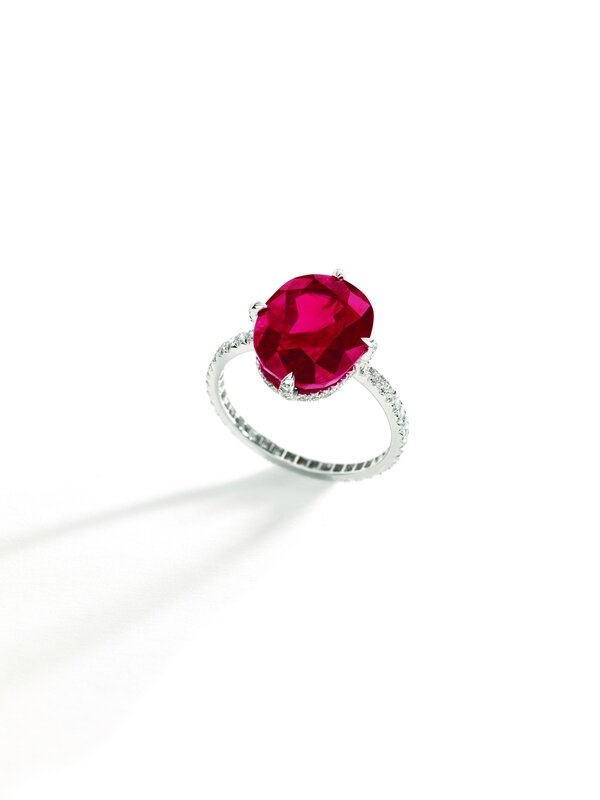 An Exquisite 8.49ct Burmese Ruby and Diamond Ring, JAR. Est. HK$13,000,000 – 15,000,000/US$1,700,000 – 1,900,000. Lot sold 13,300,000 HKD. Courtesy Sotheby's.
Through the years, part of the JAR mystique has come from the fact that the jewels were so rarely seen in public. An exhibition at London's Somerset House in 2002-2003 caused a sensation within the international jewellery world, whilst the 2013 Metropolitan Museum, New York retrospective, Jewels by JAR, demonstrated the full force of his protean talent. Featuring in The Impossible Collection of Jewellery: The 100 Most Important Jewels of the Twentieth Century publication, JAR's jewels rank amongst the great art jewels of history. This 8.49ct Burmese Ruby and Diamond Ring, displays JAR's fine, meticulous pavé work. His attention to detail demonstrated in the simple mounting of the ring itself. When worn, the ruby is designed to be in constant contact to the wearer's skin, accentuating the gem's associations with power and protection, creating a subtle but significant connection between the gem and the wearer.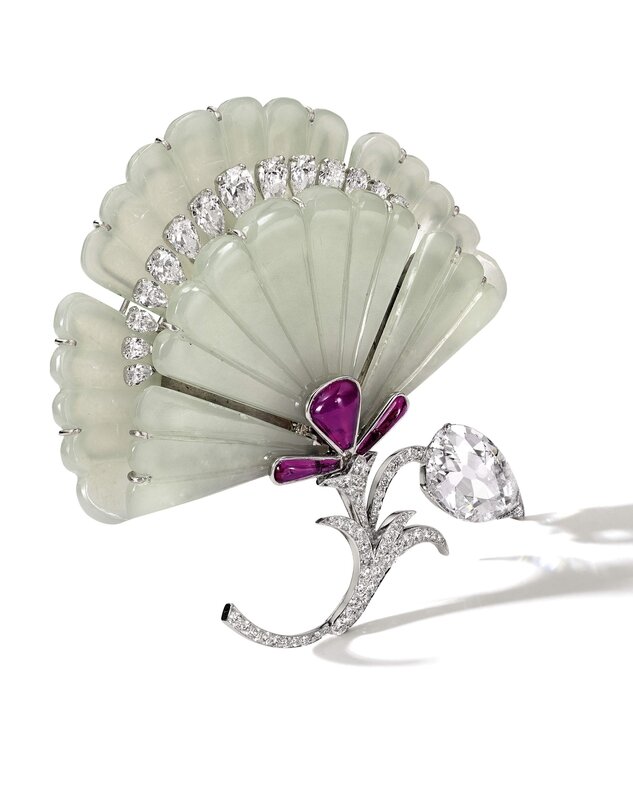 Exquisite Jade, Diamond and Ruby Brooch, BHAGAT. Est. HK$2,000,000 – 2,800,000/US$256,000 – 358,000. Lot Sold 3,940,000 HKD. Courtesy Sotheby's.
Crowned with the majesty of the opulent Indian treasures, BHAGAT jewels encompass the sophistication of Mughal artistry and the grandeur of Islamic structures, blended with the elegancy of Art Deco; an incarnation of the past enduring through the present. Ardent admirers of jade, Mughal emperors delighted in collecting exquisitely carved works of jade, symbolising their dynastic aspirations and exhibiting the acculturative genius of Mughal style of art with the harmonious integration of intercultural influences. Designed as a stylized poppy, the flower gracefully emerges from a sinuous diamond encrusted stem, which terminates in an old-mine pear-shaped diamond leaf. The sensuousness and tactile qualities of Mughal jade resonates through the delicate celadon green jade, carved with contrasting techniques used between the front and rear petals.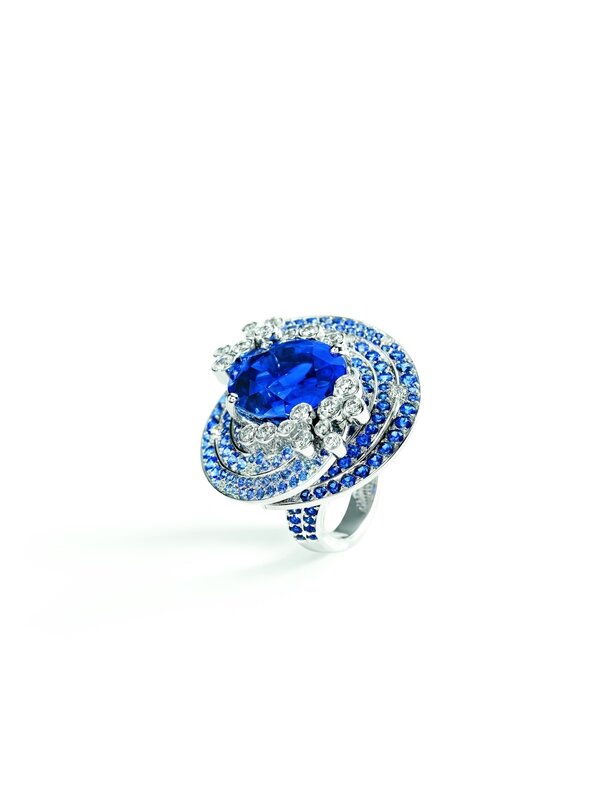 Fine Sapphire and Diamond Ring, 'Les Voyages Extraordinaires', Van Cleef & Arpels. Est. HK$2,800,000 - 3,800,000/US$360,000 – 490,000. Lot Sold 4,660,000 HKD. Courtesy Sotheby's.
Les Voyages Extraordinaires™, Van Cleef & Arpel's whimsical collection inspired by four of Jules Verne's fantastical novels, pays tribute to the history of the Maison and its indefatigable representatives who travel the globe in the quest of the finest gems. Of this collection, four exceptional rings were made especially for its presence in the 25th Biennale des Antiques in Paris, representing each of the four Verne novels; Five Weeks in a Balloon, From the Earth to the Moon, Journey to the Center of the Earth and Twenty Thousand Leagues Under the Sea. Named the Hydôr Ring, this ring is inspired by Twenty Thousand Leagues Under the Sea. Dedicated to the fluidity of water, the swirling gradient of bright diamonds to light and dark sapphires are reminiscent of the gradual plunge deep into the oceanic abyss. Whilst the 20.04 carat sapphire, fixed as the glorious centre, remains the constant – a reminder of how inescapably the ocean reigns supreme.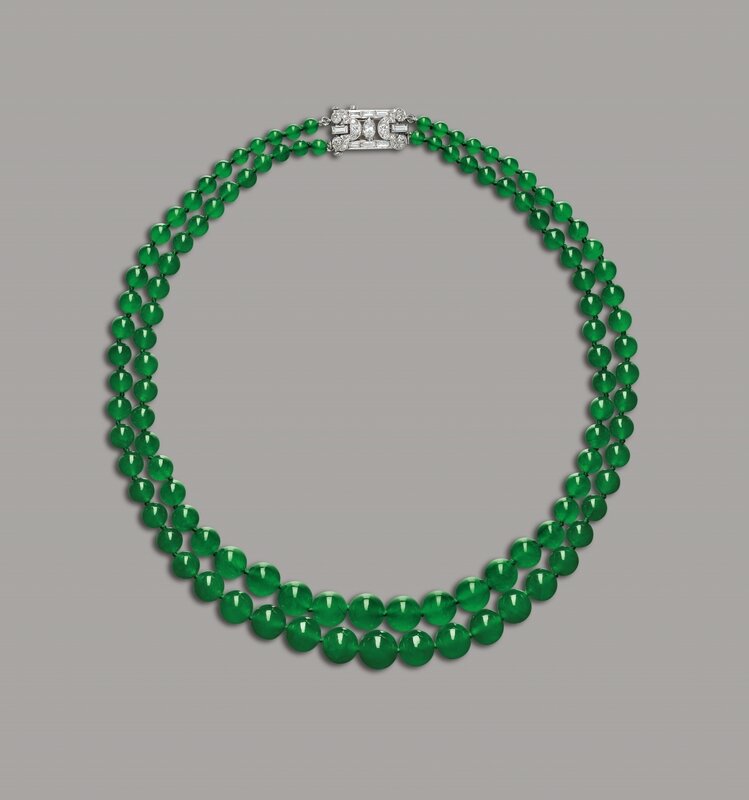 The Woolworth Yard Jadeite Necklace. Jadeite Bead and Diamond Necklace, Raymond Yard, 1957. Est. HK$400,000 – 600,000/US$51,500 – 77,000. Lot sold 9,100,000 HKD. Courtesy Sotheby's.
Made in 1957, this Jadeite Bead and Diamond Necklace reflects the classic Yard Art Deco aesthetics of aiming to achieve an overall luminous sophistication; a look that would not overwhelm the design. An image of the Art Deco clasp rendering retrieved from the Raymond Yard archives, records Mr. Woolworth as purchasing this exquisite piece for the Woolworth collection – a celebrated legacy shared by Woolworth and Yard.
RARE DIAMONDS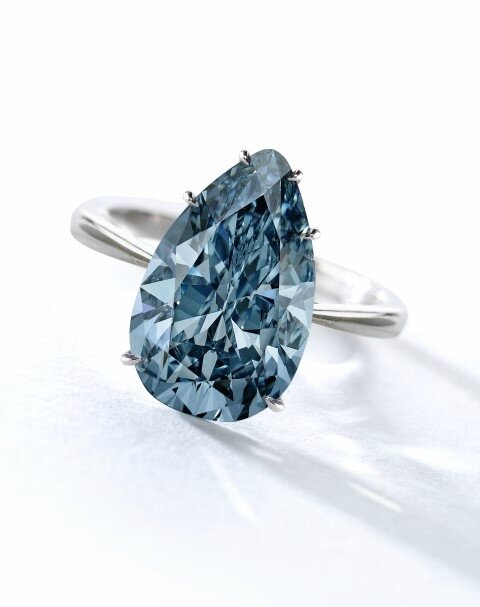 Very Rare and Important Fancy Deep Blue Diamond Ring. Est. HK$55,000,000 – 75,000,000/US$7,000,000 – 9,600,000. Courtesy Sotheby's.
Blue diamonds possess the captivating colour and intensity reminiscent of the depths of the Azure Sea and are considered amongst the world's rarest coloured diamonds. To find a pure blue diamond with the level of saturation required to grade it as Fancy Deep is extraordinary; of which less than 10% of blue diamonds examined by the GIA are awarded. In recent years, Sotheby's has been at the forefront of record-setting auction prices for blue diamonds. In 2015, Sotheby's Geneva set the then world auction record for any blue diamond with the sale of The Blue Moon of Josephine for an astounding US$48,468,158. Whilst Sotheby's Hong Kong has been leading with an offering of blue diamonds this past decade, with the recent Millennium Jewel 4 in 2016, as well as setting the current world auction record price-per carat for a Fancy Intense Blue diamond earlier this spring.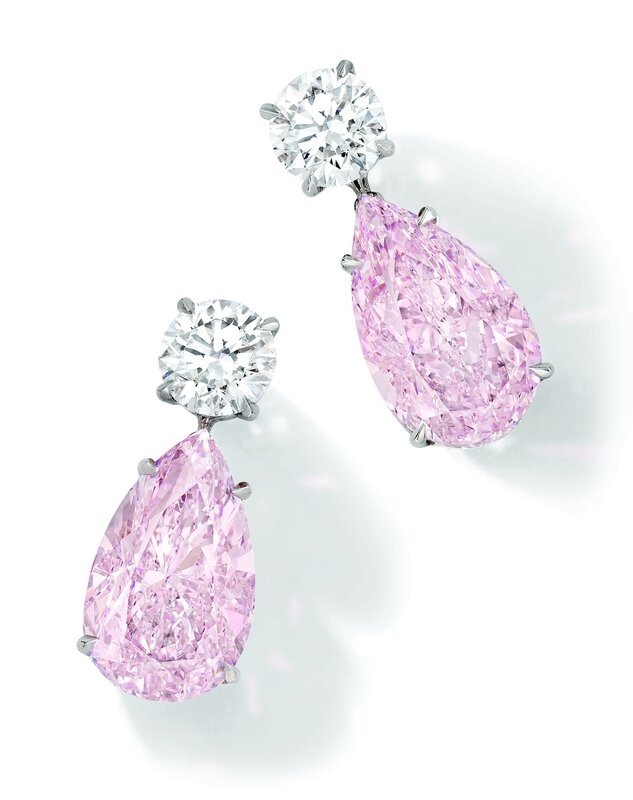 Exquisite Pair of 5.21 and 5.01 carats Fancy Pink Diamond and Diamond Pendent Earrings. Est. HK$30,000,000 – 40,000,000/US$3,840,000 – 5,120,000
Each set with a pear-shaped fancy pink diamond weighing 5.21 and 5.01 carats. Both Fancy Pink diamonds accompanied by GIA reports stating that the diamonds are natural, Fancy Pink Colour, Internally Flawless and VS1 clarity respectively.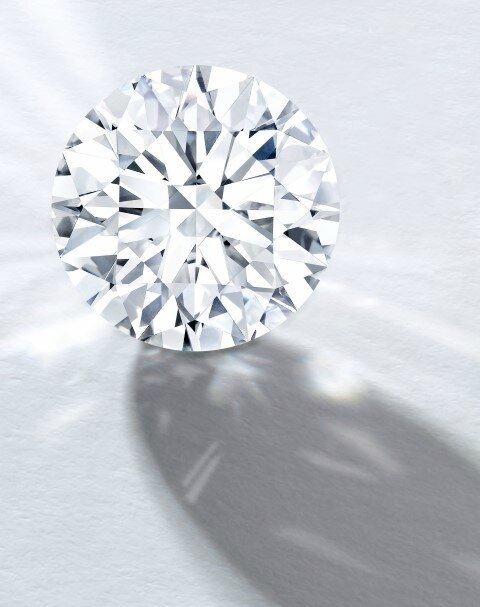 Very Fine Unmounted Diamond, 31.98cts. Est. HK$37,000,000 – 48,000,000/US$4,700,000 – 6,000,000. Courtesy Sotheby's.
A brilliant-cut diamond weighing 31.98 carats. Accompanied by a GIA report stating that the 31.98 carat diamond is D colour, Flawless, with Excellent Cut, Polish and Symmetry; as well as a Type IIa diamond classification letter.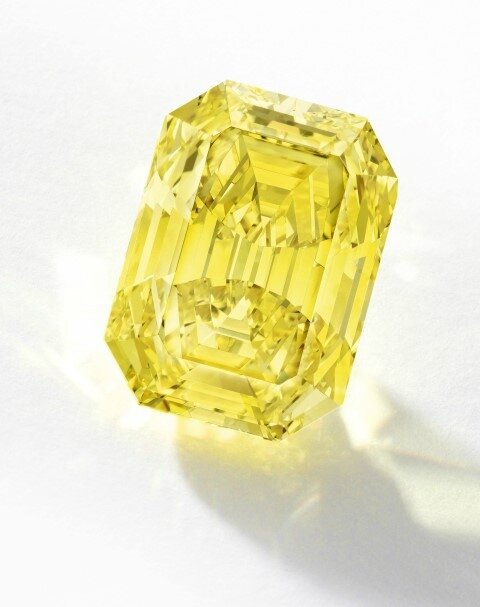 Important 20.03 Carat Fancy Vivid Yellow Diamond Ring. Est. HK$16,000,000 – 20,000,000/US$2,050,000 – 2,560,000. Courtesy Sotheby's.
An Emerald-cut fancy vivid yellow diamond weighing 20.03 Carat. Accompanied by a GIA report stating that the 20.03 carat diamond is natural Fancy Vivid Yellow Colour and Internally Flawless.
RARE COLOURED STONES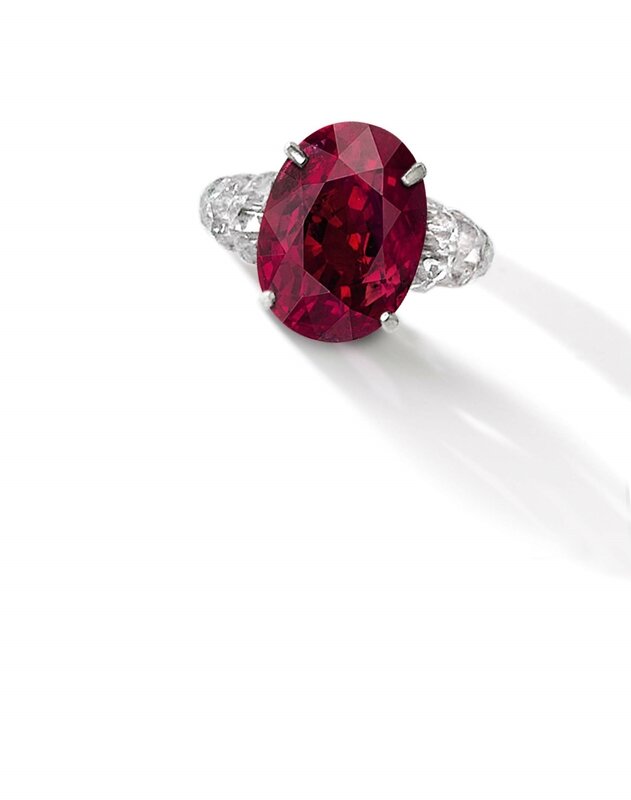 Very Rare and Important 13.26 carat Ruby and Diamond Ring, Designed and Mounted by BHAGAT. Est. HK$68,000,000 – 88,000,000/US$8,700,000 – 11,260,000. Courtesy Sotheby's.
Unrivalled in colour, life and vitality, rubies have long been revered as the 'King of Gems'. The legendary mines of Burma are renowned in producing the most desirable rubies, sought after by gem connoisseurs worldwide. The colour of a ruby is the single most important criterion of a ruby's quality – the most coveted being a bright and pure red, of high saturation.
Given the regal name of Maniraja, meaning 'King of Jewels' due to its intense and homogenous red colour, the Maniraja ruby has merited the prestigious descriptive term of 'pigeon blood' for its high colour intensity and superb quality, from both Gübelin and SSEF Gem Laboratories. Majestic on every level, the Maniraja's impressive size of 13.26 carats, combines an impeccable cut emphasising the exceptional lustre, whilst intensifying the crimson glow.
One of the most acclaimed jewellers of our time, to BHAGAT, design is paramount and sacrosanct. Representing a sublime of artistry and craftsmanship, BHAGAT's stylistic signature presents an etheral, efforless lightness, touched with both a princely hauteur and hint of sensuality. Using the cut and shape of gemstomes to create the desired silhouette of a the jewel, playing with light, texture and translucencies, this jewel boasts of its opulence with the superb majesty of the Maniraja ruby, enhancing the ravishing refinement of this original BHAGAT creation.
Rare Paraíba Tourmaline and Diamond Ring. Est. HK$8,750,000 – 11,000,000/US$1,120,000 – 1,410,000. Courtesy Sotheby's.
Discovered only in the 1980s, the Paraíba has quickly become one of the world's most coveted gemstones. This rare and enigmatic gemstone has set a new standard of excellence for colour interpretation in the world of coloured gemstones. With the Brazilian mines exhausted more than 20 years ago, to find a stone over ten carats that is of natural colour, with no clarity enhancement, is an absolute rarity.
Padparadscha Sapphire and Diamond Ring. Est. HK$3,800,000 – 5,000,000/US$486,000 – 640,000. Lot Sold 6,100,000 HKD. Courtesy Sotheby's.
Celebrated as an ethereal fusion of the pink glow of a lotus bloom and the soft orange hues of sunset, the Padparadscha sapphire is an embodiment of rarity and elegance. Derived from the Sanskrit word 'padma raga' (lotus colour), the sapphire must exhibit the distinctive blend between delicate pink to orange tones to be truly called a Padparadscha. Highly prized by gem connoisseurs, the elusive and enigmatic Padparadscha delights with its blossoming beauty and romantic hue.
THEMED SESSION: THE BEJEWELLED GARDEN
Mother Nature has long been an everlasting source of incredible inspiration to the artists and jewellery designers alike. Captivated by the exquisite beauty of flora and fauna, myriads of masterpieces have flourished and bloomed throughout the history of mankind. Subtle musings of nature transformed into wondrous declarations of love in the form of butterflies and enlightenment in dragonflies, the inspiration from botanic beauties boundless. From the legendary beasts of Cartier, to the playful aesthetics of modern contemporary designers, creative interpretations are reborn as extraordinary treasures, in a beautiful ode to nature. This season, Sotheby's invites you to take a stroll through our bejewelled garden, specially curated to delight the senses.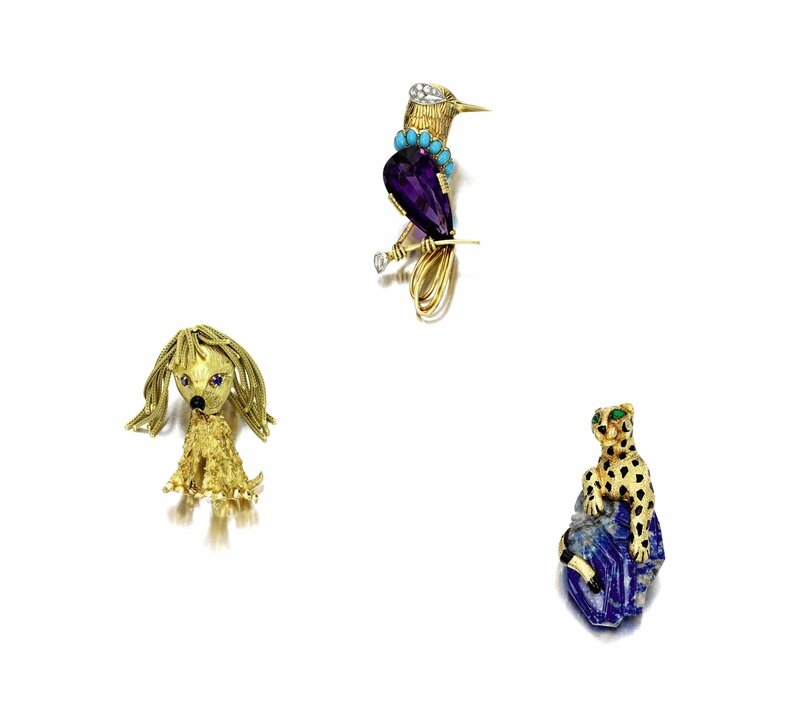 Lapis Lazuli, Enamel and Emerald Clip Brooch, 'Panthère', Cartier. Est. HK$240,000 – 400,000/US$31,000 – 51,000. Courtesy Sotheby's.
Diamond, Onyx and Emerald Clip Brooch, 'Panthère', Cartier. Est. HK$2,000,000 - 3,000,000/US$260,000 – 380,000. Courtesy Sotheby's.
Rubellite and Diamond Brooch / Pendant, 'Orchid', Cartier, 2011. Est. HK$5,500,000 – 8,000,000/US$710,000 – 1,000,000. Lot sold 6,340,000 HKD. Courtesy Sotheby's.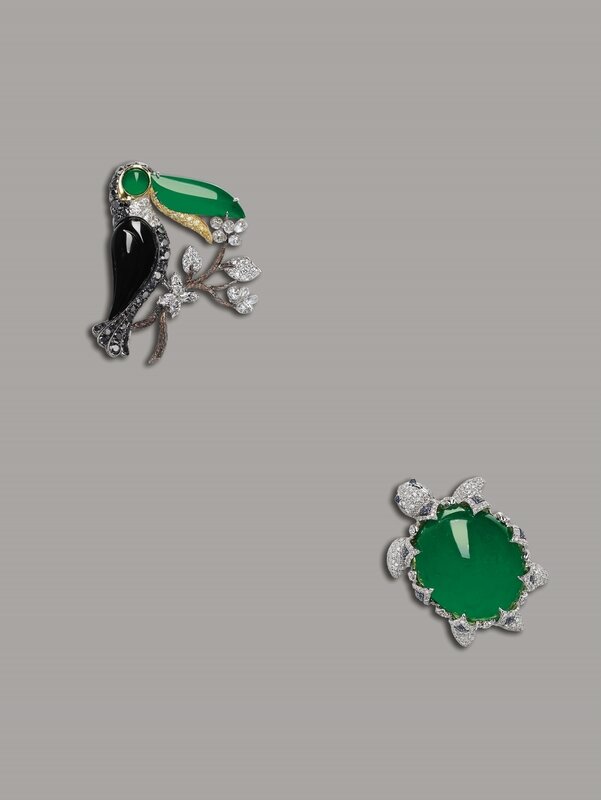 Jadeite and Diamond Turtle Clip Brooch. Est. HK$2,800,000 – 3,500,000/US$358,000 – 448,000. Courtesy Sotheby's.