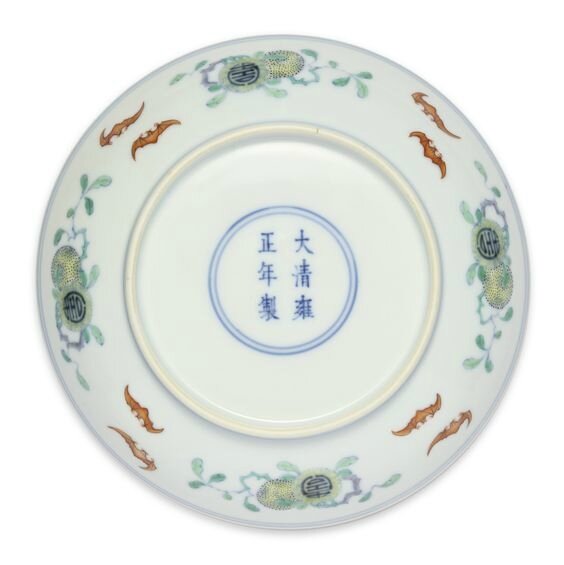 Lot 17. A finely painted doucai 'Five Bats' dish, Yongzheng mark and period (1723-1735). Diameter 6 1/8 in., 15.5 cm. Estimate 60,000 — 80,000 USD. Lot sold 75,000 USD. Photo: Sotheby's
finely potted, the rounded sides rising from a slightly tapered foot, decorated in the center with five iron-red bats fluttering around a gnarled peach tree, issuing from the side of a cliff above a green sea with crested waves breaking over jagged rocks, the exterior with four fruiting sprigs each enclosing a stylized shou character within a flowerhead, alternating with pairs of confronted iron-red bats, the base with a six-character reign mark in underglaze blue within double circles
Provenance: Sotheby's Hong Kong, 5th November 1997, lot 1501.
Note: The scene depicted on this dish represents the seventh trial of Zhao Sheng, a disciple of the Eastern Han dynasty Celestial Master Zhang Daoling (AD 134-156) who is credited with founding the Way of the Celestial Masters sect of Daoism. This theme of testing the faith of Zhao Sheng is also captured in the famous Eastern Jin painter Gu Kaizhi's 'Account of Painting the Cloud Terrace Mountain', preserved in Zhang Yanyuan's Record of Famous Paintings of All the Dynasties (AD 847). Zhang Daoling told his disciples that he would reveal the essence of the Way to those who could obtain peaches from a peach tree growing sideways from a steep cliff. Only Zhao Sheng had the courage to carry out the task and he returned with a peach from the tree. While the rendition of this story on the present dish excludes the figures and how they should be depicted in Gu Kaizhi's instructions, it retains his description of a lofty cliff overlooking a deep ravine and the peach tree that grows sideways from it. The additional inclusion of the five red bats heightens the auspiciousness of the scene while increasing the supernatural element of the story.
A closely related dish, in the Victoria and Albert Museum, London, is illustrated in Rose Kerr, Porcelain of the Qing Dynasty 1644-1911, London, 1986, pl. 86; one from the Hugh Moss collection first sold at Christie's New York, 15th September 2011, lot 1548, and again in our Hong Kong rooms, 7th April 2015, lot 3667; another sold in the same rooms 4th April 2012, lot 3181; and a pair of dishes from the E.T. Chow collection, also sold in those rooms, 19th May 1981, lot 557. Another dish of this type is illustrated in Terese Tse Bartholomew, Hidden Meanings in Chinese Art, San Francisco, 2006, p. 221, no. 7.55, where the author explains that the iconography refers to the double birthday greetings, 'May your blessing be as deep as the Eastern Sea, and may you live to be as old as the Southern Mountain'.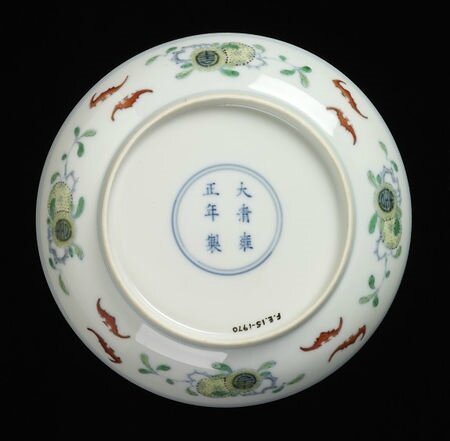 Dish, porcelain painted with bats and peaches in enamels, China, Yongzheng mark and period, 1723-1735. Diameter: 15.5 cm. Macnaghten Bequest, FE.15-1970 © Victoria and Albert Museum, London 2017.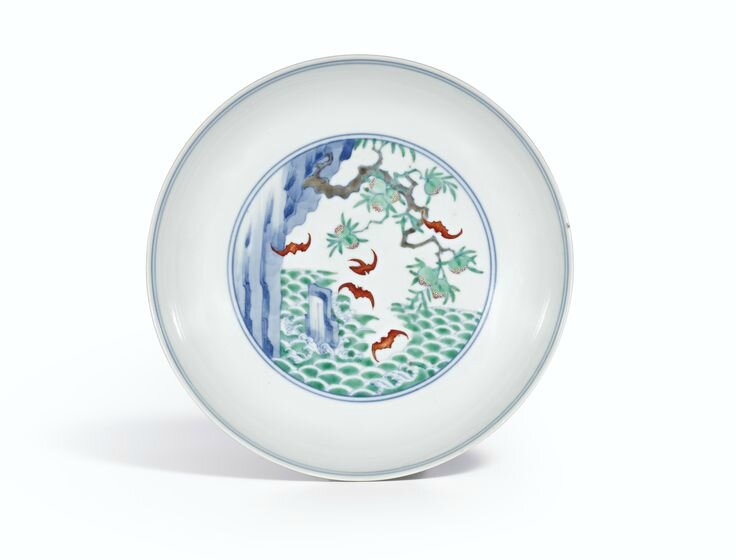 A rare doucai 'Five Bats' saucer dish, Mark and period of Yongzheng (1723-1735), 15.3 cm., 6 in. Sold for 1,000,000 HKD (118,859 EUR) at Sotheby's Hong Kong, 7th April 2015, lot 3667. Photo: Sotheby's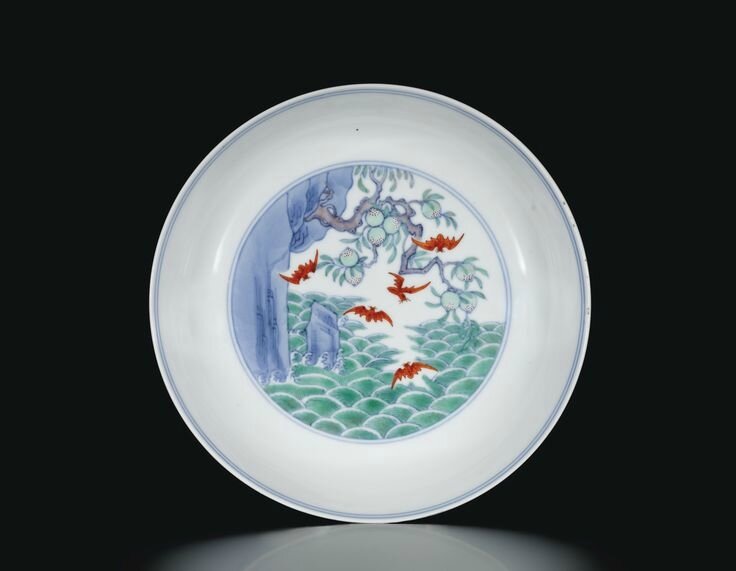 A doucai and iron-red 'Five Bats' saucer dish, Mark and period of Yongzheng (1723-1735), 16.6 cm., 6 1/2 in. Sold for 740,000 HKD at Sotheby's Hong Kong, 4th April 2012, lot 3181. Photo: Sotheby's
Sotheby's. Important Chinese Art, New York, 13 Sep 2017, 10:00 AM