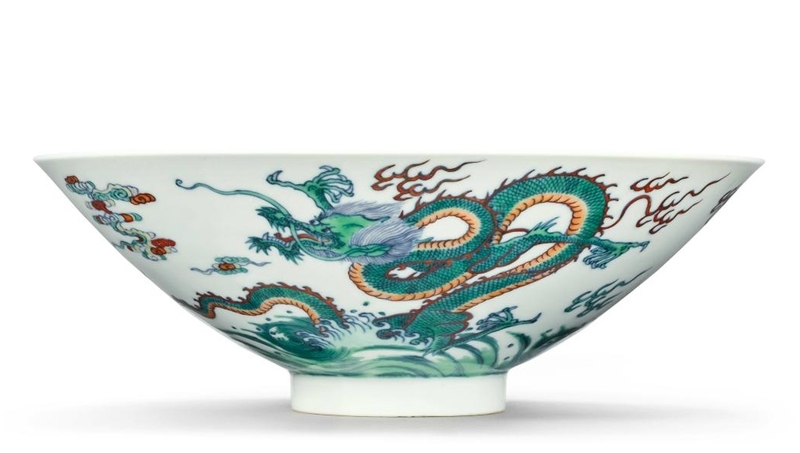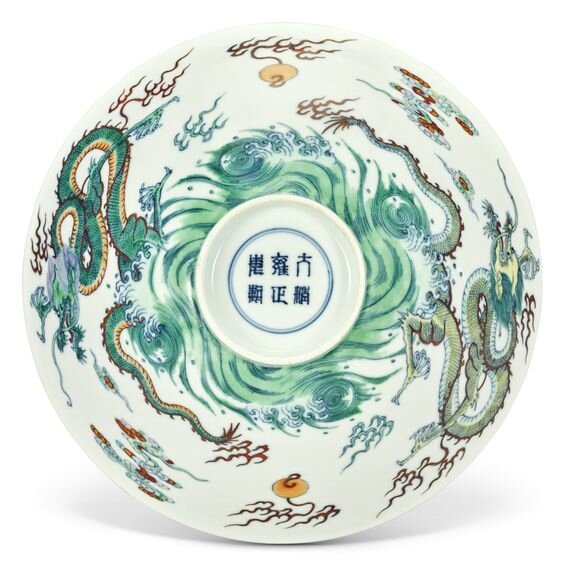 Lot 18. A fine and rare doucai conical 'Dragon' bowl, Yongzheng seal mark and period (1723-1735). Diameter 8 in., 20.4 cm. Estimate 200,000 — 300,000 USD. Unsold. Photo: Sotheby's
finely potted, with wide flared sides rising from a short straight foot, brilliantly enameled to the exterior with two five-clawed dragons, one in yellow and the other in green, each in pursuit of a 'flaming pearl', leaping out from a band of turbulent crested waves, and amidst multi-colored cloud scrolls and flame scrolls, the base with an archaistic six-character seal mark in underglaze blue.
Note: Exquisitely painted with two dynamic five-clawed dragons with gaping mouths and flaring nostrils, this bowl embodies the Yongzheng Emperor's great passion for exacting designs and innovative shapes as well as his insistence on outstanding quality. Particularly coveted for their painterly designs, bowls modeled with steep flaring sides to accommodate a similarly-shaped cover were an innovation of the Yongzheng period and are often attributed to the first years of the reign on account of their reign mark. The present bowl is a particularly notable example of this group, as it bears an archaistic mark which is exceptionally rare and was seldom used throughout the reign.
Yongzheng reign marks have been studied in detail by Peter Y.K. Lam, who suggests that since the character qing (great) on late Kangxi porcelain is written with the yue (moon) radical rendered with a vertical line, Yongzheng marks with the same characteristic can be ascribed to the early years to the Yongzheng reign (see Peter Y.K. Lam, 'Four Studies on Yongzheng and Qianlong Imperial Ware', Ethereal Elegance. Porcelain Vases of the Imperial Qing. The Huaihaitang collection, Art Museum, The Chinese University of Hong Kong, Hong Kong, 2007, p. 53). As a result, the present mark and the six-character standard script mark more commonly found on bowls of this type, both of which feature a vertical line on the yueradical of the qing character, were probably used simultaneously, although the former in rare cases.
Bowls of this design but with a reign mark written in standard script are held in important private and museum collections worldwide. A bowl and cover in the Palace Museum, Beijing, is illustrated in Qing Porcelain of Kangxi, Yongzheng, Qianlong from the Palace Museum Collection, Hong Kong, 1989, p. 201, pl. 30; a pair in the Nanjing Museum, Nanjing, was included in the exhibition Qing Imperial Porcelain of the Kangxi, Yongzheng and Qianlong Reigns, Art Gallery, The Chinese University of Hong Kong, Hong Kong, 1995, cat. no. 52; a single bowl in the British Museum, London, is published in R.L. Hobson, The Later Ceramic Wares of China, London, 1925, pl. LV, fig. 1.
See also two doucai dishes with a similar archaistic Yongzheng reign mark, each painted with a qilin above waves, sold in our Hong Kong rooms; the first from the British Rail Pension Fund and now in the Chang Foundation, Taipei, illustrated in James Spencer, Selected Chinese Ceramics from Han to Qing Dynasties, Taipei, 1990, pl. 140, sold, 27th November 1975, lot 33, and again, 16th May 1989, lot 55, and the second sold, 11th June 1991, lot 246, and again at Christie's Hong Kong, 31st March 1992, lot 619.