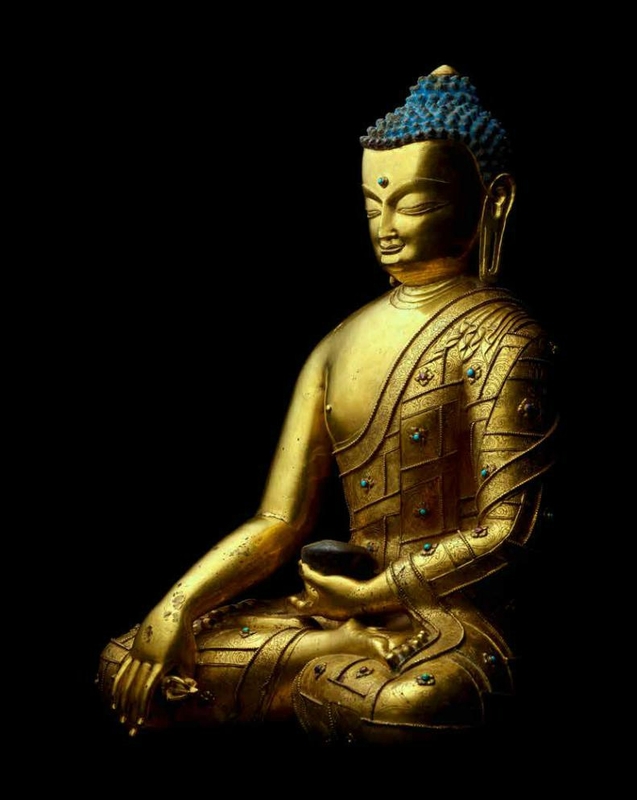 Lot 22. A gilt copper alloy figure of Akshobhya, Tibet, 15th century. Estimate HK$ 15,000,000 - 25,000,000 (€1,600,000 - 2,700,000). Sold for HK$ 18,060,000 (€ 1,994,962). Photo: Bonhams.
HONG KONG.- A Tibetan bronze featuring an exquisite robe adorned with both inset stones and incised patterns is the top lot at Bonhams Images of Devotion sale on Tuesday 3 October at Bonhams Hong Kong, Admiralty. Carrying an estimate of HK$15,000,000-25,000,000, this exceptionally rare sculpture is the only known of its kind.
The bronze depicts Akshobhya, the Buddha of the East, in an ornate patchwork robe, wielding his vajra - the symbol of Buddhism's power - in his right hand and with an ungilded alms bowl in his lap. The bowl, and the patchwork robe, are enduring symbols of Buddhism's renunciation of the material world; and yet by the time of this sculpture's creation in 15th-century Tibet, the humble robe had been transformed into the finest conceivable garment of the period.
Bonhams Global Head of Indian, Himalayan & Southeast Asian Art, Edward Wilkinson commented, "This immaculate bronze of Akshobhya points to a special commission - possibly unique in its use of incised and inset techniques to replicate textile patterns. The robe's hemline features large engraved floral roundels inspired by the luxurious gold-brocaded silks dispatched to prominent Tibetan monasteries as gifts by the late Yuan and early Ming imperial courts. The bronze perfectly exemplifies a special period in Tibetan art history when patron and artist strove to achieve greater refinement and elaboration, making it one of the most beautiful Buddha images from Tibet."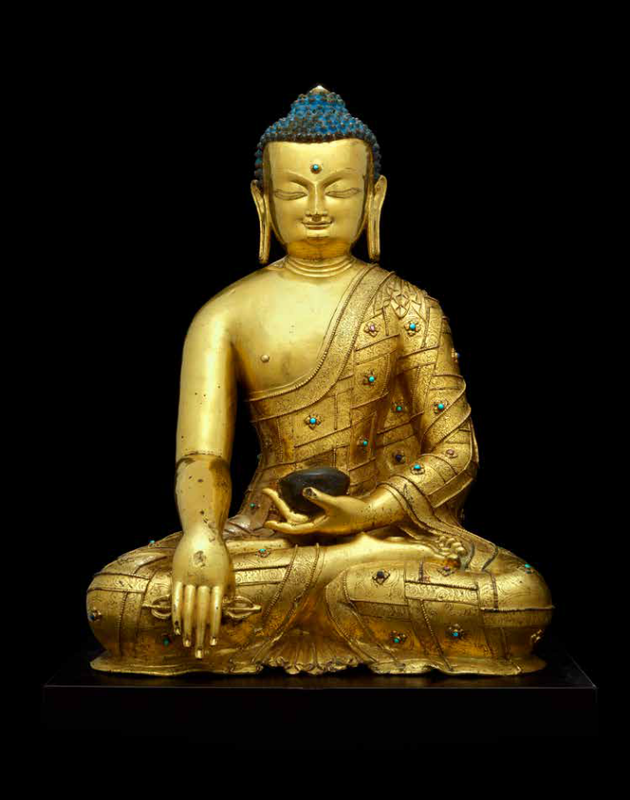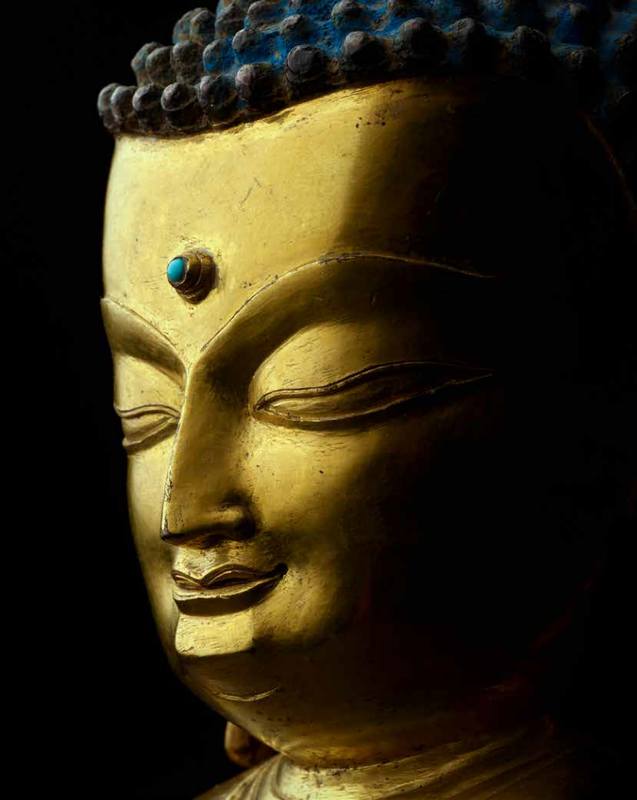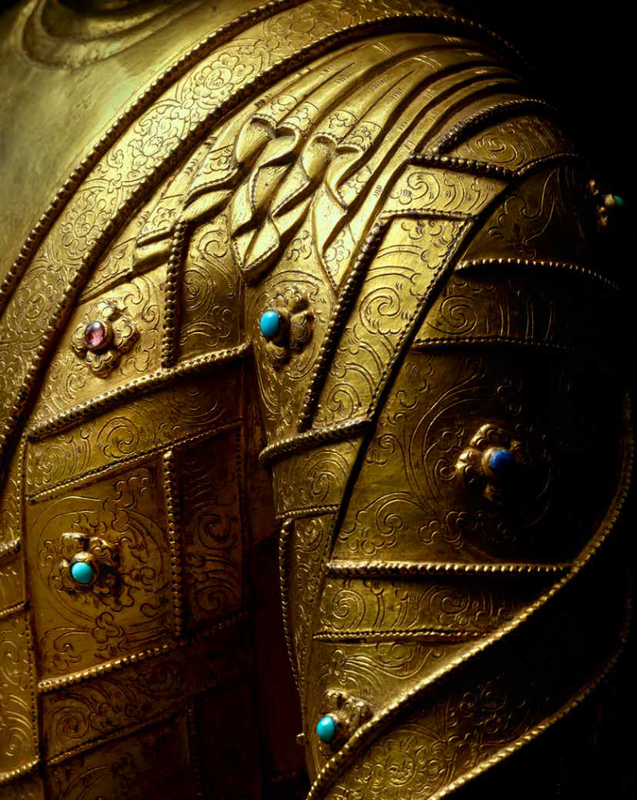 Lot 22. A gilt copper alloy figure of Akshobhya, Tibet, 15th century. Estimate HK$ 15,000,000 - 25,000,000 (€1,600,000 - 2,700,000). Photo: Bonhams.
With inset turquoise, garnets, and lapis, and with powdered blue lapis pigment in the hair. Himalayan Art Resources item no.2431; 34 cm (13 3/8 in.) high
Published: Rossi & Rossi Ltd, Images of Faith: A Private Collection of Himalayan Art, London, 2008, pp.22-3, no.5.
Rossi & Rossi Ltd, Gods and Demons of the Himalayas, London, 2012, pp.31-2, no.15.
Provenance: European Private Collection, acquired in the early 1990s
Rossi & Rossi Ltd
American Private Collection, acquired from the above in 2012
Lord of the East
"The importance of Akshobhya, whose very emblem is used in esoteric rituals and sacred dances in its own right, is reflected in the high number of tantric deities belonging to his family, including the tutelary deities of Buddha rank, such as Hevajra."
(Erberto Lo Bue, Images of Faith, London, 2008, p.22)
This exquisite jewel-like sculpture depicts Akshobhya, the Buddha of the East, with a powerful frame and commanding posture. He is clad in a monastic patchwork robe with prominent stitched seams converted into the finest conceivable brocaded garment of floral scrolls and raised flowers, inset with semi-precious stones. The middle fingers and thumb of his left hand cup a humble ungilded alms bowl in his lap, perhaps the only reminder of Buddhism's renunciation of material wealth on this magnificent golden sculpture.
Akshobhya's name literally means 'Immovable One'. As each Transcendental Buddha adopts one of the canonical hand gestures (mudras) referring to a key moment in Shakyamuni's life, it is apt that Akshobhya should recall Shakyamuni's unshakeable determination against the armies and temptations of Mara. In mandalas relating to his 'vajra' clan, and the Unexcelled Yoga tantras (Anuttarayoga), he occupies the center, but in the earliest tantric mandalas where the Five Transcendental Buddhas first appear, he is Lord of the eastern quadrant, and represents the transmutation of anger into wisdom.
Asserting his position as Lord of the East, this sculpture depicts Akshobhya wielding his symbol of 'adamantine power', the vajra, secured in his right hand. As the iconographer Robert Beer describes:
"The vajra or dorje is the quintessential symbol of the 'diamond vehicle' or Vajrayana Buddhist path...[it] symbolizes the impenetrable, immovable, immutable, indivisible, and indestructible state of enlightenment or Buddhahood as vajra mind.
"As the adamantine scepter of peaceful divinities and the indestructible weapon of wrathful deities, the vajra symbolizes the male principle of method or skillful means. It is held in the right or male hand."
(Beer, The Encyclopedia of Tibetan Symbols and Motifs, London, 1999, p.233)
This bronze is a rare example of Akshobhya Buddha holding his vajra in the right hand, differing from more typical depictions of it suspended vertically in his lap, resting on the lotus throne, or embedded into his throne's center. This symbolic departure from convention imbues the sculpture with heightened agency.
His powerful frame, bejeweled robe, and resolute gaze deliver a sculpture that is an aesthetic tour de force. The combination of orderly inset stones and finely incised designs are seemingly unique to this sculpture and indicates a special commission. The visionary artist has excelled beyond the application of more commonplace patchwork designs and delivered a sculpture of transcendent visual presence.
The broadness of Akshobhya's forehead and shoulders, his pronounced chest, and the flare of his robe's fishtail hem resting high on his left shoulder are stylistic elements with precedents in Newari sculpture of the 13th and 14th century. The same general physiognomic features can be observed in a Malla-style Akshobhya sold previously at Bonhams (fig.1). From the present sculpture's impeccable quality, it is reasonable to assume that a Newari hand would have been involved in its creation also.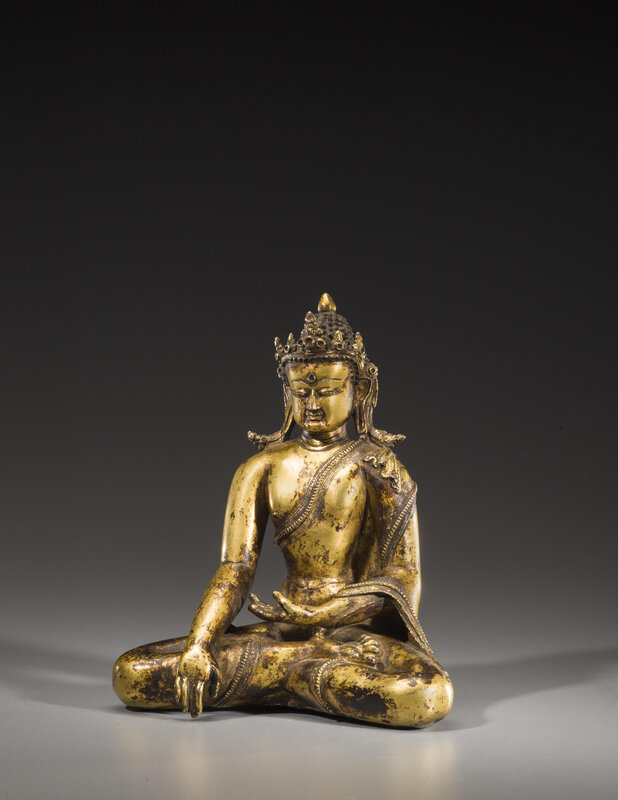 Fig.1. A gilt copper alloy figure of Akshobhya, Nepal or Tibet, 14th century, 10 1/2 in. (26.7 cm) high. Sold for 134,500 USD at Bonhams, New York, 18 September 2013, lot 8. Courtesy Bonhams
These physical characteristics remained the favored idiom throughout 15th-century Tibet, as did depicting Buddha images wearing a patchwork robe. Related Buddha images attesting to this are a mid-15th-century thangka of Shakyamuni in the British Museum (Rhie & Thurman, Wisdom and Compassion, New York, 1996, p.77, no.3), and a 15th-century gilded bronze sold at Sotheby's, New York, 30 November 1994, lot 68. In discussion of the former, Rhie & Thurman note that these elements are similar to those appearing in the 15th-century murals of Tabo monastery in Western Tibet, suggesting "a wide distribution of artistic styles at the time, particularly between central and western regions" (op. cit.).
Rhie & Thurman also remark that by the second half of the 15th century there appears to be a deliberate transition away from the imposing monumentality of 13th and 14th century styles, towards a "process of refinement and elaboration".
The appearance of monks and buddhas dressed in patchwork robes in Tibetan art dates as far back as the Chidar, otherwise known as the second wave of Tibet's apprenticeship of Indian Buddhism between the 11th and 13th centuries. But in Tibet, more precious garments rapidly replaced the humble Indian patchwork robe. By the 15th century, the patchwork robe is transformed into the finest conceivable garment of the period, a transformation that perfectly exemplifies the "refinement and elaboration" of this period.
At least one painted mural and one monumental clay sculpture at the Gyantse Kumbum draw an uncanny resemblance to the present sculpture's robe (figs.2 & 3). Both are dated to the first years of the Kumbum's construction in the 2nd quarter of the 15th century. Each shares the design of narrow strips with floral sprays bordering rectangular panels with a central flower roundel. The striking likeness between these three sculptures suggests they were produced by the same network of artists, if not at Gyantse itself.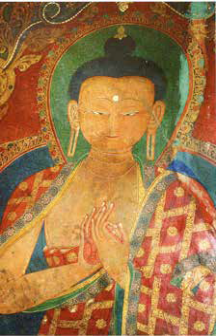 Fig.2. Mural of Shakyamuni, Gyantse, Kumbum, First Story of Vadisimha Manjughosa chapel (?). Photo: after Henss, Cultural Monuments of Tibet, vol.2, Munich, 2014, p.537, fig.770.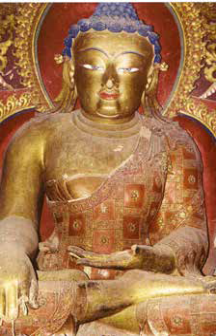 Fig.3. A polychrome clay figure of Buddha Vajrasana, Gyantse, Kumbum, Bumpa (south), c.1435. Photo: after Henss, Cultural Monuments of Tibet, vol.2, Munich, 2014, p.541, fig.778.
The Kumbum at the heart of the Sakya Pelchor Chode enclave in Gyantse is one of the largest structures in Tibet, constructed between 1427-74. With strong ties to the emperors of the early Ming (1st half of the 15th century), the presiding Sakya monks received innumerable diplomatic gifts in the form of Buddha images and fine textiles. This is attested by the significant holdings of Yongle and Xuande mark and period bronzes and scrolls in Gyantse repositories (see Thomas Laird, Murals of Tibet, Taschen, forthcoming 2018).
A result of this climate of great cultural exchange between China and Tibet, the large roundels within the primary hemlines of the Gyantse and present Buddha images are informed by late Yuan-/early Ming-dynasty textiles, such as a patchwork panel with similar patterns held in The Metropolitan Museum of Art (fig.4). Similar design is also reflected in a lacquered and painted leather box in The Metropolitan Museum of Art that was mostly likely made for a Tibetan visitor to the Chinese court (fig.5). Stemming from the Yuan period, the foliate scrolls within the present robe's narrower strips also bear a strong resemblance to the decoration on Yuan-dynasty sculpture published by Bigler, Before Yongle, Zurich, 2013, pp.84-95, nos.19-21.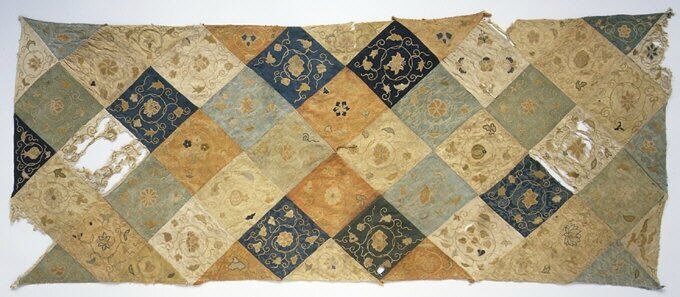 Fig.4. An Embroidered Patchwork Panel, China, Late Yuan – early Ming dynasty. Silk and gilt paper. Overall: 149.5 x 64.1 cm (58 7/8 x 25 1/4 in. ). Purchase, The Vincent Astor Foundation Gift, 1997 (acc.#1997.380). © 2000–2017 The Metropolitan Museum of Art.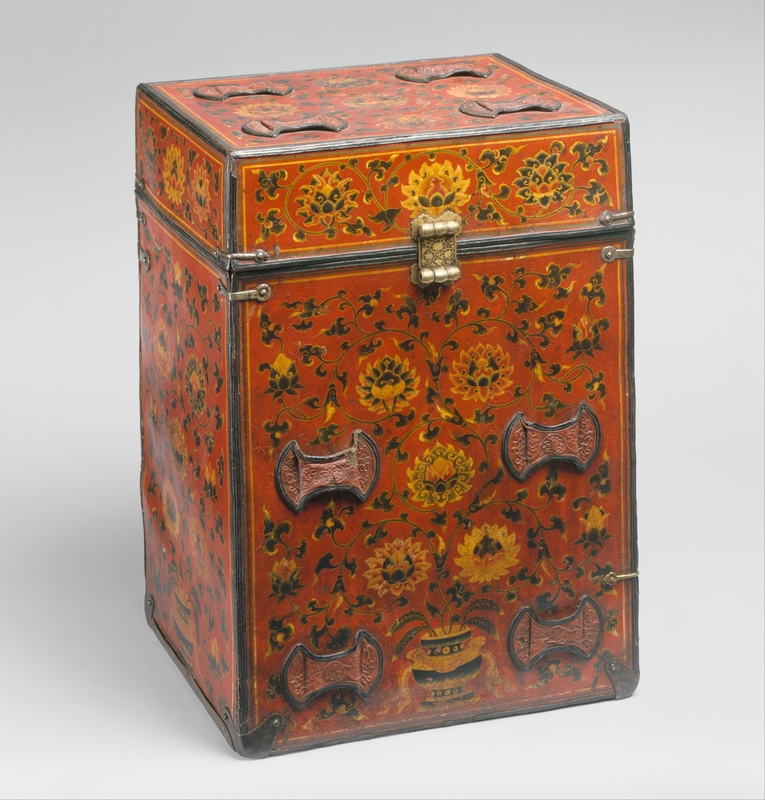 Fig.5. A Traveling Box, China, Ming dynasty, early 15th century. Leather, wood, iron, gold, lacquer and pigment. H. 21 in. (53.3 cm); W. 15 in. (38.1 cm); D. 12 1/2 in. (31.8 cm). Purchase, Rogers and Fletcher Funds, and Henry G. Keasbey Bequest, 1999 (acc.# 1999.61). © 2000–2017 The Metropolitan Museum of Art.
While related to the murals and clay sculptures of Gyantse, the present sculpture remains the only known gilt bronze with this impressive incised and inset treatment of its robe. Both techniques are ubiquitous throughout Tibetan bronze sculpture, and yet the convention of using inset stones to pattern textiles – in addition to jewelry – appears unique to the 14th and 15th centuries. One of few other instances where we see semi-precious stones being used to signify textile patterns is at Densatil. However, unlike the sculptures of Densatil, this Akshobhya may be the only known Tibetan bronze to embellish its textile design with both inset stones and incised patterns simultaneously.
The present lot is a gleaming testament to a period in Tibetan art history when both patron and artist sought to cherish their images with greater elaboration and refinement. The previous humility of the Buddha's simple patchwork robe has transformed into one of the finest and rarest examples in gilded sculpture. Certain design elements lock the time of production within the 15th century, resulting from cultural exchange between prominent Tibetan monastic enclaves and the late Yuan and early Ming Imperial courts. An example of one such pivotal enclave, which still holds many relevant imperial gifts, and has closely related Buddha images remaining in situ, is the Sayka Pelchor Chode in Gyantse, suggesting a possible place of production for the bronze here or somewhere within its artistic sphere of influence. And yet this potent image of Akshobhya, the immovable Lord of the East, stands high among surviving gilt bronzes as one of the most beautiful Buddha images from Tibet.
The sale also features The Sonnery Kurkihar Buddha, copper alloy with silver and copper inlay, from the medieval Pala Empire of Northeastern India, formerly in the noted collection of Jean-Louis Melchior Sonnery de Fromental. The standing Crowned Buddha from Kurkihar is a canonical image in Buddhist art executed during the pinnacle of Pala sculpture's golden age in the 11th century. The Sonnery Kurkihar Buddha has a beautiful unexcavated patina that suggests it may have travelled to Tibet between the 11th-13th centuries during a period of great cultural exchange known as 'the chidar'. A potential cornerstone for any collection addressing the history of Buddhism, it is the most important Pala bronze to be auctioned in recent memory. It is estimated at HK$8,000,000-12,000,000.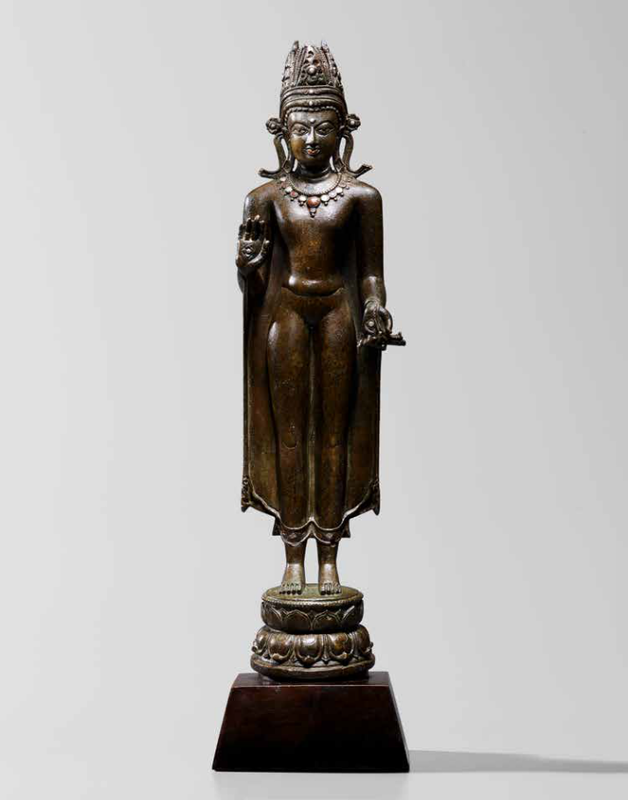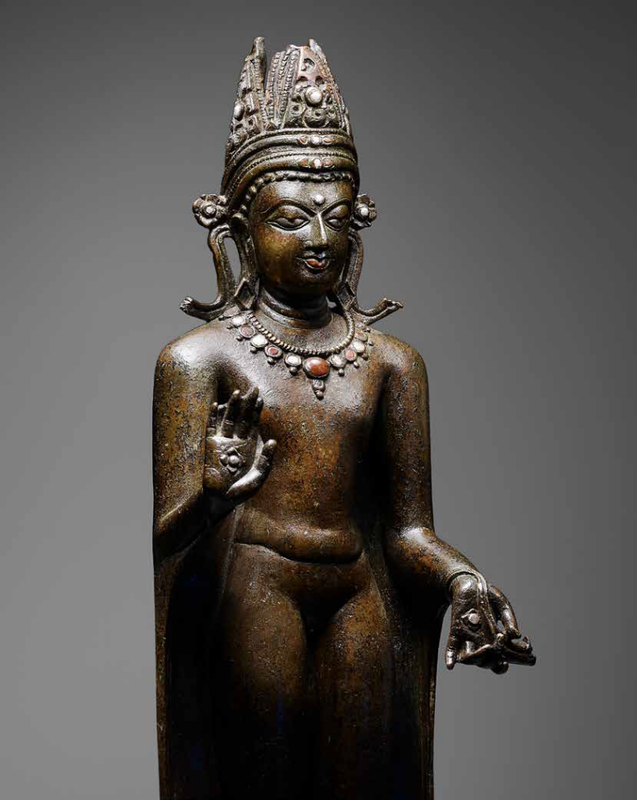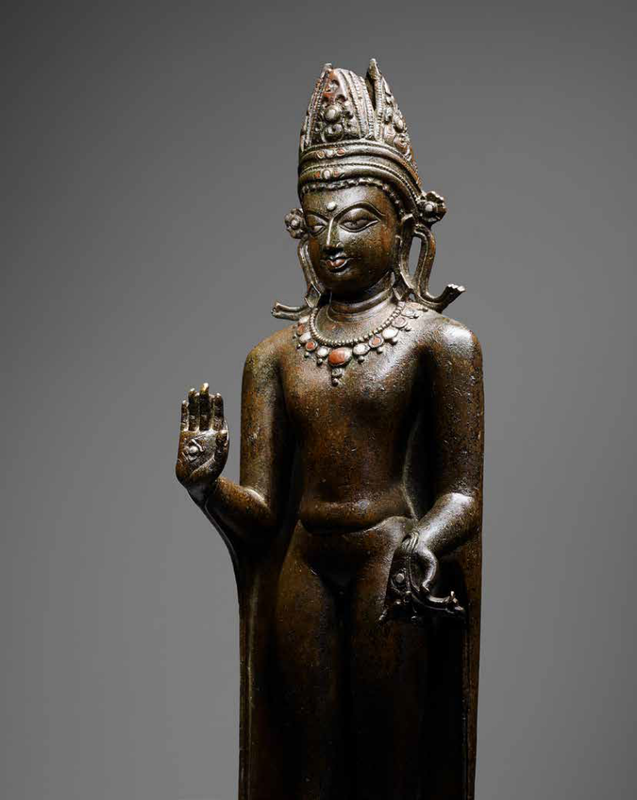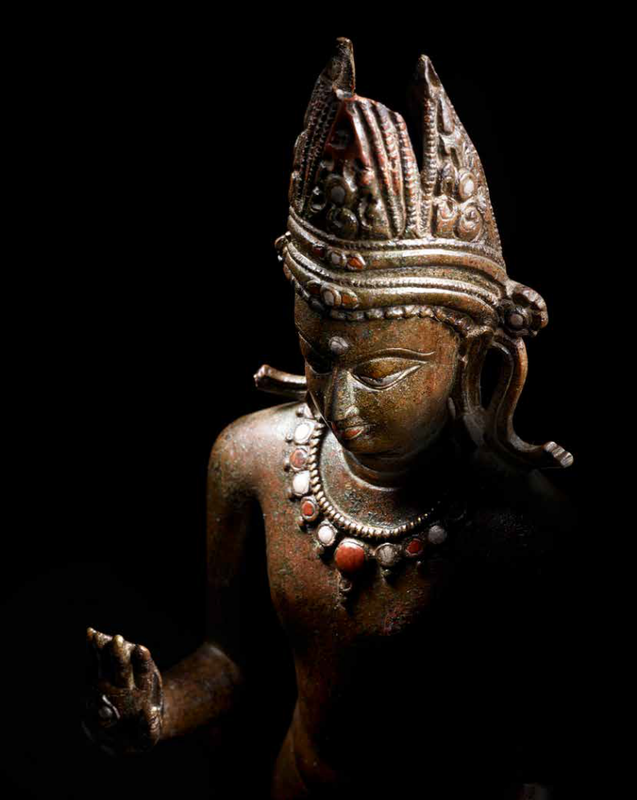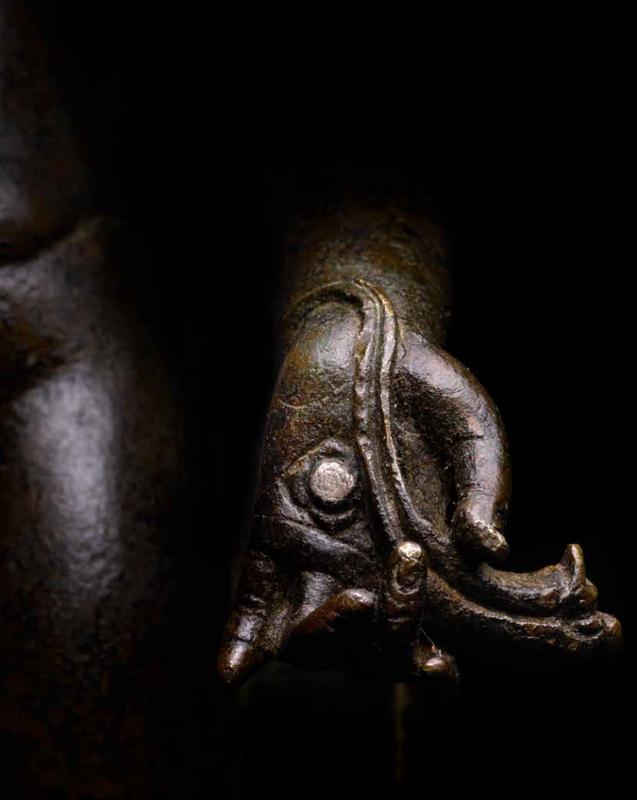 Lot 16. The Sonnery Kurkihar Buddha, copper alloy with silver and copper inlay, Kurkihar, Pala period, 11th century. Estimate HK$ 8,000,000 - 12,000,000 (€850,000 - 1,300,000). Sold for HK$ 21,900,000 (€ 2,419,141). Photo: Bonhams.
Himalayan Art Resources item no.2449 - 39 cm (15 3/8 in.) high
Provenance: Collection of Jean-Louis Melchior Sonnery de Fromental (1920-1995), acquired 1960s, by repute
Private French Collection, acquired from the above, 1980s
Collection FKH, USA, acquired from the above, 2012
Jean-Louis Melchior Sonnery de Fromental, heir to a textile fortune in Lyon, was a famous archaeologist and collector of Pre-Colombian art at a time when Indian sculpture was sold alongside Pre-Colombian material in London auctions of 'Primitive Art'. Sonnery went on to author several books on African and Pre-Colombian art with the French collector and aesthete Gerald Berjonneau between 1985 and 1995.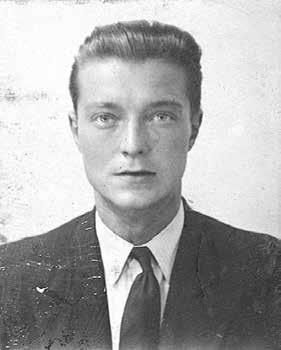 Jean Louis Sonnery, circa 1948.
The standing Crowned Kurkihar Buddha is a canonical image in Buddhist art. The position of each finger is consistent across all its representations. One hand is held in abhaya mudra, and the other holds the inner hem of the cape-like robe. The delicate way it is held creates movement in the erect frontal image. The use of copper and silver inlay creates a compelling visual rhythm, directing the viewer's gaze upward across the elegant silhouetted frame, rising to a crescendo of profound sweetness and grace within the rounded face. The concept of the Crowned Buddha originated within the Pala period, spreading vastly throughout Southeast Asia, China, and the Himalayas, and survives today in important images, such as the Jowo Shakayamuni at the Jokhang, Lhasa, the most sacred Buddha image in Tibet.
The Sonnery Kurkihar Buddha is roughly contemporaneous with the Atisha period in Tibet (1st half of the 11th century), which initiated a two-century wave of cultural exchange wherein Indian bronzes were collected by Tibetans and served as the models of inspiration for their own early styles. Indicated by the remnants of a smoky black residue across its unexcavated patina, the Sonnery Kurkihar Buddha may have been one such high commission that travelled to Tibet during the Chidar.
Executed during the pinnacle of Pala sculpture's golden age, the Sonnery Kurkihar Buddha ranks among superior examples from the Kurkihar hoard in the Patna Museum, and surpasses almost all related Pala bronzes in Western museums. It is the most important Pala bronze to be auctioned in recent memory, indicative of Northeastern India's pivotal role in the spread of Buddhism throughout Asia.
Treasure of Pala Art: A Crowned Kurkihar Buddha
Essay by Luo Wenhua, Researcher at the National Palace Museum, Beijing, August 2017
Pala art, also known as the Pala-Sena school, is an artistic style that flourished in Northeastern India during the Pala Dynasty. Originating in the region of Bengal, the Pala Empire was established as King Gopala conquered Magadha in 660, with its political center located at present day Bihar and Bangladesh. Spanning 500 years and 18 generations of rulers, this pro-Buddhist imperial power reached its height during the late-8th to early-9th century, and was dethroned by the Sena dynasty in the mid-12th century.
The final peak of Buddhist art in India, Pala art has far-reaching influence on neighboring regions – from Southeast Asia, the Himalayas, to China. With tremendous impact on Tibet, the Pala legacy is still reflected in Tibetan art till this day. From the 8th century to the 12th century, Pala artists created numerous magnificent works, many of which survived in museums in India, including the National Museum, New Delhi, the Indian Museum, Calcutta, and the Patna Museum.
Stone sculpture is probably the most prevalent and well-preserved form of Pala art, followed by metal sculptures. During the Muslim invasion in the late 12th century, many monasteries were destroyed and valuables looted. Large-size sculptures, that are too heavy to carry, were either ravaged or buried underground. Monks escaped one after another and brought with them smaller statues, scriptures, and ritual implements, many of which later survived in monasteries in Tibet and Burma. Preceding this were two centuries of cultural exchange within which many Tibetan pilgrims also brought sculptures from India back to Tibet. In the Potala Palace, Jokhang Monastery, Norbulingka, and Shakya Monastery, numerous works from the Pala period are still being worshiped today (fig.1).
Fig.1. A copper alloy figure of Crowned Buddha, Kurkihar, 11th/12th century, Potala Palace Collection, Lhasa. Photo: after von Schroeder, Buddhist Sculptures in Tibet, vol.1, Hong Kong, 2001, pp.248-9, no.77F
The majority of Pala art originated in the region of Magadha, where copper mines had been discovered in early centuries. As a result, the number of surviving bronze sculptures from this period greatly surpasses that of the Gupta (320-550) and Post-Gupta (500-750) periods. Excavated Pala bronzes were mostly from south Magadha, where the Nalanda monastery (fig.2) and Kurkihar are two of the most important sites.
Fig.2. A view of Nalanda today, Bihar, Northeastern India. Photo: Michelle Smith Collaboratory for Visual Culture, University of Maryland
Founded in the Gupta period, Nalanda monastery was a symbol of East Indian Buddhism, drawing far-reaching foreign pilgrims, till the 10th century. Xuanzang of the Tang Dynasty once studied in this monastery, and left detailed accounts of its architecture and monastic community. Among the 51 bronze sculptures excavated in Nalanda, 23 were from early Pala (before 10th century), mostly made of copper, bronze, and brass. Gilt copper sculptures were also been found in this site. While very popular in Nepal and Tibet, gilt copper pieces are rarely seen in India.
In 1930, nearly 150 metal sculptures, known as the 'Kurkihar hoard', were excavated in Kurkihar in the Gaya region of present day Bihar, all of which have been preserved in the Patna Museum, India. Among these excavated works, almost a hundred bear inscriptions, dating them to the 10th to 12th century, later than those found in Nalanda. Materials used in Kurkihar sculptures are mostly brass and bronze, rarely gilt copper. Also different from Nalanda bronzes is the frequent use of silver and copper inlay by Kurkihar artists. Inset stones and glasses would probably have also been popular decorations for works from both sites, though many of them are now missing from the surviving sculptures.1
The history of Kurkihar remains a point of dispute. The name "Kurkihar" bares similarity to the historical site "Kukkutarama Vihara", recorded by Xuanzang as a place close to Patiliputra (present day Patna), therefore the two may well refer to the same location. However, renowned archaeologist Alexander Cunningham associated Kurkihar with a famous Buddhist site Kukkutapada Mountain, where Mahakasyapa's body is said to be enshrined until the appearance of Maitreya. Not far from Bodh Gaya, Kukkutapada Mountain had also appeared in Xuanzang's account. While archeology has yet to prove if Cunningham's theory is correct, it would explain why such a rich hoard of sculptures were to be found at Kurkihar .2
Having discussed the important place of Pala sculpture and Kurkihar within the medieval Buddhist world, it is easier for us to attribute and appreciate the significance of the Sonnery Kurkihar Buddha.
The crowned and bejeweled Buddha image, adopted by the present sculpture, represents a deviation from the orthodox art tradition in which the Buddha is depicted without ornament. Many explanations have been given for its origin and meaning. Some believe it combines the appearances of Prince Siddhartha and the Buddha, while others consider it a unification of Buddha in sambhogakaya and nirmanakaya nature. Regardless of origin, the crowned Buddha image played an important role in late Eastern Indian Buddhism. Even the earth-touching Buddha statue in Bodh Gaya's Mahabodhi Temple had been worshiped with an added crown during the Pala period. The popularity of this image has been spread to many other regions, and its influence can be seen in sculpture and paintings of Tibetan Buddhism.
Stylistic features of the Sonnery Kurkihar Buddha are typical of the Pala period: Shakyamuni standing on a lotus base with great solemnity. His right hand in abhaya mudra symbolizing the dispelling of fear, while the left holding his robe. So soft and diaphanous is the robe that tightly wraps around his body, completely revealing his silhouette. The minimalist treatment of the garment – only depicting the drapery around his wrists and ankles – shows the persistence of the Sarnath style of the Gupta period.
Such a flavor of classicism is consistent with the 11th-12th century sculptures excavated in Kurkihar. These include two of the highest examples, very closely related to the Sonnery Buddha: a bronze of almost identical size dated 1044 (fig.3), and a monumental, meter-tall masterwork dated 1060 (fig.4). These bronzes in the Patna Museum demonstrate the larger shrine that the present sculpture's double-lotus base would have inserted into.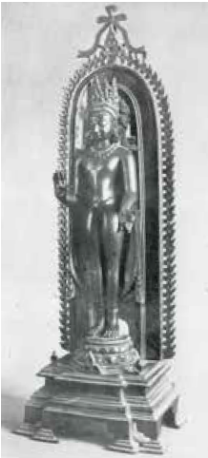 Fig.3. A copper alloy figure of Crowned Buddha, Kurkihar, 1044. Inscribed in the 3rd regnal year of Vigrahapala III, 60 cm (23 5/8 in.) high, Patna Museum, India. Photo: After Niharranjan, Eastern Indian Bronzes, New Delhi, 1986, no.249
Fig.4. A monumental silver inlaid copper alloy figure of Crowned Buddha, Kurkihar, 1060; Inscribed in the 19th regnal year of Vighrapala III, 110.5 cm (43 1/2 in.) high, Patna Museum, India. Photo: After Niharranjan, Eastern Indian Bronzes, New Delhi, 1986, no.251a.
His richly decorated three-leaf crown and its inward-tilting leaves are indicative of a later date during the Pala period. Generally speaking, the crown design of the period becomes more complex through time. For instance, most of the crowns in early Pala consist of three simple leaves, but by the 11th-12th century, decorative elements resembling flower branches were added between the crown leaves, such as in the case of the present sculpture. The inward-tilting crown leaves are reflected in Tibetan sculptures made during the beginning of the "Chidar" (Second Diffusion of Buddhism from India to Tibet, 11th-13th century). The flat ribbons falling behind his ears curl upwards, typical of Pala style of the 11th-12th century. Silver and copper inlays were richly applied to his crown, urna, eyes, lips, necklace, and along the hemline of his robe, consistent with the excavated 11th-12th-century Kurkihar hoard.
Not only of an impressive size, the figure is also in good condition and with a desirable patina. Rarely seen in private hands, this Kurkihar style bronze Buddha is a masterpiece with great historical and aesthetic value.
1 Ulrich von Schroeder, Indo-Tibetan Bronzes, Hong Kong: Visual Dharma Publications, Ltd, 2008. pp.233-250; Susan Huntington, The "Pala-Sena" Schools of Sculpture, Leiden, 1984. pp.134-149: "Metal Sculpture of Bihar".
2 T. Watters, On Yuan Chwang's Travels in India, London, 1904-05.
Other highlights include: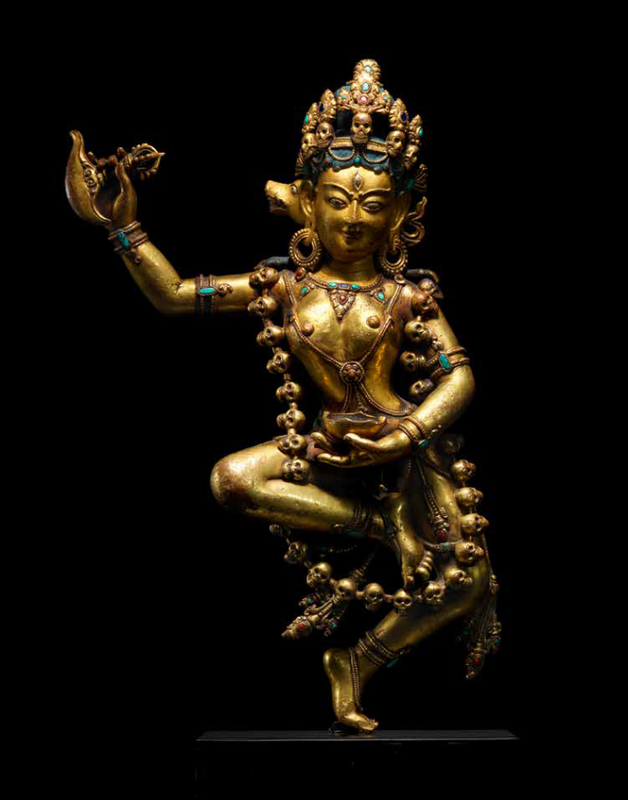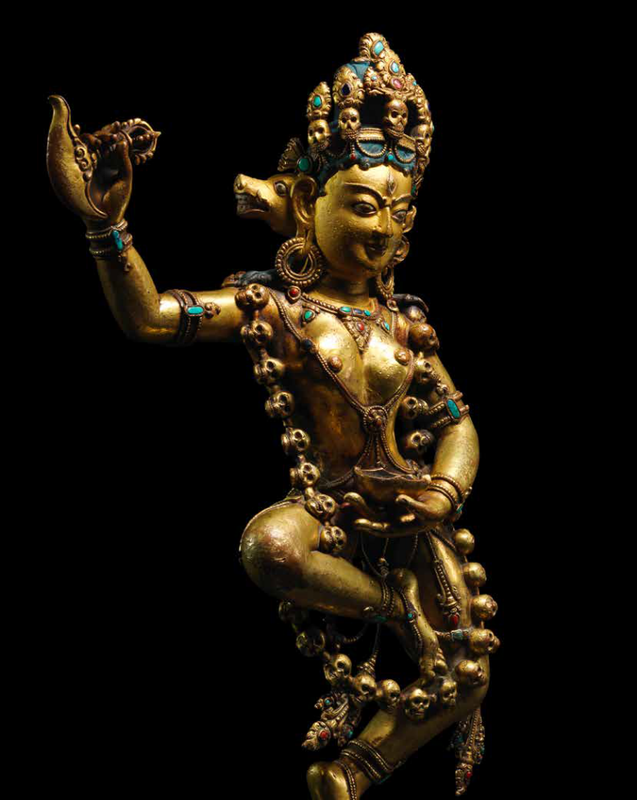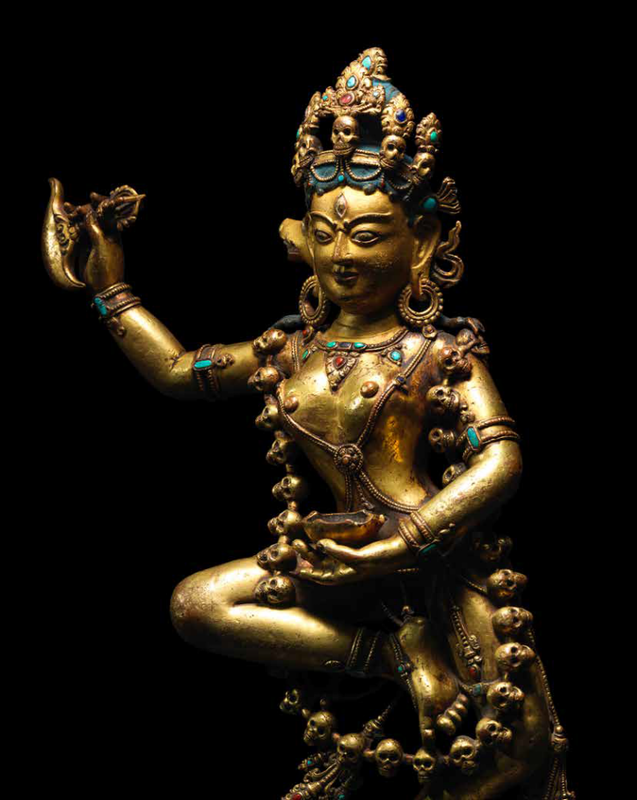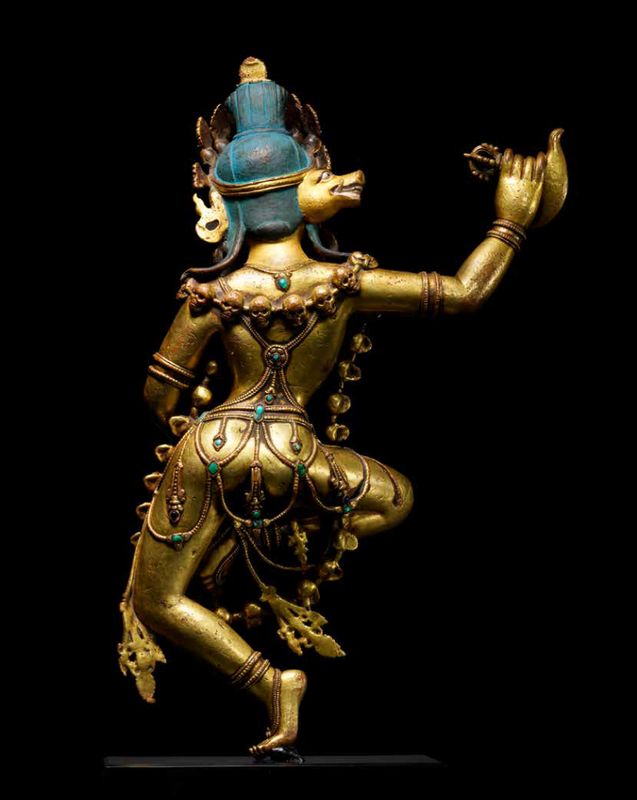 Lot 21. A gilt copper alloy figure of Vajravarahi, Central Tibet, circa 14th century. Estimate HK$ 4,500,000 - 5,000,000 (€480,000 - 530,000). Unsold. Photo: Bonhams.
Himalayan Art Resources item no.2441 - 38.5 cm (15 1/8 in.) high
Provenance: Private Collection, Hong Kong, since 2000
Note: Blending elegance and power, the robust goddess centers her weight effortlessly on flexed toes, achieving an accomplished dancer's pose. The sow's head that identifies her as the consort of the great transformative deity Samvara projects boldly to the right. She dons a garland of rotund dried skulls – a rare iconographic feature for her solo dancing form, which typically has a string of freshly severed heads instead. Dried skulls are more common when she is depicted in yabyum with Chakrasamvara. But Vajravarahi is also worshiped in her own right as a protector of esoteric practices. She is also the only goddess in Tibet to reincarnate on earth, serving as the abbot of Samding monastery, near Lhasa.
Two other examples depicting this rarer garland of skulls draped gracefully across her lithe and supple stance comprise a c.13th-century Nepalese figure in von Schroeder, Buddhist Sculptures in Tibet, vol. 1, Hong Kong, 2001, p.529, no.173D, and a Densatil-style sculpture sold at Sotheby's, New York, 24 March 2004, lot 78. Her tiara of dried skulls, both splendid and terrific, is surmounted with finely modeled gem-set foliate leaves similar to that of another example held in the Potala Palace, published in von Schroeder, op. cit., vol. 2, p.1053, no.266D. These two sculptures also share similar treatments of the hairline, earrings, and her pleasing, rounded face.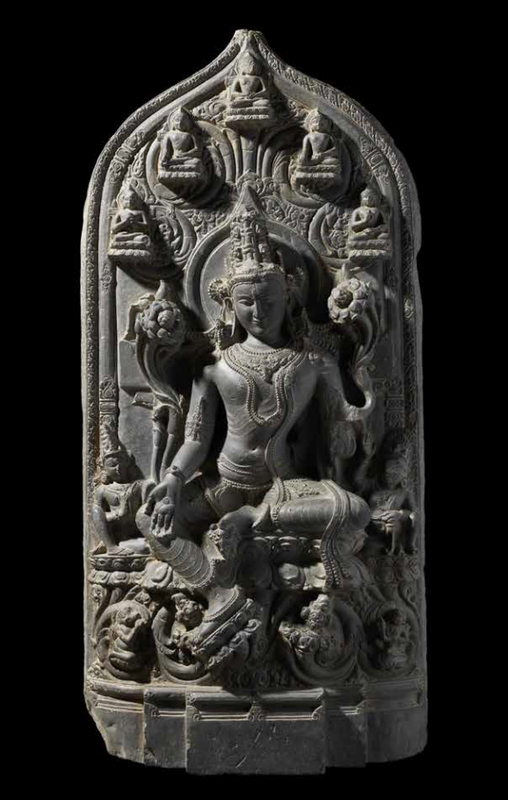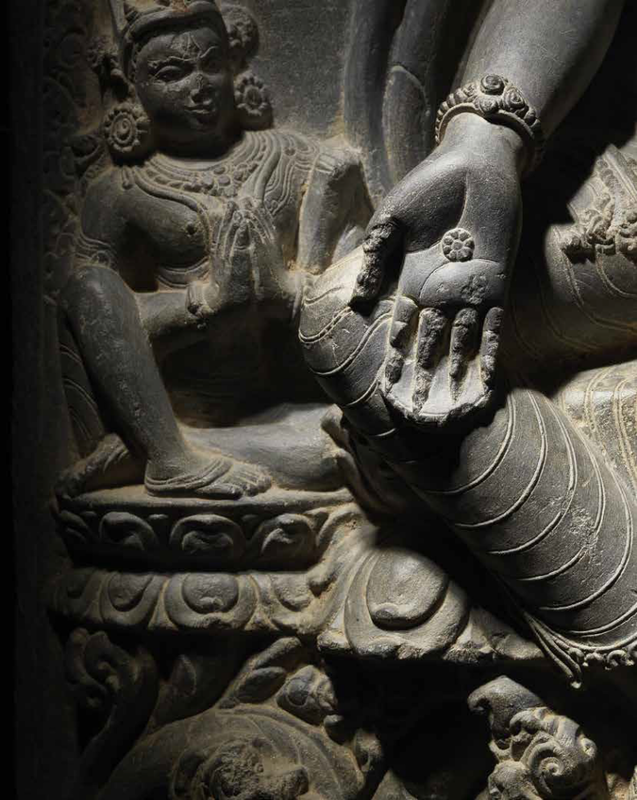 Lot 14. A black stone stele of Khasarpana Lokeshvara, Bihar or Bengal, Pala Period, 11th-12th century. Estimate HK$ 300,000 - 400,000 (€32,000 - 42,000). Unsold. Photo: Bonhams.
30 cm (11 7/8 in.) high
Provenance: Acquired from Georg Hartl, Munich, 1 July 1981
Note: Seated as if before an audience, Buddha's downcast eyes attend to the gesture of his fingers, which depict him forwarding the dharma for all sentient beings. Two deer listen from below, alluding to his first sermon at Deer Park after reaching enlightenment. Meanwhile, to his right is an effigy of his immaculate birth, and above each shoulder are stupa reliquaries that house his sacred ashes, forming a poignant visual synecdoche encapsulating Buddha's time and purpose spent within the mortal realm. An inscription encircling his frame decrees:
"All phenomena arise from causes;
Those causes have been explained by the Tathagatha,
And their cessation too has been taught by the Great Shramaṇa."
This wonderfully compact sculptural homage to the great sage and his teachings is finished with a lustrous, high polish to the black chlorite characteristic of Pala stone sculpture. His distinctive pose finds precedent at least as far back as a 6th-century sandstone stele from nearby Sarnath, and is repeated in a number of Pala examples which can all be viewed on the Huntington Archive, scan nos.1588 and 2795, 3146 & 3613.