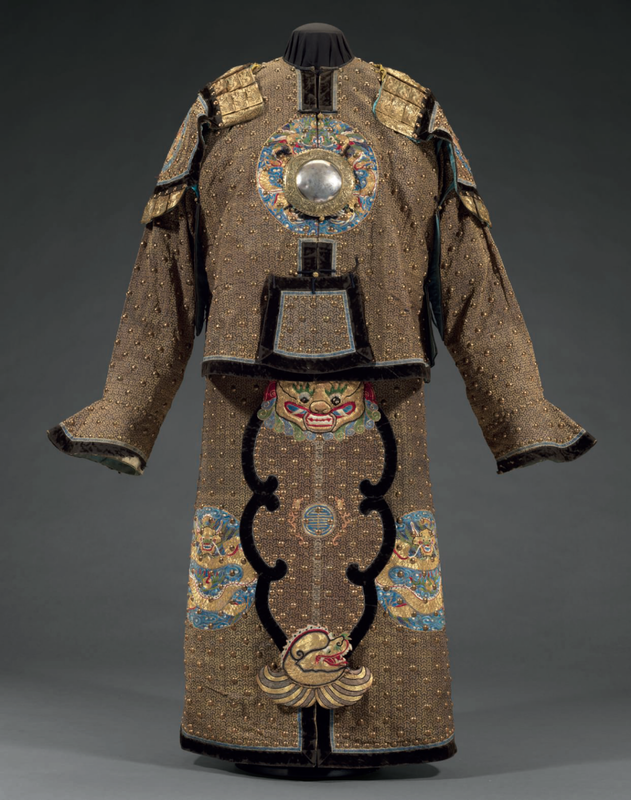 Lot 939. A rare imperial embroidered silk brocade military officer's ceremonial uniform, Late Qing dynasty. Estimate USD 30,000 - USD 50,000. Price realised USD 81,250. © Christie's Images Ltd 2017
The uniform is decorated with dragon roundels reserved on an embroidered gold brocade ground decorated throughout with round brass studs on a Y-shaped geometric ground, and trimmed with black velvet. It comprises a waist-length jacket with long sleeves terminating in hoof-shaped cuffs, an apron set with a hexafoil-shaped panel embroidered in metal threads with a stylized dragon head and dragon carp at the bottom, epaulettes trimmed with gilt-metal appliques, underarm protectors, a round metal chest plate, a matching helmet, a red velvet and leather quiver and bow holder, and a pair of black silk boots. The jacket 27 in. (68.6 cm.) long; the apron 37 ½ in. (95.3 cm.) long
Note: Although the purpose of this uniform was purely ceremonial, its construction is based on armor used for protection in battle. The legs were covered with aprons for protection, but the seat was left free to allow the wearer to mount a horse.
The gilt rivets on this armor, known as dingjia ('armor with nails'), can be traced to military gear found on the terracotta warriors in the tomb of the Qin Emperor (260-220 BC), although suits of armor during the Qin dynasty did not incorporate luxury fabrics and were constructed with consideration of their practical use. In the Sui dynasty (AD 581-619) and Tang dynasty (AD 618-907), more elaborate suits of armor began to appear. A nearly identical Manchu military officer's ceremonial armor, hat, and helmet are in the collection of the Minneapolis Institute of Arts and are illustrated by R. Jacobsen, Imperial Silks: Ch'ing Dynasty Textiles in The Minneapolis Institute of Arts, vol. 1, 2000, pp. 346-47, nos. 137 and 138. In a discussion of the Minneapolis armor, Jacobson suggests that the Y-shaped geometric decoration (which is the same as the decoration on the present armor) has been used on military uniforms since the Tang dynasty.
The gold brocade ground on this armor suggests that this uniform would have been made for a member of the Imperial Guard of the Forbidden City. A man who is thought to be Huang Peisong, an Imperial guard for the Guangxu emperor and later for Yuan Shikai, has been pictured wearing identical armor.
Christie's. Fine Chinese Ceramics and Works of Art, 14 - 15 September 2017, New York