Lot 1065. Gerhard Richter, Abstract Painting (679-2), 1988, oil on canvas, 120 x 100 cm. Estimate: HK$32 million–48 million US$4,100,000–6,200,000. Lot sold for HK$49,037,500. Courtesy Sotheby's.
HONG KONG.- Sotheby's Hong Kong Contemporary Art Autumn Sales 2017 will take place from 30 September to 1 October, offering works by renowned artists from Asia and the West. Apart from a series of works by Yayoi Kusama and a dedicated section for Chinese Contemporary artists born in the 1970s, there will also be a special themed sale for the important Japanese post-war artist, Morita Shiryu, as well as a selection of Western Contemporary art in the evening sale.

Evelyn Lin, Sotheby's Head of Contemporary Art, said, "The tremendous results achieved for our April 2017 Contemporary Art Spring Sales - a combined total of nearly HK$500 million with a 93% sell-through rate and two white-glove sales - caused great excitement amongst collectors and demonstrated market stability. As the market continues to grow and diversify, this season we will focus on bringing exceptional works hailing from Japan, China and the West, whilst offering works by Contemporary artists with potential but are under-recognised by the market."
The Artistic Journey of Yayoi Kusama
An internationally renowned name, Japanese artist Yayoi Kusama enjoys a worldwide prominence demonstrated by a profusion of institutional exhibitions in recent years and ever growing prices realised at auction. This season, Sotheby's will offer a series of works examining her various stylistic tendencies which have been evolving since the early 1970s.

Among them are two exceptionally rare early works hailing from the 1970s. Created in 1972, the pink 'infinity net' Untitled is a poignant example of the conclusion of Kusama's 'New York' period. In the year the piece was conceived, Kusama's close friend Joseph Cornell passed away. The work executed in cherry blossom hues not only conveys an overwhelming sense of grief towards her departed friend, it also foretells the artist's imminent return to Japan, documenting an important transition of her career.

The 1970 portrait of Hollywood grand dame Shirley MacLaine is one of the artist's only three multi coloured 'caged paintings', with the others executed only in dual-colours. It is extremely rare for Kusama to paint portraits of other women than herself, and Shirley MacLaine represents also the first portrait from her 'New York' period. The work is framed with a layer of wire netting constructed over the canvas, which creates shadows that intertwine with the painted net patterns and echoes the artist's iconic infinity net motif.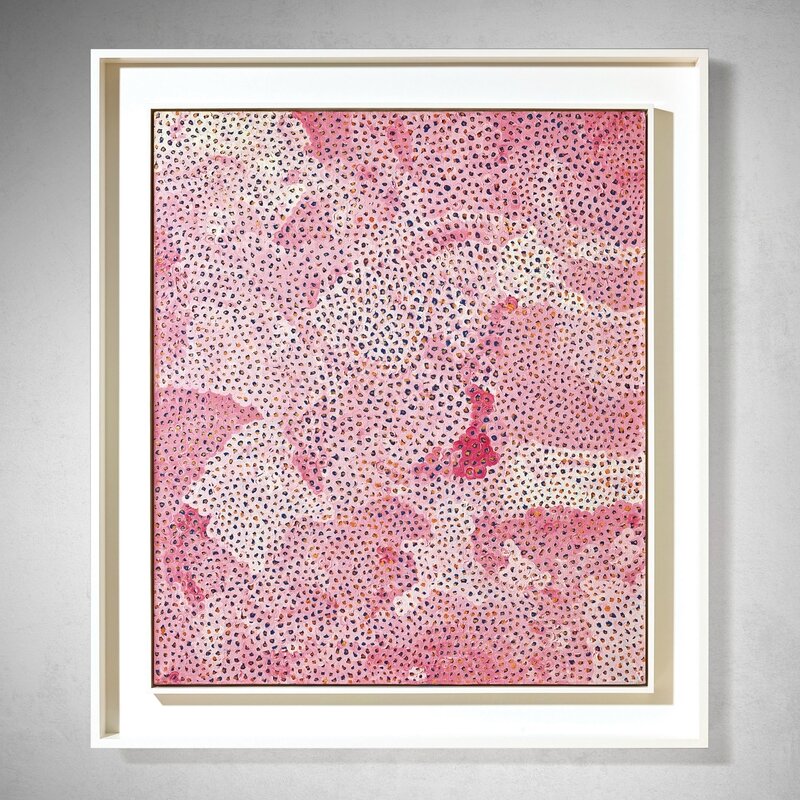 Lot 1067. Yayoi Kusama, Untitled, 1972. Oil on canvas, 106.7 x 91.8 cm. Estimate: HK$32 million–45 million/ US$4,100,000–5,800,000. Lot sold for HK$42,287,500. Courtesy Sotheby's.
Western Contemporary Art
In April this year, Sotheby's Hong Kong offered Western Contemporary art in its Evening Sale for the first time. Andy Warhol's Mao was sold for HK$98.5 million to an Asian collector, setting the auction record of Western contemporary art in Asia and attesting to Hong Kong's status in the international contemporary art market. This autumn, Sotheby's will once again introduce to Asia a fine selection of Western Contemporary pieces, including German artist Gerhard Richter's Abstract Painting (679-2) and French Open I by Jonas Wood, a favourite among Asian collectors.
Lot 1061. Jonas Wood, French Open I, 2011. Oil and acrylic on linen, 223 by 163 cm. Estimate: HK$3,800,000 — 4,800,000 / US$485,716 - 613,536. Courtesy Sotheby's.
The New Face of Chinese Contemporary Art
The Evening Sale continues to bring forth important pieces by pivotal Chinese contemporary artists including Liu Ye, one of the artists selected for 'Viva Arte Viva' at the 57th Venice Biennale. Inspired by the works of Piet Mondrian, Liu Ye's early creations contain direct references to the Dutchman's iconic style, while his post-2000 works highlight the distribution and arrangement of space and structure. By appropriating Mondrian's stringent geometric abstractions, Liu Ye discovered his most important subject matter by far: the bamboo. Composition with Bamboo and Tree is the first of Liu Ye's bamboo series that established a shift in the artist's rendering of composition. Not only does the painting represent a new chapter in Liu Ye's artistic career, it also came to be his most widely exhibited piece of the series.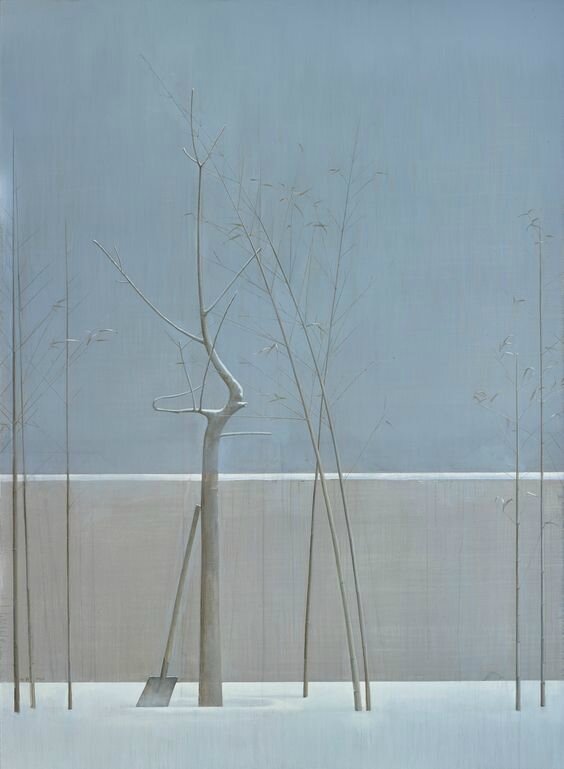 Lot 1062. Liu Ye, Composition with Bamboo and Tree, 2007. Acrylic on canvas, 300 by 220 cm. Estimate: HK$13,000,000 — 20,000,000 / US$1,661,660 - 2,556,400. Courtesy Sotheby's.
In addition to established names, Sotheby's, for the very first time, curates a series of works by emerging Chinese artists born in the 1970s, including Liang Yuanwei, who recently exhibited at a satellite show at the Venice Biennale 2017, and rising stars Wang Guangle and Duan Jianyu. Raised and educated after the Cultural Revolution, these young artists are found to be more invested in the exploration of visual languages and the attainment of exhibition opportunities that would allow them artistic breakthroughs, than in expressing sentiment towards their own ethnic history as their predecessors did.
Morita Shiryu: Bokujin
Sotheby's is committed to introducing the works of artists who are undervalued by the market. Following the successful white glove sale of Yamaguchi Takeo – Composing Monochrome earlier this year, Sotheby's will present the world's first dedicated Morita Shiryu auction in honour of the pioneering postwar Japanese artist.

Morita Shiryu (1912 – 1998) completely revolutionised traditional Eastern calligraphy into a global avant-garde aesthetic. In 1952, two years before the Gutai movement gained traction, Morita Shiryu co-founded the highly influential Bokujin-Kai ('Ink Human Society') with Inoue Yuichi and other calligraphers.

Morita's ground-breaking works feature massive, captivating abstract single characters that place equal importance on physical movement, inner force and visual aesthetics. On the one hand, Morita ignited the extraordinary pictorial potential of kanji ('Han characters'), liberating calligraphy from its deeply rooted conventions; on the other hand, his philosophically and spiritually rigorous works preserve the soul in abstraction and are imbued with vital life forces or qi ('energy') amiss from the works of Western Abstract Expressionists.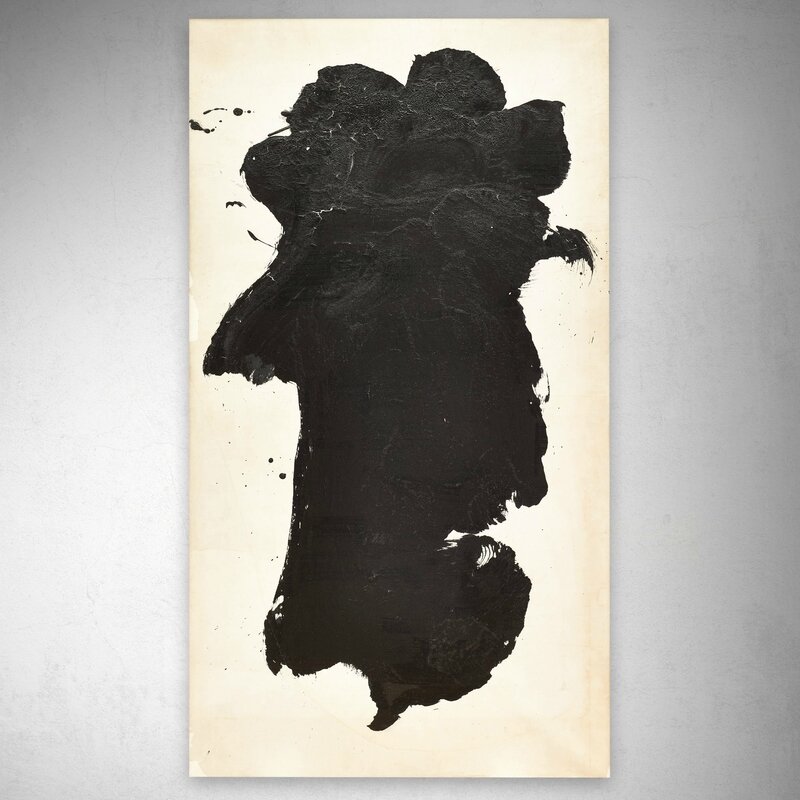 Lot 805. Morita Shiryu (1912-1998), So - Wilderness, 1954. ink on paper laid on wooden board, 172.5 by 95.5 cm. Estimate: HK$1,200,000 — 2,200,000 / US$153,504 - 281,424. Lot sold for HK$2,740,000. New Auction Record for the Artist. Courtesy Sotheby's.